New York City maintains its fashionable status as both an art and shopping capital of the world. How? The vitality of the city attracts the best and the brightest creative talents from all over the globe . . . and this synergy of influences results in bold new ideas. The current shows in art museums, galleries and performing arts centers are often the behind-the-scenes inspiration for what's coming down the runway and onto the red carpets, and vice-versa too.

And you can get your own creative juices flowing by designing a personal New York City fashion and art experience, according to your taste and schedule! And
since being fashionable is an art (and hard work too), spice up your visit with rest stops at a few tasty eateries along the way.
DAY ONE: East Side Highs and Lows

Start your day on Fifth Avenue at The Costume Institute at the Metropolitan Museum of Art. The collection spans the 15th century to the present, and houses 35,000+ costumes and accessories from five continents. "Costume: The Art of Dress," a self-guided tour narrated by Sarah Jessica Parker, is just one entre to the art of adornment. Special exhibits are organized from the museum's collections of armor, textiles, paintings, sculptures and decorative arts. Expect the unexpected, from 20th century House of Dior evening gowns to late 19th century sarongs and 16th century doublets.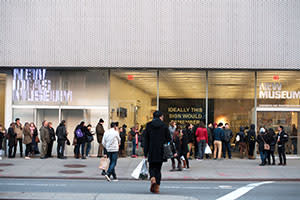 Ready for a slice - of pizza? Acclaimed by Bobby Flay's "Best Thing I Ever Ate - Pizza Edition," Mimi's Pizza and Family Restaurant will likely satisfy your discriminating tastes too. Besides, you need sustenance before heading onto Madison Avenue. North America's premier luxury district pulses with enticing opportunities to enjoy beauty and pleasure: pop into designer boutiques, pamper yourself in spas and salons, or browse peerless fine art galleries or the Whitney Museum of American Art. Extend your visit with a meal or a stay in one of this classy boulevard's distinctive restaurants or internationally renowned hotels.
Head downtown for a more irreverent take on art: the New Museum, founded in 1977 and housed in a striking new building, showcases works by contemporary artists. Nearby, you'll find the upscale Bowery Hotel, and the Lower East Side and Nolita neighborhoods' shops, boutiques and cafes. Explore St. Mark's Place to relive the rock and punk scene (and add Rock n' Roll edge to your look) at Trash and Vaudeville.
DAY TWO:
Brooklyn Hipster Shop-Hop

Open up to earthy artistic inspiration at Brooklyn Botanic Garden, then head over to Brooklyn Flea Market (every weekend, seasonal locations vary) where 250+ top vendors offer antique/repurposed furniture; vintage clothing; kitschy collectibles; jewelry, arts and crafts by local artisan/designers; and delicious fresh foods. At Pratt Institute's Sculpture Park, the largest in NYC, you'll find works by Mark di Suvero, Richard Serra and others, or head over to BAMcafé Live for free music on select weekend evenings or a full line-up of adventuresome artistic performances.
DAY THREE:
West Meets East
Jackson Heights, Queens, ("Little India") is home to a diverse community of South Asian immigrants, and you'll find high quality jewelry, clothes, music, Bollywood films, tasty meals and get an insider's view of Indian, Pakistani and Bangladeshi cultures. If you're already hungry, Jackson Diner (718/672-1232) is the go-to for everything South Asian, from appetizers to a beautifully presented meal.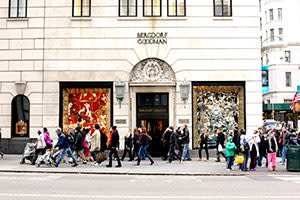 Continuing the theme, head to Manhattan to visit legendary Bergdorf Goodman, and seek a stylish introduction to a new name in fashion, Naeem Khan.
The Rubin Museum of Art in Chelsea displays the finest Himalayan art in the Western world. Its signature six-level spiral staircase, designed by Andrée Putman, and serene atmosphere are a perfect way to wind down after a busy day on the streets. Browse in the gift store, enjoy the Wednesday evening Himalayan Happy Hour (5-7pm) or enjoy a Pan-Asian tapas menu, cocktails, free museum admission and more (Fridays, 6-10pm) at K2 Lounge.
DAY FOUR:
Shop 'Til You Drop
Columbus Avenue (between West 67th and West 82nd
Streets) is a charming stretch of historic buildings, noted for its trendy and distinctive shops, high-watt celebrity chic, and delicious dining options. Take a stroll; it won't  disappoint! Café Luxembourg, a charming 90-seat bistro, offers a lovely - and delicious - respite from all that shopping, whenever you're ready, then head on over to Century 21 Department Store for top designer fashions and unbeatable prices. The Shops at Columbus Circle - over 40 specialty retail destinations - are near Lincoln Center, so why not plan an evening appearance wearing one of your newest finds?
DAY FIVE:
Charging Through Chelsea
For an inspiring start to the day, visit The Museum at Fashion Institute of Technology. Its permanent collection consists of more than 50,000 garments and accessories, with a specialty in women's contemporary fashion, and significant nods to historic fashion. View pieces by legendary and new designers; photography exhibits; and enough pizazz and style to warrant a return visit. Though the selection at Stella McCartney's SoHo fashion house (112 Greene St.) is minimalist, it's definitely the height of feminine, must-have style.
Explore the Chelsea Market and you'll get a flash of what a post-industrial theme park might feel like....if it were
outfitted with a plethora of retail shops and restaurants.

And, when your barking feet absolutely refuse to go another step, try one of these quintessential dining ideas for surf or turf. Settle in for the best steak Manhattan has to offer at one of the longest continually serving restaurants in America: The Old Homestead Steakhouse has served up the finest cuts of beef in the same meatpacking district location since 1868. A Salt and Battery uses only the freshest and finest fish and ingredients for their menu, including their signature dish, Cod 'n Chips ("Best Fish 'N' Chips," New York Magazine).