Witness the wonders

Wonder at exotic plants and animals, legendary food, and the world's most famous waterfalls. With all the places to experience in this region, there are some you simply must see.
Niagara Falls

Witness the majesty of the thunderous American Falls as 100,000 square feet of water crash down every second. Stop by the visitors center at Niagara Falls State Park to see the film "Niagara: Legends of Adventure," a thrilling story of Niagara Falls explorers and daredevils.
Wings at Duff's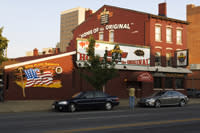 If you've got to try the wings-and you do-the in-spot is Duff's Famous Wings in Amherst. Often voted the number one Buffalo spot for Buffalo wings, Duff's uses a recipe dating to 1969. On the other hand, some folks swear by Gabriel's Gate (716/886-0602) in Buffalo where the wings are extra-plump. Then there's the legendary Anchor Bar, birthplace of the Buffalo Wing, where juicy, crispy, spicy wings leave hordes of hungry visitors happy and messy.  Don't forget to try the Beef-on- Weck sandwich made for you by Charlie the Butcher - creator of this regional treat. 
The Aquarium of Niagara

The stars come in all shapes and sizes at this must-see world of waters. Penguins, sea lions, sea horses, weird sea creatures and every kind of fish you can imagine all swim past your view at The Aquarium of Niagara. Watch the sea lions perform or view an exciting shark feeding.
The Buffalo Zoo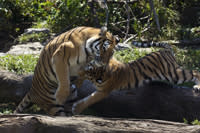 At the 23-acre Buffalo Zoo you can rub shoulders with Siberian tigers and Asian elephants, Egyptian spiny-tailed lizards and crested toads. The nation's third oldest zoo, it houses some of the world's most exotic wildlife from tigers to pigmy zebu. See birds, alligators and even Brazilian cockroaches at this must-see menagerie.

The Buffalo and Erie County Botanical Gardens

You only live once. Take some time to smell the roses (and other fragrant flowers) at the Buffalo and Erie County Botanical Gardens you can visit an ancient rainforest, orchid garden, palm oasis, bonsai tree greenhouse, and even the Florida Everglades. You and your family can learn n about these exotic environments as you stroll through the Gardens' many pavilions. Experience a 30-foot waterfall surrounded by banana trees, or giant dinosaur topiaries.
Wegmans Family Garden is an indoor oasis where kids can dig in dirt, plant a seed, smell a flower and make friends with a bug.