Make Tracks Across New York!
Freshly fallen snow covers the ground. From inside, you look out on a beautiful frosted wonderland just waiting to be explored. Now is the perfect time to head outside and embark on a snowshoeing adventure!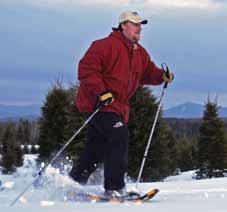 This time-honored winter sport offers a fantastic way to enjoy New York's great outdoors–and get a great workout at the same time. It's an invigorating, inexpensive, fun and easy activity for the entire family. There are trails suitable for every age and ability– from steep to smooth. And as the saying goes, "If you can walk, you can snowshoe."
Snowshoeing lets you explore a wide variety of landscapes at your preferred level of challenge. Take a slow-paced hike at a nature center or along Manhattan's waterfront on the Hudson Valley Greenway. Follow a restored canal towpath in the 35-milelong Old Erie Canal State Park that crosses through the Finger Lakes and Central New York regions. For a more vigorous adventure with breathtaking lake views, trek the mountain trails of Minnewaska State Park Preserve in the Hudson Valley.
Highly maneuverable, snowshoes can take you to places not accessible by ski or snowmobile. Hearty snowshoe enthusiasts head out for overnight backpack trips and alpine climbs in the Catskills and the Adirondacks. Near Lake Champlain, Macomb Reservation State Park offers wilderness snowshoeing.
From Long Island to Chautauqua- Allegheny, New York's state parks provide a variety of splendid settings for snowshoeing. Many ski centers, like Four Seasons in the Finger Lakes, also have snowshoeing areas. Check out special snowshoeing events at nature centers or hire a New York State-licensed guide who can show you great places to explore and provide valuable pointers to enhance your experience.
Whatever path or pace you prefer, it's time to get ready and get started! Discover the serenity and beauty of New York's winter wonderland–one step at a time. For more information, contact New York State Parks at nysparks.com and NYS Dept of Environmental Conservatioat www.dec.ny.gov