Itching to get out of the city? Here are 10 car-free weekend getaways that are sure to soothe away your cabin fever.
1. Mohonk Mountain House
Hop on Metro-North for two hours to Poughkeepsie, where you'll find Mohonk Mountain House perched on a cliff. The 136-year old National Historic Landmark and Historic Hotel of America is a stunningly renovated castle with all-inclusive activities for the whole family, including boating, golf, tennis, a spa, hiking trails and yoga. Contact Mohonk Guest Services for trips to and from the train station.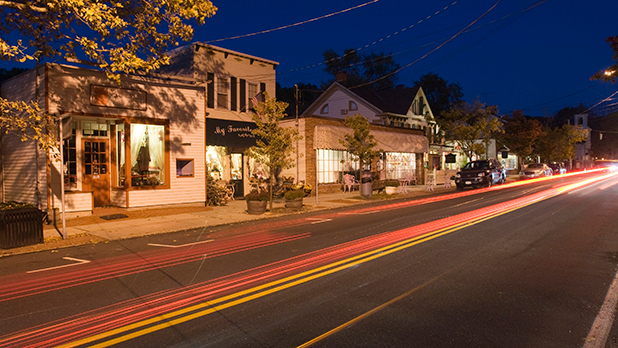 2. Cold Spring
Get some fresh air and work your lungs in Cold Spring, NY. The Hudson Highlands have tree-filled landscapes that dip and rise with the peaks – perfect for adventurers and hikers of all levels. After you explore the Hudson Highlands' natural beauty, stop by the quaint town's Main Street for a snack with a view before heading back to Manhattan. Best part? Cold Spring is located just 70 minutes out of the city by Metro-North, and the mountain is a 20 minute taxi ride (or three-mile walk if you're feeling super active) from the train station.
3. Hudson
Bursting with new restaurants and boutique hotels, Hudson is the ultimate car-free destination for the New Yorker who wants to dine like king without the hassle of the city. With 300 historic buildings, 51 antique shops, a scenic waterfront and 10 performance spaces – it's not a bad place to spend the night. Hop on Amtrak at Penn Station for two hours to Hudson Station, then walk 10 minutes into town.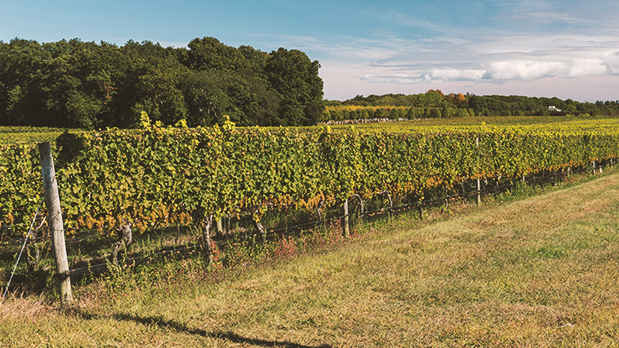 4. North Fork
How does sitting in a quaint winery, sipping a glass of locally fermented chardonnay overlooking a vineyard sound? Create this scene in the North Fork, just a two-and-a-half-hour trip on the LIRR from Penn Station to Mattituck. There are countless award-winning wineries to explore in this Long Island peninsula, as well as parks, trails and beautiful beaches. Once you get to the train station, the wineries are just a 10-minute cab ride away.
5. Harriman State Park
New York's second largest state park with over 46,000 acres filled with 31 lakes and 200 hiking trails, Harriman State Park is the perfect weekend hiking trip destination out of New York City. Take New Jersey Transit's Port Jervis Line out of Penn Station to Tuxedo (a 90-minute journey), then the Harriman Shuttle Bus to the trailheads. Don't forget your picnic basket.
6. Woodstock
Biking, hiking, boating, museum-going, live music and horseback riding await you in Woodstock, just a three-hour bus ride from Manhattan. Say goodbye the hustle and bustle and relax in endless acres of nature, with countless activities at your fingertips. Whether you're into fishing and scaling peaks, or hitting museums and listening to live music, Woodstock is the most walkable town in the Catskills, with an activity for just about everyone. To get there, take the Adirondack Trailways bus to Woodstock - the bus stop is in the center of the town. 
7. Lake Placid
Take the Adirondack Trailways bus five hours north for a quiet weekend at a beautifully high altitude. Breathe in some fresh mountain air while you hit the slopes or hike the vast evergreen forest, then explore Lake Placid's charming town center, which is totally walkable. The bus will drop you off in town center. Prefer a train ride? The Amtrak train runs from New York City to Westport, forty miles from Lake Placid. Transportation can be arranged from the Westport train station to Lake Placid through Amtrak Thruway Connecting Services.
8. Sleepy Hollow
Sleepy Hollow is the perfect day trip for New Yorkers that love history. Visit Philipsburg Manor, a farm and mill dating back to 1750, then pay a visit to Sleepy Hollow Cemetery. The best part about this trip is the proximity - take the Metro North 30 minutes out of the city to Tarrytown to get there, then take a short taxi ride to Philipsburg Manor.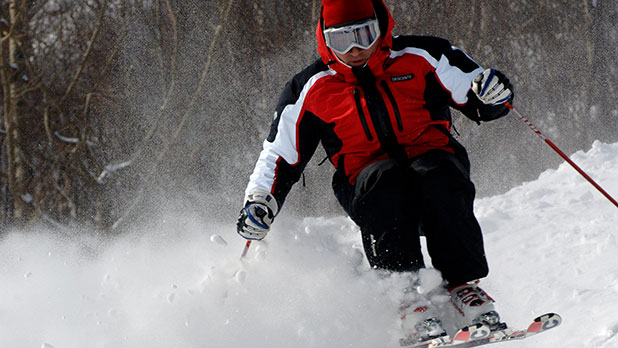 9. Hunter Mountain
Turn a "sick" day into a ski day. Hop on the I Love NY bus from Manhattan to Hunter Mountain for weekday skiing on select dates in January, February and March. With 55 trails and a 1,600-foot vertical drop, the Snowmaking Capital is just a 3-hour bus ride away. The bus will take you directly to the mountain, hassle-free!
10. Plattekill Mountain
Take a day trip to Plattekill Mountain straight from the city. Hop on the I Love NY bus on select Saturdays in January, February and March to experience some of New York State's best skiing, snowboarding and tubing. With more than 35 trails and tubing hills, Plattekill Mountain is the ultimate family winter fun destination. And the I Love NY bus makes your commute easy - you'll make it from the city to the slope in just three hours.
Don't forget to post photos of your New York adventures on Instagram and Twitter with #iSpyNY and #ILoveNY and tag us on Facebook!