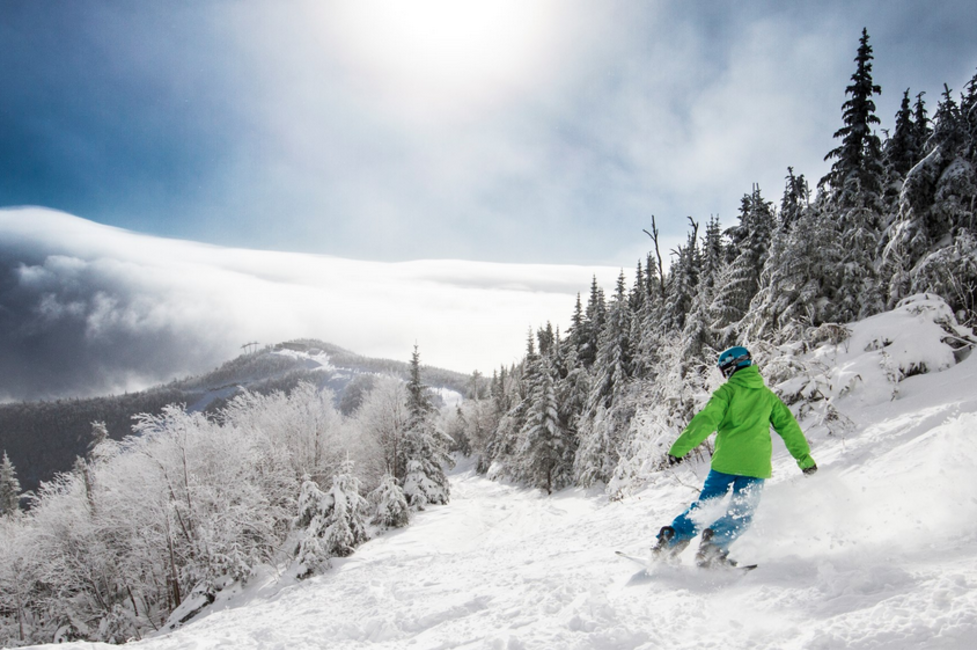 Nothing beats winter in New York State. Skiing, snowmobiling, fishing, festivals and, of course, Rockefeller Center. Let us help you plan the perfect getaway with10 things to do in New York State this winter!
#1 Ski New York State
New York State's mountains have more ski areas than any other state in the nation! With nearly 100 downhill and cross-country ski centers to choose from, you can ski everything from steeps and glades to beginner trails and black diamonds. Check out great mountains like Holiday Valley in Chautauqua-Allegheny, Bristol Mountain and Greek Peek in the Finger Lakes, Belleayreand Hunter in the Catskills, or Gore in the Adirondacks. There are also a number of cozy family-operated resorts like Willard Mountain in Capital-Saratoga-called "New York's Coolest Little Ski Area". Or you can ...
#2 Ski the Granddaddy of all Mountains: Whiteface
Located in the Adirondacks in historic Lake Placid, Whiteface Mountain has been a two-time venue for the Winter Olympics and is more than just an amazing place to hit the slopes. Featuring 73 runs and the East Coast's biggest vertical, Whiteface also offers snowshoeing, cross-country skiing and the bobsled and skeleton experience at their Olympic Sports Complex.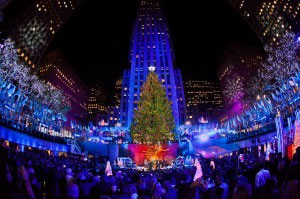 #3 Winter in New York City
There's nothing like winter in New York City! From Rockefeller Center to the window displays at Macy's, Barneysand Bloomingdales, the city bustles with holiday cheer all throughout the winter. Shop designer flagships likeTiffany's and Saks or check out theColumbus Circle Holiday Market at 59th and Broadway.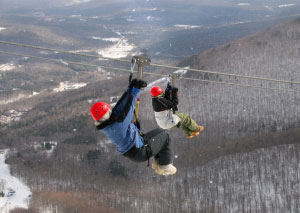 #4 Soar Above the Snow with New York Zipline
Who needs all that cold snow in your boots when you can soar above the powder in the Catskills at New York Zipline Adventures at Hunter Mountain! Take the SkyRide Tour-the longest, fastest and highest zipline tour in North America, or hit the Mid Mountain Tour and zip across the canopy taking in the beautiful winter scenery of New York.
#5 Travel New York State by Rail
A stylish new train connects the Adirondack village of North Creek with Amtrak service at Saratoga Springs, offering the chance to see the breathtaking beauty of New York State in winter. The scenic Saratoga/North Creek line runs along the Hudson River to skiing and other winter fun at Gore Mountain and North Creek's Main Street shops, inns and restaurants. The full-length dome cars from the famous 1950s Super Chief and vintage stainless steel double-deck coaches whisk you in comfort and style while you relax and enjoy a leisurely meal, a hot cup of coffee, or a glass of wine.
#6 Explore Howe Caverns
Voted a Top 5 Northeast Family Attraction by Disney's Family Fun readers,Howe Caverns in Central New York is a great place to get underground and out of the cold. The temperature is a moderate 52 degrees year-round, letting you and your family explore amazing rock formations and take a boar rise on the underground river that carved them.
#7 Warm Up with Wine and Beer Tours
New York State is full of award-winning wineries and microbreweries that host events year round that include tastings and more. For a fun and educational Hudson Valley Wine Tour, board the Little Wine Bus in Manhattan (and other stops including Beacon) for lunch, snacks, entertainment and great wine. You can also take a Hudson Valley Breweries Tour on the Little Beer Bus and enjoy culinary food, beer, music, raffles and great fun all day. Find more great places in New York State for wine and beer at Uncork New Yorkand the New York State Brewers Association.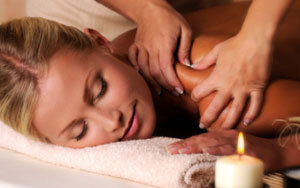 #8 Romantic Resorts and Spas
Stay slopeside, trailside or even seaside this winter in any number of New York State's grand resorts, posh hotels and soothing spas. Legendary hotels in New York City like The Algonquin, the Ritz Carlton and the Waldorf Astoria, with its celebrated restaurants and a luxurious spa, are just the start. The Hamptons are a great winter destination with year-round winery tours, fine dining, charming shops and posh spas-plus offseason rates can't be beat.   
Nestled amid the dunes of Montauk, Gurney's Resort Inn & Spa has the only sea water spa in the continental United States. Check out the host of heavenly spa packages designed to revitalize you, while enjoying spectacular ocean views from your room or the king-size heated seawater swimming pool (surrounded by floor to ceiling windows).
#9 Winter Fishing in New York State
New York State is full of lakes, ponds, rivers and streams to lure anglers from near and far of all ages and skill levels. The lower Niagara River offers one of the best winter trout fisheries on the continent, while options for ice fishing on Lake Ontario begin with Sodus Bay-a 3,000-acre smörgåsbord of pike, perch, bluegills and walleye. The eastern end of Lake Ontario and the St. Lawrence River gateway offer New York State's only "no limit" perch fishing and Oneida Lake is renowned for walleye and perch "ice-bites."
Ice challenged? You don't have to ice fish to catch the big one. Cayuga and Seneca, the deepest Finger Lakes, seldom freeze over. They draw shore fishers to Cayuga's Taughannock Falls State Park and Seneca's Watkins Glen Pier.
Trophy-sized steelhead love to winter in the warmer rapids of Great Lakes tributaries, gorging on salmon and trout eggs. In the Thousand Islands-Seaway region, the Salmon and Oswego rivers offer public access to spectacular fishing, as do large streams like the Genesee, Oak Orchard and Black River,and skinny creeks like Eighteen Mile, Irondequoit, Grindstone and Little Sandy.
The New York State Department of Environmental Conservation has all the details you need about fishing licenses and great places to fish in the state.
#10 Winter Sports: Inside and Outside
The Super Bowl is coming to New York State in 2014 and with it a number of football-related exhibits and events, including a 58 foot-high, eight-lane toboggan run through Broadway!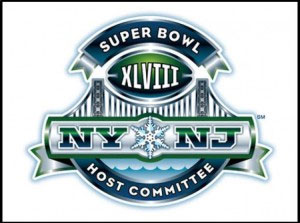 The Empire State Winter Games, brings thousands of athletes from across the state to compete in a variety of winter sports and will take place February 6-9 inLake Placid.
New York City, Long Island and Buffalo showcase some of the best hockey in the world with the New York Rangers, New York Islanders and Buffalo Sabres, while basketball goes all winter long inMadison Square Garden and the Barclay's Center with the New York Knicksand Brooklyn Nets.
There's also minor league hockey action and lightning-fast indoor lacrosse to entertain you while the temperatures drop outside.