Here's your guide to all things fun, unique and cultured that you MUST do in NYS this month.
Beer, beer, and more beer.
Grab ye kilts! The Hudson Valley Irish Fest is September 26. The majestic banks of the Hudson River at Peekskill's Riverfront Green Park will celebrate Irish culture all day long. Learn the positive values of the rich Irish American heritage and how it lives in the Hudson Valley today! Oh, and drink beer as the Irish do in the process.
Oktoberfest. We all know it, we all love it and we're all going to the NYS version of it in Cape Vincent September 26 (so cancel your plans that weekend). A farmer's market, crafters and a beer garden lift spirits while lots of Bavarian food helps absorb all those hops. What's not to like?
Meet Oktoberfest's northern cousin: Locktoberfest. If you want to celebrate but prefer to hang around the Greater Niagara region, then head to Lockport for food, music, fun, historic tours, kids' activities…and, of course, brews!
A lil' fun for everyone.
It's that time of the year again…the 21st Annual Eagle Mills Art and Craft Show is back two weekends in a row starting September 19! The tradition boasts 150+ juries crafters featuring woodwork, quilts, baskets, florals and so much (no really, SO much) more. With great music, food and face painting to boot, there's something here for the whole family!
Animal lovers, take note! The 29th Annual Wildlife Festival is kicking off in North Blenheim. The festival will feature experts providing tips on efficient energy consumption, a petting zoo, various wildlife exhibits, and balloon animal sculptures! Best part is – it's free!
The American Gold Cup is one of the most prestigious and iconic equestrian sporting events in the world of International Show Jumping, and it's going on in North Salem now! Come watch various elite equestrians showcase their talents! Fun for horse lovers and horse experts alike!
Lake George's Jazz Weekend is steadily approaching, which means you should buy your tickets ASAP. Spend your weekend grooving to contemporary jazz featuring nationally acclaimed performers. Take a break from dancing every once in awhile to snack and sip on Lake George's finest treats!
Vroom vroom.
September's one of the last months of the year that you can truly enjoy water activities! Head to the Maritime Festival in Greenport to check out boats of all shapes and sizes and indulge in some tasty fishy treats!
Love cars and custom motorcycles? Don't we all. The Rollin' Street Thunder Hogs & Rods Show is in Alexandria Bay starting September 11! The show kicks off with a block dance party to live music, then continues into the next day with rare cars to look at more music to dance to! What's not to love?!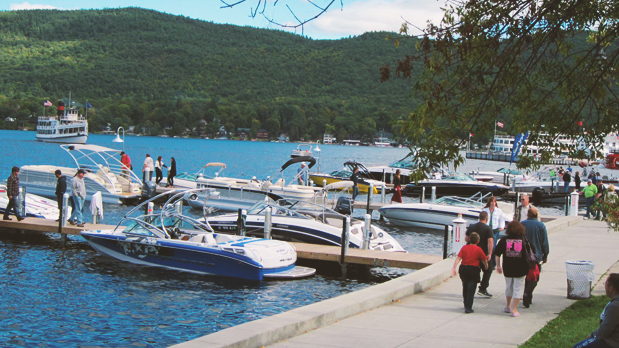 Head on up to Lake George the weekend of September 19 for the annual In-Water Boat Show. The show will be bustling with dealers, demo rides and new and used boats in water and on land – it's the perfect place to bid goodbye to summer 2015 and start dreaming about summer 2016!
Share your New York State Fall photos on Facebook, Twitter, & Instagram all season long using #NYLovesFall!