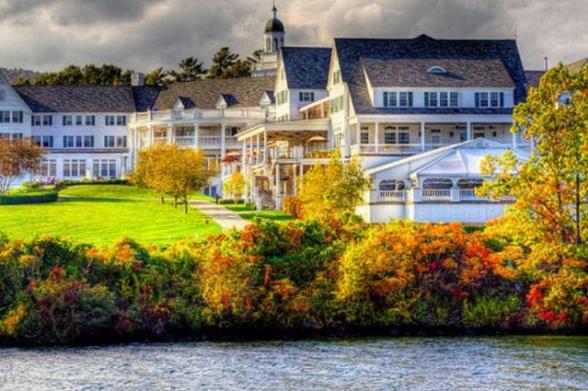 Are you dreaming of the perfect vacation? Make your dreams a reality and book your 2020 New York State getaway now before it's too late! Booking in advance ensures your spot is reserved and can even help you save money. With unforgettable lakeside views, exciting new attractions, and thrilling adventures get ready for a truly unique New York experience in 2020.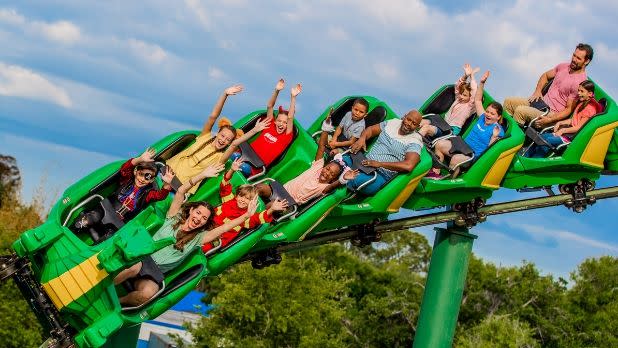 Relive your childhood with a trip to LEGOLAND®️ New York—set to open July 4, 2020, in Goshen! With more than 50 rides and attractions, the action-packed theme park will be the largest LEGOLAND®️ in the world. Ride the Dragon coaster at LEGO®️ Castle and become a firefighter at LEGO®️ City, two of the seven "lands" at the park. Various levels of annual passes may be purchased, along with one-day admission tickets. Check the LEGOLAND®️ New York website for vacation packages with nearby hotels, as well as potential ticket discounts! The park will be open seasonally from early spring to late fall.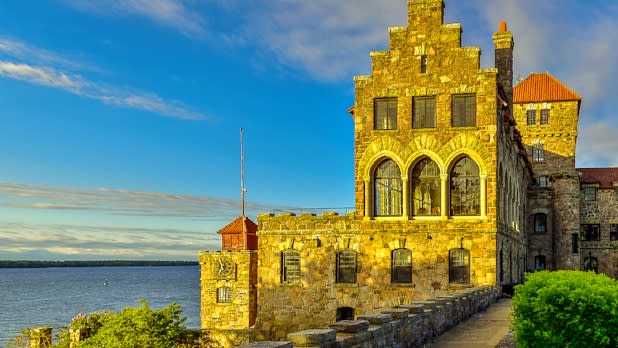 Have you ever imagined what it would be like to spend the night in a castle? You can make it a reality at Singer Castle, located on Dark Island in the St. Lawrence River. A night in the castle's Royal Suite includes a catered dinner, an extended private tour of the castle's grounds and outbuildings, access to the castle for the night, and continental breakfast the next morning. If you're looking to splurge, this is the vacation for you. Priced at $775 a night for two people (Sunday–Friday) and $850 a night for two people on Saturday, a stay in the Royal Suite is only available from May 1–October 31. It's $75 for each additional person, up to six–eight maximum occupancy. Request reservations for the Royal Suite.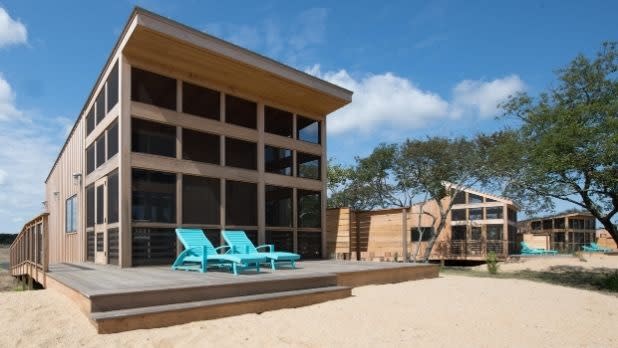 Camp along Great South Bay at the cottages at Heckscher State Park in East Islip. With 1,600 acres to explore featuring picnic spots, fields to play sports, and paved trails for walking, there's a fun activity for each day of your vacation! The newly built cottages along the waterfront provide a unique glamping experience. Each cottage can accommodate two to six people and feature a living room, bedroom(s), kitchen, bathroom, and a screened porch. Don't wait to book, make your reservations. Prefer tent camping? Heckscher State Park has that too!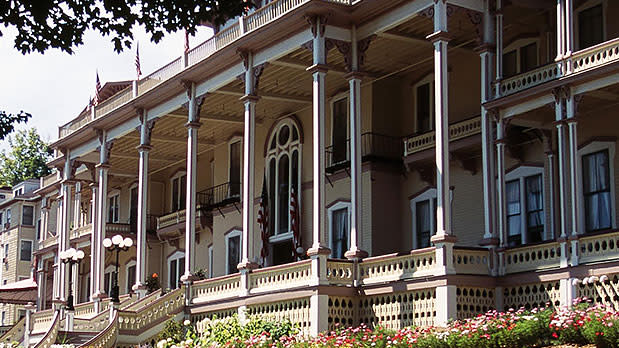 Immerse yourself in arts, culture, and more during the 9-week summer season held from June 27–August 30 at the Chautauqua Institution. More than 100,000 people attend the seasonal events and activities each year, so plan your visit now! Some of 2020's themes and programs include "Art and Democracy," "The Women's Vote Centennial and Beyond," and "Forces Unseen: What Shapes Our Daily Lives." Daily gate passes are available during the summer season, with free admission on Sundays. Evening events in the more than 4,000-seat amphitheater may sell out as several popular musical artists perform.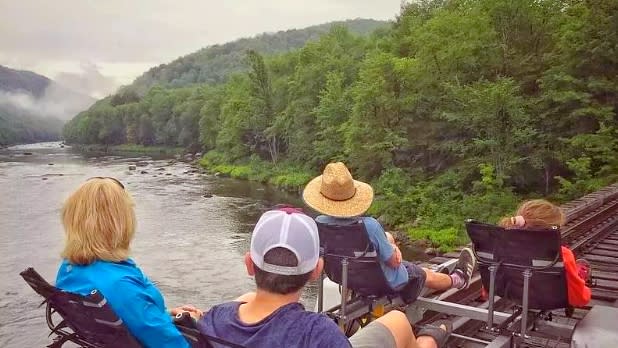 Experience the beauty of the Adirondacks on a railbiking adventure at Revolution Rail Co. in North Creek. Pedal through the luscious green trees during the summer or find incredible foliage during the fall season. Don't wait: 2020 reservations are being accepted now! Try the Quadbike, which seats four people, for $140 or the Tandem bike, which seats two people, for $80. Head to the North Creek Railroad Station to check in, then take a shuttle approximately five miles to the beginning of the tour. There are typically four tours a day, with each taking approximately two and a half hours.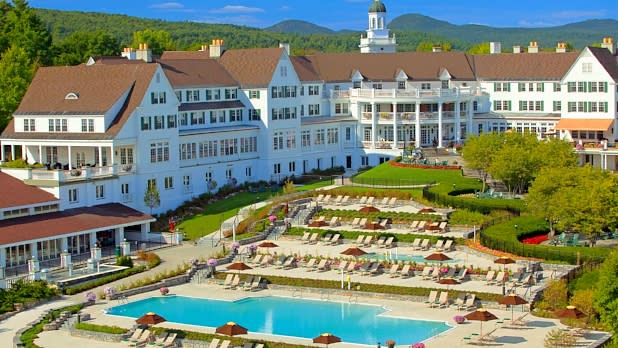 Make the summer of 2020 your best yet with a weekend (or more!) at the Sagamore Resort in Bolton Landing. Fun for everyone in your family or friends' group, the historic Sagamore Resort offers an unforgettable experience along the shores of Lake George. From on-site activities like basketball, tennis, fishing, and swimming to the full-service spa, experience an Adirondack resort in 2020. Enjoy a cocktail by the 95,000-gallon pool at the Splash Pool Bar or a casual meal at Mr. Brown's Pub—just two of the many dining options at the Sagamore. Traveling with children? Between endless outdoor activities and indoor games as well as a climbing wall in the Rec Center, they'll have a blast! In addition, children ages 4–12 can join the Sagamore Kids Club, where they can participate in crafts, sports, educational activities, and more. Look for special packages throughout the year to take advantage of deals—such as the "book early and save" option.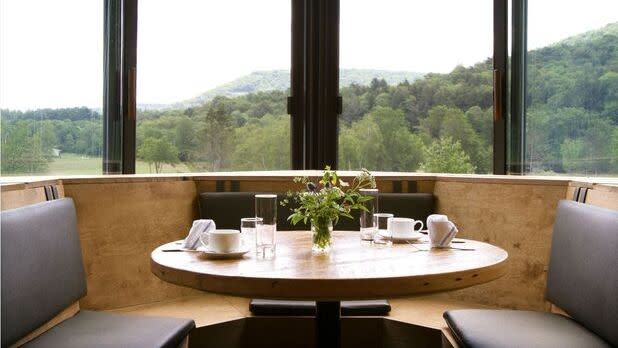 If you've picked up a travel or fashion magazine (or visited their corresponding website) in the past year, you've no doubt read about the perfect combination of nature, design, and inventive cuisine that defines the modern-day Catskills. There may be no better place to experience all this under one roof than at the food-focused DeBruce, where your stay is inclusive of a seated a la carte breakfast and a multi-course tasting menu by acclaimed chef Aksel Theikuhl. Between meals, walk (or hike) the expansive grounds to get a sense of why this region is a favorite retreat for harried city dwellers. The DeBruce's 14 rooms book up fast for holiday and summer weekends, so plan ahead and check that Catskills experience off your bucket list in 2020—or make it the first of many visits!
Lucille Ball Comedy Fest  (Chautauqua-Allegheny)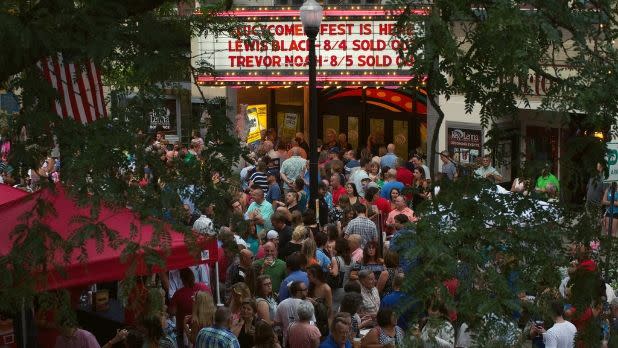 Comedy legend Lucille Ball hailed from Jamestown, now home to a museum bearing her name as well as the National Comedy Center, and, of course, the Lucille Ball Comedy Fest. The dates are set for the 29th annual edition, August 5-9. Comedy fans should think about booking now at conveniently located hotels such as Chautauqua Harbor Hotel, then keep an eye out for lineup and ticket announcements as the festival gets more popular every year. In fact, the 2019 fest, with John Mulaney and Sebastian Maniscalco headlining and more than 50 other laugh-out-loud comedy events, attracted record crowds of over 15,000.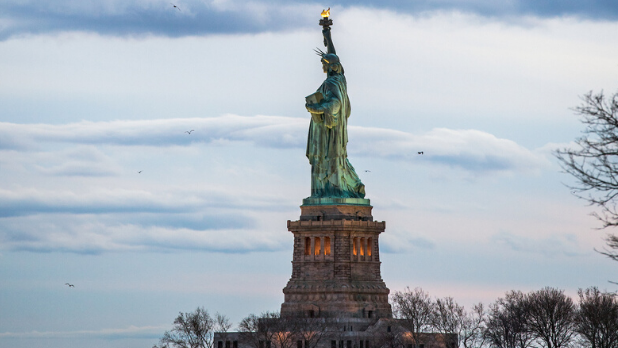 Experience history firsthand as you walk through the crown of the Statue of Liberty. This limited opportunity is a wonderful staple for your New York City vacation. Tickets to the crown can only be purchased by advance reservation. Start planning your trip today, as tickets typically book out at least a month in advance, with less availability on the weekends! You can also purchase tickets to see the Statue of Liberty pedestal or the Statue of Liberty grounds, which sell out less frequently. Tickets may be purchased through Statue Cruises, the ferry service authorized by the National Park Service, online or by calling 1-877-LADYTIX. Cruises leave from Battery Park in lower Manhattan and Liberty State Park in New Jersey. 
Hall of Fame Weekend in Cooperstown (Central New York)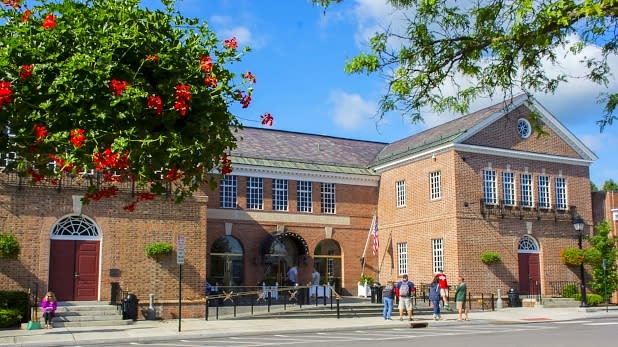 Celebrate baseball and the sport's Hall of Fame Weekend in the picturesque village of Cooperstown from July 24–27. The jam-packed weekend is filled with events like "Play Ball with Ozzie Smith," the Parade of Legends, the Induction Ceremony, and the Legends of the Game Roundtable. In addition to the weekend's events, head to the National Baseball Hall of Fame and Museum to get a sense of the impressive history of the game. Travel packages for accommodations and event tickets are available through Sports Travel and Tours by calling 1-888-310-HALL—if you're looking for a particular package, book now as some of the packages are selling out. Also, consider booking accommodations in nearby cities like Oneonta, Utica, and Albany and drive to the weekend festivities.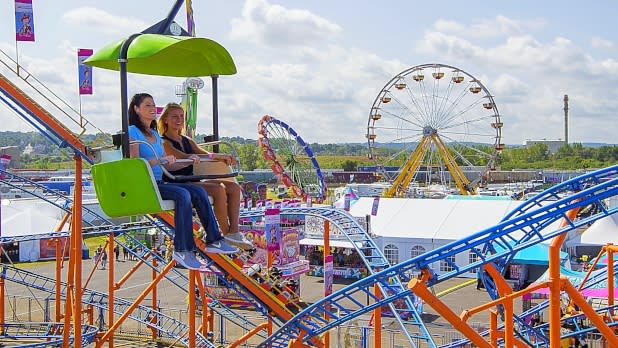 Deep-fried Oreos, thrilling rides, and incredible musical performances. Find these and much more at the Great New York State Fair from August 26–September 7 in Syracuse. Although you can always get a ticket to the fair, nearby hotels in Syracuse sell out in advance. There are several accommodation options in and around Syracuse, but the Great New York State Fair partners with local hotels that may offer discounts or shuttles to the New York State Fairgrounds. Some of the hotel partners from 2019 were: Crowne Plaza Syracuse, the Jefferson Clinton Hotel, and Quality Inn & Suites Fairgrounds. RV Camping at the Fairgrounds is also available—permits are expected to go on sale in April.
Spend a long-awaited summer vacation camping at Hither Hills State Park in Montauk. This 170+-site campground along the ocean is an oasis for campers. From picnic areas and sports fields to a playground and a beach, there are on-site activities for both children and adults. Walk along the nature trails, explore the 40-acre freshwater lake, or visit the walking dunes at Napeague Harbor. Book your vacation now before your desired dates are taken. Camping season typically runs from April—November.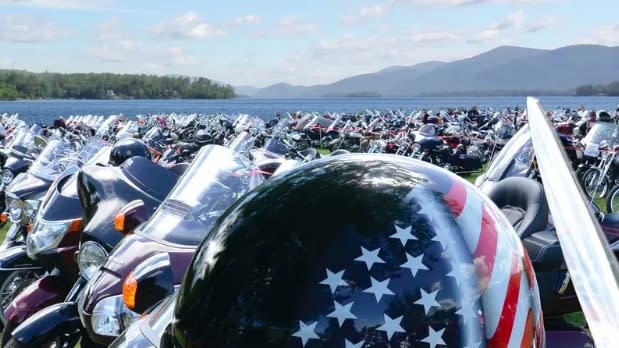 The first weekend in June brings motorcycle enthusiasts to beautiful Lake George for the Americade Motorcycle Touring Rally. From June 2–6 enjoy demos, displays, an expo with food vendors, a beer garden, and more. Listen to live music at the free block party on Friday and Saturday or hop aboard one of the Lake George Steamboat Company's boats for a dinner cruise. Pre-registration opens February 2020, so mark your calendars to register! Don't forget about booking your lodging—some local accommodations include: Fort William Henry Hotel, Courtyard by Marriott Lake George, Holiday Inn Resort Lake George, and Scotty's Lakeside Resort. 
Travers Stakes at Saratoga Race Course (Capital-Saratoga)

Credit: Joe Labozzetta
Head to the Saratoga Race Course in Saratoga Springs on August 29 for the Travers Stakes. Watch some of the top thoroughbreds compete on the most popular day at the track. The Travers Stakes brings thousands of visitors to Saratoga—book your hotel early before rooms sell out! Hotels near the track include: the Adelphi Hotel, Pavilion Grand Hotel, and Hampton Inn and Suites Saratoga Springs. Although tickets for the Travers Stakes may not sell out, get your tickets in advance to reserve your spot. If you plan to spend the day in the picnic table area or the general admission section, plan to arrive early to get your preferred location. 
Bring your best dance moves to the World's Largest Disco at the Buffalo Niagara Convention Center! Held each year on the Saturday after Thanksgiving, 2020's disco will be held on November 28. Tickets are scheduled to go on sale in August, so be sure to buy yours as soon as possible! With thousands in attendance, general admission tickets sold out at this year's event. The event raises money for Camp Good Days and Special Times, an organization that offers services and residential programs to families and individuals affected by cancer.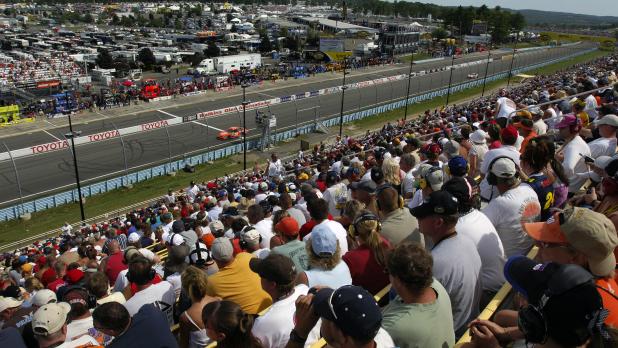 Experience NASCAR's annual race in the Finger Lakes in August at Watkins Glen International. The Go Bowling at The Glen will be August 16 at 3 pm and features some of the top NASCAR drivers. Get your tickets early as the reserved grandstand tickets have sold out the last five years! During your visit, explore downtown Watkins Glen, less than five miles from the race track. Looking for a place to stay? Check out nearby Blackberry Inn Bed & Breakfast, Idlwilde Inn, Catharine Cottages, Echoes of the Glen, and Watkins Glen Harbor Hotel, to name a few. Prefer to camp? There's on-site camping available at The Glen. 
Don't forget to post photos of your New York winter adventures on Instagram and Twitter with #iSpyNY and tag us on Facebook!