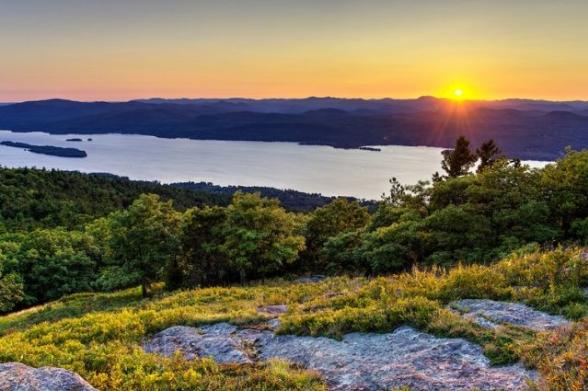 Make 2023 a year of new opportunities, and most important of all, new travel experiences! If you've been gazing wistfully at the stars wondering where on Earth you'll set foot this year, you're in luck! We've compiled a list of must-see trips to add to your calendar for 2023. So what are you waiting for?! Start planning your trip today.  
Masks are encouraged, but optional in most settings per New York State guidelines. Individual businesses or attractions may require mask-wearing. Call ahead and check websites and social media to make sure attractions and amenities are open and available.
1. Experience the Beauty of "The Queen of American Lakes" (Adirondacks)

Credit: @scenic_spontaneity on Instagram
Lake George (pictured at top) is known as the birthplace of the American vacation. In the mid-1800s when a Boston preacher penned a book about his adventures in the Adirondacks wilderness, city dwellers flocked to the woods to experience the joys of hiking, camping, and fishing. Lake George has been a vacation paradise ever since, attracting visitors to its glistening waters and 109 miles of coastline year-round, but especially in summer. The possibilities for fun are endless. Take a relaxing paddleboat cruise with the Lake George Steamboat Company (pictured), camp under the stars on a secluded island (make sure to book your site early!), go up, down, and all the way around at Six Flags Great Escape and Hurricane Harbor, see life-sized dinosaurs in the Magic Forest, experience history at Fort William Henry, and more!
Lake George holds some of the biggest events in the Adirondacks including Americade, the Adirondack Food & Wine Festival, and Lake George Music Festival. Don't miss the ice castles in winter and foliage cruises in the fall.
2. Take a Hot Air Balloon Ride over the Largest Park in the Contiguous U.S. (Adirondacks)
Glide above the treetops and see the sunrise over the rolling countryside and charming historic villages on a hot air balloon ride through the Adirondacks–a preserved forest wild park that's larger than Yellowstone and Death Valley combined. During fall, the annual Adirondack Balloon Festival (pictured), which in 2023 celebrates its 50th year, welcomes amateur and professional hot air balloonists from across the United States and around the world for a four-day balloon extravaganza with balloon displays, launches, street parties, and of course, scenic views of the Adirondack Mountains' fall foliage, Lake George, and storybook villages along the way. 
Ballooning Adventures in Queensbury offers hot air balloon rides from April through November.
3. Stay in a "Great Camp" (Adirondacks)

Credit: @cfbrenton1 on Instagram
Visit (and spend the night in) the grandiose summer homes of New York's late 19th-century jet setters, including Gilded Age magnates Rockefeller and Vanderbilt. Where American craftsmanship meets Swedish chalet design, these classic family cabins in the Adirondacks are the epitome of a relaxing lakeside vacation in the heart of the wilderness. 
Great Camp tours, lakeside activities, and overnight stays are available at The Point, White Pine Camp, Great Camp Sagamore (pictured), Lake Kora, and more. Find out more about Adirondack Great Camps at Visit Adirondacks.
4. Attend a Day at the Races (Capital-Saratoga)

Credit: @denten.io on Instagram
Saratoga's motto is "health, history, and horses," and it's no wonder why. Famous for its mineral baths, artisan stores, and historic sites, Saratoga also has horse racing sewn into the town's DNA. Since 1863, The Saratoga Race Course (pictured) has been welcoming thousands of locals and tourists from all across the globe to its historic grandstand, especially in the summer months. If you're in town in August, be sure to see the prestigious Travers Stakes (also called the Midsummer Derby), the most popular racing event of the year.
For upcoming races and full stakes schedules, visit NYRA Saratoga.
5. Explore New York State History (Capital-Saratoga)

Credit: @discoveralbany on Instagram
Embark on a journey through time exploring Albany's history spanning more than four centuries— from its humble beginnings as a small Dutch settlement to the vibrant capital city it is today. Start at the French chateau-style New York State Capitol (pictured) and see how many faces you recognize out of the 300 portraits hand carved into the stone of the "Million Dollar Staircase." Catch breathtaking views of Corning Tower and Albany's uniquely-shaped performance space, the Egg, as you stroll across Empire State Plaza's marble walkways. The New York State Museum takes you all the way back to the Ice Age while the Albany Institute of History & Art displays works by influential artists from New York and beyond.
If you plan to visit in the spring, don't miss one of the Northeast's biggest and most beloved annual events: the colorful Albany Tulip Festival in Washington Park during Mother's Day Weekend.
6. Go Glamping in the Woods (Catskills)

Credit: @treetopia_campground on Instagram
Take your camping trip in the Catskills to the next level. Go the retro route and stay in a decked-out classic Airstream at the new AutoCamp Catskills in Saugerties or TreeTopia (pictured) in Athens. The Old Game Farm in Catskill has luxury tents set up with all the fixings on sites that meet your camping needs. Kick things up a notch with a stay in a luxurious Tiny House overlooking Catskill Creek in South Cairo or in a Scandinavian-style cabin in the heart of the Oliverea Valley at one of the most highly-anticipated hotel openings of 2023.  

Credit: The Kartrite Resort & Indoor Waterpark
Find the best of the beach in the middle of the mountains on an ultimate family getaway to this 324-suite resort that's home to the largest indoor water park in New York State! Surf the perfect wave on the Endless Summer Flowrider, take a wild ride down the Krakken and Nor'Easter (pictured) water slides, or float along the lazy river. The impressive indoor park also features a pool that is accessible for visitors with disabilities and several smaller slides and play sections for the wee ones. Once you dry off, enjoy s'mores outside by the fire, find everything from a buffet feast to fine dining to a hopping bar scene at the resort's eight restaurant options, and discover more family fun activities from bowling to rock climbing.
8. Visit the Home of Baseball (Central New York)

Credit: @gocooperstown on Instagram
Every year, thousands of baseball fans flock to the world-famous Doubleday Field (pictured) to watch their favorite major league players in the small village of Cooperstown. With an idyllic setting amid rolling hills, the field plays host to more than 350 baseball games each year, ranging from youth baseball to collegiate tournaments and major leagues. Baseball fans can witness magical moments frozen in time at exhibitions, archive collections, and special events at the National Baseball Hall of Fame and Museum.
In July, don't miss The Hall of Fame Induction Ceremony during the Baseball Hall of Fame Weekend. Remember to book early as hotels sell out well before the event!
9.  Tour the "Carousel Capital of the World" (Central New York)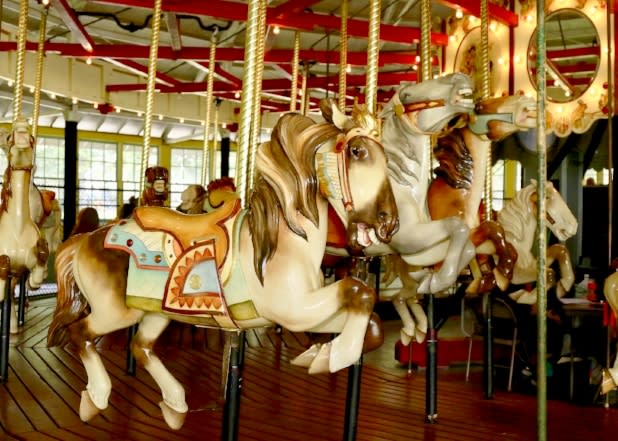 Head over to Binghamton and take a spin on one, two, or even all six of its intricately crafted antique merry-go-rounds located throughout the city and nearby villages of Endicott, Endwell, and Johnson City. Ride the century-old carousel in Ross Park, home to the fifth-oldest zoo in the country, or delight in the sounds of the Wurlitzer organ at the Recreation Park carousel (pictured), the inspiration behind an episode of the "Twilight Zone." The largest and most ornate of these timeless structures can be found at the two-story pagoda-style pavilion in C. Fred Johnson Park. George W. Johnson Park, Endicott Park, and Highland Park round out the rest of these wood-carved relics.
Each carousel ride is free of charge and if you ride them all, you can get a commemorative "I Rode the Carousel Circuit" button!
10. Visit the home of comedy (Chautauqua-Allegheny)

Credit: @elevatedvlogs on Instagram
Laugh your socks off in Jamestown, home to two museums entirely dedicated to comedy greats past and present. Tour over 50 immersive exhibits, explore the lives of legendary comics, or try your hand at working the room like a professional on the stage at The Stand-Up Lounge at the National Comedy Center. "I Love Lucy" fans can learn about the iconic TV couple at the Lucille Ball Desi Arnaz Museum (pictured), see props, costumes, and other artifacts from the show, and snap a photo in Lucy and Ricky Ricardo's New York City apartment and their Hollywood hotel suite, both of which have been recreated and brought to life in the museum.
Plan a trip in August for the Lucille Ball Comedy Festival (August 2-6, 2023), featuring special events and a line-up of comic performances.
11. An Enlightening Retreat at the Chautauqua Institution (Chautauqua-Allegheny)

Credit: @chq1874 via @tourchautauqua on Instagram
Ever wish there was an adult version of summer camp where you can immerse yourself in arts and culture while enjoying lakefront recreation? Book a stay at the renowned Chautauqua Institution (pictured), where every week features lectures and programming that follow a theme. Some of 2023's themes include "Games: A Celebration of Our Most Human Pastime," "A Life of Literature," and "The National Parks: How America's 'Best Idea' is Meeting 21st-Century Challenges." Evening events in the more than 4,000-seat amphitheater may sell out with performances including Bonnie Raitt, Natalie Merchant, and The Washington Ballet. More than 100,000 people attend the seasonal events and activities each year, so plan your visit now!
Accommodations can fill up quickly, so make sure to book your stay early at the historic Athenaeum Hotel or rent a lake house near the grounds of the institution. Daily gate passes (on sale January 17) are available during the summer season, with free admission on Sundays.
12. Visit the World's Oldest Photography Museum (Finger Lakes)

Credit: @jbocianski on Instagram
The George Eastman Museum (pictured), located on the grounds of the grandiose Rochester estate of the film pioneer who made Kodak a household name, is a must-see for shutterbugs and film buffs. The internationally-renowned center for photography and film has an unparalleled collection featuring 3 million cinematic objects from scripts to musical scores, 28,000 films, the archives of Spike Lee and Technicolor, and the personal collections of Cecil B. DeMille and Martin Scorsese. Explore the mansion that Eastman called home for more than 30 years, stroll the immaculate gardens, and catch a movie at the beautiful 500-seat Dryden Theatre, which exhibits 300 films a year. Little ones can make their own hands-on projects and learn about photography through interactive exhibits at the Discovery Room. 
13. Follow a Wine Trail in the Finger Lakes (Finger Lakes)

Credit: @senecalakewine on Instagram
Named one of America's greatest wine regions, you'll find award-winning wines around every corner in the Finger Lakes. Nestled between the scenic Keuka, Seneca, Canandaigua, and Cayuga lakes, the region is home to more than 120 wineries producing renowned cool climate wine varietals. Sip world-class wines beside picturesque, glacially-designed lakes and rolling hills at wineries in Finger Lakes Wine Country at one of its three distinct wine trails: Cayuga Lake Wine Trail, Keuka Lake Wine Trail, and Seneca Lake Wine Trail (pictured).
14. Experience One of the Wonders of the World Up Close and On the Water (Greater Niagara)

Credit: @niagarafallsadventures on Instagram
Dubbed the "Honeymoon Capital of the World'' in the late 1800s for its romantic grandiosity, Niagara Falls sees more than 12 million visitors each year. Get closer to the waters of Niagara Falls than you thought possible at the Cave of the Winds experience--a tour through the Niagara Gorge and wooden walkways that bring you just 20 feet from underneath the waters of Bridal Veil Falls. Ride along the gorge and under the falls on the iconic Maid of the Mist (pictured) journey, and feel the thrill of Devil's Hole class 5 whitewater rapids and the magnitude of the Whirlpool at Whirlpool Jet Boat Tours.
Make sure to pop into the new 28,000-square-foot Welcome Center opening May 2023 to see exhibits highlighting natural, industrial, and Indigenous American history. 
15. Explore the Lockport Locks (Greater Niagara)

Credit: @spotlightsojourns on Instagram
In the summer of 1823, construction commenced on the "Flight of Five Locks" in Lockport, marking one of the most incredible engineering feats of the entire Erie Canal. Celebrate this 200-year milestone in the charming canal town and see the locks in action on a narrated ride with Lockport Locks & Erie Canal Cruises (pictured). The tour includes being raised and lowered 50 feet in the only double set of locks on the Erie Canal! Those who prefer to stay on land can opt for a walking tour. The Erie Canal Discovery Center and Locks District offer even more opportunities to learn about the historic waterway once called "The Nation's First Superhighway."
16. Find Your Awesome at LEGOLAND (Hudson Valley)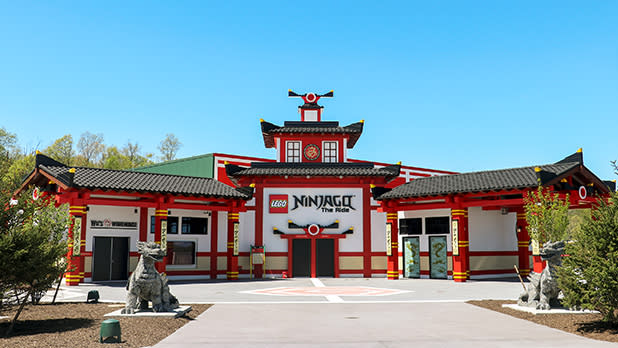 Get ready to build memories that will last a lifetime at LEGOLAND®️ New York (pictured) in Goshen! With more than 50 rides and attractions spread across 150 acres in the heart of the Hudson Valley, it's the ultimate theme park destination for kids ages 2–12 and their families. Ride the dragon coaster, become a firefighter, master the art of "Spinjitzu," and more at the park's seven "lands." If all that fun makes you hungry, there's no shortage of delicious eats from tacos to burgers and sweet treats like Granny's apple fries and more! Make it a true LEGO weekend and stay at the 250-room LEGOLAND hotel featuring pirate, ninja and other themed rooms, a free breakfast buffet, and in-room treasure hunts. Annual passes and single-day admission tickets can be purchased. Check the LEGOLAND®️ New York website for vacation packages and deals! 
Check out LEGOLAND's seasonal events including the 4th of July Red, White & BOOM, Brick-or-Treat, and Holiday Bricktacular.
17. Experience Fine Dining at America's Best Culinary School (Hudson Valley)

Credit: @d_rebz on Instagram
What do Anthony Bourdain, Michael Mina, and Roy Choi all have in common? They studied at The Culinary Institute of America (pictured), the Le Cordon Bleu of America. Book a table at one of The CIA's New York restaurants and be wined and dined by students and faculty chefs. At their Hyde Park campus, there are three restaurants available for a dine-in experience, each with a unique focus: American Bounty Restaurant (contemporary and traditional seasonal American cuisine), The Bocuse Restaurant (re-imagined French classics), and Ristorante Caterina de' Medici (authentic regional Italian cuisine).
18. Toast to 50 Years of Long Island Wine Country (Long Island)

Credit: @borghesevineyard on Instagram
In 1973, a young couple planted the first grapes on 66 acres of land in Cutchogue, marking the dawning of Long Island's flourishing wine country. In the 50 years since, dozens of award-winning wineries have emerged to make Long Island the most diverse wine region in the country. Raise a glass of red or white to the Golden Anniversary at the "founding" vineyard, Castello di Borghese (pictured), and other wineries that make Long Island proud including Wolffer Estate, Pindar, and more!
Stay tuned for updates on special events celebrating the anniversary!
19. Book a Beachside Cottage (Long Island)

Credit: @leocarvalhonyc on Instagram
Get your dose of sand and sun with a unique glamping experience along Great South Bay at the cottages at Heckscher State Park (pictured) in East Islip. With 1,600 acres to explore featuring picnic spots, fields to play sports, and paved trails for walking, there's a fun activity for each day of your vacation! Each waterfront cottage can accommodate two to six people and feature a living room, bedroom(s), kitchen, bathroom, and a screened porch. Don't wait to book, make your reservations (Note: A minimum 7-night stay is required during the peak season). Prefer tent camping? Heckscher State Park has that too! Hither Hills State Park in Montauk also has oceanfront campsites accommodating RVs and tents. Book your vacation now before your desired dates are taken. 
Camping season typically runs from April—November. 
20. Celebrate the 50th Anniversary of Hip Hop in NYC (New York City)

Credit: @tobytreichler on Instagram
New York City is gearing up for one of the biggest celebrations of 2023 — the 50th anniversary of hip hop. The birthplace of the genre can be found at 1520 Sedgwick Avenue, the Bronx apartment building where DJ Kool Herc introduced the world to hip hop during a 1973 block party. Other boroughs, including Brooklyn and Queens, also played an important role in hip hop history. Hush Hip Hop Tours hosts a popular three-hour bus tour making stops at some of hip hop's most important landmarks including the Graffiti Wall of Fame (pictured) and Apollo Theater in Harlem, as well as Yankee Stadium and the apartment building where it all started in the Bronx. Stop by the Bronx Terminal Market where the Universal Hip Hop Museum has set up a temporary exhibit while construction continues on its permanent home.
21. Visit the Crown of the Statue of Liberty (NYC)

Credit: @kyla_in_somewhere on Instagram
One of New York City's most popular attractions is once again welcoming visitors after a more than two-year closure. Ascend 162 steps up the narrow staircase of the Statue of Liberty (pictured) to get a bird's eye view of New York Harbor and close up views of Lady Liberty's tablet as you walk through the crown. Tickets to the crown must be reserved in advance through Statue City Cruises, the ferry service authorized by the National Park Service, online or by phone at 877-LADY TIX (877 523-9849). There are a limited number of crown tickets per day so start planning your trip today to secure your spot! 
22. Stay Overnight in a Real-Life Castle (Thousand Islands-Seaway)

CREDIT: @_RBBRAMLETT ON INSTAGRAM
Be the King or Queen of your very own Gothic castle for the night at Singer Castle (pictured). Built in 1905 by the fifth president of the Singer Sewing Machine Company, the grand granite castle sits on Dark Island, a small island accessible by boat several times a day. When you book an overnight stay, you and your royal party get a catered dinner, private tour, and the 28-room castle and 7-acre island all to yourself for the evening! Explore the castle's medieval entranceway lined with Knights of Armor, secret passages, hand-carved furnishings and decor, and more. If you're only in town for the day, a 45-minute tour and narrative of the history of Singer Castle are available.
23. Frederic Remington Museum Turns 100 (Thousand Islands-Seaway)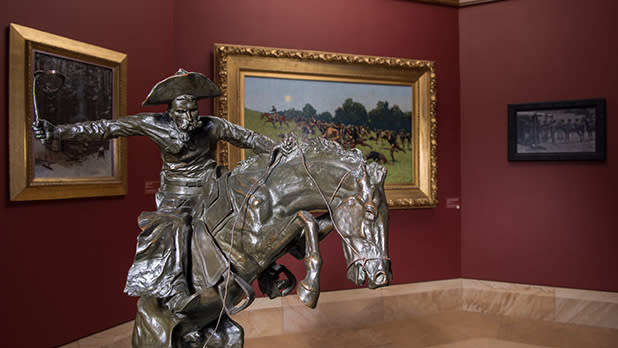 Join the riverfront city of Ogdensburg in celebrating the 100th anniversary of one of its most beloved institutions. The Frederic Remington Art Museum (pictured) is dedicated to the life and work of the renowned artist known for his iconic depictions of the Old West. The vast collection housed within the walls of an early 19th-century mansion features original bronzes, paintings, and drawings, along with personal possessions including sketchbooks, notes, photographs, and even the cigars in his pocket before he died. The museum complex occupies one block of the historic city and even has a separate children's museum with western-themed educational activities.
---
Share New York State adventures with us on TikTok, Instagram and Twitter with #ILoveNY and #iSpyNY, and tag us on Facebook!