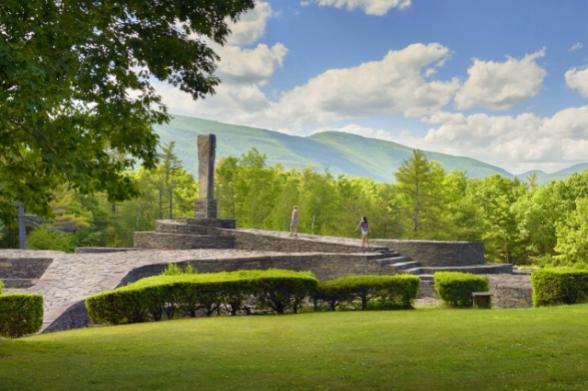 Summer Fridays—and weekends—are incredibly precious, and most of us wait all year for them. Need inspiration for how to get the most from your summer weekends in New York State?  Pick and choose from these destinations to plan your ideal weekend getaways, or become the ultimate New York explorer and try them all!
June 21: Hudson (Hudson Valley)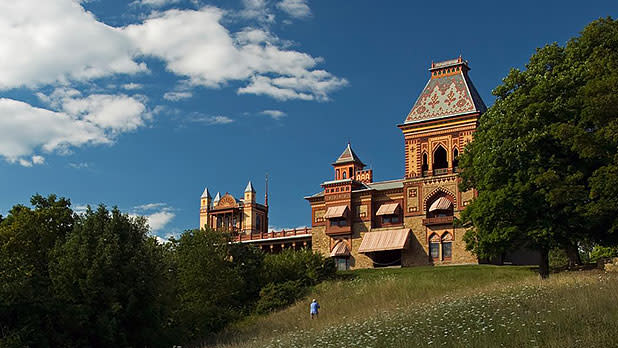 Summer officially begins! Head just two hours north of New York City to the charming city of Hudson. Hudson is famous for its many historic buildings, adorable shops and restaurants, and surrounding views of the tree-covered mountains. Warren Street makes up its "downtown," where you can hop from boutiques to galleries to antique shops to award-winning bars and restaurants. Visit the Olana State Historic Site (pictured), home and studio of famous landscape painter Frederic Edwin Church. The house itself is an architectural tour de force with Victorian and Middle Eastern motifs, and the property offers breathtaking views of the Hudson River and the Catskills.  As of May 2019, you can take a stroll on the brand-new Hudson River Skywalk, a pedestrian walkway on the Rip Van Winkle Bridge that provides a direct path from the Olana State Historic Site to the Thomas Cole National Historic Site. Come nighttime, adults can sip old-fashioned cocktails at the new Great Gatsby-like Maker's Lounge, or head to Club Helsinki Hudson, a club/music venue inside a renovated industrial building from the 1800s that hosts amazing concerts and spirited drag shows.
June 28: NYC (NYC)

Credit: Chris Gagliardi
With the 50th anniversary of the historic Stonewall Riots—and the first ever WorldPride to take place in the US—New York City will be this year's epicenter of Pride celebration. If you happen to be in the city earlier in the week, don't miss the WorldPride Opening Ceremony on Wednesday, June 26 at Barclays Center in Brooklyn. It's hosted by Whoopi Goldberg and will include performances by Cyndi Lauper, Billy Porter, Chaka Khan, Ciara, Daya, and Todrick Hall. Friday is the Stonewall 50 Commemoration Rally, where you can join community leaders and activists in retracing the steps of the first ever Stonewall Uprising commemorative rally in 1969. On Saturday, continue the festivities with Dance On The Pier, an enormous annual dance party that draws in big names in music, this year featuring legendary recording artist and performer Grace Jones, recording artist and dancer Teyana Taylor, and Brazilian drag queen and singer Pabllo Vittar. On Sunday, load up on rainbow-colored garb (and water!). It's the day of the Pride Parade, and this year will be bigger than ever.
July 5: Glamping in the Adirondacks (Adirondacks)

Credit: Dana Romanoff Photography
Convene with nature—in comfort! Camp Orenda offers an amenity-rich glamping experience in the Adirondacks. Stay in one of six canvas cabins which fit up to four people. Each cabin lets you enjoy privacy and the quiet of the woods, but shares facilities and amenities. These include an open-air backcountry kitchen for fire-cooked meals, a creekside pavilion with a bar, wine and beer refrigerators for guest use, soda, baked goods, beverages, and s'mores ingredients! There's a rustic bathhouse with bathrooms and a heated outdoor shower with provided natural and biodegradable personal care products. There's also a fire pit for evening gathering where you can relax in an Adirondack Chair (of course!) and enjoy s'mores, chilled wine or beer, and the sounds of nature. You'll be surrounded by amazing activities, from self-guided hikes to mountain biking trails. The campsite is a short distance from two lakes, Garnet Lake and Thirteenth Lake, and Orenda offers the use of onsite canoes and kayaks. But you can always just dive right in.
July 12: Alexandria Bay (Thousand Islands-Seaway)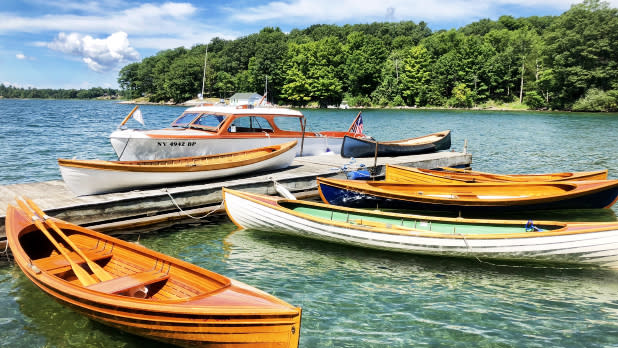 Head out to the Thousand Islands region, the birthplace of amazing salad dressing and so much more. Hit up the beautiful beach at Wellesley Island State Park, the perfect spot for fishing, swimming, and boating. Visit the Minna Anthony Common Nature Center and its charming little museum, where you can learn about the various natural habitats in the local ecosystem, find info on hiking trails, and more. There's also a quarter-mile trail to picnic tables and a butterfly house. Next, head to the Antique Boat Museum in Clayton (pictured), where you'll get an up close and personal look at more than 300 historic and contemporary boats. You can learn all about the history of watercraft and even set sail on the St. Lawrence River. The museum will take you aboard a traditional St. Lawrence Skiff around French Creek Bay, included in the cost of admission! Or you can pay a bit extra for a 45-minute river cruise in a wooden motorboat or a sunset cruise in an antique boat. Finally, don't leave the islands without visiting either the majestic Boldt Castle or Singer Castle. Both were built in the early 1900s by wealthy American magnates for their families, each with its own unique story. Come feel like royalty yourself!
July 19: Cooperstown (Central)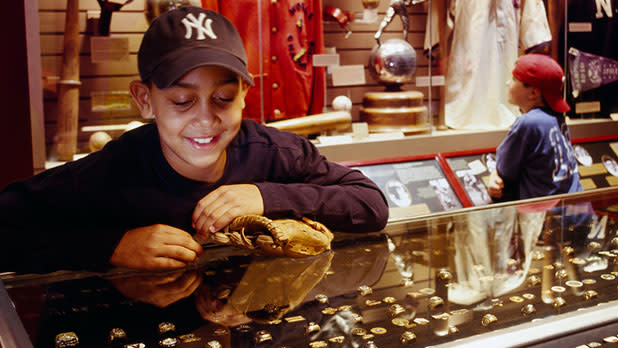 See baseball history in the making! July 19 marks the start of the Baseball Hall of Fame Induction Weekend in Cooperstown. Thousands of fans from all over the world will come to witness new inductees, including Yankees greats Mariano Rivera and Mike Mussina, take their place among the greats. Beyond the induction ceremony, visitors can also watch the award presentation, Parade of Legends, and sit in on roundtable discussions with the players. Want a perfect souvenir from the weekend? Head to Cooperstown Bat Company, where you can watch the process of making professional-quality bats—which start as just chunks of wood! Have a bat engraved at no additional cost and usually within an hour. Finally, wrap up the fun times at Brewery Ommegang, a major player in the world of craft brewing. Ommegang offers tours and tastings and tons of creative and delicious brews on draft.
July 26: Fire Island (Long Island)

Credit: NPA Photo /  J.Peters
Late July is perfect beach weather. Hop the passenger ferry to Fire Island and enjoy the calm of the car-free community at the Fire Island National Seashore. The island is divided into 17 communities, two of which, Cherry Grove and Fire Island Pines, were the first places in the country to openly welcome LGBTQ visitors and residents. You'll notice people get around by bike and on foot and tend to greet each other warmly as they pass. Take a tour of the house of William Floyd, a signer of the Declaration of Independence, or sign up for a free guided hike of the island's gorgeous Sunken Forest, a maritime holly forest. Want to get out farther on the water? Try parasailing! Fire Island Parasail offers parasail rides and boat tours, as well as tubing, wake-boarding, and waterskiing in the Great South Bay.
August 2: Ithaca (Finger Lakes)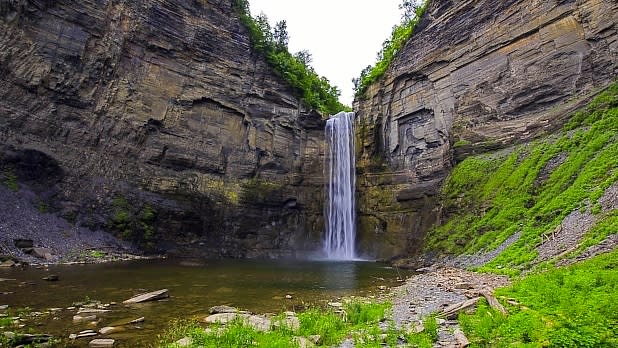 Scenic waterfalls, charming shops, farm-to-table restaurants, and a lively, youthful atmosphere make Ithaca a fantastic getaway. Walk Ithaca Commons to get a feel for the town; it's four blocks of pedestrian-only fun. Start your morning at Ithaca Coffee Company, sip craft brews on tap at the Ithaca Ale House, try famous vegetarian creations at the iconic Moosewood Restaurant, and dig into rave-worthy ice cream at Purity Ice Cream. Thanks to Ithaca's gorgeous gorges, you don't have to hike very far to reach a number of waterfalls, such as Buttermilk Falls and Taughannock Falls (pictured).
August 9: Jamestown & Chautauqua (Chautauqua-Allegheny)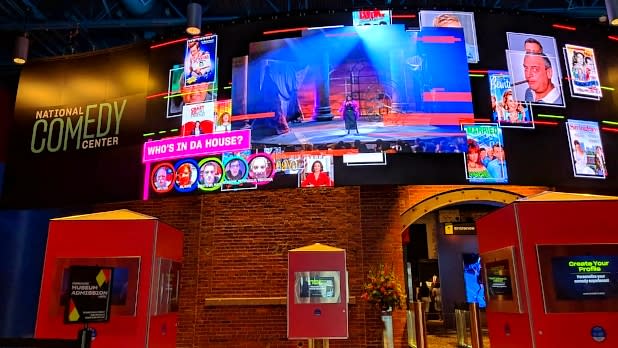 Okay, so summer is sliding by. Don't panic! There are still plenty of opportunities to enjoy new New York State experiences, such as the Lucille Ball Comedy Festival in Jamestown. The National Comedy Center (pictured) will host this annual celebration of one of America's greatest comedians. Big names in comedy will perform live, including John Mulaney and Sebastian Maniscalco. There will also be comedy shows just for kids, and big outdoor block parties with live music, beer, wine, and lots of laughs. Take advantage of the 20-square-mile Chautauqua Lake with Summer Wind Cruises. Book your seat on a lunch, dinner, brunch, or moonlight cruise on this 130-passenger yacht. Expand your horizons at the Chautauqua Institution, a historic learning center right beside the lake. Stop in to attend lectures, classes, religious services, and discussions, as well as to see world-class entertainment featuring live chamber music, orchestral music, and more. Check out the complete calendar on their website.
August 16: Woodstock (Catskills)

Credit: Ulster County Tourism
Switch to something a little more peaceful and pensive at the Opus 40 & Quarryman's Museum. Opus 40 is a unique earthwork sculpture, or a sculpture that incorporates the ground itself. A man named Harvey Fite spent 37 years transforming his quarry into a walkable, touchable, explorable work of art. If you want to catch some non-man-made beauty, hike Overlook Mountain (pictured) for panoramic views of the Hudson Valley. Since you'll be in town for the weekend, check out the popular Mower's Flea Market on Saturday or Sunday, ranked among the top 10 flea markets in the country by FODOR's travel guide. Shop handmade jewelry, sculpture, delicious eats, and more.
August 23: Syracuse (Finger Lakes)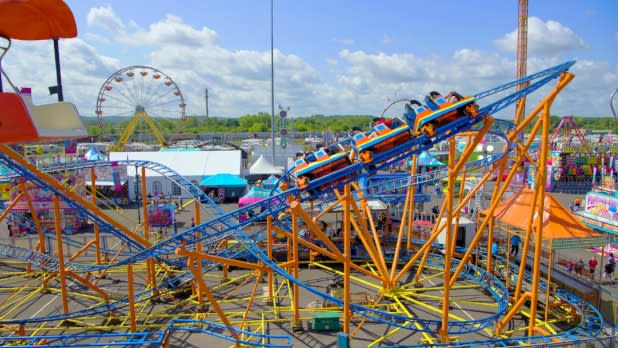 How do you fit carnival rides, arts, crafts, treats, meats, concerts, fireworks, butter sculptures, live animals, and more into one weekend? By attending the Great New York State Fair in Syracuse (pictured)! This is one of the country's largest and longest running state fairs, and new attractions are added each year. The whole thing is a whopping 13 days of fun, so you can easily spend the entire weekend exploring. If any rainy days (or way-too-hot days) land on your weekend, just head over to Destiny USA, a mall that is so much more than a mall. Sure, with more than 250 stores you can find anything you'd want to shop for, but you'll also find a full-size indoor go-karting track, the world's largest indoor suspended ropes course, a 325-seat comedy club, a museum with traveling art and science exhibitions, and more. Weather's nice again? Take a stroll in Onondaga Lake Park, dubbed the "Central Park of Central New York." This 7.5-mile greenway includes four trails, waterfront picnic areas, skate parks, dog parks, and playgrounds. Perfect for losing yourself in a long, meandering stroll.
August 30: Watkins Glen (Finger Lakes)

Credit: Beautiful Destinations
Explore Watkins Glen in the Finger Lakes via three modes: boat, foot, and car. First, try Schooner Excursions for a beautiful sailing tour aboard the "True Love." The schooner leaves from Seneca Harbor about four times a day and can accommodate up to 22 people. You can also sign up for a Wine & Wind on the Water tour, which partners with a local winery, or the "Sails & Ales" tour, which partners with a local brewery. Back on dry land, you'll be wowed by Watkins Glen State Park as you hike the Gorge Trail. You'll pass 19 waterfalls, likely catching some spray off the Cavern Cascade, so don't forget to bring a poncho!
September 6: Binghamton (Central)

Credit: Van Zandbergen Photography
The weekend of September 6 is a particularly illuminating time to visit Binghamton, thanks to its annual LUMA Projection Arts Festival (pictured). During the festival, the buildings in the city's downtown essentially become a canvas for light projections. 3D animators tell stories, create movement and optical illusions, and some pieces are rooms you can walk into with dancers, models, and live music. It's a beautiful and surreal experience not to be missed. While you're in town hit up Clinton Street, aka "Antique Row." Browse vintage, one-of-a-kind items from more than 30 antique dealers. Don't leave without saying hi to all the animals at the Binghamton Zoo at Ross Park! On weekends, attend special animal keeper talks and learn all about amazing species like lemurs, red pandas, penguins, monkeys, cougars, and more.
September 13: Catskills (Catskills)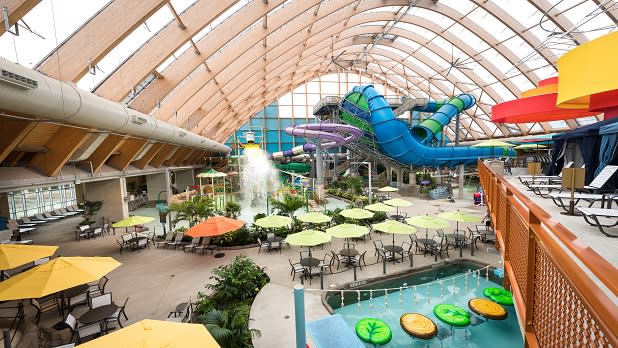 Cool off in the Catskills at the brand new Kartrite Resort & Indoor Waterpark. Stay in one of the 324 luxurious suites with epic views of the mountains right outside your window. You'll be as close as can be to New York State's biggest indoor waterpark. If shooting down waterslides and riding an endless wave don't suit your fancy, visit the spa (which also has a kids' corner!), take the family to laser tag, rock climbing, bowling, or the arcade. There are eight dining options to choose from so taste new things all weekend. September 13 is also the night of a special event at Bethel Woods Center for the Arts, home of the original Woodstock music festival. There will be a special pre-show farm-to-table dinner cooked up by Executive Chef, Jodi Cummings, followed by a live concert by Canned Heat. While you're there, be sure to check out the museum to see its permanent exhibits all about Woodstock and pop culture in the 1960s. Get out and enjoy the beauty of the mountains with a quick and easy hike, such as Frick Pond Loop. This 2.2-mile loop is easy enough for all levels and offers views of Frick Pond and the surrounding mountains.
September 20: Montauk (Long Island)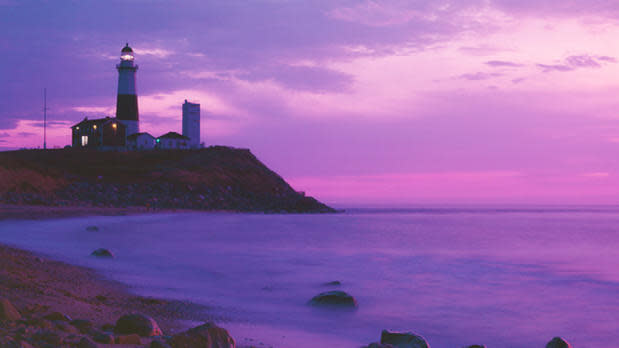 Summer ending is such sweet sorrow, so make the most of it! Head out for one last beach trip in Montauk to bid the warm weather adieu. Climb to the top of the Montauk Lighthouse to gaze out over the ocean. Afterward, swing by the museum in what used to be the keeper's house to learn about the history of the 19th-century whaling industry. Get out onto the water with one of Sail Montauk's private charter boat tours during the day or at sunset. Take your own sailing lessons—they offer an introductory course as well as private classes. Enjoy some healthy competition and a few rounds of mini-golf at the family-friendly Puff 'N' Putt. And just like that—you've had your best summer ever!
Don't forget to share your summer vacation with us! Share New York State pictures on Instagram and Twitter with #FindWhatYouLoveNY and tag us on Facebook!