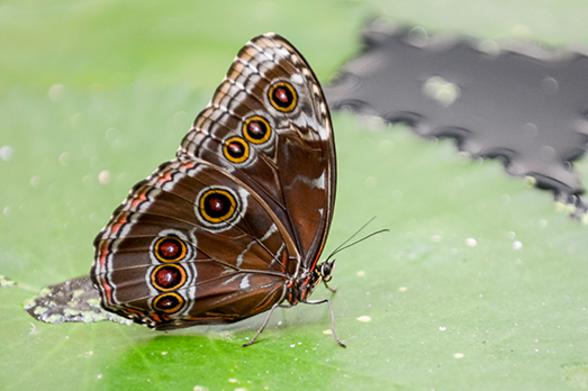 We want to give you a glimpse into the lives, loves and experiences of some of New York's diverse animal population. While we interviewed hundreds of animals, many of them wished to remain anonymous due to the confidential nature of our exchanges - that is, except for the select brave few below. Their stories range from amusing, to heart-warming, and even exciting, but they all have one thing in common: they'll make you want to visit the great state of New York! Now, we share with you the 100% real, raw, honest portrayals of the Animals of New York.
"As a silverback, you're expected to be this really tough guy and show dominance and all that stuff. I'm not like that, which is why I like it here at the Buffalo Zoo. Not nearly as much pressure here as in the wild. But I would like to find a special someone to groom at the end of the day. I think its my shyness that holds me back. There's another gorilla here I like a lot, but when I finally got the courage to do something about it, a group of schoolkids showed up and I lost the nerve."
Visit the Buffalo Zoo.
"I'm a New York City pigeon through and through. Matter of fact, my great great great great great great great grandpigeon came over here from Italy with Verrazano, you know, like the bridge? We're old school, know what I'm sayin'? But I do like getting out of the city every once and a while. I use this new app I downloaded from I Love New York. It's always got the best stuff to do around the state, and it's really great for a someone who's always on the go like myself. But when I get back home I always come here, to the top of The Empire State Building. The view never gets old."
Download the I Love New York App.
"What's your biggest accomplishment?" "In 1975 the beaver was named the State Animal of New York. Everyone always assumes it's the pigeon or squirrel or one of the downstate folks, but they forget about all the wilderness upstate in the Adirondacks (the biggest national park in the US of A, I might add), and that's a dam shame!
Learn more about the Adirondacks.
Today in microfashion. Spotted in the Joseph L. Popp Butterfly Conservatory, Oneonta, NY
Visit the Joseph L. Popp Butterfly Conservatory.
"For a lot of us, this whole 'King of Jungle' thing goes to our heads. Me, I'm a humble guy, and I'm pretty happy right here being King of Utica...well, The Utica Zoo. Actually, just this part of the zoo. I'm not going to go claiming I'm King of the Primate House or anything."
Visit the Utica Zoo.
I take grooming very seriously. Every eagle must. We're American icons, after all. We owe it to our country. All of us eagles right here at the Berkshire Bird Paradise in Petersburg, NY, must be ready to pose for the new $20 bill, or at least an Instagram.
Visit the Berkshire Bird Paradise.
"Racing season is starting, so that means no more horsing around. No more binging on oats, no more hanging out at Jones Beach. I got my blinders on and I'm gonna win it this year, I can feel it." "What's your name on the track?" "They call me 'The Fresh Prince of Belmont.' But you can call me Steve."
Learn more about the Belmont Park Racetrack.
Don't forget to post photos the animals you encounter around New York on Instagram and Twitter with #ILoveNY and #AnimalsOfNY and tag us on Facebook!