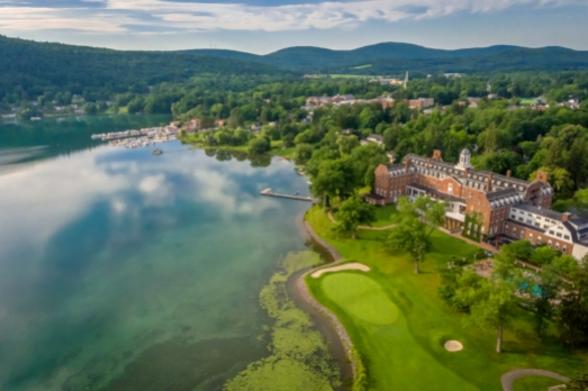 You already know that the official (and free!) I LOVE NEW YORK mobile app can be your best friend on the road in New York, pointing out attractions, restaurants, and events in the area. But did you know that it also now offers four audio walking tours? Each of the following tours dives into the stories and the secrets of a famous town or city within New York State and will pop up on your screen when you access the mobile app in these areas. The tours can be paused and restarted whenever you'd like so you can take your time exploring the many exciting stops along the way.
Seneca Falls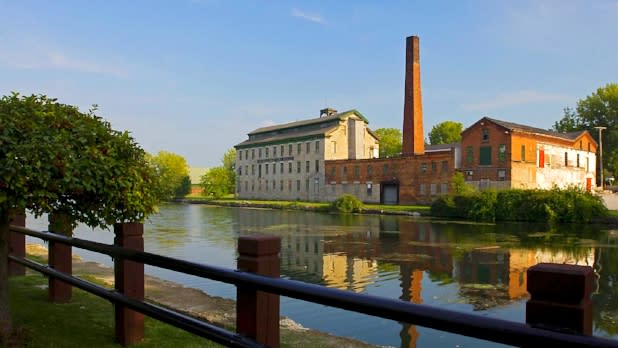 The beautiful hamlet of Seneca Falls may look unassuming and tranquil at first glance, but this charming Finger Lakes town is steeped in radical history and was a home base for one of the most important movements in U.S. history. Follow in the footsteps of Elizabeth Cady Stanton, Susan B. Anthony, Frederick Douglass, and other trailblazers as you learn the inspiring story of the women's rights movement and the Seneca Falls Convention of 1848. You'll also spend some time strolling along the beautiful canal that runs through the town, and learn how Seneca Falls inspired a beloved cinematic classic.
Sites on the tour include Women's Rights National Historical Park, National Women's Hall of Fame, It's a Wonderful Life Museum, Trinity Church, Van Cleef Lake, Suffrage Park, Cayuga and Seneca Canal, "Bailey" Bridge, and  Ludovico Sculpture Trail.
Read More: 48 Hours in Seneca Falls
Cooperstown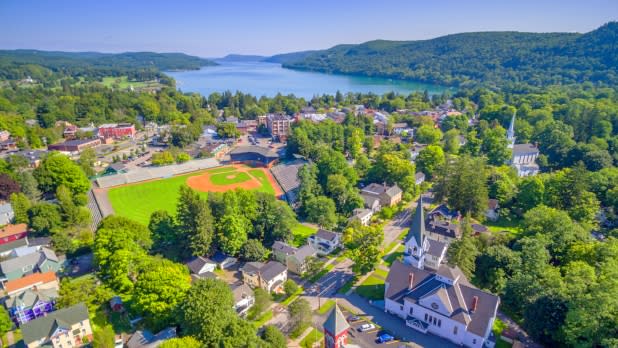 In the heart of Central New York, you'll find the historic, idyllic village of Cooperstown, home to just a thousand residents—and millions of memories. Perhaps best known as the birthplace of America's pastime and home to the National Baseball Hall of Fame and Museum, Cooperstown is a must-see for any sports or history fanatic. But don't stop there, as this scenic locale is where you'll find unique New York gems like the Farmers' Museum and the impressive collection of the Fenimore Art Museum. You'll be surprised at just how much history and culture are packed into this charming small town.
Sites on the tour include  Fenimore Art Museum,  Farmers' Museum,  Otesaga Resort Hotel,  Doubleday Field, and  National Baseball Hall of Fame & Museum.
Read More: Spotlight on Cooperstown
Buffalo
You know about the Buffalo wing, but do you know about Buffalo? Standing proudly on the beautiful shores of Lake Erie, Buffalo is one of New York's most exciting urban hubs. A key gateway to the west, Buffalo is home to jazz history, thriving food and sports scenes, and unforgettable architecture. On this 1.7-mile tour, you'll check out the bustling Canalside waterfront district, the historic downtown, and more unique corners of New York's second-largest metropolis. Plus, you'll get to meet one of the city's most unusual residents—Shark Girl!
Sites on the tour include Shea's Performing Arts Center, Buffalo Savings Bank, Roosevelt Plaza & Electric Tower, Niagara Square & McKinley Monument/City Hall, Ellicott Square Building, and  Canalside Buffalo.
Read More: Spotlight on Buffalo & Niagara Falls
Lake Placid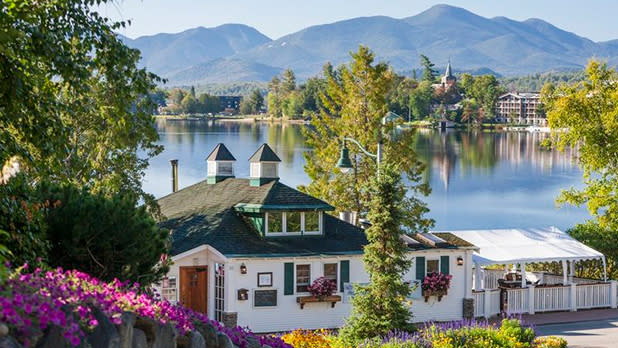 Nestled high in the Adirondacks, Lake Placid is positively brimming with both history and stunning vistas. Host of the 1932 and the 1980 Winter Olympics, this town is a sports paradise, with world-class facilities for winter activities like skiing and skating, as well as warmer-weather pastimes like hiking and mountain biking. Beyond sports, Lake Placid is a beautiful and historic village, and easily one of America's greatest vacation destinations—in fact, the word "vacation" is rumored to have been invented there!
Sites on the tour include Mirror Lake Inn,  Mid's Park,  Olympic Center and Museum, and  Olympic Speed Skating Oval.
Read More: Spotlight on the Adirondacks
Don't forget to share your summer vacation with us! Share New York State pictures on Instagram and Twitter with #ILoveNY and #iSpyNY and tag us on Facebook!