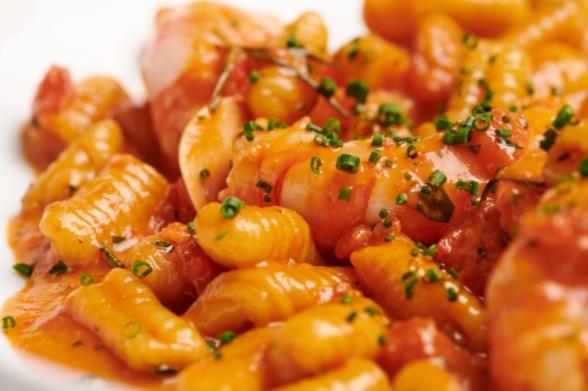 You already know that New York is the best state for pizza, but today, we're focusing on another famous carb + sauce Italian-inspired dish. You guessed it, we're talking pasta, and New York has bowls and bowls of it—including its very own regional specialty. From affordable local gems to a double Michelin-starred extravaganza, there's no better place to enjoy pasta.
Fortuna's, Niagara Falls (Greater Niagara)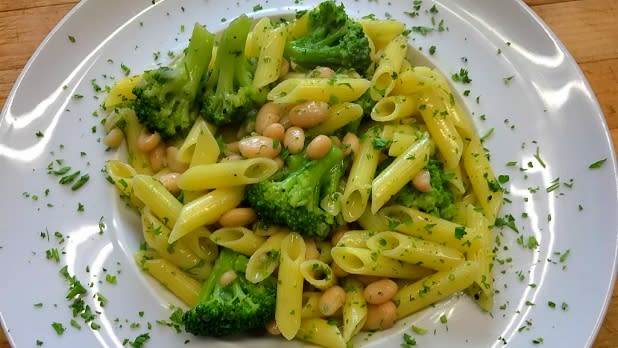 Locals and visitors alike love the homemade Italian classics along with a few originals like penne with broccoli and beans. Bring the whole family because portions here are as epically massive as neighboring Niagara Falls!
Marea, New York City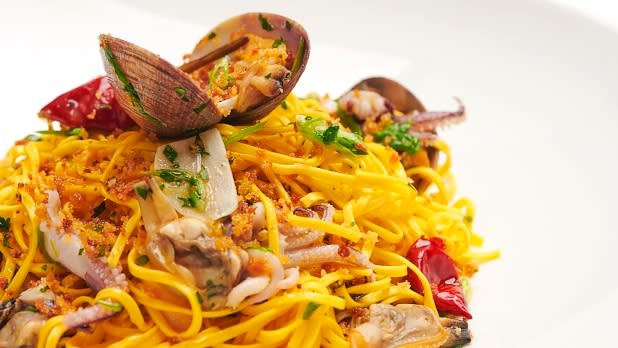 It's easy to see (and taste) why Marea is a Michelin-starred restaurant when you try show-stopping dishes like the fusilli with red wine braised octopus and bone marrow. Marea is the crown jewel in celebrity chef Michael White's Italian fine-dining empire and this food is as good as anything you'll find in "the old country." Chef White, widely regarded as NYC's king of pasta, trained in Emilia-Romagna, the culinary capital of Italy. The tiny Central Park South location makes for a perfect post- or pre-meal stroll.
Ca'Mea, Hudson (Hudson Valley)

Credit: Massimilano Cenci
If you haven't yet had a chance to visit the hip town of Hudson, NY, make a meal at Ca'Mea your excuse. Diners rave about the homemade pasta specials like pappardelle with mushrooms and squid ink linguine at this beloved Northern Italian restaurant that just so happens to hold the #1 restaurant rank for foodie-friendly Hudson on TripAdvisor.
Caffe Rustica, Lake Placid (Adirondacks)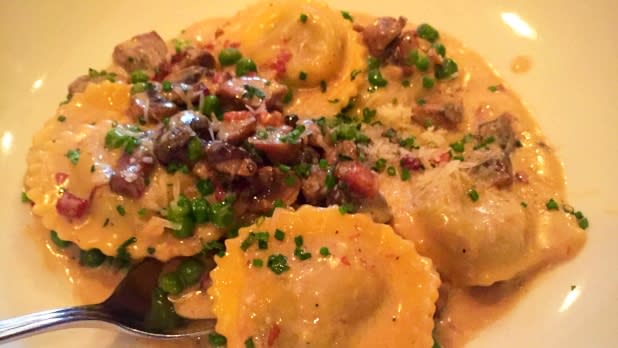 If you're going to spend your days climbing high peaks or going full throttle down an Olympic bobsled track, you'll need to load up on carbs. One of Lake Placid's best not-so-hidden gems (in the top 10 on TripAdvisor), is Caffe Rustica, which serves authentic Italian cuisine, including a particularly memorable ravioli carbonara dish, just a short drive from Main Street.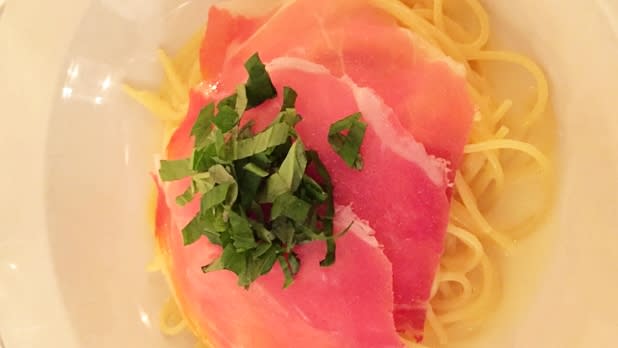 "Basta" means "that's enough" in Italian, but everything on the menu is so good at this creative Italian-Japanese fusion concept (with dishes featuring sea urchin, tobiko, shiso, and wasabi) that we dare you to call it quits. Try the "Spaghetti con Prosciutto e Parmigiano" and watch in awe as your server tosses fresh spaghetti in a half wheel of Parmigiano Reggiano cheese right in front of your eyes.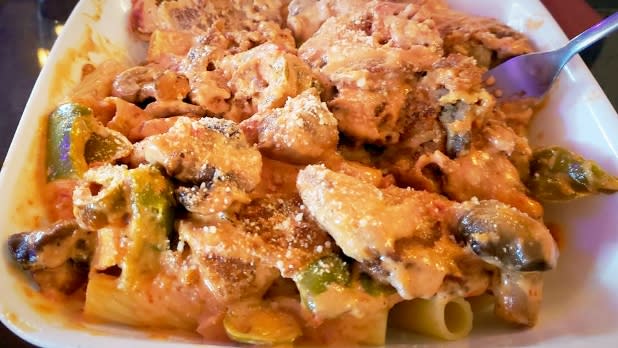 Think all of the best pasta dishes were invented in Italy? Then you've never heard of chicken riggies! Head to Chesterfield Restaurant in Utica to taste this unique hometown dish of chicken, rigatoni, and hot or sweet peppers in a spicy cream and tomato sauce. While the identity of the riggie's inventor remains unknown, Chesterfield's is on the books for creating another local favorite—Utica greens (greens sauteed with hot peppers, garlic, cheese, bread crumbs, and variations of meat and prosciutto).
The Pub, Jamestown (Chautauqua-Allegheny)

Credit: Ashley J Brown
You know those places where you feel like family from the minute you walk in? This is one of them. At the Pub, everyone's a local, and it wows with simple, just plain good food a quick five-minute walk from the National Comedy Center and Lucy-Desi Museum. Mama Mary's angel hair pasta with (off-menu) garlic oil is pure bliss, and the hot peppers in red sauce are perfect if you can handle a bit of a kick. Be sure to bring cash as no credit cards accepted, but don't worry, prices are low so you won't need a lot of it to have a great meal.
Rezdôra (New York City)

Credit: Colin Clark
Rezdôra, which means "grandmother" in the dialect spoken in the Emilia-Romagna region of Italy, is one of the buzziest new restaurants on the New York City dining scene thanks to its mouthwatering tasting menu of handmade pasta (also available a la carte). Chef Stefano Secchi learned to make elevated versions of a Modenese grandma's specialties as tagliolini al ragu and uovo ravioli (a big ravioli with a runny egg yolk and ricotta on the inside and a generous shaving of white truffle on the outside) during his time in some of the most venerable kitchens of Northern Italy, including the three-star Michelin Osteria Francescana, proving that New York really does have it all. Tip: Reserve your table 30 days out from when you plan to visit, as reservations get booked up quickly!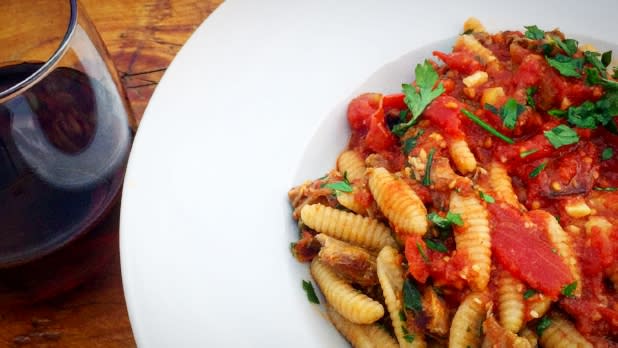 An artisanal pasta purveyor by day, this rustic shop turns into a pop-up restaurant serving creative pasta dishes for dinner Friday and Saturday nights and brunch on Saturdays and Sundays. The seasonal menu changes weekly, along with a rotating selection of suggested wine pairings. Major bonus: all their products are made with ingredients from local Catskills farms (including 100% NY-grown wheat!).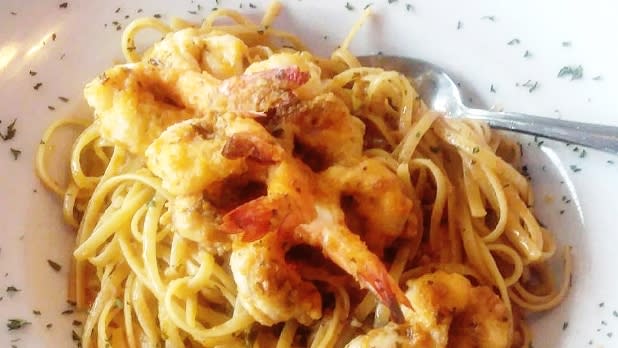 This friendly family-owned & -operated waterfront seafood shack next to the Long Island Aquarium serves up some of the best shrimp scampi this side of the Atlantic. Mollusks more your style? Try the rave-review-inducing linguine paired with clams or mussels. While this place is super casual, don't be shocked if you see a famous face or two—Kate Upton celebrated her 21st birthday here a few years ago along with friends Cameron Diaz and Lady Gaga.
With so many mouthwatering Tuscan-style dishes like farfalle con pollo and cappa santa al prosciutto e basilico (a dish of pan-seared diver scallops with spinach, tomatoes, fresh basil, and prosciutto atop a base of angel hair pasta), you may want to order one of each and share family-style as many patrons do. Right outside the restaurant, there's a bocce court and vineyard, so if the wait for a table is long, play a quick round or take a stroll. The walls are full of autographs from famous (the Clintons and Joe Biden, for example) and not-so-famous fans.
Caffe Italia, Albany (Capital-Saratoga)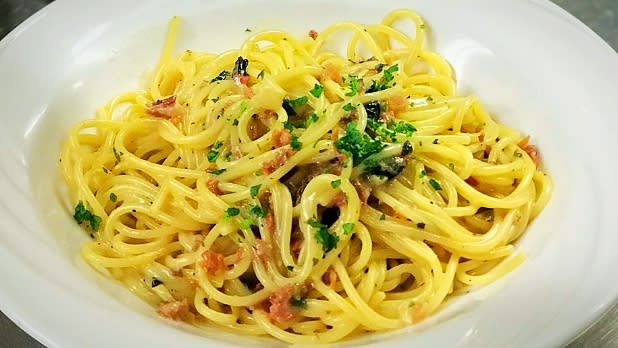 If you're looking for authentic Southern Italian cuisine, make your way to Albany's beloved Caffe Italia. This cozy restaurant has been family-owned since 1980 so it's no wonder it feels like eating in your grandmother's dining room. While all of the dishes get rave reviews, the crab and lobster ravioli, linguine with clam sauce and any kind of "parm" dish are crowd favorites.  
Don't forget to post photos of your New York adventures on Instagram and Twitter with #iSpyNY and #ILoveNY and tag us on Facebook!