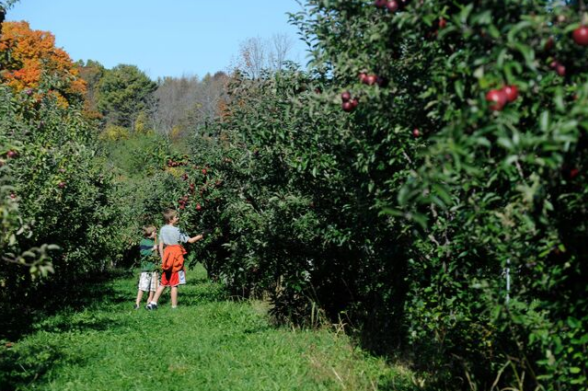 The apple is the official fruit of New York State, and there are more than 40 different varieties and approximately 600 producers in the Empire State. As fall foliage season gets underway, plan a scenic drive to your nearest orchard to wander through apple-scented countrysides, pick your own bagful, and enjoy warm cider doughnuts, pressed apple cider, and freshly baked pies! 
Originally published 10/3/2019

Credit: @benguin8 on Instagram
Family-owned and -operated since 1903, Boehm Farm in Greene County is the perfect place to spend a fall day. Golden Delicious, Empire, and Macouns are some of the apple varieties available for picking starting in September. If you're looking for a certain kind, call ahead to find out which varieties are available on the day you plan to go. Once you've filled your basket with apples, head over to the pumpkin patch to select your favorite pumpkin. Grab a few gourds and some handmade apple cider doughnuts at the farm stand to truly get in the fall spirit. Pick-your-own apple prices vary depending on the quantity and variety of apple.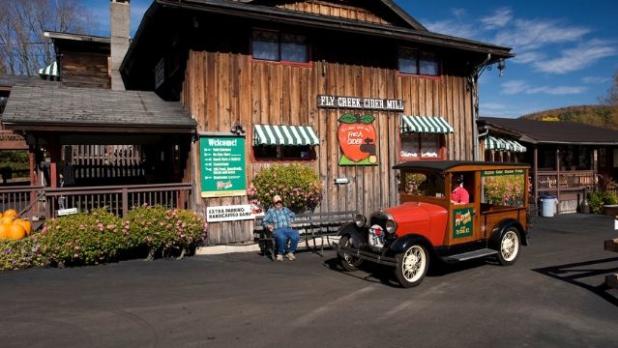 With apple season in full swing, there are plenty of opportunities to experience the delicious fruit at Fly Creek Cider Mill & Orchard near Cooperstown. Try all of your favorite apple varieties in the pack-your-own room. Grab a bag from the mill store (various sizes available) and fill it with any of the apples in the bins—Paul Red, Ginger Gold, McIntosh, Zestar, the list goes on and on! Taste the apples in Fly Creek Cider Mill & Orchard's apple wines and hard ciders, as the orchard is part of the Cooperstown Beverage Trail. Pack-your-own apple prices vary depending on the bag size.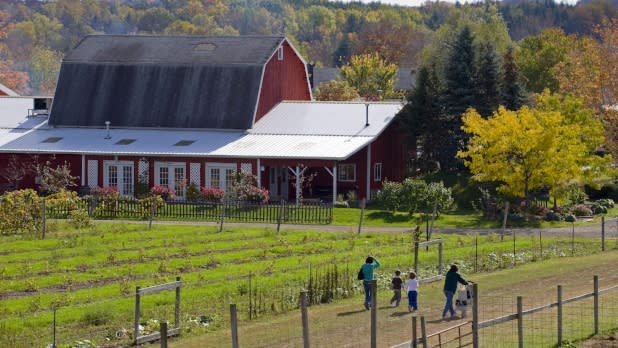 Head to Becker Farms & Vizcarra Vineyards, a fifth-generation family-owned farm in Gasport, for apple picking, beer tasting, and wine tasting. Take a wagon to the orchard for u-pick! From Ginger Gold and Jonamac to Cortland and SnapDragon, there are so many apples that will meet your eye, but varieties and quantities vary. Try refreshing craft beers and the Traditional Hard Cider made with Crispin, McIntosh, and Golden Delicious apples at the on-site Becker Brewing Co., or sample wine at Becker Farms' Vizcarra Vineyards, part of the Niagara Wine Trail. Make it a weekend trip with a stay at Hart House Hotel in the historic district of nearby Medina. U-pick apple prices vary depending on the quantity.

Credit: @lieats on Instagram
Bite into a crisp apple and sample hard cider at Woodside Orchards in Jamesport and Aquebogue. Starting in September, Cortland and Empire are two varieties offered for u-pick at the Jamesport location, and the Mutsu variety can be found at the Aquebogue location. Check Woodside Orchards' website or Facebook page for the latest varieties available, as they can change daily. Sip the flavors of the season at the tasting room in Aquebogue. Here you'll find different types of hard ciders on tap, such as traditional sweet, raspberry, and cinnamon. Apple prices and pick-your-own apple prices vary.
Nestled near the shores of Lake Ontario is Behling Orchards, home to u-pick apples, fresh apple cider, candy apples, pumpkins, and more! Red Delicious, Cortland, McIntosh, and Macoun are a few of the apple varieties available for u-pick. Once you've picked your apples, visit the barn for carefully crafted apple cider and head to the Donut Room for freshly baked pies and donuts. End the day at the play area filled with kids' activities like a corn maze and pony rides. U-pick apple prices vary depending on the quantity. 
Want to experience fall in the Big Apple? Make a stop at one of New York City's Greenmarkets. The flagship location in Union Square, which is open year-round on Mondays, Wednesdays, Fridays, and Saturdays, features fresh fruit and vegetables, along with ciders, meats, and cheeses. Breezy Hill Orchard, based in the Hudson Valley, features seasonal fruit and ciders at many of the Greenmarkets. Looking for something a little sweeter? Indulge in an apple cider or cinnamon sugar doughnut at the Doughnuttery. Prices for products at Greenmarkets vary.
---
Pick-Your-Own is now closed for the 2023 season at the following locations:
Just an hour west of Buffalo is one of the region's favorite apple picking destinations, Meadows Farm in Forestville. Take in all the fall ambiance across 30 acres of farmland where you'll find 10 varieties of apple to pick from, freshly-pressed cider, and other local produce like honey, pumpkins, squash, mums, and maple syrup. Prices for u-pick vary.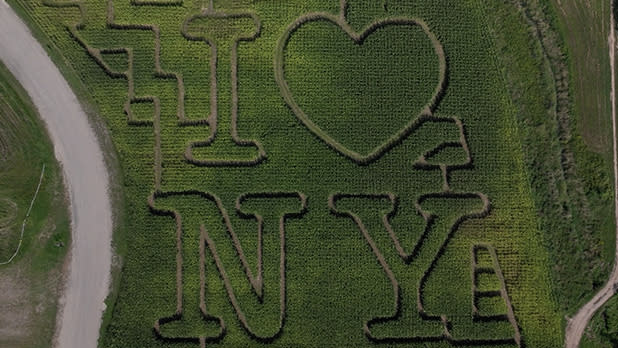 Have a fun fall day with your family at Kelder's Farm in Kerhonkson. Reach for u-pick apple varieties such as Cortland, Golden Delicious, Empire, and Crispin in beautiful apple trees, and take a hayride to the pumpkin patch. There you'll find all shapes and sizes of pumpkins ready to be picked! Watch an apple fly high from an apple cannon, navigate through a corn maze, and meet the animals at the petting farm. There's something for everyone here! U-pick apple prices vary depending on the quantity and variety of apple. 
Credit: @mo_steve on Instagram
For five generations, Beak & Skiff in LaFayette has made a commitment to growing the best and most delicious apples possible. Home to over 300,000 trees, 19 different apple varieties, and voted Best Apple Orchard by USA Today 10Best in 2021, you'll find hours of fall fun riding out to the orchards on a hay wagon, picking your own apples, and immersing yourself in the festive atmosphere from the picnic tables. On site you'll also find the 1911 Established tasting room where you can sample hard ciders, wines, and spirits all made on site. Be sure to pay a visit to the apple barn, general store, and the bakery to pick up warm apple cider donuts on your way out! Pick-your-own prices vary. 
Rulfs Orchard in Peru turns out more than 10,000 handmade pies a year, so a trip there will certainly satisfy your sweet tooth. Sample apple cider donuts or frosted pumpkin cookies as you search for your favorite type of apples. Some of the varieties available include McIntosh, Cortland, Northern Spy, and Empire. Plan your trip to the orchard soon because u-pick season (which starts September 9) only lasts as long as the apples do! While you're at the orchard, take a wagon ride to the pumpkin patch to pick your very own pumpkin (starting mid-late September), and don't forget to get that famous apple pie from Rulfs' 9,900-square-foot farm stand! U-pick apple prices vary depending on the quantity.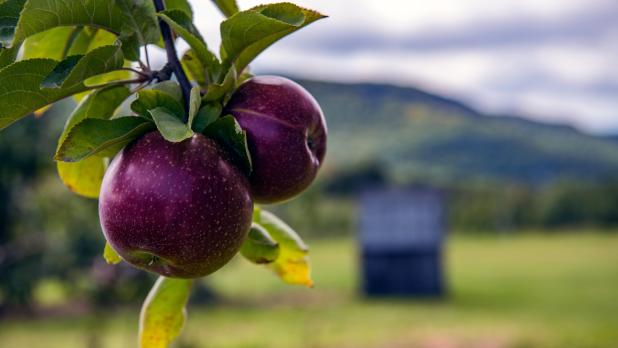 A staple in the Capital Region for more than 100 years, Indian Ladder Farms in Altamont is home to more than 40 apple varieties. Empire and Golden Delicious are just two of the varieties typically available for pick-your-own starting early September through mid-October. For the most up-to-date list of pick-your-own varieties, call Indian Ladder's hotline at 866-640-PICK. Make the most of your visit and sample hard cider and beer made using local ingredients such as apples, pumpkins, and hops at Indian Ladder Farms Cidery & Brewery, located on-site. Pick-your-own apple prices vary depending on the quantity and variety of apple.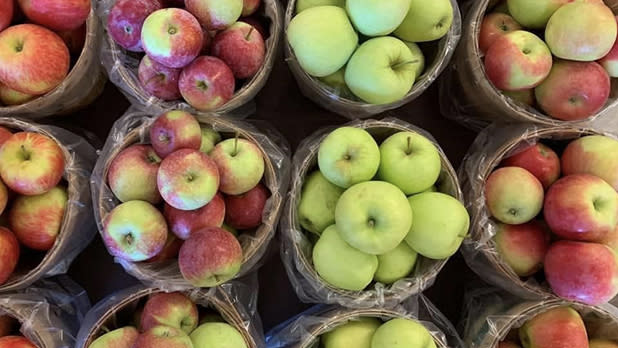 Pluck colorful apples straight from the trees at Lagoner Farms in Williamson. This fifth generation family-owned and operated farm truly has all you could need to enjoy fall with weekend wagon rides, an adorable market with cider donuts, apple pecan pies, and apple dumplings, an impressive lineup of hard ciders pressed from apples grown on site, and of course, tons of u-pick apple varieties. There's also exciting events throughout the season for the whole family to enjoy like Cider Fest which takes place yearly at the end of September. Prices for u-pick vary. 
For more on apple varieties in New York State and to find another orchard near you, click here. 
Don't forget to post photos of your New York adventures on Instagram and Twitter with #NYLovesFall and #iSpyNY and tag us on Facebook!