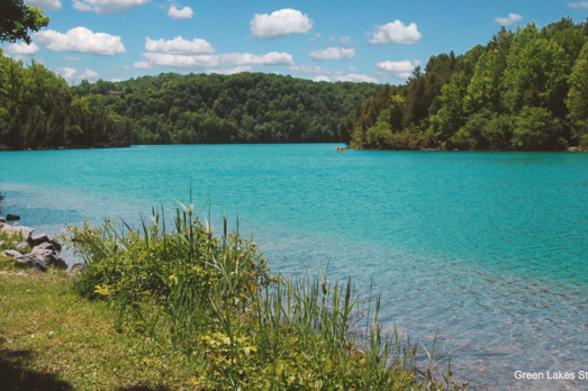 Located just 8 miles outside of Cooperstown, Glimmerglass State Park overlooks Otsego Lake, the "Glimmerglass" of James Fenimore Cooper's Leatherstocking Tales. The partially-wooded, rolling terrain is the perfect spot to set up camp and enjoy your natural surroundings. With a variety of wildflowers, wildlife, shrubs, ferns and mosses throughout, taking a hike or a walk through Glimmerglass is synonymous to exploring natural narnia. Make sure to head there in the summer to enjoy dips in the lake!  
Located on the eastern shore of Oneida Lake, Verona Beach State Park is a camper's delight. Perfect for picnics, sun-bathing, splashing in the water and hikes in the summer, Verona Beach is also a destination for snowmobiling, cross-country skiing and ice fishing in the winter. A perfect campground for any season!
Venture to Gilbert Lake State Park for lakeside fun in the sun and exploring amongst tons of wooded terrain. With more than 12 miles of trails for hiking in the summer, and skiing, snowmobiling and snowshoeing in the winter - Gilbert Lake is the perfect destination for campers that want to do it all. It even has a frisbee-disc golf course! 
Two glacial lakes make up this picturesque state park. Pitch camp and then head to the lakeshore for fishing and swimming in crystal-clear water. Located just 15 minutes away from Syracuse, Green Lakes makes for an equally convenient and beautiful place to spend a weekend in the woods.
The 55-acre Oquaga Creek has sandy beaches for swimmers and a variety of terrains for hikers. Fish for bass and rainbow trout in the warmer months and enjoy a whole slew of winter activities when it's cold, from sledding to ice fishing to snowshoeing!
Located on a peninsula extending into the Delta Reservoir, Delta Lake State Park has it all: sandy beaches for swimmers and sunbathers, picnicking nature trails, boat launch and even fishing! Make sure to stop by the Erie Canal on your way to set up camp, just 5 miles away!
Don't forget to post photos of your New York adventures on Instagram and Twitter with #ILoveNY and #iSpyNY and tag us on Facebook!