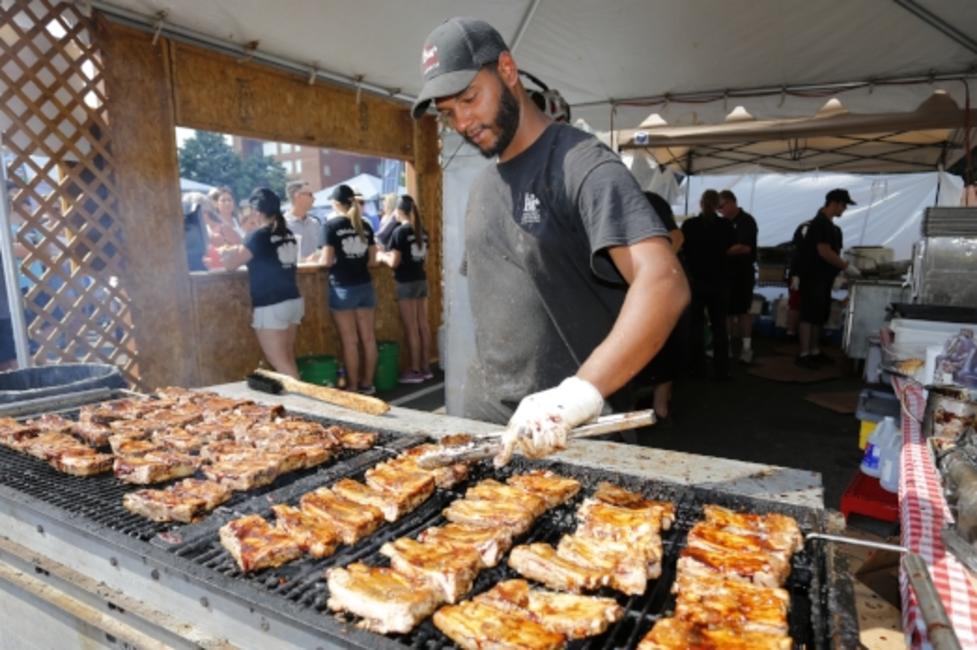 Whether you're into pizza, burgers, donuts, or Garbage Plates, it's safe to say that New York State is a place for foodies. Not only do we have some of the best restaurants in the world, but we also celebrate food all summer long at various festivals and events—many of them including music, entertainment, competitions, and more! We've rounded up some of the best food festivals and events going on this summer across the state. Fill up your calendar now so you can fill up your belly later!
Smorgasburg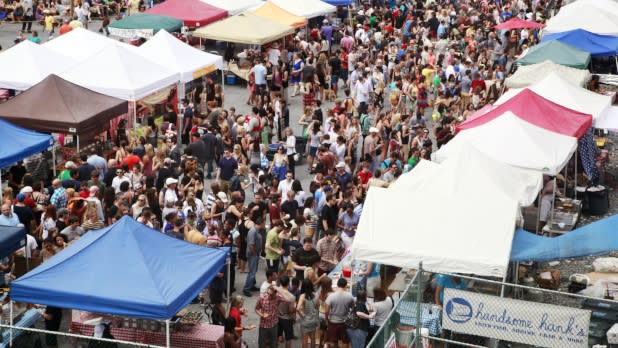 "The Woodstock of Eating" is what the New York Times calls Brooklyn's Smorgasburg, where the ramen burger and the raindrop cake became Instagram-famous. From April to October, 100 food vendors gather on Saturdays along the waterfront in East River State Park and on Sundays at Prospect Park. New vendors for 2018 include Bonsai Kakigori (Japanese shaved ice), Lobsterdamus (grilled whole lobsters and lobster added to dishes like nachos and truffle fries), and Big Mozz x DO (fried cookie dough). Pro tip: Eat your first course while waiting for your second course as the lines can be long on especially nice days. Brooklyn; Weekends through October
Taste of Buffalo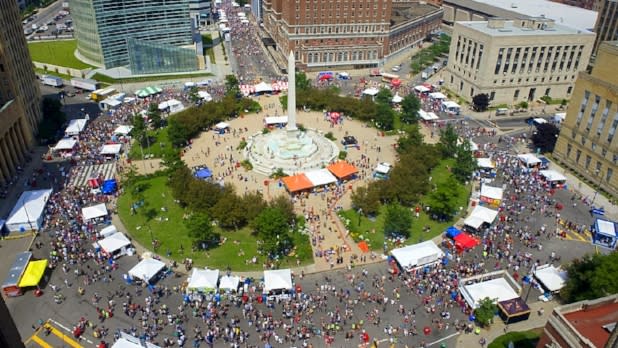 More than 50 restaurants are represented at Taste of Buffalo, the largest two-day food festival in the country. Each restaurant offers a "taste" of a signature dish for only $2, but full-sized portions are also available. To celebrate the 35th year, 12 Gates Brewing Company has brewed a special "Cheers to 35 Years Kellerbier" available only at the festival. Be entertained in between bites with musical performances on two stages, karaoke, and a cooking demonstration by Iron Chef Marc Forgione. KidZone activities include meet-and-greets with Curious George, storytime, and lessons on making a healthy plate. Buffalo; July 7–8; Free admission, food samples $1–5
Troy Pig Out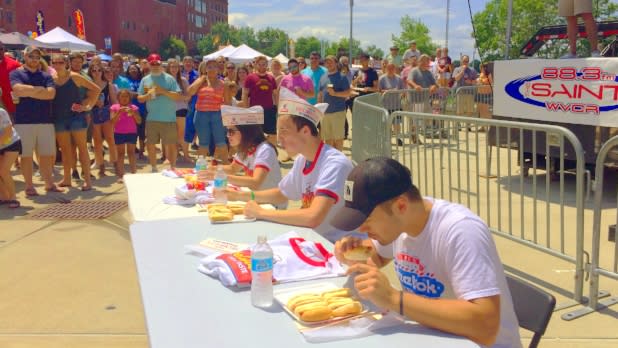 Some of the best barbecue food in the state will compete for top prizes in Riverside Park during the 11th annual Troy Pig Out festival. Awards will be handed out for best pulled pork, best BBQ chicken, best pork ribs, best beef brisket, the Dinosaur BBQ People's Choice, Mayor's Choice, and the Grand Champion. Participate in (or even better, just watch) the hot-dog eating contests beginning at 11am and 1pm, jam out to live music from Patrick Sharrow, Vinny Michaels, and more, or show off your skills in the Collar City Cornhole Tournament. Make sure you stay for the fireworks at dusk. Troy; July 14
Roc The Taste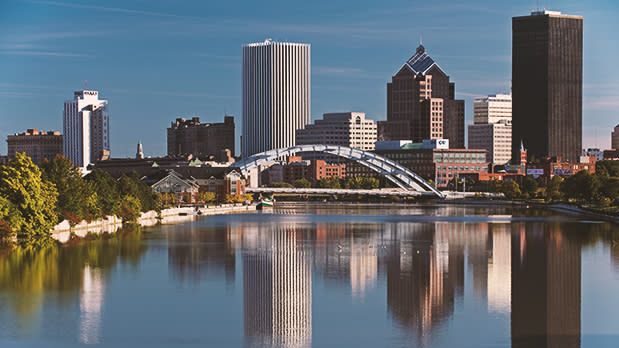 Brand new this year, Roc The Taste premieres at the end of July at Parcel 5 in Rochester. In addition to some of their regular offerings, each restaurant vendor is selling a $1 sample taste so you can try as much as your stomach allows. Vendors include Bacon Bomb Stand, Island Wraps, El Rincon Mexicano, and Skippy's Milkshakes. Beer, wine, and wine slushies will be available to those attendees old enough to drink. The performance schedule has not yet been released, but two stages will be set up so expect to get a taste of live music along with the tastes of your food. Rochester; July 27–28
Harlem Restaurant Week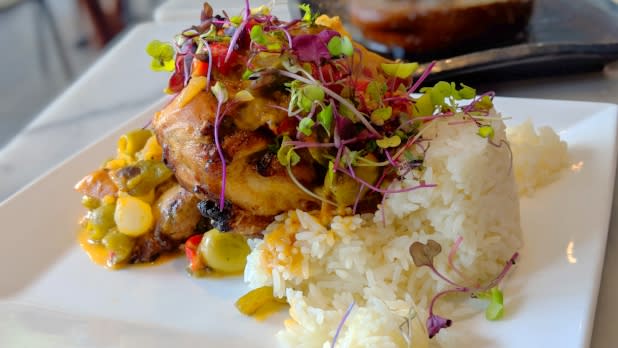 Part of a wider celebration of all things Harlem for Harlem Week—which actually lasts a full month—Restaurant Week is not to be missed. Special menus for the week will let you try soul food at Harlem classic Sylvia's, sample Mexico City street-inspired food at Oso, or get fancy at Ponty Bistro with French-Senegalese food like escargot, poulet yassa, and chocolate fondant. Harlem; August 19–26
Annual Spiedie Fest & Balloon Rally Expo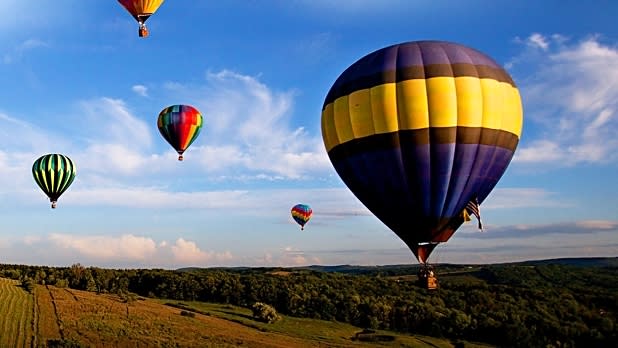 The spiedie (pronounced "speedy") is to Binghamton as the wing is to Buffalo. This dish—cubes of marinated meat (chicken, lamb, beef, pork) in an Italian roll—has inspired a whole festival with three classes of competition. The Taste New York Tent will feature a variety of foods from across the state to try and buy. This year's entertainment includes KC and the Sunshine Band, Cheap Trick, and actors Cameron Boyce and Peyton Meyer from the Disney Channel. Hot air balloon rides, animal visitors from the Binghamton Zoo, hot-glass demonstrations from Corning Museum of Glass, and midway rides—including a large Ferris wheel—round out the family fun. Binghamton; August 3–5; $25 until July 8 and $30 from July 9 to August 3, children 8 and under free

The Great NYS Fair

If you've ever wanted to try a donut burger, a maple bacon espresso milkshake, a hot beef sundae, or deep-fried anything you can think of, the Great New York State Fair is sure to be right up your alley. Looking for something a little less adventurous? Stop by the Taste NY tents for samples of great products made in New York State like Ithaca Coffee, Gatherer's Granola from Schenectady, and Once Again Nut Butter from Nunda. Take something home with you to extend the fun. For more on this year's State Fair including musical performances and a day-by-day guide, visit our State Fair page. Syracuse; August 22–September 3; $10 Admission, special days for $1-3 during event, children 12 and under free, food and beverages extra
National Buffalo Wing Festival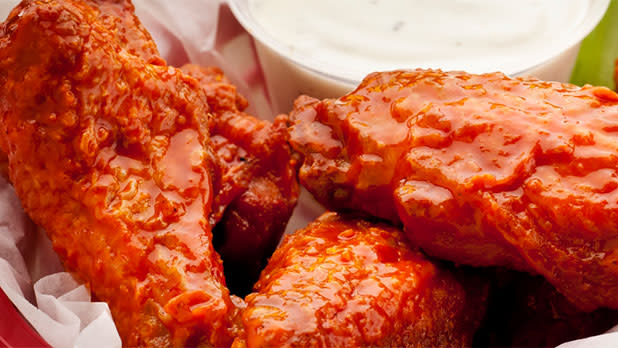 Get into the wing of things in Buffalo over Labor Day Weekend and celebrate the city's culinary claim-to-fame at the National Buffalo Wing Festival held at Coca-Cola Field. This event has served more than 4.6 million wings in its 16 previous years to more than 800,000 people.  Of course, Anchor Bar, the originator of the Buffalo wing, participates—along with several other area restaurants. Events include sauce-offs, wing-eating contests, the Miss Buffalo Wing competition, trivia contests, and bobbing for wings. Tunes will be provided by Heavenly Chillbillies Blues Band, Ransomville, and Eric Van Houten. Buffalo; September 1–2; $5 Admission per day, children under 8 free, food and beverages extra
Don't forget to share your summer vacation with us! Share New York State pictures on Instagram and Twitter with #ILoveNY and #iSpyNY and tag us on Facebook!