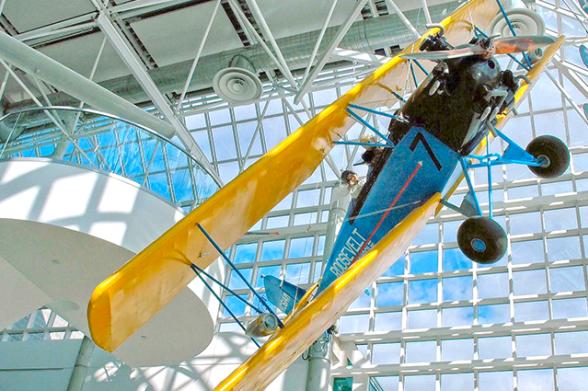 New York's waterways, railroads, highways, and airfields have helped shape our nation, and attractions from scenic railroads to canal cruises, and museums not only showcase how New York contributed to the nation's transportation history, but let you experience it firsthand. Don a helmet and goggles and be a barnstormer in a vintage biplane over the Hudson Valley, row an antique skiff in the Thousand Islands, enjoy a two-hour scenic train ride aboard a historic train carriage through western New York State, and more!
Remember to social distance and wear a mask as required by state guidelines. Call ahead and check websites and social media to make sure attractions are open and available.

Credit: @proudnewenglander on Instagram
Take to the air in a vintage 1920s biplane at one of the country's most unique museums, the Old Rhinebeck Aerodrome in Rhinebeck! This living history museum in the air thrills visitors to vintage World War I era biplanes flying in regularly scheduled air shows. You'll see one of the country's largest collections of antique airplanes presented in an outdoor setting, with aircraft including a 1902 Wright Glider, a British Sopwith Camel, German Fokkers, and other mainstays of World War I dogfights, as well as relics from the great barnstorming days. Best of all, you can be a barnstormer! Don the provided helmet and goggles and enjoy a spectacular view of the Hudson Valley from the air in the open cockpit of a 1929 biplane. Biplane rides are available weekdays and weekends, from May 1 through Oct 31, 2022, and the 2022 Air Show Season begins June 18.

Credit: @vtom61 on Instagram
For over a century, from the first flights by frail biplanes on the Hempstead Plains in Nassau County, to man's walking on the Moon, New York has been on the leading edge of America's aviation and space adventure. In Garden City, learn about this fascinating part of New York State's past at the Cradle of Aviation and view over 100 years of aerospace history. At the museum, you'll see over 60 historic aircraft and scale models of airplanes, including Charles Lindbergh's Curtiss Jenny, in which he barnstormed; the A-10 Thunderbolt II and Grumman F-14 Tomcat; and an unused Apollo Lunar Module. After visiting the eight galleries of air and spacecraft models, head to one of the museum's planetarium shows and special exhibits.

Credit: @scottallengetsaround on Instagram
A one-of-a-kind museum dedicated to interpreting aviation, the Empire Aerosciences Museum is home to over 20 restored aircraft, and offers exhibits and interactive displays in two buildings, a simulated reality vehicle ride, and the state's largest aviation research library, with more than 10,000 books, over 5,000 photographs, and over 6,000 other archival documents. The museum's large hangar and outer buildings at Schenectady County Airport in Glenville were originally occupied by the General Electric Flight Test Center, where groundbreaking jet engine research and other aviation advances were pioneered.

Credit: @clo_hasan on Instagram
At the Niagara Aerospace Museum in Niagara Falls, you'll be amazed at how many New Yorkers have contributed to the world's aviation and space flight endeavors. The museum, dedicated to these pioneers, features vintage airplanes, helicopters and flight simulators, in addition to aircraft and rocket engines (including the first U.S. commercially licensed helicopter, the Bell Model 47), hands-on exhibits, and the personal memorabilia of local servicemen and women.

All aboard the Arcade & Attica Railroad for an enjoyable two-hour scenic train ride through western New York State! Entering the historic train station in Arcade, NY, you'll find yourself surrounded by the history of railroading in America, with everything from antique railroad lanterns to switch locks, and even an old switch stand, plus nostalgic original photographs depicting a bygone era. Get tickets for the day's train trip at the station's authentic ticket office. Listen to the whistle blow as you depart from downtown Arcade and travel through the scenic countryside and farmland into Curriers Station, where you'll be able to visit the museum depot and sit back, relax, and enjoy food and drinks.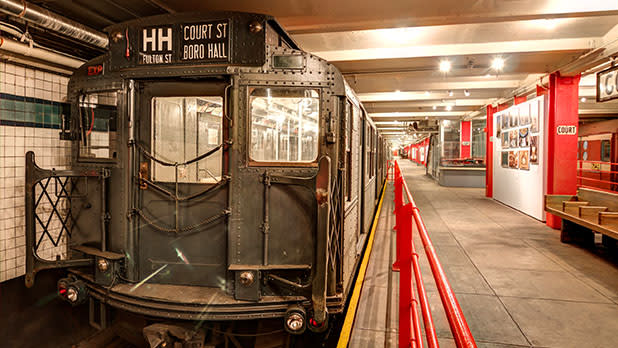 Discover the people, history, and stories behind one of the largest mass transportation systems in the world  at the New York Transit Museum in Brooklyn. Housed underground in an authentic 1936 subway station in Downtown Brooklyn, the museum's working platform level spans a full city block, and is home to a rotating selection of twenty vintage subway and elevated cars dating back to 1907. Board the vintage cars, sit at the wheel of a city bus, step through a time tunnel of turnstiles, and explore changing exhibits that highlight the cultural, social and technological history and future of mass transit.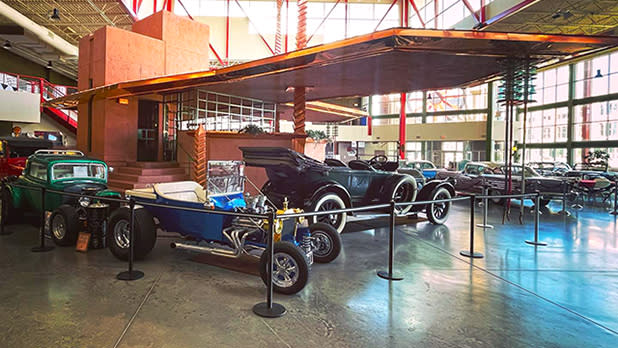 @reluctant.traveler on Instagram
If you love historic cars and the people and stories behind them, head to Buffalo, where the Pierce-Arrow Motor Car Company, one of the first motor vehicle manufacturers, became renowned for their expensive luxury cars. On August 21, 1900, the first Pierce Arrow vehicle powered by steam went for a test ride in Buffalo. During the early 1900s, Pierce Arrow cars would become known for luxury and styling, and were owned by royalty, tycoons, Hollywood stars, and presidents. The Buffalo Transportation Pierce-Arrow Museum chronicles the automobile company's history for the general public as well as historians and vehicle enthusiasts, and features cars from 1901 to the 1960s, with a special emphasis on automobiles manufactured in Western New York, including the Pierce-Arrow and Thomas Flyer.

Unless you're a motorcycle aficionado, you might not know that this celebrated form of transportation dates back to 1885, with the Hildebrand & Wolfmüller becoming the first series production motorcycle in 1894. Discover the history and innovations of motorcycling at Motorcyclepedia in Newburgh. Inside the 85,000-square-foot museum, you'll be amazed by the collection of more than 650 motorcycles built since 1897, and explore galleries including the Indian Timeline, Circa Timeline, Indian Larry, Harley-Davidson, Chopper City, Police and Military, European, and Scooters. You'll also see plenty of memorabilia, two "Wall of Death" motordromes, and rare vintage bicycles!
About 1.5 miles away, the Velocipede Museum, an extension of Motorcyclepedia, showcases the evolution of bicycles dating from the 1860s to the 1960s, with displays of velocipedes, boneshakers, bicycles and tricycles. Visitors to this museum get a discount when they also visit the Motorcyclepedia Museum.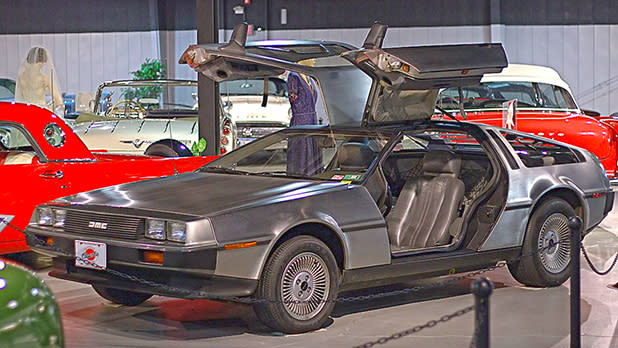 Credit: @jwn_photos on Instagram
Learn about the evolution of transportation, including examples of the first electric cars, the steam car, and the internal combustion engine, at the largest car museum in the northeast, the Northeast Classic Car Museum in Norwich, NY. The museum features displays of more than 200 historic cars, trucks, and motorcycles (most in showroom condition), with exhibits spotlighting prewar and postwar cars, muscle cars, and military airplane engines, as well as cars made in New York State, including Norwich's own Chenango Camper. Two of the vehicles are available for a 'hands-on' experience, and visitors also see displays of period fashions, WWI and WWII airplane engines, and historic videos. Have your photo taken in the Model T and visit the gift shop full of new and vintage diecasts, books, toys, and clothing! 
The birth of the electrical industry began with the sale of a magnetic separator used in iron mining in the Adirondacks town of Ironville, NY. made by Joseph Henry (the founder of the Smithsonian). Inventions that wouldn't have been possible without his work include the telephone, television, refrigeration, central heating, and automobiles. At the c. 1825 homestead in Crown Point that today is the Penfield Homestead Museum, you'll see a replica of Henry's Electro-Magnet, and also learn about farm life in the field, barn, and home. Be sure to check out the horse-drawn hearse in the carriage barn!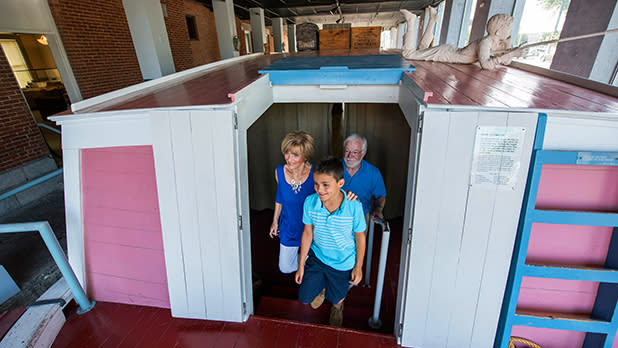 It's hard to understate the importance of the Erie Canal, which opened transportation and commerce across the interior of the United States. Begun in 1817 and opened in its entirety in 1825, the canal, which connected the Great Lakes with the Atlantic Ocean via the Hudson River, is considered to be the engineering marvel of the 19th century. The State of New York took on the task of carving 363 miles of canal through the wilderness with nothing but the muscle power of men and horses. Housed in the 1850 Syracuse Weighlock Building, the only structure of its kind in the world, the Erie Canal Museum in Syracuse invites you to discover and explore the history, importance and impact of the iconic waterway with a full-size canal boat, hand-on-interactive exhibits, vignettes about life along the canal, a special exhibits gallery, and the outdoor Locktender's Garden.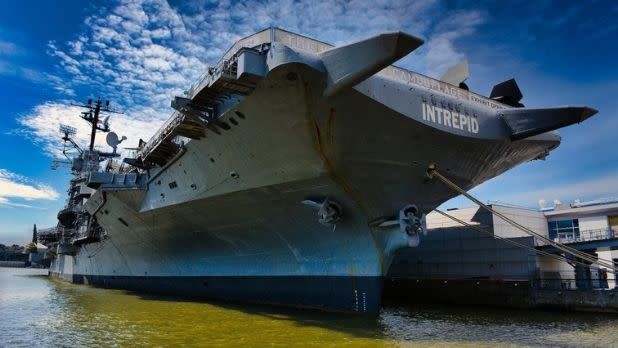 Credit: @usa.fotos-Instagram
Did you know that in New York City you can walk the decks of a legendary aircraft carrier, see 28 aircraft (including the world's fastest military jet), get an up-close look at a space shuttle and British Airways Concorde, and enter Growler, the only guided missile submarine open to the public? It's all waiting for you at the Intrepid Sea, Air & Space Museum, one of the world's more unique and beloved cultural institutions, which is celebrating its 40th anniversary this year. The museum, in and on the legendary aircraft carrier USS Intrepid (a National Historic Landmark), takes you on an amazing adventure through the history of nautical, aeronautical, and space exploration, with original artifacts, historic video footage, and interactive exhibits, like the Exploreum, where you can climb into a real Bell 47 helicopter and land a space shuttle!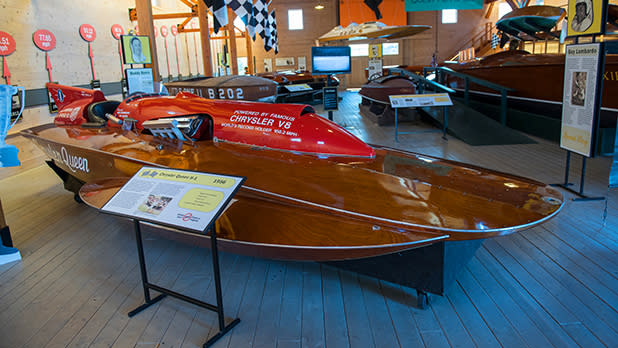 Take in the largest collection of antique and classic boats on display in North America at the Antique Boat Museum, on the banks of the St. Lawrence River in Clayton. You'll see over 300 unique and beautifully-preserved vessels, learn about boating history on the St. Lawrence River, and also be able to row a St. Lawrence skiff in French Bay. Tour George Boldt's 1904 two-story houseboat and even take a speedboat ride through the islands in a triple cockpit runabout!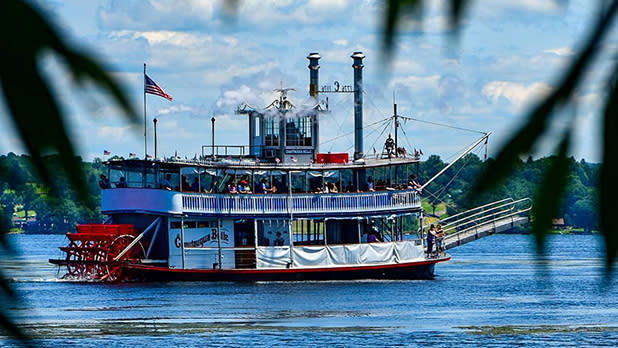 Credit: @garrett317 on Instagram
Hop aboard Chautauqua Lake's most historical vessel, the Chautauqua Belle Steamboat, and set sail in the time-honored tradition of the original steamboats that once plied the lake's waters. While technically not a museum, we think this historic experience is definitely worth adding to your list! Take one of the daily narrated tours and discover the fascinating history of Chautauqua and Chautauqua Lake. The relaxing cruise features a full-service onboard bar, in addition to offering lunch, evening cocktail cruises, fireworks, dinner cruises, private charters, and excursions to special lakeside events. In autumn, the ever-popular Fall Foliage Cruises treat passengers to breathtaking panoramic views of the spectacular foliage surrounding the lake.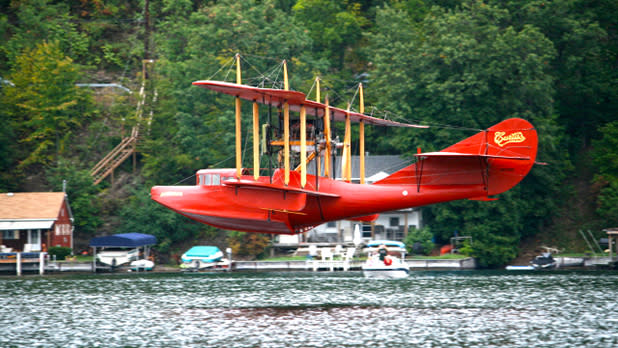 Credit: Courtesy of Glenn Curtiss Museum
If you've ever felt an intense need for speed, you can relate to Glenn H. Curtiss, the man who held the title of "Fastest Man on Earth." Everything he did revolved around speed, and at the Glenn H. Curtiss Museum in the Finger Lakes village of Hammondsport, you'll learn about his great accomplishments on the ground and in the air. Born in 1878, Curtiss became obsessed with bicycles and their speed, and progressed from being a champion racer to designing and building his own bikes, motorcycles, and aircraft. The museum is home to hundreds of priceless artifacts relating to both early aviation and local history, including a full-scale reproduction of the first naval aircraft as well as a 1912 "Pusher," a 1913 "Model E" flying boat, a 1917 "Jenny," a 1919 "Seagull" flying boat, and a 1927 "Robin." Also on display are a wide variety of antique motorcycles, engines, automobiles, and regional history exhibits. This year the museum celebrates the 120th anniversary of its namesake's foray into motorcycles with a year-long exhibition opening in August.
---
Share your New York State adventures with us on Instagram and Twitter and tag us on Facebook!