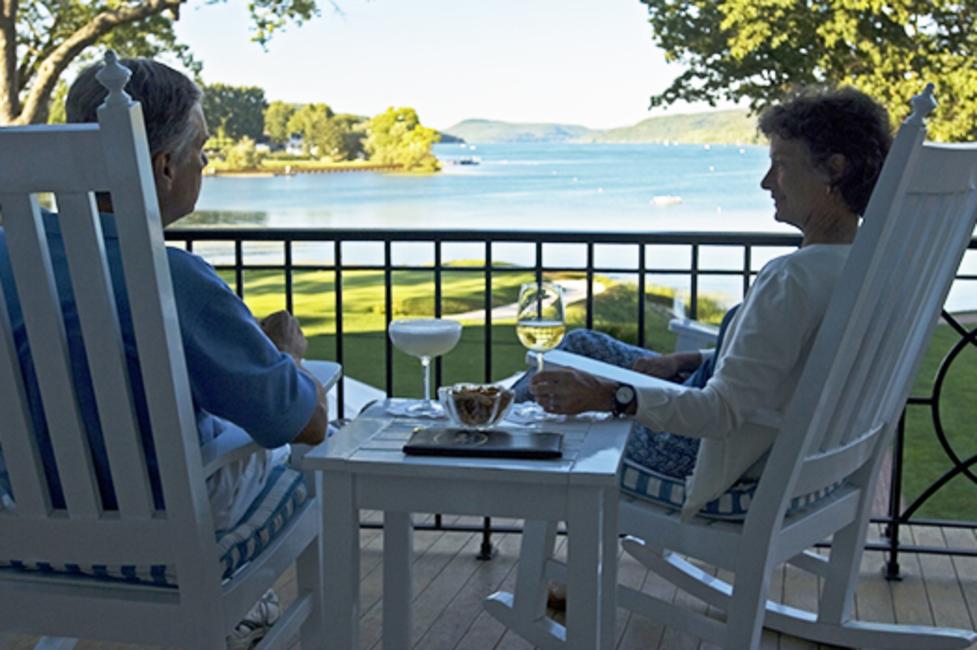 Relish the final stretch of winter! Spend a weekend getting cozy in one of New York's many awesome villages or small towns.
Aurora, Cayuga County
Take a trip to the picture-perfect village of Aurora. Stay at the historic Aurora Inn, built in 1833, with a striking view of Cayuga Lake. Stroll the village's main street then watch the sunset as you sip wine and nibble on apps at one of Aurora's highly esteemed restaurants. Don't forget to check out the campus of ceramics maker MacKenzie-Childs. It's as close as you'll get to a Willy Wonka wonderland!
Woodstock, Catskills
Spend the weekend immersing yourself in the arts. Head to Woodstock in the beautiful Catskills and enjoy a trip full of music history, museums and performing arts. Check out the Woodstock Playhouse for year-round performances in theatre, dance, music, film and fine arts, then wander the village streets for exceptional art galleries and shopping. There are plenty of cozy inns, hotels, restaurants, bars and B&B's in town, so be sure to stay the night!
Cold Spring, Putnam County
Head north to Cold Spring in Putnam County. With unparalleled views of the Hudson River and countless antique and specialty shops, Cold Spring is one of the most visitor-friendly small towns on the Hudson! Spend the day walking Main Street where you can dip in and out of the quaint village's many unique shops, coffeehouses or restaurants. Stay at the famous Hudson House River Inn – currently registered on the National Register of Historic Places - and fall asleep to the serene lapping of waves from the Hudson, just 100 feet away.
Westfield, Chautauqua – Allegheny
Wine and dine with a view in the village of Westfield. There you will find Lake Eerie Wine Country, a must-go for wine connoisseurs and wine newcomers alike. Sip, wander art galleries and farmers markets in the town center, then grab a bite on Main Street. Cozy up at one of Westfield's many inns or make your weekend truly memorable by staying at the village's Theatre Motel – a 1930's drive-in converted to a boutique motel. Either way – you're sure to enjoy!
Cooperstown
Really want to get away from it all? Head to the chain-store-free village of Cooperstown. Known best for the Baseball Hall of Fame, the charming town has that and so much more to offer. Walk the shores of Lake Otsego before heading to Main Street for a shopping and dining experience you'll never forget. Stop by Cooperstown Distillery, the town's first microdistillery that sources more than half of its ingredients within the state. You'll really get a taste of New York!
Greenport, Long Island
Head to Greenport on Long Island's North Folk, named one of the prettiest towns in the U.S.! Spend the day exploring the history-rich fishing village or getting a relaxing spa treatment from Greenporter Hotel & Spa. Dine in style at one of Greenport's many gorgeous restaurants or wineries – if you're lucky, they'll serve fresh fish from the adjacent Peconic Bay! And be sure to stop by the romantic outdoor Mitchell Park Skating Rink while the weather still permits!
Canandaigua, Finger Lakes
Want to spend a weekend relaxing with a glass of pinot in hand? Head to Canandaigua, a village that sits within Finger Lakes wine country. Check in at the Chalet of Canandaigua, located amid the village's wooded hills, and spend the day peacefully wandering nearby walking trails before embarking on Downtown Canandaigua's Wine Walk. Be sure to spend some time exploring the many boutique homemade oil and vinegar, soap and candle stores that dot the village's downtown - they are wonderful places to buy gifts! Hungry? Canandaigua's Simply Crepes is a must-visit, with local, homemade crepes and freshly brewed coffee to boot. Be sure to spend some time at the New York Culinary & Wine Center, too, where you can learn about (and taste!) New York's finest wine, craft beers, cheese and agriculture.
Saranac Lake, Adirondacks
A quick jaunt from neighboring Lake Placid, Saranac Lake is surely one of New York State's most charming small towns with something for just about anyone. Go snowmobiling along the lake or hike to one of the many peaks of the Adirondack Mountains. If your goal is to relax, stay at Gauthier's Saranac Lake Inn, a quaint little inn where you can enjoy high tea with a breathtaking view of the lake and the mountains that surround it.
Don't forget to post photos of your New York getaways on Instagram and Twitter with #ILoveNY and #iSpyNY and tag us on Facebook!