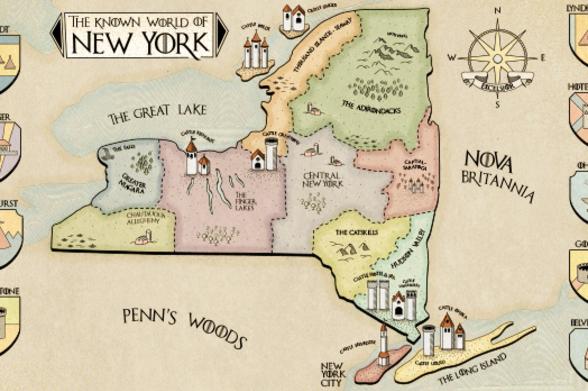 Summer is coming.
But spring is here and just in time for the dawn of Game of Thrones season five. What better state to wander than thy great Empire State? Whether traveling alone or with your sun-and-stars, there is no greater territory with more magnificent castles than our dazzling New York State.
It is with this map that we bestow upon you the responsibility to prepare for the fifth rebirth of Game of Thrones. Don't just say you'll travel yonder - as words are wind. Grab a map and head outside to see the great fortresses of New York State. Head to a castle to get a glimpse of New York's history and the great people that live within. Are you bold enough? Then prove it.
Oh, and a word to the wise: be certain to bring your coin - as a New Yorker always pays his debts.
See Boldt Castle in Thousand Islands, built in 1900 at the bidding of millionaire hotel magnate George C. Boldt as a tribute to his beloved wife Louise. The castle is accessible only by water taxi, tour boats or personal boats.
Experience Belhurst Castle on the shore of Seneca Lake in the Finger Lakes. The castle, built in 1880, is now a beautiful destination for a weekend stay with 11 period guest rooms, two cottages and a ranch home.
Visit Castle Gould in Long Island - a 100,000-square-foot limestone fortress built in 1904 by Howard Gould, son of a railroad tycoon. The castle is part of the larger Guggenheim Estate.
Head to the Greystone Castle in Central New York, nestled perfectly between Syracuse and Utica. Greystone was built in 1910 as a Methodist Episcopal Church, but now serves as a stunning venue for weddings and other events.
Lyndhurst Castle in the beautiful Hudson Valley was designed in 1838 as a classic Gothic mansion. Take a guided tour through the estate and gardens.
There's nothing more luxurious than a spa day - in a majestic castle! Head to the century-old Castle Hotel & Spa in Tarrytown to escape to the Gilded Age for a spa day and an evening stay.
Visit the magnificent Oheka Castle in Long Island and live like royalty. Take a tour of the estate and formal garden before staying the night in one of the 32 luxurious guest rooms and suites.
Explore Singer Castle on Dark Island, rich in history and beauty. Take a guided tour to experience intricate architecture and puzzling secret passageways!
Head to Belvedere Castle in Central Park, built in 1869 as a lookout onto the Great Lawn, for the best view of the park and its surrounding New York City-scape!
Don't forget to post photos of your New York adventures on Instagram and Twitter with #ILoveNY and tag us on Facebook!