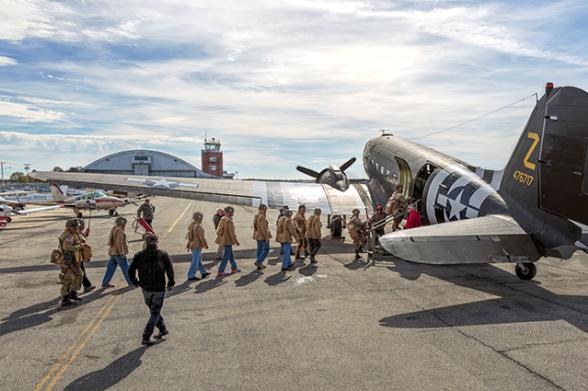 Celebrate the upcoming long weekend in New York at a Path Through History event or tour! October 9-11 is a Path Through History Weekend, celebrating the Empire State's rich and vibrant past with a variety of in-person and virtual events. We've selected 11 can't-miss things to do, featuring grand gardens, camps, momentous moments and movements towards equality, historic battles, beautiful art, and more. Be sure to check out the Path Through History event site for all the historical and educational attractions hosting exciting programming over the Fall weekend!
Remember to social distance and wear a mask as required by state guidelines. Call ahead and check websites and social media to make sure attractions are open and available. 

Revolutionary War Ancestor Research Day (Thousand Islands)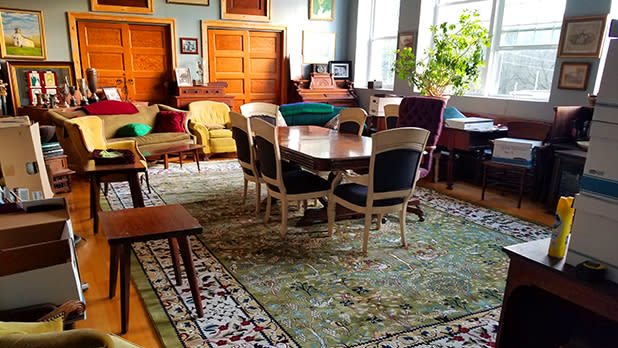 "Sometimes you find yourself in the middle of nowhere; and sometimes, in the middle of nowhere, you find yourself." Are you a genealogy enthusiast, a Revolutionary War history buff, or both? Join the Half-Shire Historical Society staff and members of the local SAR and DAR as they assist visitors for the day with Revolutionary War ancestor research. General research on regional history will also be facilitated utilizing the large collection of records and resources on site. Richland, October 9, 2021, from 11:00AM – 5:00PM, free.

Great Camp Sagamore Historic Tours (Adirondacks)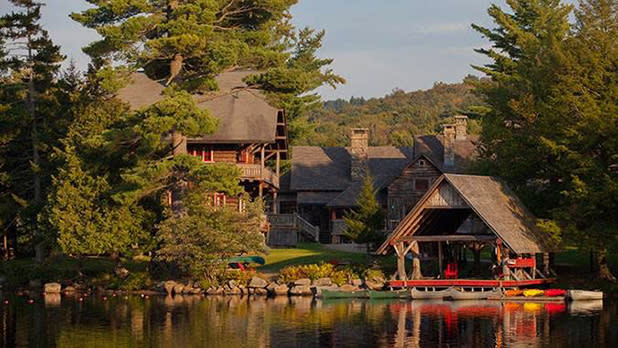 Prepare yourself to be in constant awe as you tour the expansive 27-building National Historic Landmark that was once a private Adirondack playground for the wealthy and famous. Come experience a masterpiece of Adirondack architecture, a place where America's most influential people came to take a break from the clamor of modern life. Situated on a remote lakeside, Great Camp Sagamore's builders gathered the colors, scents, and textures of the wild forest and reassembled them indoors in a style that is now imitated nationwide. This family-friendly historic tour of the buildings & grounds takes around two hours. Raquette Lake, October 9-11, daily at 10:00 am and 1:30 pm. Adults: $18.00; Seniors: $16.00; Military (w/ID): $16.00; Student: $10.00; Children (10 and under): Free; Members: Free.

Robert Everett – Preacher, Publisher, and Abolitionist with Ted Engle (Central New York)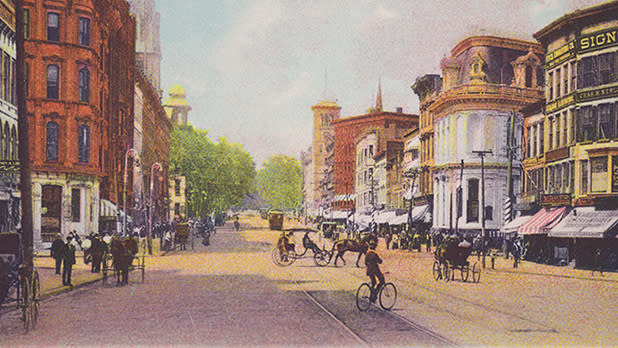 Join the Oneida County History Center on October 9 for a presentation by Ted Engle about the Rev. Robert Everett. Everett, a Welsh-American preacher who came to Oneida County in 1823, was heavily involved with the Anti-slavery movement. Later in life, he relocated to the Remsen-Steuben region, where he continued his work from the pulpit whilst also becoming a publisher, translating and publishing the antislavery speeches of Frederick Douglas and Harriet Beecher Stowe. The presentation will illuminate not only Everett's work, but also offer some insight into the abolitionist movement in the area during his time. Utica, October 9 from 1:00PM -2:00 PM, Free.

Founders Day Celebration (Capital-Saratoga)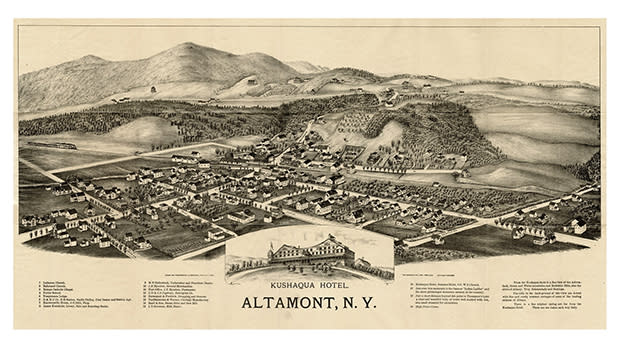 On Sunday, October 10th, The Village of Altamont Archives and Museum will host a Founders Day celebration beginning with Altamont's Museum in the Streets walking exhibit. This beautifully preserved village is a gateway to the Helderbergs, featuring an original D&H Train Depot surrounded by orchards and rolling countryside. Altamont has partnered with Museum in the Streets© to create a self-guided walking tour of historic buildings and spaces. The tour provides photos and narratives in English and Spanish that describe the rich history of the village.  Visitors to the Archives can see an exhibit showcasing items surrounding Altamont's incorporation and a new exhibit on display at the Altamont Free Library celebrating the 95th Anniversary of automobile racing at the Altamont Fairgrounds. Altamont – Orsini Park, October 10, 2021, from 10:00AM- 2:00PM, free.

Cross Pollination: Heade, Cole, Church, and Our Contemporary Moment (Catskills)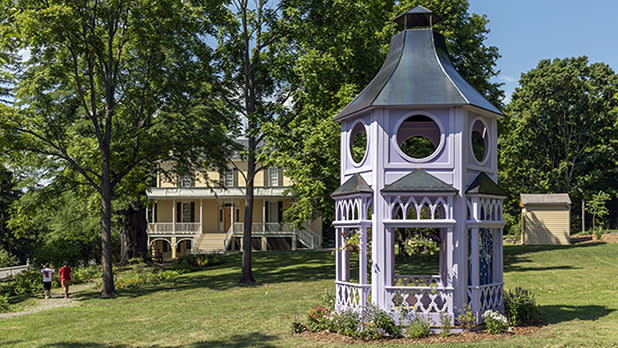 Credit: "The Pollinator Pavilion" photo © Peter Aaron/OTTO
On view at the Thomas Cole National Historic Site are three outdoor art installations in the collaborative "Cross Pollination" exhibition: "The Pollinator Pavilion" by Mark Dion and Dana Sherwood, "Bird Nesting House and Tree" by Paula Hayes, and "Feral Cakes" by Dana Sherwood.  Walk the grounds and peruse the outdoor art at your leisure for free from dawn to dusk.  Indoor self-guided tours of the interior spaces at Thomas Cole are available on select days for an additional ticket price. After a lovely stroll at the Thomas Cole site, the exhibition continues at Olana State Historic Site for those who would like to participate. Separate entry ticket is required for interior spaces at both locations. Catskill, outdoor exhibits open October 9-11, dawn to dusk, free. Interior tours available $16 for adults 16+ and free for students with valid ID, children 15 and under, and Thomas Cole Site Members. Please note that the historic interiors are only open from 10am - 5pm Tuesday through Sunday (closed Mondays). 

"Hike Through the History of Harriet" Walking Tours (Finger Lakes)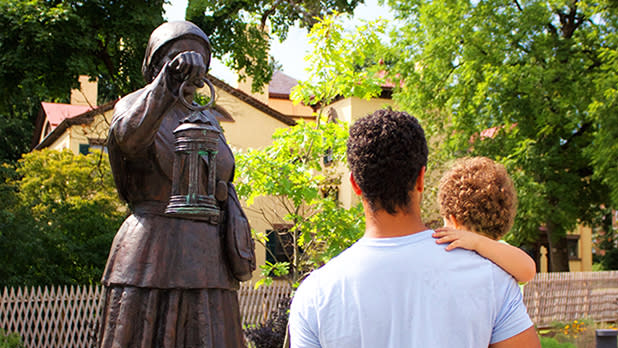 This Path Through History Weekend, Harriet Tubman National Historical Park rangers will be providing "Hike Through the History of Harriet" walking tours. Meet your ranger for an overview of Tubman's 50 years in Freedom in Auburn, recounting her efforts, and those of her friends and compatriots across abolition, equal rights and women's suffrage. Starting at the Harriet Tubman statue within the courtyard of the New York State Equal Rights Heritage Center, stops along the tour include the South Street Area Historic District, Seward Park, Fort Hill Cemetery, Thompson Memorial AME Zion Church on Parker Street, and more.
Tours are two hours long and cover two miles. As some walking surfaces are uneven and elevated, comfortable walking shoes and water are recommended.  Auburn, October 8-9, 2021, 10:00 AM both days. Tours will be weather dependent; call Harriet Tubman National Historical Park at (315) 882-8060 for the latest information, free.

Oasis Under Glass: Buffalo's Botanical Gardens (Greater Niagara)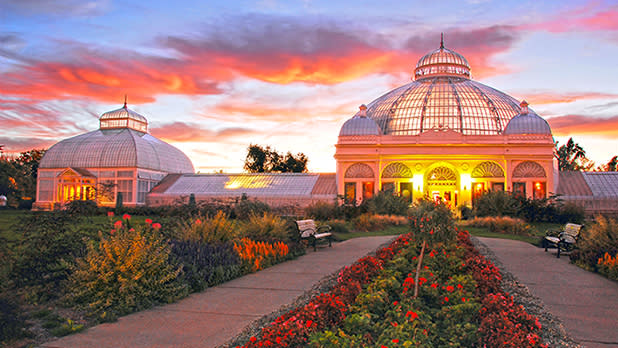 Join Buffalo and Erie County Botanical Gardens virtually and enjoy this three-part series of a WNED original production, "Oasis Under Glass: Buffalo's Botanical Gardens." Explore the rich history of the Buffalo and Erie County Botanical Gardens that has proudly served the community of Western New York for over 120 years, by connecting people with nature and exotic plants from all over the world. Despite the economic, political, and environmental challenges that it faced, this beautiful glass conservatory continues to share its unique experience with visitors from all over the world year-round and will continue to grow and amaze visitors for generations to come.  Access the digital series online all Path Through History Weekend!  Buffalo, October 9, 2021 - October 11, 2021, free.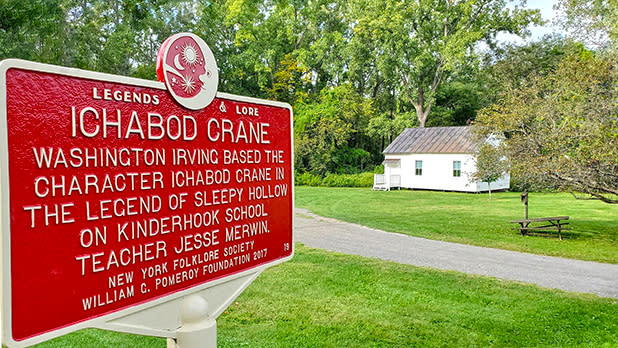 Hit the road this Path Through History Weekend and explore the history and heritage of Columbia County, New York, on a FREE, self-guided driving tour from the Columbia County Historical Society! On these Drive Through History road trips, you'll explore a wide range of fascinating historical themes, including legends & folklore, sacred spaces, hidden hamlets & vanishing villages, schoolhouse stories, and more! Explorers can go to www.cchsny.org/drive-through-history to download printable PDFs for your road trip, or explore interactive itineraries to guide you on your drive. All Drive Through History road trips include suggestions for food stops and side trips, so you'll have plenty to keep you busy during your visit. Kinderhook, October 8 – October 11, free.

C-47 D-Day Living History Flight Experiences (Long Island)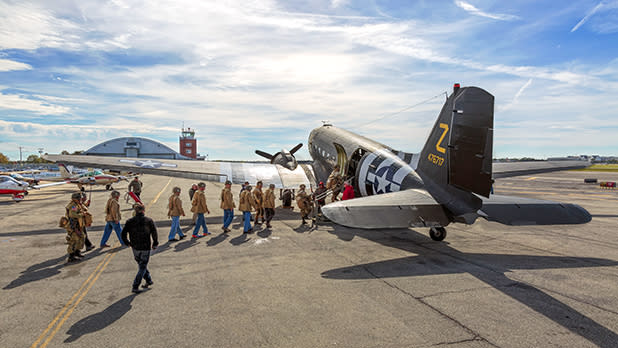 American Airpower Museum at Republic Airport Living History Flight Experience is a one-of-a-kind immersive educational program, where living historians join you in an original WWII C-47, to give a sense of what 101st and 82nd Airborne Division Paratroopers felt on their incredible 1,200-plane D-Day assault. Living historians are led by Robert Scarabino, Long Island's noted WWII Living Historian, who has organized AAM's C-47 D-Day Living History Flight Experiences since the program's inception in 2003. This is a family-friendly program for all ages, though minors under 14 must be accompanied by an adult. You can also visit AAM on October 9th for general admission to watch the flights and tour the museum. Farmingdale, October 9, 2021, 9:00 AM, rain date: October 10, 2021.  Cost of each C-47 flight $350, reservations required, book by calling (516) 531-3950 or (631) 454-2039.  Cost for General Admission and Museum (flights not included): Adult Admission is $15, Seniors & Veterans $10, Children 5-12 $8. Children under 14 must be accompanied by an adult. 

Shuls of Grandeur on the Lower East Side - Two Columbus Day walking tours (New York City)
Join the Lower East Side Jewish Conservancy, Ltd for a Monday holiday tour. Of the hundreds of synagogues on the Lower East Side during the turn of the last century, two magnificent examples remain. One is the first great house of worship built by Eastern European Jews, and the other a former church, believed to be a site on the Underground Railroad. The tour begins at Bialystoker Synagogue, a beautiful building covered in murals, showcasing Tiffany-inspired glass windows. The tour ends at the magnificently restored Museum at Eldridge Street Synagogue. In between, you will walk historic East Broadway discussing The Henry Street Settlement, Lillian Wald, Shteiblach Row, The Educational Alliance, Seward Park, Straus Square, Seward Park Library & more. The tour lasts approximately 3 hours with a fair amount of walking. Proof of vaccination is required, and masks must be worn inside the synagogues. New York, NY, October 11, 2021, at 10:45 AM and 2:00 PM, $30.00 per person. Pre-registration required.

The Rich, Intriguing and Sometimes Hilarious History of Chautauqua Institution (Chautauqua-Allegheny)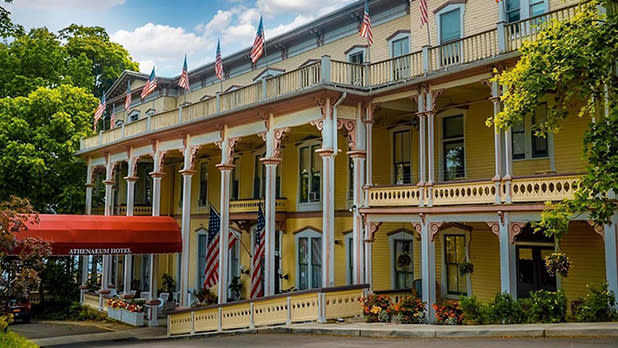 CREDIT @CHQ1874 ON INSTAGRAM
Chautauqua Institution invites you to join their online streaming channel, CHQ Assembly, during the Path Through History weekend to learn about the rich, intriguing, and sometimes hilarious history of Chautauqua Institution. The 17-part Chautauqua Heritage Lecture Series covers everything from Chautauqua's connection to the women's suffrage movement to the visits of Amelia Earhart and Booker T. Washington. Learn how this historic institution has evolved and thrived for nearly 150 years. The series is available online free of charge from October 9-11. Users may also sign up for a free 30-day subscription to CHQ Assembly to extend their viewing privileges to the entire collection of video presentations, including lectures and performances from the 2021 and 2020 Summer Assembly Seasons at Chautauqua. Chautauqua, October 9 - October 11, 2021, free.
Don't forget to post photos of your New York adventures on Instagram and Twitter with #NYLovesFall and #ILoveNY and tag us on Facebook!