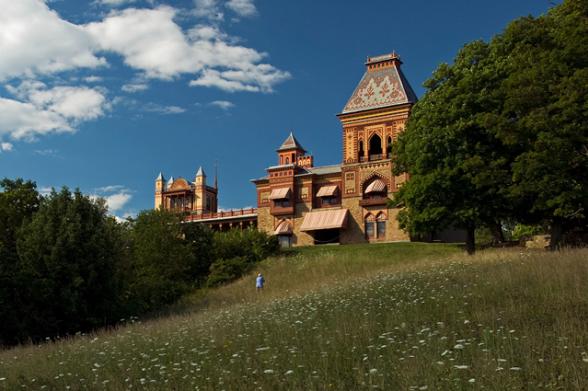 Labor Day weekend is a great time to get out into nature with family and friends in New York State. The long weekend offers more opportunities to explore while staying as local as possible. Near the Catskills? Go for a hike, a swim, or a mountain bike ride! Closer to Buffalo and Niagara Falls? Experience the region's natural beauty and architectural history. Want to make a splash? Find a hidden beach in the Adirondacks or on Long Island. Here are options for Labor Day activities throughout New York State.  
Masks are still mandatory on all public transportation per New York State guidelines and in any business or attraction that requires mask wearing. Call ahead and check websites and social media to make sure attractions are open and available.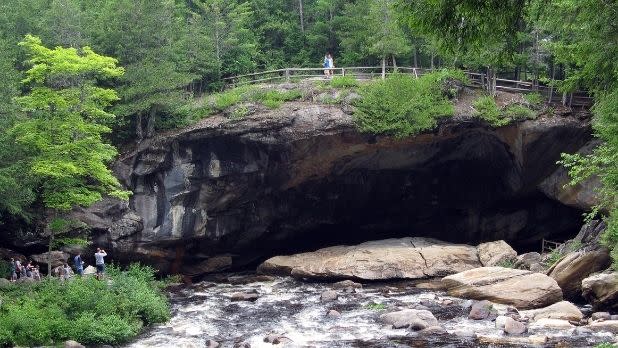 Adirondack Park is the largest publicly protected area in the contiguous United States, with six million acres of pristine forests and lakes and many options to explore as you recalibrate in nature. Natural Stone Bridge and Caves Park (pictured) is the largest marble cave opening in the east, where you can hike aboveground nature trails and descend into lighted caves and grottos. Gold Beach Campground and Day Use Area offers activities even if you're not camping overnight, with natural beaches, hiking in the 47,000-acre Blue Ridge Wilderness, and more. 
The Adirondacks is also home to Lake George, which was hailed as the top vacation destination for 19th century socialites and famous elite. Today, it's a loved retreat for all walks of life. Visitors enjoy kayaking among tranquil islands, soaring through the sky with Parasailing Adventures, cruising with the Lake George Steamboat Company, and much more waterfront fun. But don't worry, there's way more to this village than the beautiful shoreline—pay a visit to Prospect Mountain, or explore nearby Fort Ticonderoga, and you'll see what we're talking about.

Known for its capital city of Albany but also for rolling hills, lush forests, and scenic lakes, the Capital-Saratoga region features exciting attractions for all travelers. Head to Saratoga Lake (pictured), where you can rent a kayak at the Kayak Shack to get out on the water. There is world-class hiking in areas such as the Taconic Ridge State Forest, where a section of the Taconic Crest Trail leads to a "snow hole," a cave-like crevice where snow can be found year-round. Bike, run, or walk on the Albany County Helderberg-Hudson Rail Trail, a scenic nine-mile paved trail showcasing the region's diverse landscape. Work up a thirst? The Capital Craft Beverage Trail includes stops at some of this region's excellent craft spirits, beer, wine, and cider producers.
Thrill seekers can also head to Saratoga Race Course this Labor Day for the last weekend that it's open this year! You'll catch live races, Jockey Club Gold Cup, and the annual Closing Day event which allows fans a preview of potential standouts in next year's Triple Crown series and Travers Stakes. Looking for a more relaxing  getaway activity? Stroll Saratoga's charming downtown where boutiques and restaurants line the streets to create a perfect summer night setting. If you're interested in the area's storied history, check out Saratoga National Historical Park or Saratoga Spa State Park, home to the Roosevelt Baths which preserve the mineral springs that inspired Saratoga's name.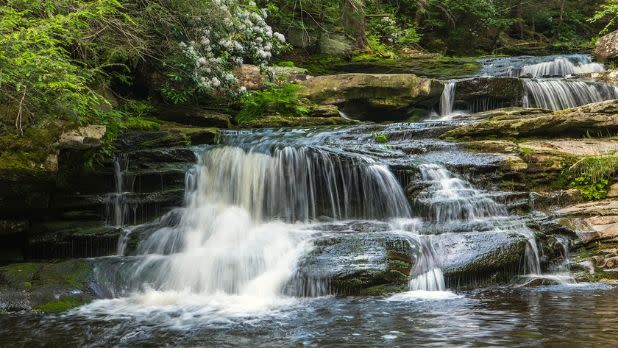 The Catskills have always been an attractive draw for all the natural beauty the region has to offer.  Travelers love not only being in nature but also enjoying the Catskills' unique range of attractions! Check out Windham Mountain Bike Park and spend a couple of hours or the whole day on an awesome downhill mountain bike adventure. The park has trails for all levels of riders and rentals are available. Want to get out on the water? Try Lander's River Trips, where you can rent a raft, canoe, kayak, or tube for a rejuvenating day on the Delaware River. Hiking in the Catskills is an amazing experience, especially if you set your sights on a waterfall, such as Vernooy Kill Falls (pictured)—one of the hikes featured in this guide to the Best Catskills Hiking Trails for Every Level of Hiker. You can also catch an outdoor concert at Bethel Woods (the original site of the 1969 Woodstock festival), sightsee on the Catskill Mountain Railroad, or zoom down the longest zipline in North America at Hunter Mountain.

Credit: Courtesy of Chittenango Landing Canal Boat Museum
This region offers the ultimate Americana experience for families, craft beverage fans, hikers, history lovers, and more! There are quaint towns and main streets, waterfalls, rivers, and of course the Erie Canal, a key waterway that transformed commerce in New York and the United States. Visit the Chittenango Landing Canal Boat Museum (pictured) to learn about the unique history of the canal. Tours are available by appointment only. For amazing food and drink, check out Oneida County's Heart of NY Central Craft Beverage Trail, with many delicious options to discover within a 20-mile radius. Take a pleasant hike to Vroman's Nose, a scenic hiking trail with panoramic views of Schoharie Valley. Then head down to Mine Kill State Park, where you can check out the Mine Kill Falls!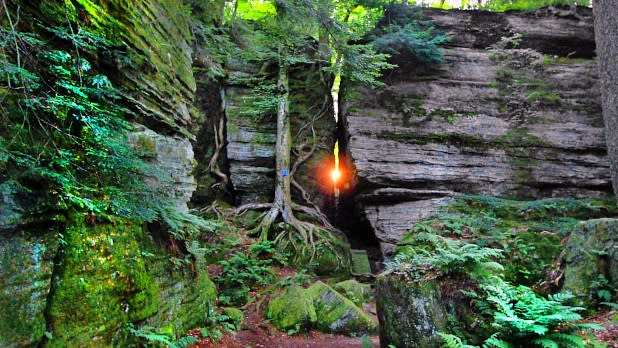 From the rolling foothills of the Allegheny Mountains to the fertile plains of Lake Erie, Chautauqua-Allegheny features countless activities for family fun. At Panama Rocks Scenic Park (pictured), explore towering rock formations, deep crevices, small passageways, and caves as you hike through an ancient forest bed. Craving a laugh? Head to Jamestown and visit the National Comedy Center, with exhibits and displays celebrating comedy in all its forms. The birthplace and hometown of Lucille Ball is also where you'll find the Lucille Ball Desi Arnaz Museum, a must for fans of the classic TV series "I Love Lucy." Allegany State Park is so large that it's split into two areas—Red House and Quaker Run—with options from lake beaches, creeks for kayaking, trails for hiking and horseback riding, the perfect spot for camping, and sightseeing attractions like the Thomas L. Kelley Covered Bridge. Art lovers will appreciate Griffis Sculpture Park, with more than 250 large-scale outdoor works by Larry Griffis Jr. and other internationally acclaimed artists spread out across 450 acres!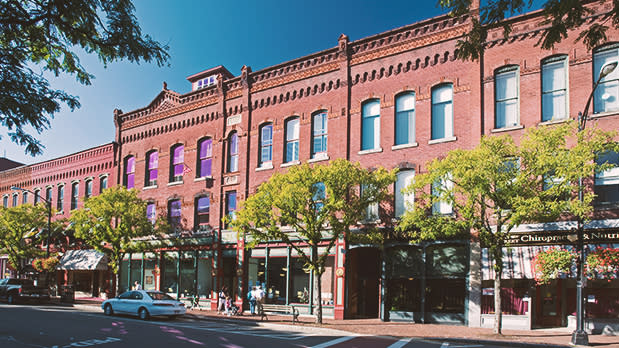 Sparkling lakes, rolling hills, and scenic vineyards have long made the Finger Lakes a favorite destination. Start a visit in Corning's Gaffer District (pictured), an artistic downtown neighborhood with local dining and shopping options. A stop at the Corning Museum of Glass never disappoints; give yourself at least a few hours if not a full day to explore, see live glass-blowing demonstrations, and more. Food and wine enthusiasts will find a lot to love in the Finger Lakes. The Seneca Wine Trail, with more than 30 wineries available to visit, is a great way to discover new bottles from established New York producers.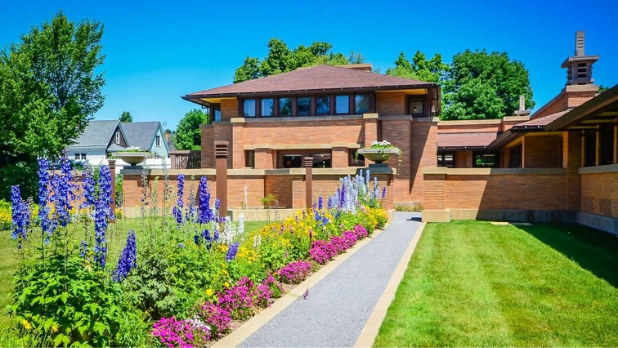 Buffalo's rich history, renowned architecture, and world-class dining options, and the magnificence of Niagara Falls, make Greater Niagara a truly thrilling destination. Visit the newly restored gardens at Martin House (pictured), an amazing example of Frank Lloyd Wright's "Prairie House" ideal and considered one of the revered architect's finest works. Nature lovers must visit Niagara Falls State Park, not only for the Falls but to visit the first state park in the United States! Also nearby and offering stunning water views: Whirlpool State Park and Devil's Hole State Park, where you can walk down into the beautiful wooded gorge for a better view of the rapids.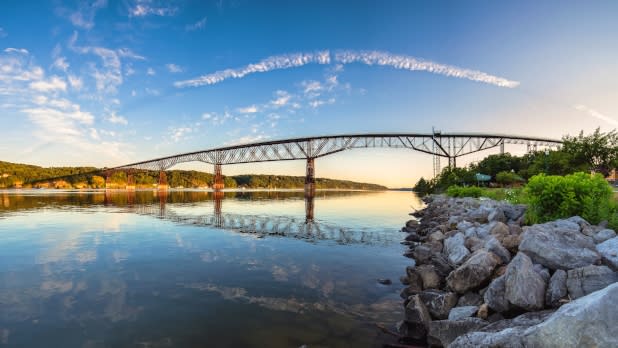 There's almost no end to the culturally and historically significant sites to explore in the Hudson Valley. It is the perfect place to spend a day trip or a full weekend, with memorable activities as well as opportunities to relax and rejuvenate. The Mohonk Preserve, with streams, fields, and forests, is a great option for hiking, biking, birding, and rock climbing. More outdoor adventure and a touch of history are available at the Walkway Over the Hudson (pictured), the world's longest elevated pedestrian bridge. Created from an abandoned railroad line, the 212-foot-high walkway spans the Hudson and offers some of the best views of the surrounding Hudson Valley. Those views inspired one of the forces behind the Hudson River School's painting, Frederic Church, whose life and work are remembered on the scenic property where his home still stands, Olana State Historic Site (pictured at top). There's plenty of art to explore outdoors as well, as Hudson Valley is home to Storm King Art Center, with its beloved sculpture park and picturesque scenery, and Opus 40, a one-of-kind, six-acre environmental bluestone sculpture built from an abandoned quarry. Both Storm King and Opus 40 require advanced tickets and Labor Day availability will be limited.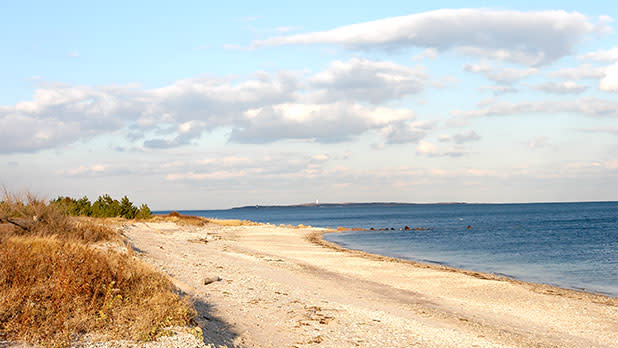 Long Island's beaches are some of the best in the world, making this region a quintessential summer destination for just about everyone. For a stunningly scenic beach on the North Fork, try Orient Beach State Park (pictured) overlooking Gardiner's Bay, or on the South Shore, hit the sand at Heckscher State Park on the Great South Bay. Go for a swim, have a nice family picnic and enjoy the gorgeous beaches while the weather is still warm. History buffs should plan to spend the day at Old Bethpage Village Restoration, a living history museum where you can learn about farm and town life on Long Island in the mid-19th century. The charming seaside town of Cold Spring Harbor offers great activities for families, including Cold Spring Harbor Whaling Museum, a small but entertaining place to learn about the region's history of whaling, and the Cold Spring Harbor Fish Hatchery and Aquarium, a trout hatchery turned non-profit education center that boasts the largest living collection of New York State freshwater reptiles, fishes, and amphibians! 
You can also visit Greenport, a charming, coastal village in the heart of wine country where Paumanok Vineyards, Bedell Cellars, and Pindar lie nearby. When you're not tasting fruitful blends or strolling the village, take the ferry to Shelter Island to experience more tranquil oceanfront.

Credit: Richard Martin
New York City may be known for its classic landmarks and skyscrapers such as the iconic Empire State Building, but it has amazing options for outdoors and nature enthusiasts as well! The New York Botanical Gardens in the Bronx features breathtaking grounds with more than a million plant species and trees from around the world, a beautiful rock garden, and the iconic Enid A. Haupt Conservatory. The grounds can also be toured on a lovely open-air tram. For a unique way to view Manhattan's famed skyline, go for  an adventure on the water with the Manhattan Kayak Company. Another option for breathtaking views is Brooklyn Bridge Park, a favorite destination for sunsets with sprawling outdoor playgrounds near Pier 6, including a giant sand box for the little ones and slides and swings for kids of all ages. The park is also a great destination for your walk over the famed and still awe-inspiring Brooklyn Bridge (pictured).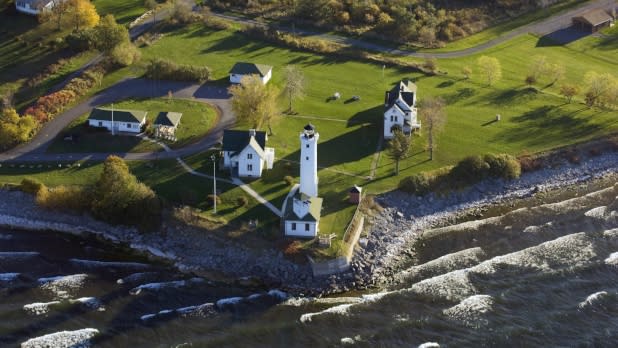 The Thousand Islands are a freshwater paradise with miles of waterfront along the St. Lawrence River and Lake Ontario, and many seasonal attractions that run through Labor Day Weekend. Chart the waters with Uncle Sam Boat Tours and take advantage of the optional stop at Boldt Castle, an opulent 120-room Rhineland-style castle on Heart Island, one of the region's 1,800-plus islands. Cedar Point State Park offers camping and a sandy beach for easy access to the clear St. Lawrence for a refreshing swim. Drive from Cape Vincent and visit Tibbetts Point Lighthouse (pictured), the oldest lighthouse in Jefferson County, built in 1827, or sample your way through the Thousand Island Beverage Trail. If you're a true history buff, continue your journey at Sackets Harbor Battlefield, which saw two battles during the War of 1812, or Fort Ontario State Historic Site, built between 1839 and 1844 and later used as a Holocaust refugee center in the early to mid-1940s.  
Make sure to visit neighboring bay towns like Clayton and Cape Vincent where you'll find the Antique Boat Museum, The Cape Winery, and more waterfront destinations.  
---
Don't forget to post photos of your New York adventures on Instagram and Twitter with #iSpyNY and tag us on Facebook!