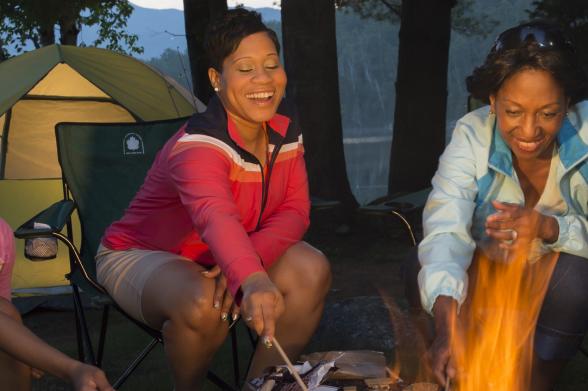 Whether you're looking for adventure or relaxation, New York offers every kind of natural setting for your camping adventure.  There are majestic mountains to explore in the Adirondacks and the Catskills, ocean beaches along Long Island, and remote islands or even amusement parks to get away to. Download the New York camping guide and read on below for some of the best spots to explore the great outdoors.
Adirondack Mountain Peaks and Stargazing
Adirondack Park is 6.1 million acres of pristine, protected nature. That's more parkland than Yellowstone, Yosemite, Grand Canyon, Glacier, and Great Smoky Mountains national parks combined. By day, you can hike through mountain woods, canoe down free-flowing rivers or go antiquing. At night, look up for some of the best stargazing in the northeast. For the furthest views into night sky, head to the Adirondack Public Observatory in Tupper Lake.
Greater Niagara Glamping
You can rough it in nature, or you can be really smooth about it. At Darien Lake, a short distance from Buffalo and Niagara Falls in western New York,  the tents are already put together and the queen beds are all made up for your arrival. There is plenty of fishing and swimming and, if you're so inclined, you can visit the water and amusement park!
Wellesley Island: One in a Thousand
The largest camping facility in the Thousand Islands region, Wellesley Island lets you camp as you like. The fishing is excellent, particularly for smallmouth bass, pike, and the big, ugly Muskie. Cook what you catch for a traditional Thousand Island shore dinner! Looking for a bit more comfort? Rent a fully outfitted cottage with showers, kitchen utensils, and more While you're on the island, visit the Minna Anthony Common Nature Center to see its natural history museum and seasonal butterfly house.
Diamonds and Roughing It
Can you dig it? Yes, you can at Crystal Grove Diamond Mine and Campground in St. Johnsville. Spend  the day unearthing Herkimer diamonds, and then walk across a footbridge to your campsite to polish those gems by firelight.
Campsites and Sounds  
Sometimes camping is about getting away from it all and sometimes it's about getting together. When you camp at Long Island's Wildwood State Park, you can spend the day swimming and fishing in Long Island Sound. Then, if you're not too tuckered out, you can spend your night watching movies outside or square and line dancing.
Show us the view from your campsite using #ispyny!