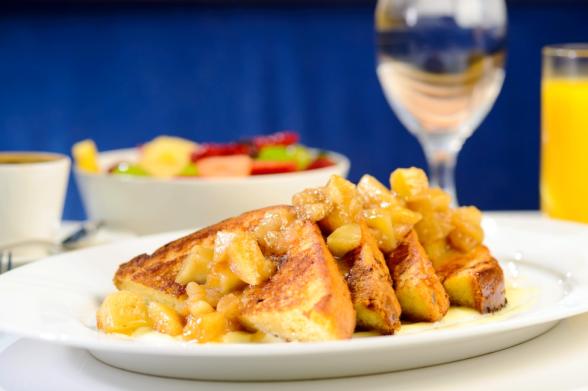 What's better than a comfortable hotel with scenic views, fancy shampoos, and a perfect perch for exploring the surrounding region? A stay that doesn't skimp on the most important meal of the day: breakfast. While these hotel breakfasts are by no means a full list of the best in the state, they're a good start, and you'll have a perfect start yourself with any one of them.
Adelphi Hotel, Saratoga Springs (Capital-Saratoga)

Photographer: Greg Ceo
Celebrity chef David Burke supervises all things culinary at The Adelphi in Saratoga Springs. Critics and guests swoon over top-flight cuisine presented with flair at surprisingly reasonable prices—most dishes cost less than $16. On the terrace or under a soaring glass atrium, Blue Hen Restaurant's eclectic breakfast options range from Belgian waffles with local strawberries to an ostrich soft lobster scramble—with locally roasted coffee, fresh-pressed juices, and exquisite pastries.
The elegant 1877 hotel, meticulously renovated in 2017, blends classic grandeur with high-tech comforts. An expansive front porch overlooks the charming shops of Broadway, named a "Great American Main Street". Nearby, enjoy Saratoga's world-class horseracing, polo, casino, bubbling mineral springs, spas, and music at historic Caffé Lena or Saratoga Performing Arts Center. Hot tip: During racing season, it's an easy walk to Saratoga Race Course where you can watch magnificent Thoroughbreds at their morning workout.
Mirror Lake Inn, Lake Placid (Adirondacks)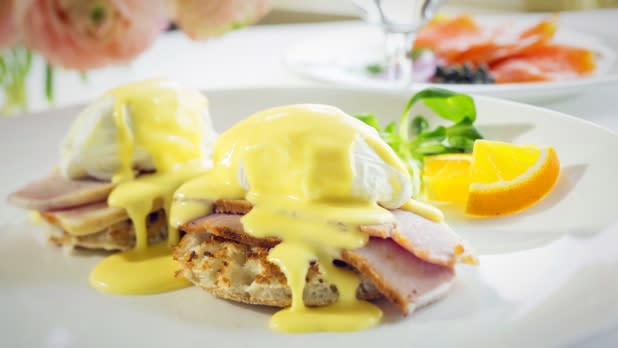 Once a private home, Lake Placid's 1883 Mirror Lake Inn is now rated among the world's best lakeside hotels by Conde Nast Traveler. The aptly named View restaurant gets rave reviews for its stunning vistas and hearty breakfasts. Chefs source regional farms to create high-end comfort food like authentic Adirondack flapjacks with pure maple syrup, veggie omelets, and airy brioches, along with local cheeses, maple-smoked bacon, and fresh-picked berries.
Before heading out for a stroll in Lake Placid's Olympic village or hiking the high peaks, linger over a rich house-blend coffee, frothy cappuccino, or a signature morning cocktail, from sparkling mimosas with fresh-squeezed orange juice to a very Merry Mary, crafted with Lake Placid Vodka.
The Rhinecliff, Rhinecliff (Hudson Valley)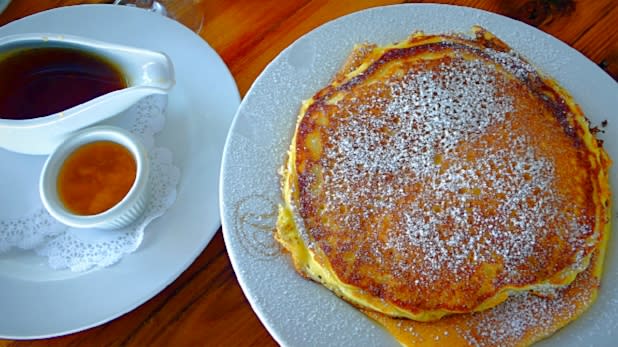 Breakfast and stunning river views are included with your stay at The Rhinecliff, a boutique Hudson Valley hotel with luxe amenities. The Gastro Pub restaurant, hailed by Gourmet and Food & Wine, presents farm-fresh cuisine with international flair. Options range from chocolate-chip pancakes to a full authentic English breakfast of eggs, roasted tomatoes, fried bread, beans, and smoky bacon. When weather permits, Sunday brunches are served alfresco on the patio with a side of live jazz music to accompany the rich French-pressed coffee.
Located across the street from the Rhinecliff Amtrak station, it's easy to get there by train. Nearby you can tour the stunning Vanderbilt Mansion or take in a thrilling air show or even ride in a biplane at the Old Rhinebeck Aerodrome.
Mandarin Oriental, New York City (NYC)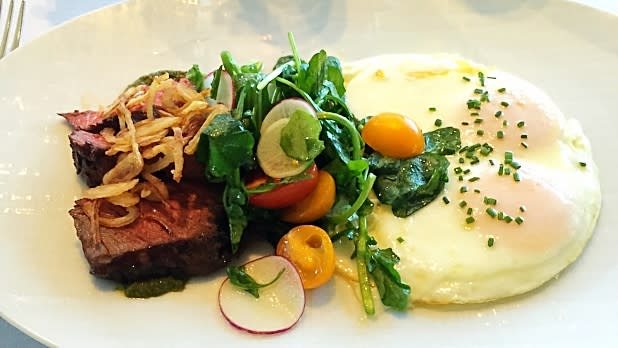 If ever there were a reason to treat yourself to a weekend in New York City, it's the prix-fixe brunch at Asiate, the restaurant inside the elegant Mandarin Oriental Hotel. Like its name suggests, Asiate's menu combines elevated classics like lobster eggs benedict with Asian-inspired fare like the crispy chicken and kimchi waffle.
If you're lucky enough to snag a window seat, you'll have an unobstructed view of Central Park and Columbus Circle.
Glen Iris Inn, Castile (Greater Niagara)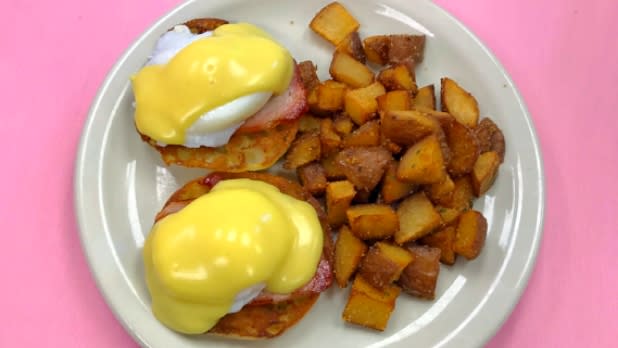 Sip your morning coffee overlooking Middle Falls, a spectacular 100-foot cascade in the middle of Letchworth State Park. Voted America's #1 state park in a national survey, Letchworth offers cozy rooms and fine dining at the beautifully preserved 1859 Glen Iris Inn. William Letchworth's hand-crafted home has welcomed park visitors since 1910.
Accompanied by marvelous views, breakfast favorites include the chef's signature cinnamon-raisin French toast with local maple syrup. Other specialties range from perfect eggs benedict and buttery croissants to lighter fare like regional fruit, yogurt, and house-baked muffins. Order a picnic lunch to take with you on park adventures, from waterfall hikes to whitewater rafting and balloon rides over the magnificent 17-mile-long gorge.
Athenaeum Hotel, Chautauqua (Chautauqua-Allegheny)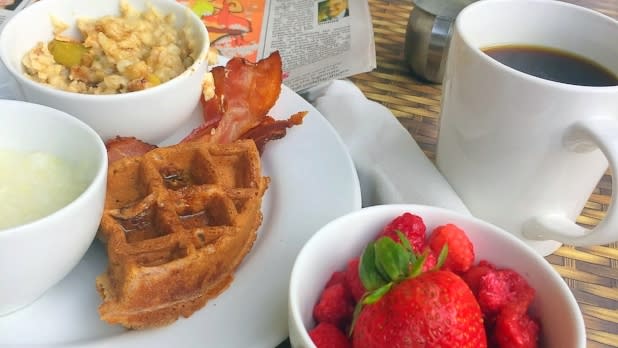 At the historic Athenaeum Hotel, your stay includes a sumptuous breakfast buffet every morning, from June through September. On the grounds of Chautauqua Institution, a lakeside Victorian village hosting a summer season of world-class performances and programs, this grande dame charms with an old-world ambiance. The Heirloom restaurant maintains just enough formality to make every meal feel like a special occasion.
The menu features fine private-roast coffee, pastries, fruit plates, and a variety of inventive dishes and traditional classics like farm-style omelets and peach cobbler topped with fresh whipped cream. Choose a table on the sprawling veranda, offering soothing views of the surrounding hills and sailboats bobbing on the lake. After breakfast, visit the brand-new National Comedy Center in nearby Jamestown.
The Otesaga Resort Hotel, Cooperstown (Central NY) 

Photographer: Tjibbe Lambers 
Guests often say that visiting the Otesaga Resort Hotel feels like stepping back into a more genteel era. Beside Cooperstown's shimmering Otsego Lake, the well-kept 1909 property invites relaxation with the elegance of a grand country home. Take a seat in the dining room or on the lakefront portico to enjoy a bountiful breakfast buffet with gracious service and picturesque views.
There's an amazing variety of dishes: made-to-order omelets, cheese blintzes, chef-carved meats, country ham, and old-fashioned biscuits, followed by delicious desserts. It's a short walk from the hotel to the Baseball Hall of Fame, Fenimore Art Museum, and the unique shops on Main Street.
Hotel Mountain Brook, Tannersville (Catskills)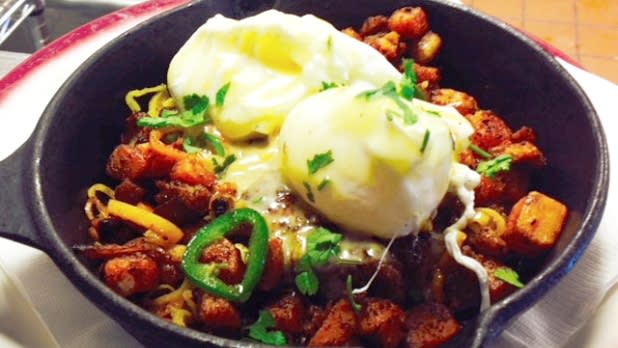 Hotel Mountain Brook, an upscale lodge in the Catskills, delights with comfy rooms and scenic mountain views. Best of all, a superb gourmet breakfast is included in your nightly rate. Morning fare at this old-world retreat includes the chef's famous bread-pudding French toast, house-made sausage, thick-cut bacon, and fluffy buttermilk pancakes served with fresh berries and local maple syrup. Savory frittatas and omelets are made with eggs from nearby farms and regional cheeses like sharp New York cheddar.
After fueling up on an abundant breakfast, walk one block to explore the friendly village of Tannersville. Find four-season fun nearby at Hunter Mountain or North-South Lake, great for kayaking, fishing, and swimming. Mountain Top Arboretum's tranquil trails are ideal for birding.