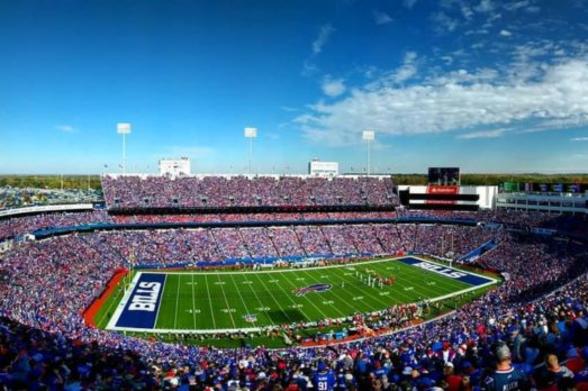 Credit: @thedanlevy
Fall is prime time for sports fans in New York State, with many pro and collegiate seasons kicking off and running through winter. While two Bronx-based teams, the Yankees and Major League Soccer's New York City Football Club, tried to extend their run through the playoffs in quest of a championship, other New York teams are just getting started. Here is a guide to New York State's most notable sports teams in fall and winter, with tips on how to score tickets and, crucially, where to eat before, during, or after the big game! 
Originally published: 10/8/19
Choose your sport! Baseball | Soccer | Football | Basketball | Hockey | Lacrosse
Watch the Yankees chase history

Credit: NEW YORK YANKEES. ALL RIGHTS RESERVED
Shorter days and cooler nights mean one thing—it's time for the playoffs and the World Series! The team with the most rings in the sport's fabled history, the New York Yankees, are usually still playing baseball in October, as the Bronx Bombers pursue their quest for a record 28th title.
Tickets: Visit the New York Yankees website to purchase postseason tickets.
Where to eat: While you're at a game, try Yankee Stadium's delicious menu options like a steak sandwich from Lobel's, baby back ribs from Mighty Quinn's, or The Halal Guys.
Remember that baseball season never ends in New York State!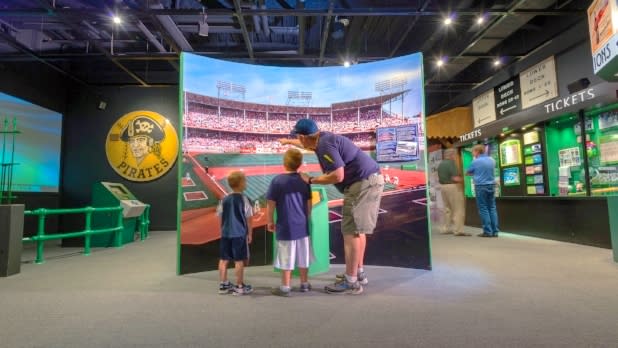 Baseball season runs year-round at the National Baseball Hall of Fame & Museum in Cooperstown. With commemorative plaques for Hall of Famers and original memorabilia from decades past, this is a must-see for baseball fans and history buffs.
Tickets: Purchase tickets at the National Baseball Hall of Fame's website.
Where to eat: If you're at the National Baseball Hall of Fame, a visit to Cooperstown staple Schneider's Bakery is a must! 
Chant for the New York City Football Club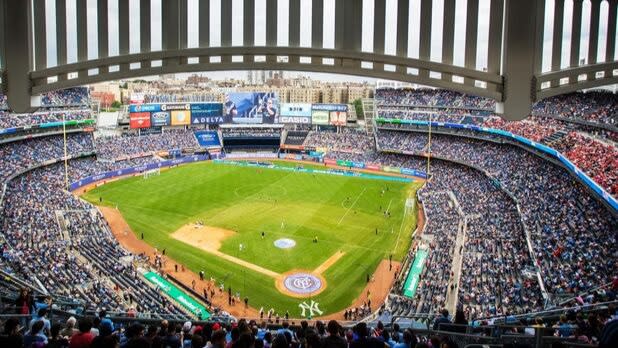 Did you know you can experience the thrilling atmosphere of a professional soccer game right here in New York State, complete with singsong chants, team scarves, and all the tension of a World Cup match? When the team succeeds during its seven-month regular season, New York City Football Club competes in the playoffs in October. The team, which started in 2015, has quickly found a fan base and attracts large crowds to its home games at Yankee Stadium. You'll be yelling "GOALLL" in no time!
Tickets: For playoff tickets call 855-77-NYCFC or email FanServices@nycfc.com.
Where to eat: With home games at Yankee Stadium, try ballpark favorites like the Italian sausage, nachos, and chicken tenders—there's something for the whole family!
Root for your favorite team during football season
The National Football League (NFL)

Credit: Buffalo Bills
Ah, Buffalo Bills fans. Notoriously some of the most loyal fans around, Bills Nation faithfully start each football season hoping that this will be the year they earn their first Super Bowl title. More than halfway through the 2023 season, the Bills are 5-4 and hoping to improve their chances of a spot in the playoffs.
Tickets: Visit the Buffalo Bills' website for tickets.
Where to eat: With home games at Highmark Stadium in Orchard Park, fans have the opportunity to take advantage of Buffalo's claim-to-fame, Buffalo wings. Ebenezer Ale House, close to the stadium, is a local favorite for wings before or after a game. There's also a festive tailgate scene in the parking lot, now organized through the team and its partner REVELXP. Get more tips on where to eat and what to do in Buffalo and Greater Niagara from Bills legend Thurman Thomas!
College

Credit: @matthewrobertblack
New York State boasts several NCAA Division I teams. Venture to Syracuse University to watch the Orange play at the JMA Wireless Dome.
Tickets: Visit the Syracuse Athletics' website or call 888-DOME-TIX to purchase tickets.
Where to eat: While you're in the city of "the Orange," try the chicken tenders at regional favorite Tully's Good Times. 
Catch an Army football game at Michie Stadium in West Point.
Tickets: Visit the Army football website.
Where to eat: Enjoy the festive atmosphere before the game starts! Three hours prior to kickoff, have the ultimate fan experience as you walk along Black Knights Alley for live music, interactive games for kids, food, and drinks. 
Visit the state's Capital City to see the Great Danes compete at the University at Albany.
Tickets: Visit the UAlbany Athletics' website to purchase tickets.
Where to eat: Stop for a pre– or post-game snack at City Line Bar and Grill, just minutes from the playing field. 
When the regular season ends, watch the Bad Boy Mowers Pinstripe Bowl at Yankee Stadium on December 28—this year's game will feature a battle between the Big Ten Conference and the Atlantic Coast Conference.
Tickets: Check out the Bad Boy Mowers Pinstripe Bowl's website for game tickets.
Where to eat: Try classic ballpark foods like hot dogs, burgers, and ice cream at Yankee Stadium. 
Cheer on your favorite players as basketball season kicks off
National Basketball Association (NBA)
With the professional basketball season starting in late October, Division I college basketball season starting in early November, and both running into spring, get ready to hear whistles blowing and sneakers squeaking on the hardwood.

Credit: @case_hunt on Instagram
At the center of it all is historic Madison Square Garden, where the legendary New York Knicks play their home games. Be on the lookout for celebrities like Spike Lee, "Saturday Night Live" cast members, and other sports stars who sit courtside to see and be seen at one of New York City's most popular sports attractions.
Tickets: Visit the New York Knicks' website.
Where to eat: For a family-style authentic city experience, head to Carmine's for incredible southern Italian food in a warm and welcoming venue amidst the hustle and bustle of Times Square. Or visit the many food stalls throughout Madison Square Garden. 
The Barclays Center is home to the Brooklyn Nets, The team boasts some of the top ranked NBA players in the league: forward Mikal Bridges, guard Spencer Dinwiddie, center Nic Claxton, and forward Cam Johnson, making Barclays a destination for Nets fans and basketball fans alike.
Tickets: Visit the Brooklyn Nets' website.
Where to eat: For one of the best smashburgers in the city, creamy milkshakes, and loaded hot dogs, head to Harlem Shake, a cool diner with 1940s decor and sidewalk seats.. Barclays also has nearby restaurant options including the DeKalb Market food hall, and independent restaurants in Park Slope and other adjacent neighborhoods.
College Basketball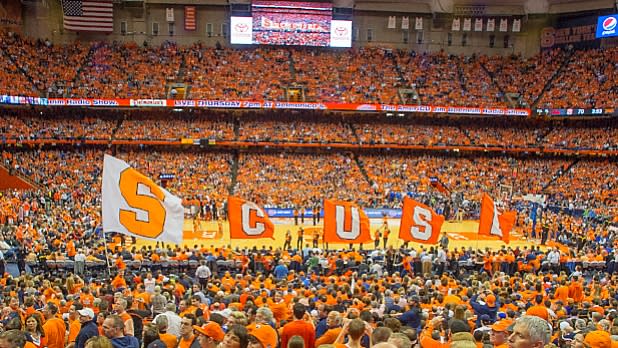 Show your New York State pride by cheering at a collegiate game! Come dressed in orange for Syracuse University's men's and women's basketball games. With March Madness success in recent years, both teams hope to make it to the NCAA tournament again this year.
Tickets: Visit the Syracuse Athletics' website or call 888-DOME-TIX.
Where to eat: A visit to The Varsity, a Syracuse staple, for a slice of pizza is a must before making your way up the hill to the JMA Wireless Dome.
Watch the puck drop this season
National Hockey League (NHL)
From the busy streets of New York City to the breezy waterfront in Buffalo and everywhere in between, hockey in New York State is taken seriously. With NHL games underway as of early October and continuing through winter and into spring, the Empire State has multiple opportunities for you to become a fan. 
Feel like a part of history as you cheer on the New York Rangers at Madison Square Garden. The team boasts one of the best goaltenders in the NHL, Igor Shesterkin, and also has one of the league's most exciting young players, Kaapo Kakko, as a draw for Rangers fans.
Tickets: Visit the New York Rangers' website.
Where to eat: During the game, Madison Square Garden offers an array of food stands, including some outposts of NYC favorites (Fuku for chicken sandwiches, Tao for sushi, Paulie Gee's for pizza). After a game, grab a pint or a pretzel at Stout NYC's flagship location just outside of the Garden. 
The New York Islanders call the UBS Arena home, the only arena in Metro New York built for hockey.
Tickets: Visit the New York Islanders' website.
Where to eat: UBS Arena is serving up fresh culinary creations this season featuring "The Slapshot Shareable Nachos" at Market 102. The 10-inch hollowed out souvenir puck offers up fully loaded nachos in a great souvenir to take home. Also at Market 102 you can chow down on an Italian beef sandwich (having its moment, thanks in part to the FX/Hulu hit show The Bear) Savor slow herb-roasted beef, garlic jus and crunchy giardiniera on a seeded semolina hero. At Market 103 treat yourself to a "Fear the Schmear sandwich." A large English muffin is piled high with a healthy amount of roasted habanero cream cheese schmeared on, topped with seared pork belly and honey and tomato slices to cut some of the heat.

Credit: Courtesy of Buffalo Sabres
Along the shores of Lake Erie, Buffalo Sabres fans flock to the KeyBank Center to watch stars like Rasmus Dahlin (pictured, above right), Tage Thompson, and the rest of the team vie for a playoff spot in the new season.
Tickets: Visit the Buffalo Sabres' website.
Where to eat: Looking to get a beer before a game? Try the Labatt Brew House & Tap Room for classics like Labatt Blue and Blue Light or the latest unique styles like Blueberry Vanilla Wheat 001 or Mango Guava Sour 001.  
Minor League
Three New York State teams, each with an NHL affiliation, are part of the American Hockey League (AHL)—a development league for the NHL that competes from early October to April. 
Venture to Utica for a Comets game at the Adirondack Bank Center at the Utica Memorial Auditorium. Don't forget to take a photo with the mascot, Audie!
Tickets: Visit the Utica Comets' website.
Where to eat: Feel like a local at 72 Tavern and Grill, named after the 72 cables that support the Adirondack Bank Center's roof.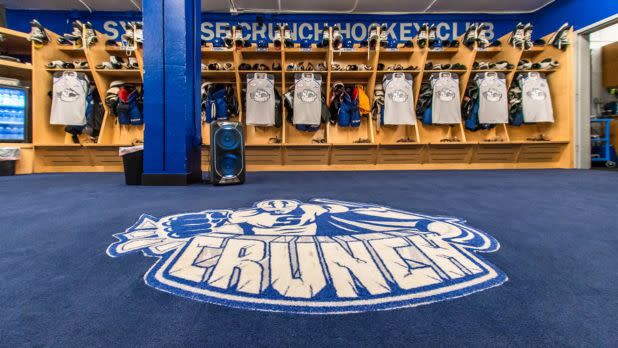 Head to Syracuse for a Crunch game at the Upstate Medical University Arena.
Tickets: Visit the Syracuse Crunch website.
Where to eat: Eat a hearty Italian meal before the game at Pastabilities, which features a diverse menu of pastas, entrees, salads, and more.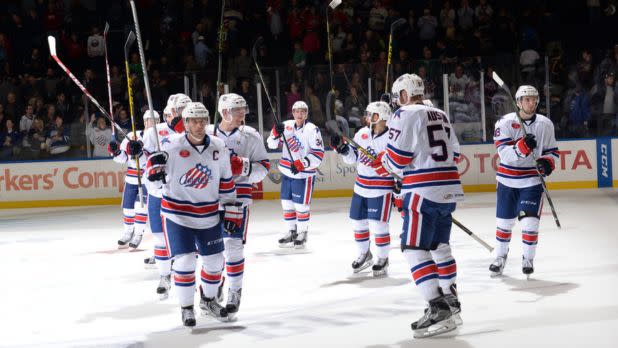 Last, but not least, check out a Rochester Americans, also known as the "Amerks," game at the Blue Cross Arena in Rochester.
Tickets: Visit the Amerks' website.
Where to eat: Before heading into the Amerks game try a garbage plate, a Rochester favorite, at nearby Nick Tahou Hots. 
The ECHL, a development league for both the AHL and NHL, has one team based in New York State—the Adirondack Thunder in Glens Falls.
Tickets: Visit the Adirondack Thunder website.
Where to eat: Get in the mood for hockey by watching NHL highlights and eating a burger and fries at The Bullpen Tavern in downtown Glens Falls before heading over to a game.
College
What about college hockey? Don't worry, New York State has plenty of that too. Experience Ivy League history at a Cornell University men's hockey game at Lynah Rink in Ithaca. With two NCAA Championships and a dozen Eastern College Athletic Conference (ECAC) Championships, the Big Red are fun to watch each year.
Tickets: Visit the Cornell Athletics' website.
Where to eat: While you're in Ithaca, explore downtown shops and try the burger of the week at Ithaca Ale House. 
On the women's side, visit the Cheel Arena in Potsdam to watch Clarkson University's Golden Knights play.
Tickets: Visit the Clarkson Athletics' website.
Where to eat: Get a coffee or tea at Jernabi Coffeehouse before a game and stay warm in the stands with every sip. 
Check out a lacrosse game
National Lacrosse League (NLL)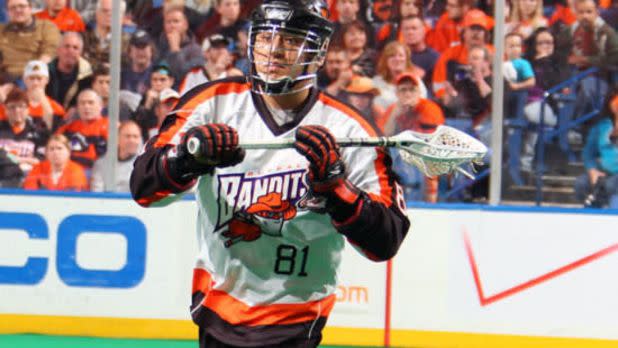 Lacrosse is not just a spring sport in New York State! The NLL operates three professional box lacrosse teams—the Rochester Knighthawks, Buffalo Bandits, and New York Riptide. With regular-season games starting at the end of November, now is the time to start planning your trip.
Tickets: Visit each team's respective website for this season's ticket information. Head inside for a fun night of professional lacrosse!
College Lacrosse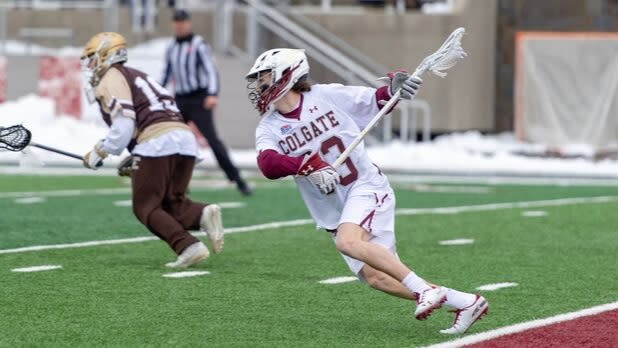 With Division I men's college lacrosse powerhouses like Syracuse University and Cornell University, New York State hosts some of the country's best players. Stony Brook University on Long Island, Hobart College in Geneva, and Colgate University (pictured) in Hamilton are also consistently top-performing men's teams. New York's Division I women's college lacrosse predicted leaders include Syracuse University and Stony Brook University.
Tickets: Visit each school's respective website for this season's ticket information. If you're looking to spend an afternoon watching incredibly talented athletes compete or if you want to take your kids who are just learning how to play, head to a collegiate lacrosse game as soon as the season starts in early February.
Note: Teams that have New York in their title but play their home games outside the state, such as the Giants, Jets, and Red Bulls, are not included.