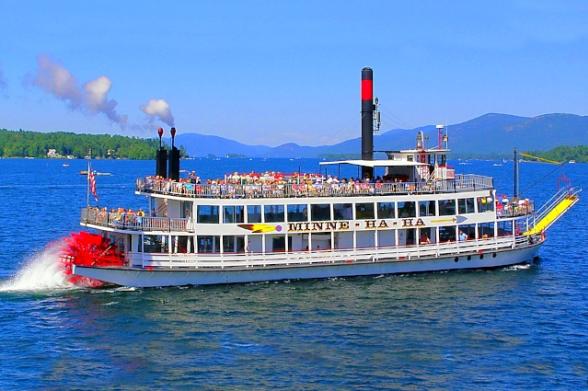 We get it. New York is a big state and summer seems to fly by! To help you narrow down the almost endless number of things to do here, we've come up with a list of must-see destinations perfect for a summer day, whether you like to embrace the sun's rays or appreciate cooling down with a breeze on the water, a museum's air conditioning, or caverns deep below the earth's surface. It's time to make some memories.
Masks are encouraged, but optional in most settings per New York State guidelines. Individual businesses or attractions may require mask wearing. Call ahead and check websites and social media to make sure attractions and amenities are open and available. 
Updated 05/1/2023
Explore the Buffalo Waterfront (Greater Niagara)
Photo Credit: @cobblestonedistrict on Instagram
Canalside, Buffalo's revitalized waterfront on 21 acres of the Erie Canal, is the ultimate cure for summer boredom. With hundreds of events a year, access to Explore & More Children's Museum, and rentals of kayaks, stand-up paddleboards, and pedal boats, there's almost too much fun to be had! Walk along the boardwalk and take a spin on the Buffalo Heritage Carousel—a historic but solar-powered carousel from 1924—or cool off with an ice cream cone. Travel beyond Canalside to Outer Harbor and Wilkeson Pointe for a picnic, volleyball, or the beer garden.
Soak up the Sun and Fun at Jones Beach (Long Island)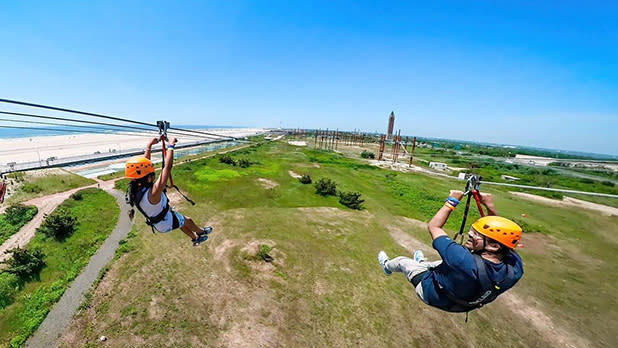 Photo Credit: @rmdragon on Instagram
Call your friends, fill up some water bottles, and grab some SPF for a classic summer beach day at Jones Beach on Long Island. Test out the ocean water and jump the waves in view of the lifeguards, or just let your toes completely sink into the soft white sand while reading your favorite novel. Walk up to the boardwalk for some tacos, local beer, or clam strips or start a game of pickleball, shuffleboard, or basketball on the many available courts. Craving more adventure? Head to WildPlay, an adventure park with tightropes, cargo nets, rope swings, ziplines, and a 40-foot plunge on a jump line—all in front of a scenic backdrop of the Atlantic Ocean.
Build Lasting Family Memories at Legoland (Hudson Valley)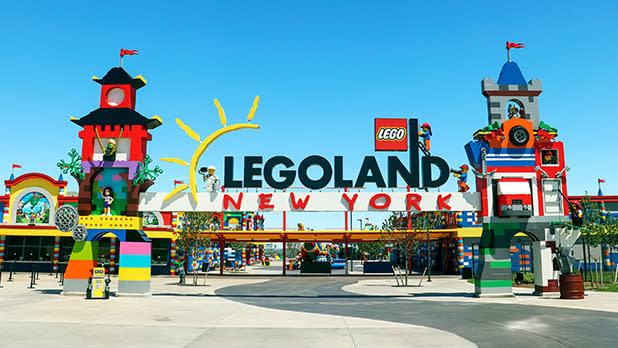 Create Bricktastic family memories in one of the seven LEGO-themed lands at LEGOLAND(R) New York (best for children ages 2 to 12)! At LEGO Castle, chase a sword-stealing wizard on the back of a twisting and turning dragon on the popular Dragon roller coaster. For thrill-seekers in training, the Dragon's Apprentice coaster is a more tame but still super fun version where riders are helping to train baby dragons. At LEGO Pirates, get behind a water cannon and help get back some stolen treasure. Crash, splash, slip, and slide at the Water Playground where you can build your own LEGO boat and cascade down exciting water slides. Spend the night in one of the 250 LEGO-themed rooms at the LEGOLAND New York Hotel to maximize your park time.
Cruise Lake George in a Timeless Way (Adirondacks)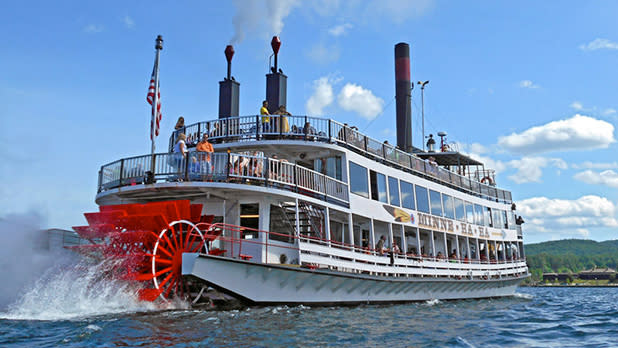 Take a ride around Lake George on a steamboat from yesteryear with Lake George Steamboat Cruises. The Minne-Ha-Ha—one of the last steam paddle boats in the US—travels around the lake for an hour seven times a day this summer, with special pirate-themed tours on Thursday and Friday evenings. The Mohican and Lac du Saint Sacrement each offer a variety of other cruises, including themes of Champagne Brunch or Taco Tuesday.
Experience Some of the Best Sport Fishing in the US (Thousand Islands-Seaway)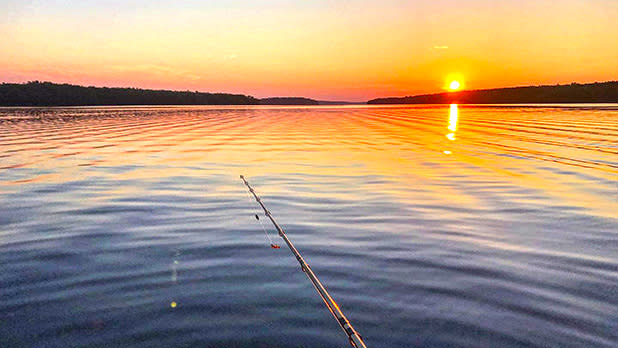 The Salmon River has 12 miles of public fishing and more than 20 access points. Challenge yourself to beat the Great Lakes record for Chinook salmon (found here at 47 lbs. 13 oz.) or the world record for Coho salmon (found here at 33 lbs., 4 oz.). Other swimmers in the area are Atlantic salmon (or landlocked salmon), steelhead (rainbow trout), brown trout, smallmouth bass, rock bass, fall fish, shorthead redhorse, and white sucker.
Watch Art Come to Life (Finger Lakes)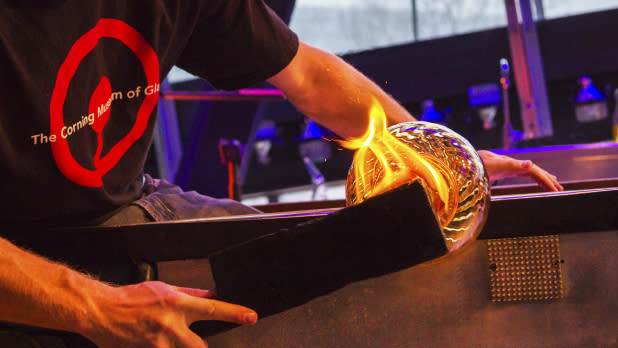 The sun isn't the only thing bringing the heat this summer—so are the ovens at the Corning Museum of Glass (CMOG), coming in at 2000 degrees (and rising). Watch the artists (also called "gaffers") melt, mold, and blow glass into forms you never even imagined in one of the museum's hot glass or flameworking demos. If you'd like to try it yourself, CMOG experts will help you make forever souvenirs like ornaments, windchimes, frames, and more in a Make Your Own Glass session. Get some inspiration first by walking through exhibits displaying 36 centuries of glass. If that many centuries sounds like a lot, don't worry, tickets are good for two consecutive days.
Escape the Heat at Howe Caverns (Central NY)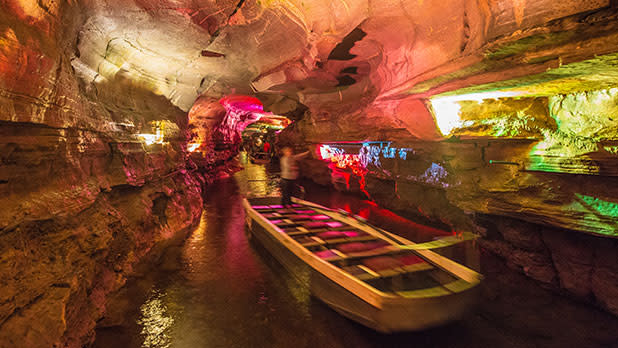 Speaking of heat, if you're looking for a respite from the sun's rays, find it 156 feet underneath the earth's surface at Howe Caverns, where the temperature is 52 degrees all year long. Take the elevator down 14 stories and hop in the tour boat where you'll cruise on the underground natural stream beneath the boulders and stalactites, past secret crevices, and down hidden passageways—even experiencing total darkness. To get more hands-on with the rocks, work on your spelunking skills on a special two-hour Adventure Tour.
Score Some Points at the Strong National Museum of Play (Finger Lakes)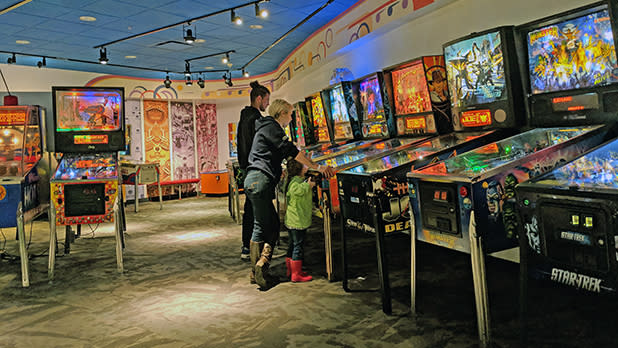 You may know the Strong National Museum of Play as one of the best NY destinations for kids for its Sesame Street neighborhood, a Wegmans supermarket play center, and the Dancing Wings Butterfly Garden, but we promise, it's tons of fun for the whole family! Visit the Pinball Playfields to enjoy 80 years of pinball history while playing on more than 20 machines, seeing rare artifacts, and check out the largest commercial pinball machine, Hercules, from 1979. Adults will also enjoy taking a trip down memory lane at the Toy Hall of Fame, where they'll see faves from alphabet blocks to Wiffle Ball.
Adventure Through the Grand Canyon of the Adirondacks (Adirondacks)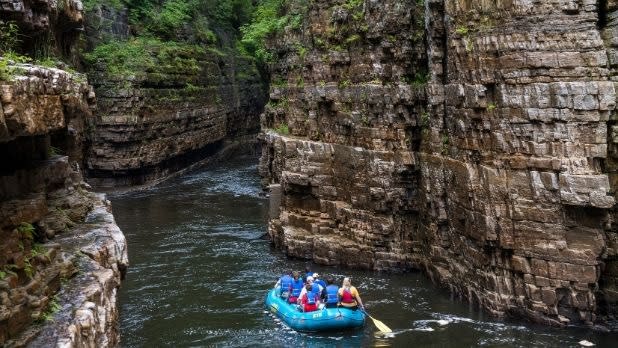 A summer is just a blink of the eye compared to the 500 million years Ausable Chasm has been around, so don't miss your chance to visit. You can explore one of the country's oldest tourist attractions in a variety of ways, including on the Classic Tour which involves both a hike and a raft down the river and the Adventure Trail—where you'll walk on cable bridges across the river and alongside cliffs, if you dare.
---
Share New York State adventures with us on TikTok, Instagram and Twitter with #ILoveNY and #iSpyNY, and tag us on Facebook!