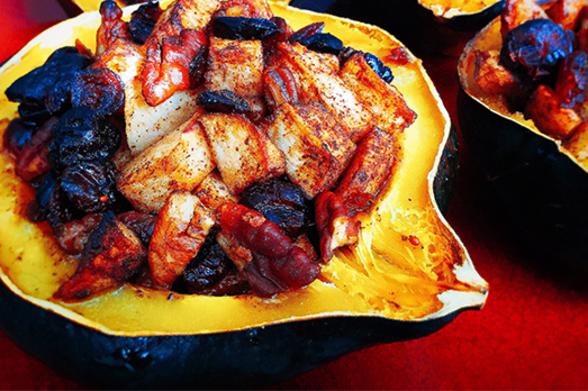 How to Make Baked Acorn Squash with New York Pears and Apples
(Statewide)
Did you know that New York State is home to over 33,000 farms and is the #2 producer of apples in the country? A visit to New York during the fall season means a bounty of colorful leaves and delicious fresh produce that you can find at idyllic country farm stands and farmers markets across the state. This sweet and savory baked acorn squash dish is the perfect sidekick to a Thanksgiving turkey (or your protein of choice) and an ode to the state's many U-pick farms and orchards where you can go apple picking, enjoy a hayride, and explore corn mazes or other fun family-friendly activities. Click here for a downloadable, printable card featuring this recipe.
Serves 2
Ingredients
2 tablespoons butter
1 onion
1 tablespoon curry powder
1 apple
1 pear
⅔ cup apple cider
½ cup raisins
Acorn squash, unpeeled
Salt and pepper to taste 
Extra virgin olive oil
Directions
Directions: 
Preheat the oven to 400 degrees Fahrenheit. 
Wash and prep all produce. Cut squash into 1-inch thick rings; remove seeds and pulp from the center of rings. De-core apple and pear, then ½-inch dice. Chop the onion into a ½- inch dice.
Melt butter in a saucepan on medium heat. Add onions and sauté until just tender. 
Add the curry powder and stir. Add the apple, pears, cider, and raisins. Simmer until all liquid evaporates, about 6 minutes. 
Arrange acorn squash rings on a sheet tray, coat with oil, salt, and pepper
Scoop the curried fruit filling into the center of the rings.  Drizzle with a little oil, cover with foil, and bake until squash is tender, about 25 minutes.