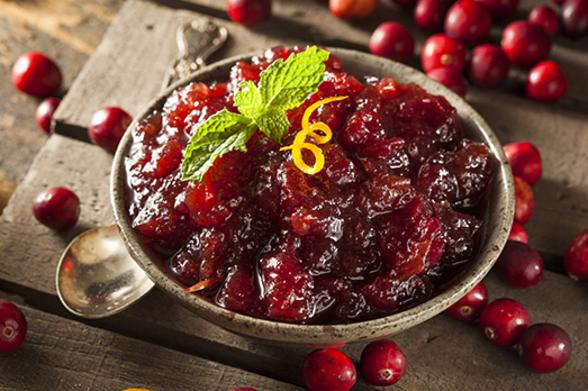 How to Make Cranberry Sauce with New York Port and Cinnamon
(Finger Lakes)
Cranberry sauce is a Thanksgiving classic, and we're adding a New York twist to ours to celebrate the Finger Lakes wine region. Highly regarded for their rieslings and picturesque lakeside tasting rooms, Finger Lakes wineries have quietly been expanding into just about every style of wine production imaginable. Grab or order a bottle of port from Ithaca's Ports of New York, the only one of the state's over 300 wineries dedicated to producing fortified wine complete with its own little museum, to create an elevated sauce that your dining companions will be dreaming about for holidays to come. The alcohol burns off during the cooking process so kids and those who choose not to imbibe will be able to enjoy the sauce too. Click here for a downloadable, printable card featuring this recipe.
Serves 2
Ingredients
1 cup port (use a NY State port for tastiest results) 
2 cinnamon sticks, broken in half
1 cup dried cranberries
12 ounces fresh cranberries
¾ cup water
¼ cup sugar
Directions
Bring port and cinnamon stick halves to a boil in a saucepan on high heat. Reduce heat to medium and simmer for 5 minutes.
Add dried cranberries and simmer until slightly softened, about 3 minutes. 
Add fresh cranberries, water, and sugar. Bring to a boil, stirring until sugar dissolves. Reduce heat to medium-low and simmer until sauce thickens, about 20 minutes.
Transfer sauce to a bowl to cool, discard cinnamon sticks. Served chilled or at room temperature.