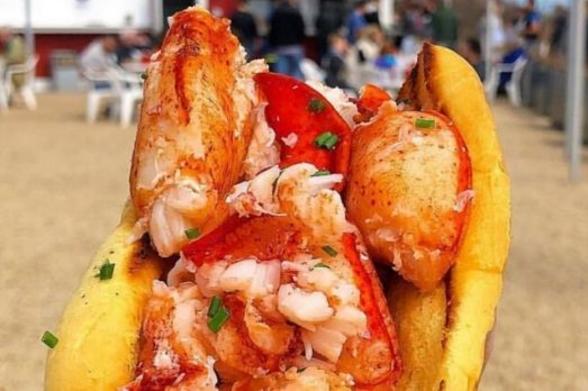 Homemade Long Island Lobster Rolls
(Long Island)
No visit to Long Island's East End would be complete without a stop in Montauk for a lobster roll with views of the marinas and world-class beaches. The popular lunchtime or dinner item can be found all along the north and south shores of Long Island too, at fish markets and clam shacks where you can order a roll packed with lobster meat and seasoned with mayonnaise, fresh herbs, and served on a brioche or hot dog bun. It's an easy-to-assemble treat to make at home too. Just remember to toast the roll and brush it with butter for the extra-savory flavor that makes lobster rolls a Long Island seaside classic. If you can't find lobster, this recipe lets you sub in shrimp. Click here for a downloadable, printable card featuring this recipe.​
Craft Beverage Pairing: Oaked Chardonnay (wine); Summer Ale (beer)
Serves 4 
Ingredients
1.5 pounds lobster meat can be purchased at a local supermarket in seafood department, either fresh or frozen, or 1.5 peeled, de-veined fresh shrimp (or cooked frozen shrimp)
1/2 cup mayonnaise
3 tablespoons freshly squeezed lemon juice
2 celery stalks with leaves, finely chopped
2 tablespoons fresh parsley
Salt and freshly ground pepper to taste
4 brioche or hot dog buns, split and lightly toasted
1/3 cup melted butter for brushing
Directions
For lobster rolls:
Boil lobster in salted water for 12-13 minutes.
Remove lobster and place in a bowl of ice water. 
Remove the meat from the lobsters, chopping any large chunks into bite-sized pieces.
In a bowl, combine the lobster meat, mayonnaise, lemon juice, celery, parsley, and salt and pepper to taste. 
Toss gently and place in the refrigerator for 5-10 minutes to allow the salad to absorb the flavoring.
Brush cut sides of rolls with the melted butter, toast in sauté pan. 
Fill toasted rolls with lobster salad. 
Chef's notes: If substituting shrimp for lobster meat, cook raw shrimp in a pan with a tablespoon of oil or butter over medium-high heat for 2-3 minutes per side (4-6) minutes total, or defrost frozen shrimp. Cut into bite-sized pieces (if needed), then follow steps 4-7 in the lobster roll recipe above.