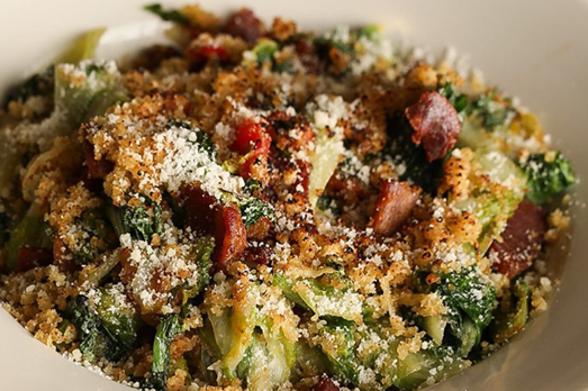 How to Make Utica Greens
(Central New York)
New Yorkers are known for taking things from around the world and making them even better (like pizza!). This taste of Southern Italy by way of Utica is the perfect example. Back in the 1980s, chefs at local Italian restaurants started serving this now popular dish of hot peppers, sauteed greens, chicken stock or broth, cheese, bread crumbs, and prosciutto that will bring a pop of color and burst of flavor to your Thanksgiving dinner. Click here for a downloadable, printable card featuring this recipe. 
Serves 2
Ingredients
2 escarole heads
2 cups chicken stock
4 garlic cloves
4 hot cherry peppers
4 tablespoons olive oil
8 oz prosciutto, small dice
1 cup panko breading
½ cup Parmesan cheese
Extra virgin olive oil
Directions
Wash and prep produce. Roughly chop the escarole, mince garlic, and small dice cherry peppers.
Preheat a large saucepan over medium heat. Drizzle the olive oil into the pan. Add the garlic, the hot peppers, and the prosciutto.
Saute the peppers for 5 to 7 minutes, so that they are softened. Add the escarole to the pan. Keep stirring until greens are softened, about 5 more minutes.
Add the chicken stock and continue to cook until the stock has reduced by three quarters.
Add the panko and Parmesan cheese, allow to heat through, and serve at once.
Chef's Note: The escarole should be tender. Other greens such as kale, dandelion, or endive may be used in place of escarole. White beans and/or diced tomatoes may be added if desired.