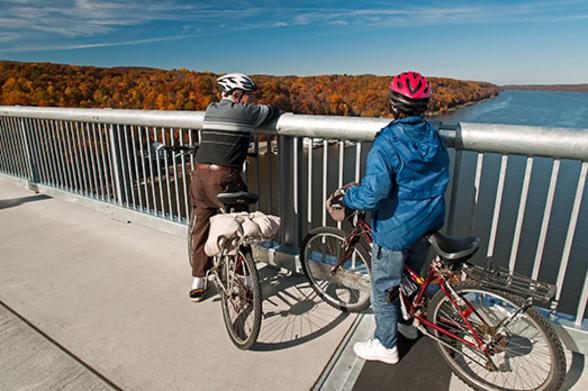 Summer is on its last leg, which means it's time to start thinking fall fun. Traveling on a budget? No problem. New York is home to endless exciting activities and memorable landmarks that won't break the bank. Here is your guide to affordable fall activities across the Empire State. 
Walkway over the Hudson Walk 
Renowned as the longest footbridge in the world, its height above the Hudson River offers a ravishing view that can hardly be expressed in words. Stroll its scenic shoulder or rent bikes from Leisure Ride Bike and cycle the Dutchess Rail Trail directly to the Walkway! Poughkeepsie; Bike rentals $8/hr includes free parking and helmets.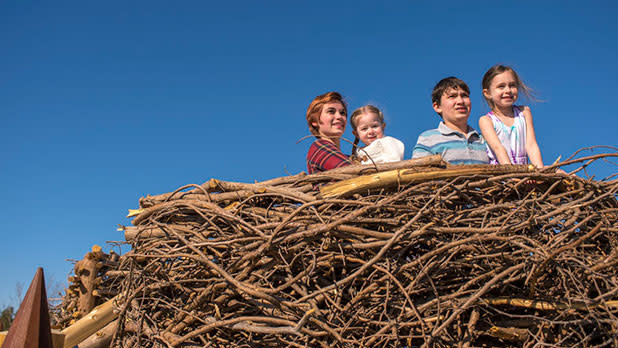 Wild Walk 

The Wild Center  
Set on 80 acres inhabited by more than 70 species of birds in addition to bats, butterflies and flying squirrels, the Wild Center in Tupper Lake really is wild. Take a day trip to see the region's lush woodlands and wildlife. Walk the Wild Walk, an elevated nature trail, to see the foliage turning from a fresh perspective. Tupper Lake; $20 for adults, $13 for kids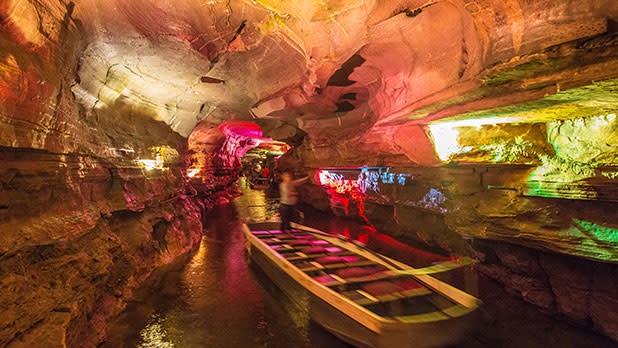 Howe Caverns Photograph: Beautiful Destinations
Howe Caverns 
Leave the sun and sky for a day to dip below at Howe Caverns. Explore the largest cave open to the northeast with a guided tour of New York State's second most popular natural attraction. The zipline and ropes courses are a must. Howes Cave; Zipline, ropes course and tour for $50 
Schmorgasburg in Kingston 
One of Brooklyn's most famous outdoor food markets is now open upstate! Take a trip to Schmorgasburg in Kingston for an all-food market that will satiate every taste bud. Kingston; Saturdays only; free
Saratoga Spa State Park
Saratoga Spa State Park  
Featuring 2,200 acres of sprawling green grass and manicured lawns with natural springs, the park has the only active spouting geysers east of the Mississippi in the US. Experience the beauty of this Path Through History attraction every season. Saratoga Springs; free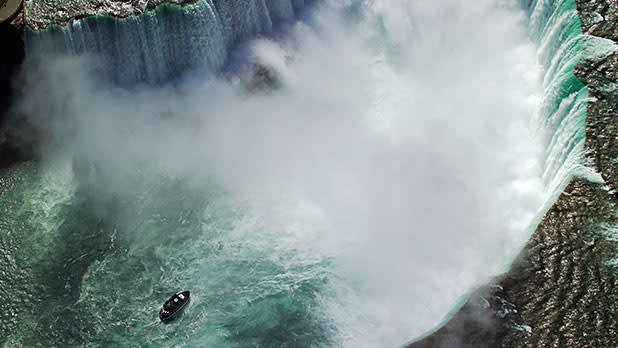 Maid of the Mist
Maid of the Mist      
Explore New York State's most popular natural attraction by boat. Journey to the heart of one of America's most powerful waterfalls, close your eyes and feel the spray of the mist aboard the Maid of Mist. Niagara Falls; $18.25 for adults, $10.65 for kids
Boldt Castle Photograph: Beautiful Destinations
Boldt Castle 
Built in 1900 at the bidding of millionaire hotel magnate George C. Boldt as a tribute to his beloved wife Louise. The castle is accessible only by water taxi, tour boats or personal boats. Alexandria Bay; $12 for castle tour, $9 for boat taxi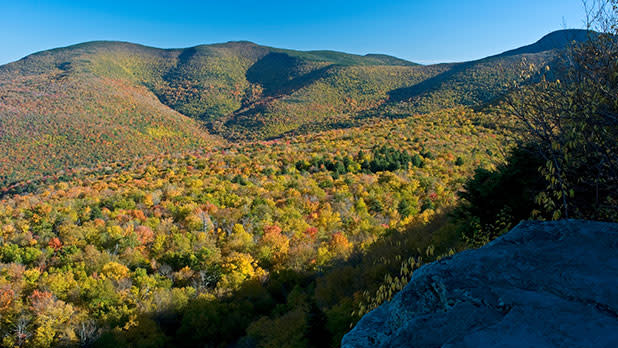 Catskill Mountains 
Catskills Fall Foliage  
Fall means changing foliage! Take the Fall Foliage Tour on Catskill Mountain Railroad to experience the spectacular colors of autumn in the Catskills. You'll experience sights you can't get from your car and get a unique perspective of the region from the comfort of vintage coach. Mt. Tremper; $14 for adults
Finger Lakes Wine Path   
Walk the Finger Lakes Wine Path with friends and family for a tasty tour of some of New York State's best varietals. Most wineries have remedial fees to taste, and some are free, like Deer Run Winery. Geneseo; costs vary
Fire Island Lighthouse 
Fire Island National Seashore  
Now that the summer heat has subsided, take full advantage of the stunning Fire Island Seashore with a trip to the beach and sunset with family and friends. The rhythmic sounds of the ocean and cool summer breeze will be peaceful and refreshing. Long Island; free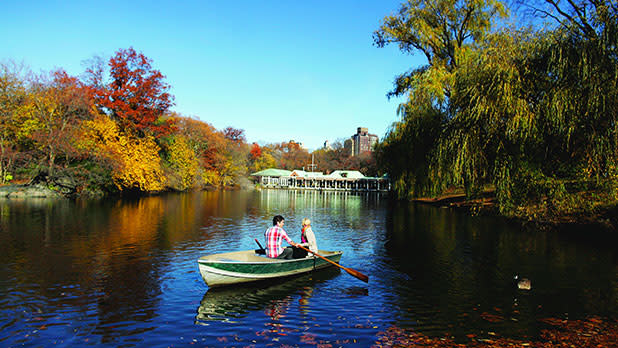 Central Park Photograph: NYC & Co
The Boathouse at Central Park  
If watching When Harry Met Sally did anything, it showed us the arresting romance that encompasses The Boathouse and greater Central Park. Put yourself in the setting you loved on the big screen when you grab lunch and rent a rowboat to cruise The Lake. Manhattan; $15/hr boat rentals
Share New York State adventures with us on Instagram and Twitter with #ILoveNY and #iSpyNY, and tag us on Facebook!