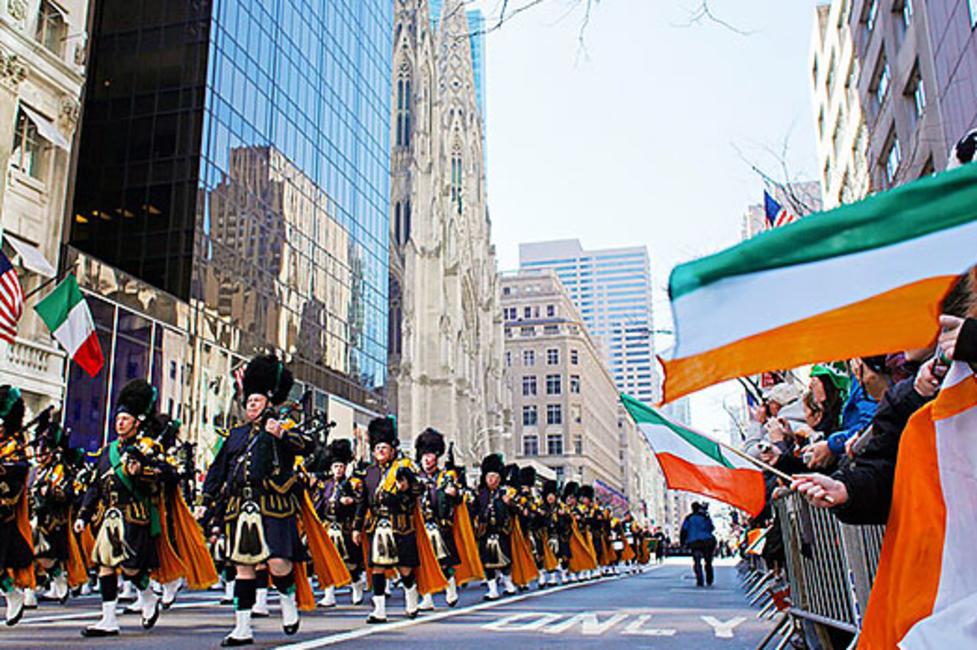 You don't have to get on a flight to Dublin to feel Irish in the middle of March, and New York State is a fantastic place to celebrate Saint Patrick's Day. In fact, NYC's annual St. Patrick's Day parade is the largest and oldest in the world, started in 1762. But what if you want to feel like you're in Ireland all year long? Well then, New York State is also a great place for that, as many Irish immigrants have settled in the state over the last 400 years. More than 2 million current New York State residents have reported Irish ancestry. From Irish food to immigrant history to cozy wool sweaters, read on to see where in New York State you can get your craic on. May the road rise up to meet you on your travels!
The "Irish Catskills" (Catskills)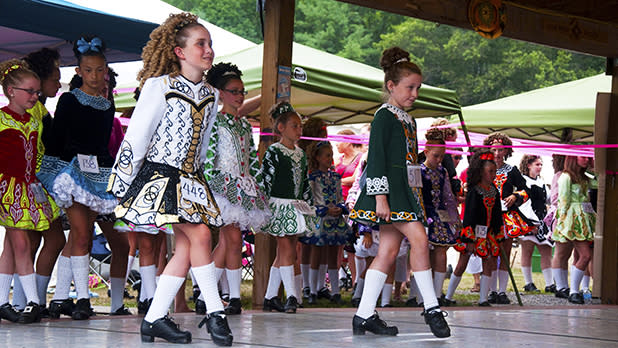 Immerse yourself in the "Irish Catskills" in East Durham. First, stock up on wool sweaters, Celtic jewelry, and almost anything you want with your family crest on it at Guaranteed Irish, the largest Irish import store in the country. At the Michael J. Quill Irish Cultural Cultural Centre, tour an Irish cottage built 200 years ago that was disassembled, shipped across the ocean, and reassembled with Irish furnishings and decor. (Call at least 24 hours ahead for tours.) Stay or play at Shamrock House, called "the nearest thing to Ireland, this side of Galway Bay," which often has Irish music playing at night and always has Guinness flowing. AND for a whole week every summer, Catskills Irish Art Week brings traditional Irish music, dance, and art to East Durham in the form of performances and workshops on the fiddle, step dancing, Irish knitting, and more. In 2019, the 25th annual event runs from July 14 to 20.
Yonkers (Hudson Valley)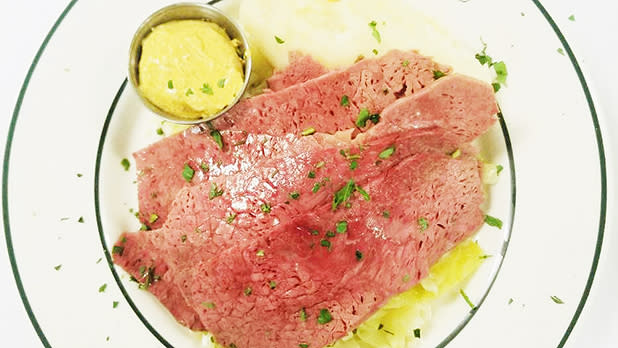 McLean Avenue in Yonkers has been called "Dublin on the Thruway" by The New York Times and residents themselves call the area "the 33rd county of Ireland." With an increasing Irish population for the last century, there are many Irish businesses as well as a lilt of Irish laughter heard throughout the streets. You'll find a number of Irish eateries, including Rory Dolan's Restaurant and Bar (home to traditional corned beef and cabbage, pictured) and McKeons Pub, as well as an Irish butcher, The Butcher's Fancy, with Irish breakfast sausages, Irish ham, steak and mushroom pie, and more. Find Irish knits and gifts at Anna's Attic or Irish brown bread and homemade scones at Irish Coffee Shop.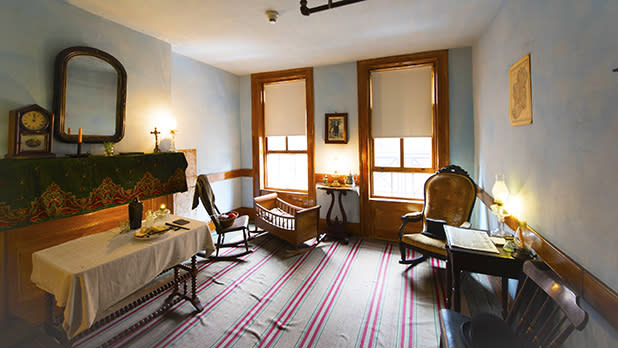 Learn what life was like for immigrants to the Lower East Side of Manhattan at one of NYC's many phenomenal museums, the Tenement Museum. The Irish Outsiders tour tells the story of a real-life family, the Moores, who lived at 97 Orchard Street in 1869, at a time when there was a cultural bias against the Irish, who came through Ellis Island and settled in NYC in the late 1800s and early 1900s. Walk up the stairs and into the apartment where Bridget and Joseph Moore lived with their eight children, in poverty and poor health. Though the tour evokes a certain era, its message still applies to the struggles of immigrants today.

Credit: Tasha Hurley
Sláinte to all of our whiskey fans! This Irish pub in Tivoli is on this list for having the largest selection of Irish whiskey in the United States. Try different varieties straight up, on the rocks, or in a whiskey cocktail, like a Whiskey-Rita, Irish coffee, or a Gingeroo—whiskey mixed with ginger beer. Irish-inspired food items include the Celtic Tiger burger with honey-whiskey caramelized onions, black pudding, Irish bacon, and Dubliner cheese.
New York State has many castles (you may have heard of Singer and Boldt Castles in the Thousand Islands), but Beardslee Castle in Little Falls is specifically modeled after the castles that scatter the coasts of Ireland. Originally built in the 1860s, two fires in 1919 and 1989 required reconstruction efforts. Today, Beardslee's fine-dining menu changes weekly but has included decadent dishes like crab-stuffed veal, bacon-wrapped filet mignon, and rack of lamb. The castle also hosts "murder mystery dinners," perhaps to lean into the rumor that the castle is haunted. Reservations recommended.
Irish American History Museum (Capital-Saratoga)
Irish immigrants have been in Albany County since the 1600s. In the city of Albany, you'll find a museum celebrating Irish heritage with permanent exhibits of "Irish Immigration to America" and "Irish-American Catholics". There have also been many temporary exhibits, previously displaying "The Irish in Music" and "The Irish and the Erie Canal" (so many Irishmen helped build the Erie Canal that North Albany had the nickname of Limerick, a city in Ireland where many of the workers came from). Annual events held at the museum include an Irish Soda Bread Competition (pictured) and an Irish Sweat-er 5K Run.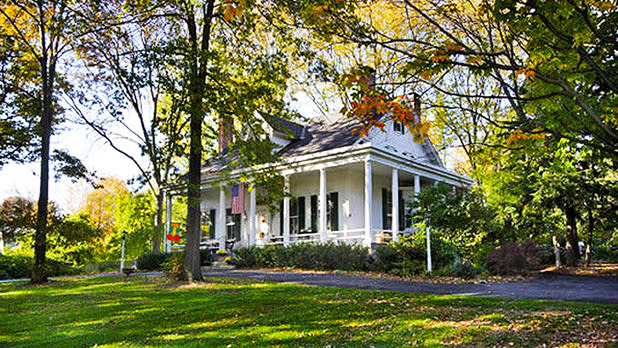 B&Bs are the way to stay when you're visiting Ireland, and New York has many options for these more personal and intimate stays as well. One of the first things you'll notice about this Irish-inspired bed and breakfast in Salisbury Mills is the Irish flag flying out front. But you'll also find the menus contain Irish blessings, Irish decorations are hung all around, and the barn, now an event space for meetings or weddings, is known as the Connemara house. Other areas of the B&B are named for different areas of Ireland, like Galway Bay and Cliffs of Moher, and the Irish hospitality offered throughout your stay will make you feel welcome, from your breakfast at the top o' the morning and beyond.
While there are a plethora of Irish pubs in NYC, the oldest is McSorley's Old Ale House, where history covers the walls and sawdust covers the floors. McSorley's opened in 1854 and boasts famous past patrons like Teddy Roosevelt, E.E. Cummings, and John Lennon. Order either light or dark ale and play "I Spy" with all of the artifacts. The New York Times' article announcing the sinking of the Titanic is in the back room above the doorway, a chair that Abraham Lincoln supposedly used is behind the bar, and dusty wishbones to commemorate soldiers who headed off to WWI hang above it.

Credit: Dutchess County
Opening in early April, Bia Restaurant is the first Irish restaurant to join the growing Rhinebeck dining scene. Bia—named for the Gaelic word for food—is not your typical Irish pub, but rather an Irish-inspired fine-dining restaurant. With a philosophy toward local ingredients, soulful dishes, coziness, and hospitality, we have a feeling they'll fit in very well.
White Lion Restaurant (Adirondacks)
White Lion Restaurant, at the Fort William Henry Lakefront Resort in Lake George, has a unique twist on traditional Irish soda bread—they make it into French toast! For less than $9, have a breakfast of two slices with a side of Adirondack home fries while looking out the windows onto gorgeous Lake George.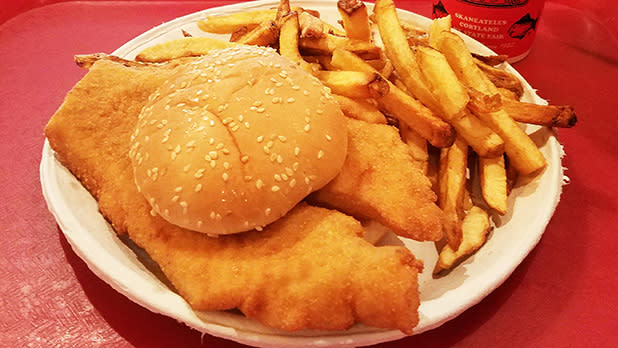 Fish and chips have been a vital part of the Irish diet since the 1880s, when an Italian immigrant started selling them in Dublin. For your fix in New York State, head to Doug's Fish Fry, with locations in Skaneateles, Cortland, and at the New York State Fair. Skaneateles Lake has water so fresh that the city of Syracuse drinks it unfiltered, so you know you're getting some good fish. This particular fish comes on a bun, but if you want to be traditional, you can ask for it without one.
South Buffalo (Greater Niagara)
You'll feel as though you're on the streets of Dublin when you start seeing street signs written in Gaelic in South Buffalo. Shop for Irish gifts like claddagh rings and Belleek home goods at Tara Gift Shoppe. Visit the Buffalo Irish Center's pub, which is open daily, or attend one of their events from the traditional Friday Fish Fry to live bagpipe music. Craving a Guinness? Some of the most famed Irish pubs in the area include Doc Sullivan's and Conlon's (try the shepherd's pie). The Irish beer cheddar soup at Blackthorn has been featured on Diners, Drive-Ins and Dives, and there you can also have corned beef on rye and the Irish filet mignon, with a Jameson sauce. (Insider tip: Doc Sullivan's and Blackthorn are also stops along the Buffalo Wing Trail.)
Share photos of your New York adventures on Instagram and Twitter with #ILoveNY and #iSpyNY and tag us on Facebook!