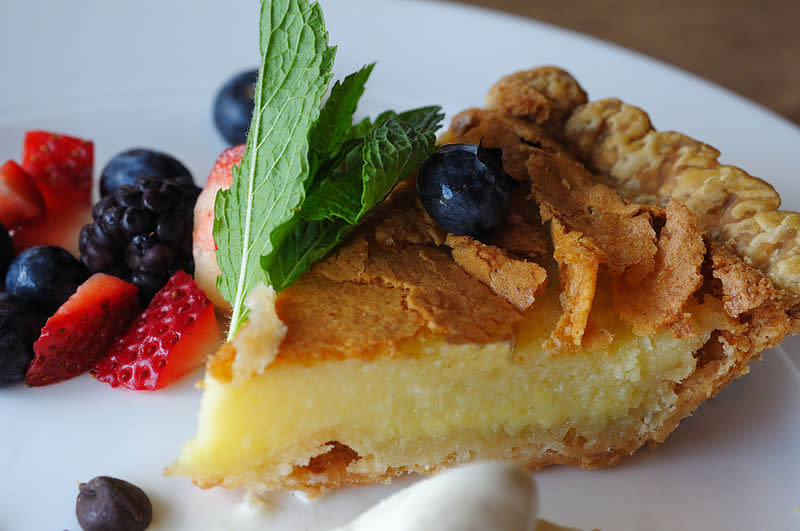 Pi Day, March 14, is a great time of year to consider the marvel that is pie.  After all, pie is delicious, it shares the circular properties of Pi, and its appeal is infinite, also just like Pi.  
New York State is practically bursting with places to score a top quality pie so pack your calculator and spoon and take a delicious trip along our Pie Trail.
Riverhead, NY
Briermere Farms in Riverhead, Long Island has around two dozen fruit pies on its menu - give or take a few depending on what time of year or day of the week it is (lemon meringue, coconut cream, and chocolate cream pies are only available Friday through Sunday).   Aside from classics like apple and blueberry, they offer five variations on raspberry, including their sumptuous raspberry cream pie.
Briermere Farms, 4414 Sound Ave, Riverhead, NY 11901
Glen Head, NY
Along with its organic, local produce, jams and soups, Youngs Farm in Glen Head, NY has a solid list of fruit pies that changes with the seasons.  Opt for the more traditional apple, cherry, pecan, and pumpkin or branch out with a slice sugarless apple or sugarless bumbleberry.  After all, watching your sugar intake shouldn't mean you have to miss out on slice of top quality pie.
Youngs Farm,  Hegemans Lane, Glen Head, NY 11545
NYC
It's a safe bet that no one will ever agree on the absolute best places to get pie in New York City but you're getting pretty close when you visit one of these:
Williamsburg, Brooklyn's The Blue Stove is a cozy little bakery with family style seating and cold press coffee that features a range of seasonal pies all year round and it bakes them fresh every single day.  Blackberry cream, raspberry plum, and pumpkin ginger are just a few of their staples depending on what time of year you go. 
The undisputed king of Key lime pies is found in Red Hook, Brooklyn at Steve's Authentic Key Lime Pies, where the art of the Key lime pie has been honed and refined by Steve more than 30 years.
The Blue Stove, 415 Graham Ave, Brooklyn, NY 11211
Steve's Authentic Key Lime Pies,  185 Van Dyke St, Brooklyn, NY 11231
Robert DeNiro's restaurant Bubby's is a mecca for pie lovers not just for their freshly baked, comfort-centric favorites like Banoffee, Organic Peanut Butter Chocolate, and Michigan Sour Cherry, but also for their pie crust, which is made from the highest possible grade pork lard, rendered in-house from locally sourced pigs.
Bubby's, 120 Hudson St, New York, NY 10013
And, while we're on the subject of pork, British meat pie may not be the first place your mind goes to when you think of pie but, thanks to Myers of Keswick, in the West Village, it very well could soon be.  Hand-sized pork and Stilton, chicken and leek in white wine, and steak and kidney pie at Myer's of Keswick make it possible to have pie for both dinner and dessert.
Myers of Keswick,  634 Hudson St, New York, NY 10014
 Westchester
"Mr. Tuttle's double-crusted pies are made the way your grandmother probably prepared hers: entirely by hand with local, seasonal fruit," is how The New York Times described the award-winning pies of Hudson-on-Croton's David Tuttle.  Try the classic apple pie that won Westchester Magazine's Best Apple Pie of 2013 or, if you want to kick it up a notch, try the maple and spice apple pie with a bacon pecan crust.
Tuttle's Homemade, available by the slice at The Tavern at Croton Landing, 41 N. Riverside Avenue, Croton on Hudson, NY or whole by special order 917 991 7661
 Warwick
Whether you're after a hearty savory pie, a sweet, fruity pie, or a rich creamy pie, Noble Pies will have something to hit the spot.   Start out with a classic Shepherd's Pie or Chicken Pot Pie or, if you're feeling a little adventurous, the Chicken Quesadilla Pie with its chicken, cilantro, pickled jalapeno and cheese filling wrapped in a tortilla crust.  Stick around for dessert and your choices range from classic apple to lemon chiffon to peanut butter with chocolate, or sweet potato and pecan.
Noble Pies, 121 State Rt 94 S Warwick, NY 10990
Albany
A pie mecca in the state capital, Grandma's Pie Shop serves all the classic pie you'd expect like French apple, wild blueberry, and lemon meringue but also adds a few unexpected but mouth watering original pie inventions like banana split cream pie, which is a fudge base covered with bananas, pineapple pudding, strawberries, and topped with whipped cream and almonds.
Grandma's Pie Shop, 1273 Central Avenue, Albany, NY 12205
Naples
Four miles south of Canandaigua Lake, nestled between the Bristol Hills and in the heart of a region known for its grapes, wine, and, not surprisingly, grape pies, is the award-winning Monica's Pies.  In fact, Monica herself is widely known as the Grape Pie Queen. Aside from her notable grape pie, Monica offers a whole range of classic dessert pies including an Elderberry pie and her own take on the classic British Mincemeat pie.
Monica's Pies, 7599 New York 21, Naples, NY 14512
 Rochester
Leo's Bakery and Deli on Atlantic Ave in Rochester has been baking pies from scratch for more than 60 years. Among customer favorites are the berry lover's Lonsberry Pie and the unavoidably decadent strawberry Boston cream pie.   For calorie conscious pie lovers, Leo has a sugar-free version of their classic apple pie available in store, as well as several other flavors that are available by order.
Leo's Bakery and Deli, 101 Despatch Dr, East Rochester, NY 14445
Buffalo
Time and time again, Buffalo's English Pork Pie Company has won awards for being adept purveyors of English ingredients in general, not to mention their classic pork pies.  Using exceptional locally sourced pork along with spices imported from England for that authentic English pork pie taste, these rich, hearty pies are available raw and cooked so you can eat them right away or take them home and bake them for optimum warm, meaty freshness.
English Pork Pie Company, 1176 South Park Avenue, Buffalo, New York 14220