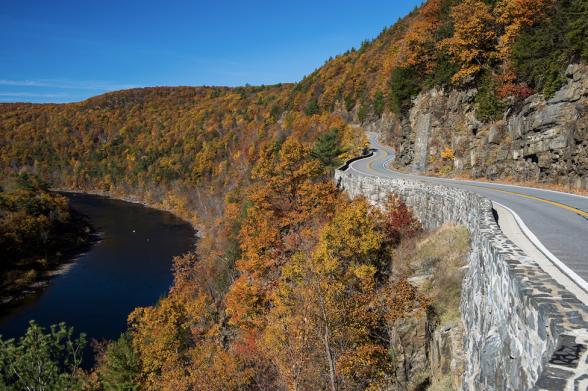 Winter in New York State is truly a sight to see, but autumn isn't over just yet! If you're not quite ready to give up all the wonders of fall, don't fret. From last-minute leaf-peeping adventures and scenic autumn drives to warm apple cider donuts and seasonal brews, be sure to cross these activities off your fall to-do list before winter arrives.
Last-minute leaf peeping
While cooler temperatures may be on the way, there's still time to peep some spectacular fall foliage in New York State! If you're still chasing those peak-season leaves, head over to New York City and Long Island which typically see vibrant hues early to mid November. In New York City, Central Park is a favorite for leaf-peeping with more than 18,000 trees spread across 843 acres, or take a Seasonal Highlights Tour (until November 30) at the 52-acre Brooklyn Botanic Gardens. On Long Island, the 1,500-acre Caumsett State Park Preserve has stunning views, meadows, and rolling hills to scout, and the grounds of the Old Westbury Gardens offer a unique foliage viewing, where you'll see the changing colors of the trees and garden flowers like chrysanthemums. For up-to-date foliage information be sure to check the 2023 Fall Foliage Report. 
Climb through fall thrills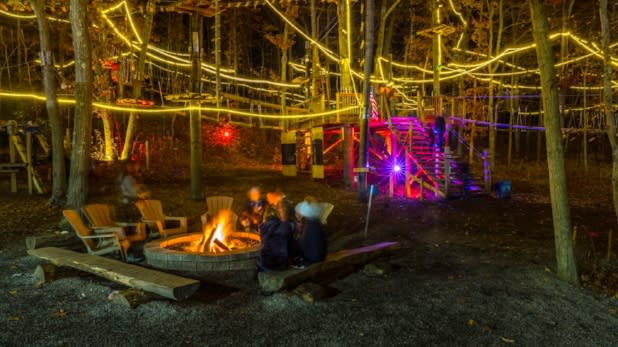 Get up in the trees and experience one last fall adventure on New York ropes courses. Adventure Park (open until November 26) in Wheatley Heights is full of exhilarating ziplines and climbs for all ages and levels of experience with 203 treetop platforms connected by bridges, ladders, 49 ziplines and other crossings. Bristol Mountain Aerial Adventures (open until November 5) in Canandaigua offers hours of high-flying fun. Soar through the sky on the canopy zipline, climb through 125+ elements, and children aged 4-7 can journey through the kids adventure course. Less than an hour outside of New York City will land you at Boundless Adventures (open until December 17) in Purchase with 11 total courses to traverse and special themed events like night climbing.
Have fun on the farm
While u-pick season is coming to an end, classic farm fun lives on a little longer throughout the state. Visit a Capital region favorite, Indian Ladder Farms in Altamont. The farm store is open through December with fresh produce, apple cider donuts, and other baked goods, and the cidery and brewery are open year-round. Harbes Family Farm (open through November 21) has all kinds of family fun with a hayride, a Barnyard Adventure for the little ones, u-pick pumpkins, and a Wizard of Oz themed corn maze. Beak and Skiff Orchard has been around for more than 100 years, serving up all kinds of fall fun. Children can climb, slide, and play in the kids treehouse, the apple barn and general store (open until November 19) are filled with seasonal treats like fresh apple cider donuts, and their 1911 Established Tasting Room offers superb hard cider. 
Go for a hike
Squeeze in one last hike surrounded by fantastic fall colors. Weave among three powerful waterfalls and stunning views along 66 miles of trails at Letchworth State Park (pictured) also known as the "Grand Canyon of the East." Breathe in crisp fall air as you traverse over 70 miles of scenic trails at the Mohonk Preserve. Allegheny State Park boasts some of the best foliage in the area across 65,000 acres of forests, meadows, and breathtaking views. Immerse yourself in vistas of the Hudson-Mohawk Valleys, the Adirondack and Green Mountains, and Albany at John Boyd Thacher State Park. Be sure to call ahead for up-to-date trail availability, as many close seasonally.  
As the largest producer of hard cider and third largest wine-producing state in the country, New York is a leader in the craft beverage world. Fly Creek Cider Mill (open until December 17) is just three miles outside of Cooperstown and offers some of the area's best hard and sweet cider. Watch the cider-making process from the mill and be sure to stop at the store on the way out for seasonal goodies. Angry Orchard in Walden also serves up some superb cider which can be enjoyed from around the fire pit amidst the orchard itself. Try a tour and tasting at the Thousand Islands Winery, sporting dazzling views of the St. Lawrence River and a vineyard that's one of the largest in the region. If brews are more your speed, pay a visit to Brewery Ommegang for a lineup of fine Belgian-style ales and stunning fall scenery.  
New York harvest season produces some of the freshest and tastiest fruits and vegetables. Shop from local growers at farmers markets throughout the state. The Ithaca Farmers Market (hours vary by location) sells everything from fresh produce and flowers to handmade cutting boards, fresh apple cider donuts, and Finger Lakes wine year-round. Seasonal produce, meats, cheeses, and jams from Hudson Valley farms can be found year-round on Sundays at the Beacon Farmers Market. Peruse more than 100 of the Capital region's finest growers, bakers, chefs, and artisans at the Troy Waterfront Market (open May-October outdoors and November-April indoors). Tuesdays, Thursdays, and Saturdays explore local artwork, seasonal fruits and vegetables, and other treasures at Rochester Public Market (year-round).
Enjoy Fall Festivities
Celebrate the end of the fall season with a lively festival. Bask in the glow of more than 7,000 Jack O'Lanterns at the Great Pumpkin Blaze (pictured)  in Croton-on-Hudson (until November 19) and Old Bethpage (until November 5). The 19th annual Holiday Valley Beer and Wine Festival weekend begins November 10 and features some of the region's best craft breweries, wineries, and cideries. Foodies should be sure to explore Saratoga's Annual Restaurant Week (November 6-12) for delicious meals and deals at establishments throughout the area. If you're looking for a high-flying holiday experience, the Macy's Thanksgiving Day Parade is celebrating its 97th Anniversary in New York City on November 23.   
Stroll through idyllic fall towns
Credit: Emma Frisbie
Take in all the fall vibes on a stroll through one of New York's cozy small towns. Birthplace of the Headless Horseman, Sleepy Hollow is a dream for fall enthusiasts with must-visits like Lyndhurst Castle and walking tours (through Thanksgiving) at the Sleepy Hollow Cemetery as well as cute main street shops and restaurants. In the quintessential waterfront town of Clayton (pictured), you'll find a walkable main street filled with locally-owned boutiques, restaurants, and businesses alongside stunning views of the St. Lawrence River. Located just 10 minutes from Niagara Falls, quaint and vibrant Lewiston is a great fall visit with a main street packed with delicious culinary experiences at restaurants like Cask + Cow and Apple Granny. Quaint Catskill coziness waits among the mountains in Narrowsburg. Local establishments line the streets and walking trails throughout the village offer a unique way to get to know the area.
Take the scenic route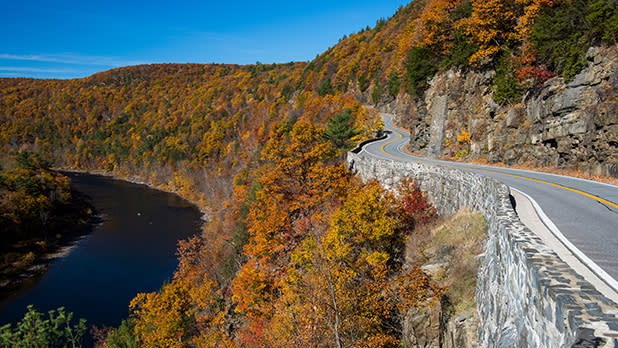 From mountain peaks to dazzling bodies of water, get the crew together for a road trip on one of New York's scenic byways. The 30-mile High Peaks Scenic Byway winds through some of the Adirondacks' highest peaks and most picturesque bodies of water, and passes through river valleys, forests, and historic hamlets. The Great Lakes Seaway Trail is as beautiful as it is historic, stretching 518 miles alongside the St. Lawrence River, Lake Ontario, Niagara River, and Lake Erie and holding the title of one of the country's first designated scenic byways. Dramatic overlooks and sweeping vistas can be found on the Upper Delaware Scenic Byway (pictured) that travels alongside the sparkling waters of Delaware River and through the Catskills. The 88-mile Shawangunk Mountain Scenic Byway runs through sprawling farmland, historic sites and towns, and awe-inspiring mountain views.
---
Share New York State adventures with us on TikTok, Instagram and Twitter with #ILoveNY and #iSpyNY, and tag us on Facebook!