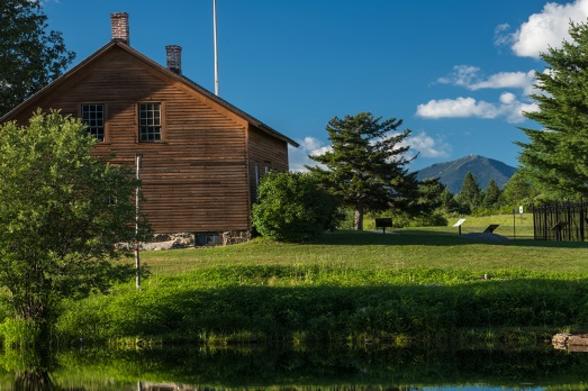 February marks Black History Month, and New York state is filled with African American history, with unique experiences related to jazz, sports and icons like Jackie Robinson, culturally rich neighborhoods like Harlem, and important sites such as John Brown Farm (pictured) and the Harriet Tubman Home. New York state played an important role in the Underground Railroad, which helped tens of thousands of freedom seekers escape enslavement. In recognition of Black History Month, from parks and historic sites to music and culture, here are 12 places to experience Black history in New York State.
Masks are encouraged, but optional in most settings per New York State guidelines. Individual businesses or attractions may require mask wearing. Call ahead and check websites and social media to make sure attractions and amenities are open and available. 
Originally published: 1/13/2020

Known for his raid on Harper's Ferry and the movement to liberate enslaved peoples in the South, John Brown's home near Lake Placid was a key stop on the Underground Railroad for those seeking freedom in the north and Canada. Captured after the raid in 1859 and sentenced to death, Brown was buried on his New York farm along with his sons and some of his followers who also took part in the raid. Learn about how Brown's home became a pilgrimage for abolitionists through a guided tour, or hike the trails of both this state park and National Historic Landmark.
Both Jamestown and Chautauqua County played an important role in helping enslaved people escape through the Underground Railroad. This 1863 mansion offers libraries and archives, educational resources, and local history exhibits like "Intersections: The Underground Railroad in Chautauqua County," which explores the story of Catherine Harris, an aid to many freedom seekers escaping enslavement and journeying north. The Fenton History Center is closed on most major holidays, and in the last two weeks of January for annual cleaning and repairs.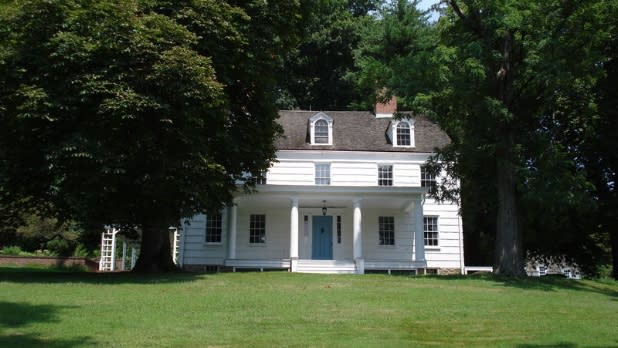 Jupiter Hammon, known as a founder of African American literature, was the first Black published poet in the present day United States who lived and wrote in the Joseph Lloyd Manor House in Lloyd Harbor. Born enslaved, Hammon learned to read and write, leading to his first published work in 1761. Added to the National Register of Historic Places in 1976 and declared a Literary Landmark in 2020, visitors can tour the Joseph Lloyd Manor House and dive into the history of Black literature.

People of African descent were vital to the Battle of Saratoga in 1777. Initially banned from joining the Continental Army, nearly 400 Black soldiers took to the battlefield, a turning-point victory in the Revolutionary War that is honored at Saratoga National Historical Park. Walk through the battlefield or bring your own bike, visit the Saratoga Monument (currently closed to climbing for repairs), or journey through Victory Woods. The park is also dog-friendly.
A hotspot for jazz and creativity, the Colored Musicians Club is the only operating African American jazz club in the United States. Formed in 1917 due to discrimination from Local 43, an all-white Buffalo musicians union, the Colored Musicians Club nourished the growth of its members and became a stopover for jazz legends including Lionel Hampton, Dizzy Gillespie, and Billie Holiday.

Credit: @tpw86 on Instagram
Known as the Moses of her people, Harriet Tubman helped countless freedom seekers along the Underground Railroad—making several daring rescue trips back to the south. Today, you can explore the history of the Underground Railroad and learn more about her journey at the Harriet Tubman National Historic Park in Auburn.
This museum dives into the stories of freedom seekers who passed through northeastern New York on their way to Canada or returning to America. Explore the history through multimedia production with stories like John Thomas, who was enslaved in Maryland and made a triumphant escape, and see local artifacts such as a leg iron and a sculpture to freedom. The museum's open season starts Memorial Weekend and runs to Columbus Day. During the closed season, visits are by appointment only.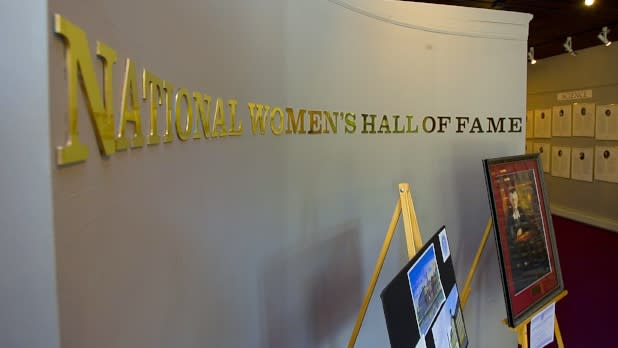 An abolitionist newspaper that first got its start in the basement of an AME Zion Church in Rochester, The North Star is just one example of Frederick Douglass' influence on civil rights and New York State. An avid abolitionist, Douglass was also one of the few men to speak at the First Women's Rights Convention in Seneca Falls in 1848. In 1968, Shirley Chisholm, New York City educator and civil rights leader, was the first African American woman elected to Congress, and in 1972, the first woman ever to run for the Democratic Party's presidential nomination. Visit the National Abolition Hall of Fame and Museum or the National Women's Hall of Fame to learn more about Douglass, Chisholm, and other civil rights activists.
Harlem (New York)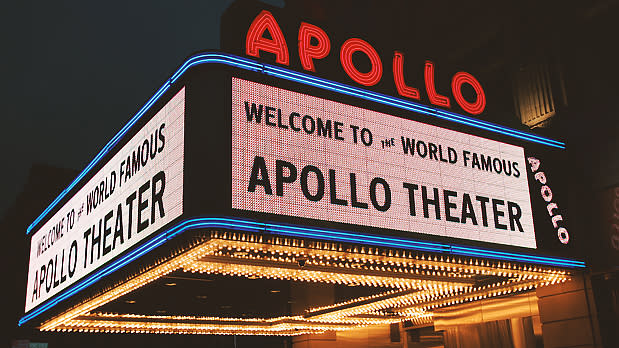 The Harlem Renaissance of the 1920s turned this Manhattan neighborhood into the cultural epicenter of the Black community in New York City and beyond. Today, that history lives on at important institutions such as the Apollo Theater (pictured), where artists including Stevie Wonder, James Brown, and Billie Holiday performed in their prime. The theater is open and offers virtual programming. NYCGo features a helpful itinerary for a weekend exploring Black-owned Harlem businesses and attractions, featuring stops at the Schomburg Center for Research in Black Culture, dedicated to preserving the experiences of people of African descent, restaurants such as Red Rooster Harlem, Sylvia's, and many cultural landmarks.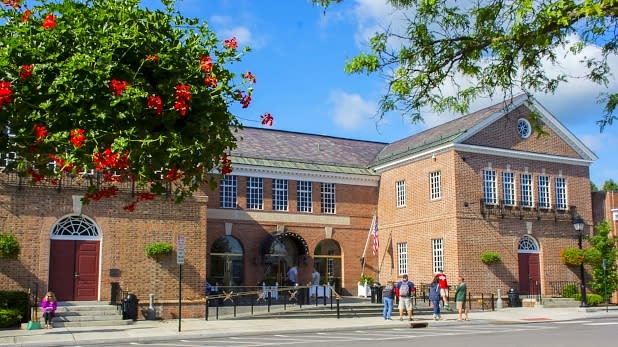 Paving the way for future athletes when he signed with the Brooklyn Dodgers, Jackie Robinson was profoundly influential in breaking racial barriers. Because of his fearlessness and dedication to the sport, Robinson was the first Black player enshrined in the National Baseball Hall of Fame. Thirty-seven players from the Negro League, professional baseball leagues with predominantly African American players, were also later elected into the Hall. In 2020, Major League Baseball officially recognized Negro League players as equals to their MLB counterparts. Today, fans celebrate athletes of all backgrounds at The National Baseball Hall of Fame in Cooperstown.
Opened in 2022, the Jackie Robinson Museum set out on a mission to build community and appreciation of diverse experiences through chronicling one of the most important Americans of the 20th century. Affectionately known as No. 42, the Brooklyn Dodgers legend solidified his legacy on and off the field as a champion for racial, social, and economic equality. The museum features an impressive starting lineup of exhibits including "The Story Towers'' which delve into the details of Robinson's roles as a soldier, activist, entrepreneur and family man through narrative, artifacts, and media. "Crossing The Color Line'' gives visitors an exclusive glimpse into what the Robinsons endured beyond the baseball field—told through Rachel Robinson's and journalist Wendell Smith's accounts of the couple's 1946 cross-country trip from California to spring training in the Jim Crow South. Listen to 42 accounts of people from all walks of life express what No. 42 meant to them.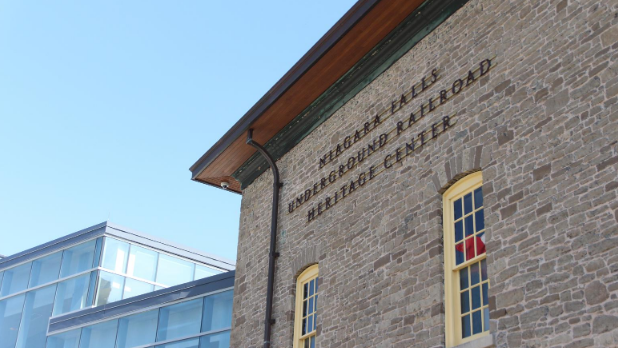 Experience stories about Harriet Tubman along with Niagara Falls heroes of the Underground Railroad like John Morrison at this heritage center located inside the former 1863 U.S. Custom House. Exhibits trace the history that Niagara Falls' geography played and the actions of its Black residents in helping enslaved people escape to freedom.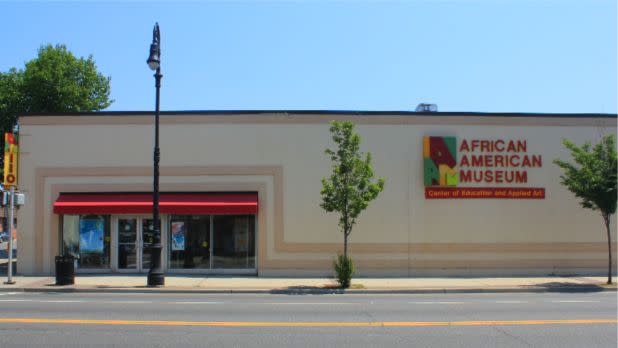 Since the museum opened in 1970, it continues to showcase African American art, culture, music, and traditions, with an emphasis on Long Island local and national African American artists. Explore the history of Black women in NASA, Black royal European queens, and exhibits like "The Good, The Bold, The Beautiful," which fuses African and Brazilian art. There's also an emphasis on hidden history such as with the Jennings family, whose patriarch, Thomas Jennings, invented a "dry scouring" process that became the forerunner to today's dry cleaning. His daughter, Elizabeth Jennings, was forcibly removed from a Third Avenue Railroad Company streetcar in Manhattan. She won a lawsuit against the company, which then desegregated its streetcar service.
---
For information on Black History Month in New York State Parks, visit the State Parks blog.