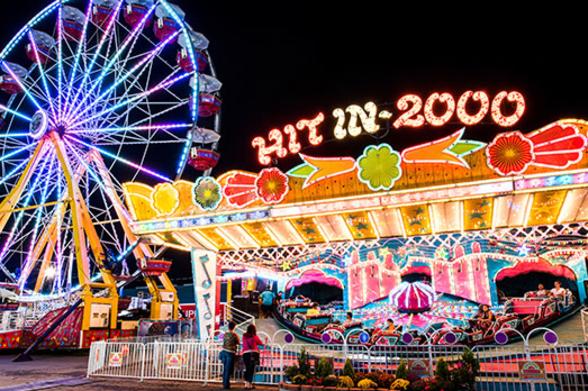 Put your summer into overdrive by visiting the Great New York State Fair in Syracuse from August 21 to September 2! Whether you're a fan of all things fried, barbecued, and skewered, love seeing live music, or plan to beeline straight for the cute goats and llamas at the agricultural buildings, the Fair is a smorgasbord of everything that makes the Empire State great. Don't miss the Expo Center, where interactive experiences help you travel to new locations across New York State without leaving the fairgrounds. We are so excited about this year's calendar of events and offerings that we've pulled together a list of what we're looking forward to most at the 2019 Great New York State Fair:
Insider tip: Come on the opening day of the fair and enjoy $1 admission for Governor's Day, or visit during special Fair days to get discounts on admission!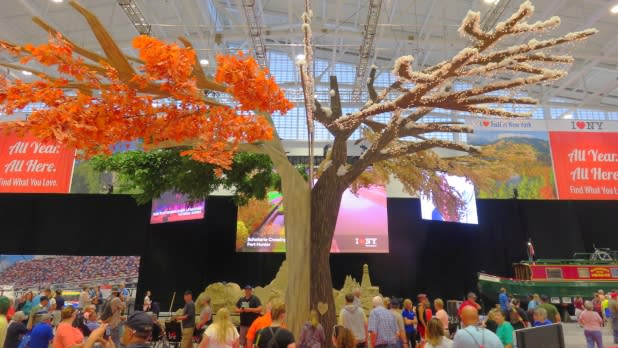 Located in the 100,000-square-foot Exposition Center at the Fair, "All Year. All Here." is an interactive installation from I LOVE NY that provides seasonal trip ideas for destinations across New York State. At the center of the experience, a massive tree helps guide you toward seasonal travel options for New York State. Follow the fall foliage to find fall travel ideas, the snow-covered branches for winter ideas, and more. Each seasonal exhibit features selfie stations and interactive exhibits. Our virtual reality experience provides 360-degree views of New York's coolest destinations, and make sure you take the personality test to match with your ideal New York vacation destination. 
The Famous Butter Sculpture

2018's Butter Sculpture
Every year, one of the highlights of the Fair is the Butter Sculpture. You butter believe it—visitors race to the Dairy Products Building to see what the theme is each year! Made with 800 pounds of butter (that's a lot of butter), the sculpture is unveiled to the public the day before the Fair opens. In keeping with the Fair's eco-initiatives, the sculpture will be melted down to make biofuel.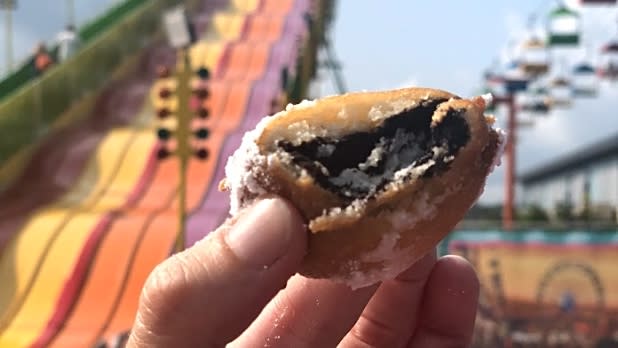 Who doesn't love fair food? This year, there are many unique dining options, including a competition that will provide opportunities to sample global flavors and remixes of popular dishes. At the Taste NY Food Truck Competition, enjoy two days of $3 tastings from 40 different food trucks offering everything from crab rangoon nachos to loaded pulled pork tater tots, and sweets from chocolate almond custard to Hawaiian ice. September 1–2 from 10 am–7 pm both days.
The Eatery, formerly the International Building, is the indoor food court, offering a variety of vendors and stalls. This year, enjoy international cuisine from several new concessionaires, including Dang's Café, offering Vietnamese specialties; Babcia's Pierogi, featuring Polish delicacies; and that Canadian comfort food staple from Poutine Gourmet. 
Finally, the folks who brought you the Donut Burger are back with two new french fry recipes to make your mouth water. Swing by Big Kahuna's and treat yourself to the new Caramel Crack Fries, made with cinnamon sugar, drizzled with caramel, and topped with whipped cream and fruity cereal bits. For those who enjoy savory over sweet, give the Flamin' Hot Cheetos Fries a try. Made with fries coated in cheese, dusted with Flamin' Hot Cheetos flavoring, and garnished with slices of jalapeño peppers, the only way to cool off after eating these is with a fresh-squeezed lemonade.
13 Days of Live Music

ZZ Top performng at 2018's Fair
Where else can you see some of today's biggest musical acts perform at just the cost of your Fair admission? For 13 days, enjoy live music from more than 25 acts including Grace Potter, Dropkick Murphys, Herman's Hermits starring Peter Noone, Midland, Gavin Degraw, and The Roots. Head to the Stan Colella Stage at Chevy Court to enjoy two shows daily. 
The musical entertainment continues at the Experience Stage, where more than 55 musical acts will perform. Get down to tunes from Rick Springfield and Hard Promises, which performs songs by the late Tom Petty. Find music with African roots at the Pan-African Village, line dance to country music at the NYS Grange Stage, and enjoy the dramatic theatrical music, as well as a variety of performances at the Empire Theater. Wherever you go at the Fair, music will follow!
Christmas in August
Visit with the Jolly Old Elf himself at Santa's Workshop when he arrives with his reindeer on Sunday, August 25 at the Expo Center. Get your wishlist in early, and enjoy the holiday spirit a few months in advance with a must-have photo with Santa. Don't miss the stories-tall Christmas tree made with real sleighs, or the screening of "Elf" at the Expo Center's indoor movie screen. Highlights include a cookie decorating contest and live reindeer from 10 am–6 pm. Details have yet to be released, but we're told that a Santa competition of epic proportions is in the works.
Rides and Games for Days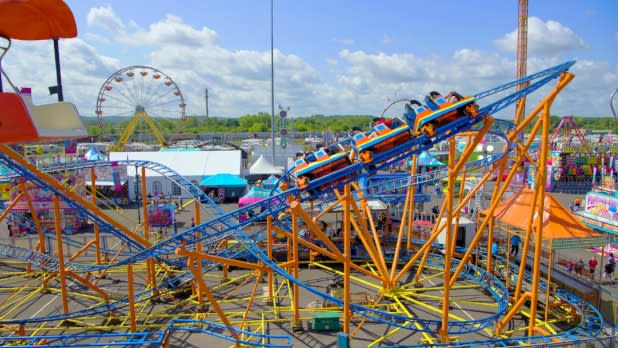 Generations of fairgoers have lived for the Midway rides and carnival games. The iconic Ferris wheel, the bravado of rushing into the Zombie Apocalypse, or even the whimsical nostalgia of taking a whirl on the family-friendly Axis is a major part of the experience. Now that you can purchase a Midway Weekday One-Day Unlimited Ride Wristband for $20, you can easily conquer a majority of the nearly 70 rides on the Midway. Upgrade your wristband for $5 to get unlimited rides on weekends too. Wade Shows is also offering special wristband prices for a single day and all 13 days of the Fair. 
Comic-Con Day
Come dressed as your favorite comic book character or fictional character on Comic-Con Day, August 28, and gain entrance to the Fair for just $1. Take a Lightsaber training lesson, visit with Transformers' Bumblebee and Hulkbuster from Marvel Comics, and enjoy an evening of classic movies. Additionally, through a special arrangement with Marvel Comics, the Fair will be selling a comic with a special limited-edition cover showing Spiderman over the Expo Center. This is the first time Marvel has featured one of its superheroes on a cover at any state fair in the nation. There is a limited run of the comic, so snatch one up for $10 and get free admission to the Fair when you do! Purchase a voucher for the comic online, and then redeem it at the Main Gate's Guest Relations booth to receive the comic book. August 28
The Agricultural Barns

Credit: Michael Okoniewski, NYS Fair
It's not possible to attend the Fair without a stop—or 20—at the agricultural barns. See baby cows take their first steps mere minutes after being born and stroll through the cattle barns to see the variety of dairy cattle, Holsteins, and Shorthorns that call the fairgrounds home from August 21–September 2.
New this year is a park dedicated to one of the cutest farm animals around. Visit the Goat Barn area to interact with goats, catch the Goat Obstacle Course in the Goat Tent on August 27, or the Dairy Goat Costume Contest and Parade on September 1.
The 4-H Dog Show promises to deliver a new level of entertainment. Watch a variety of dog breeds tackle an agility and obedience course on August 17 before the Fair even opens at the Toyota Coliseum and warm-up arena.
We think the llamas take the proverbial cake when it comes to showstoppers. Where else can you watch Llama Limbo, see llamas in costume, and watch these majestic creatures make their way through obstacle courses? Experience what promises to be a banner day at the ag barns on August 23. 
These are just a few of the animal shows and displays we are looking forward to at this year's Fair. Other animal highlights include a day at the pig races (pictured), the Youth Sheep Show on August 24, and a tour through the rabbits and cavies barn. 
Pride Day

Credit: Simon Wheeler, NYS Fair
This special day kicks off August 23 when the Great New York State Fair honors the LGBTQ community with a morning flag-raising ceremony. This year's event commemorates the 50th anniversary of the Stonewall Riots, as well as WorldPride 2019. Festivities include a keynote address by Martin Davis, who participated in the Stonewall Riots 50 years ago, as well as performances in the Empire Theater, and LGBTQ participation in the parade at 6 pm. Stop by the LGBTQ Pride Month exhibit in the Expo Center. August 23
Empire State Trail Gateway
Ride your bike to the Fair's biking entrance, the new Empire State Trail Gateway. The Gateway is part of an initiative to close the longest gap in the Erie Canalway section of the Empire State Trail. When it's complete, it will span 750 miles to form a continuous link across the state, stretching from New York City to Canada, and Buffalo to Albany. This latest addition to the state fairgrounds is located inside Gate 2 and offers everything cyclists need, from water and bike repair stations to benches and bike racks. Speaking of eco-friendly footprints, the Fair is committed to banning plastic bags, favoring reusable over single-use plastic bags. Look for giveaways and promotions at the Fair. 
Women's Day

Credit: Michael J. Okoniewski, NYS Fair
On August 28, celebrate the upcoming 100th anniversary of the 19th Amendment to the US Constitution, which granted women the right to vote. New York State has seen some watershed moments in the fight for civil and women's rights. In 1848 in Seneca Falls, the first Women's Rights Convention launched the women's suffrage movement, kicking off a decades-long struggle for gender equality. Take the opportunity to dive into this rich chapter of New York history. Special programming starts at 11 am in the Empire Theater, and includes guest speakers, a luncheon, a historical reenactment, and more. Admission is $1 for all women on Women's Day. August 28
Wine Slushies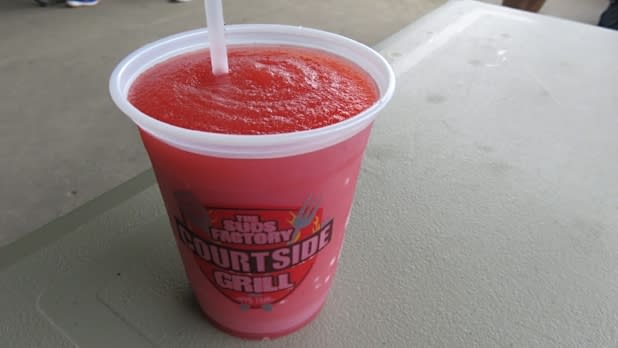 Quench your thirst and cool off with a wine slushy from local wineries around the Finger Lakes region, including Idol Ridge Winery in Lodi, Montezuma Winery in Seneca Falls, and Three Brothers Winery in Geneva. Though these look like the slushies from your childhood, these are strictly for the 21-and-up crowd.
Funkfest
Finally, we're super excited about this year's World Beat and FunkFest, August 22–23 at the Experience Stage. World Beat on Thursday, August 22 is a completely new event highlighting performances from local and international musical acts, showcasing music from Cuba, Southeast Asia, Cambodia, and African-inspired reggae and funk. The following day, FunkFest starts at noon with performances from national recording artists, including The Brownskin Band, Ener-G, and The Raydio Show featuring Arnell Carmichael. Get ready to dance! August 22–23
There are too many exciting things that we're looking forward to at this year's Great New York State Fair to name them all. What about you? What are you looking forward to?  
Share your Great New York State Fair pictures on Instagram and Twitter with #NYSFair and tag us on Facebook!