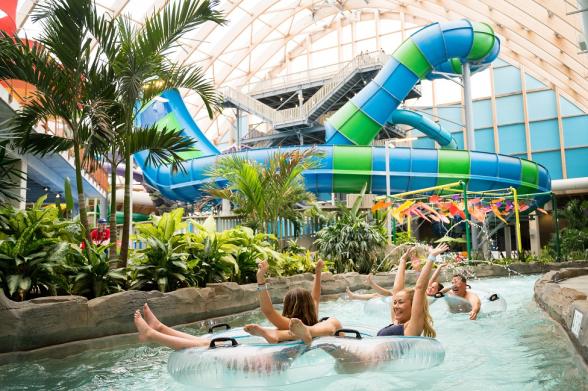 Summer in New York State gets kicked up a notch this year with new attractions and activities at every turn. Families looking for enriching getaways can experience the state's biggest new indoor waterpark, a massive new children's museum, not one but two dinosaur adventures, and much more!
Dare to try the tallest ride in the state, the new SkyScreamer at Six Flags Darien Lake (Greater Niagara)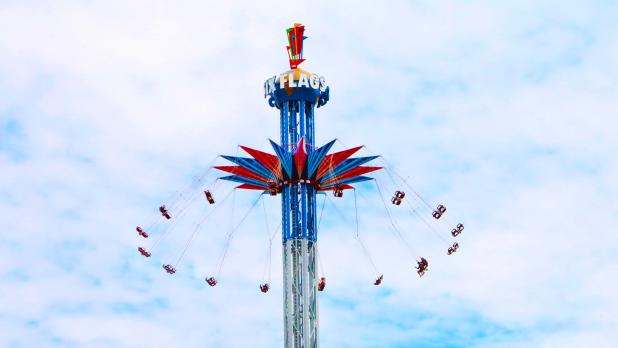 This popular amusement park is taking things to the next level with its new SkyScreamer, billed as the tallest ride in the state. Riders strap in for a 242-foot climb that culminates in 98-foot circular spins at 35 miles per hour! It's the newest addition to offerings that include a massive outdoor water park, wild thrill rides, and plenty of rides for younger kids as well.

Credit: Drew Brown
This super-sized children's museum moved to Buffalo's Canalside and opened this spring with programming aimed at inspiring, educating, and encouraging play for kids from newborns to 12-year-olds. The mammoth 43,000-square-foot, four-story building features a scaled-down hospital and construction site to allow children to experience real-world activities. Explore & More's "place-based play" concept extends to Western New York–themed areas so kids can learn about the Erie Canal, agriculture, and the region's status as an emerging tech hub.
Climb into the clouds at the Children's Museum of Oswego (Thousand Islands-Seaway)
The Children's Museum of Oswego reopens June 19 with 4,000 square feet of new exhibits, almost doubling the size of a beloved institution. The museum has figured out a way to combine serious fun and playful science with its new Cloud Climber jungle gym, featuring interactive and water features. The learning (and fun) continues with other highlights including a simulator depicting Oswego's weather patterns.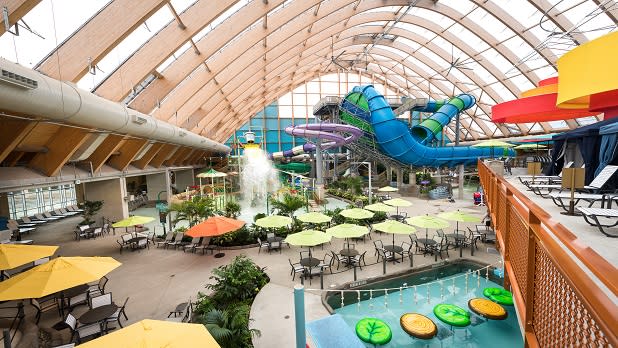 Located on the site of the Resorts World Catskills entertainment complex, this new 324-suite resort opened this spring with lots of activities for families, including the largest indoor water park in New York State! The Kartrite features vibrant multi-color slides, wilder water rides for the big kids, and a lazy river that's perfect for a calming float in a tube. The resort features eight dining and drinking options, including an eclectic upscale restaurant (Bixby's Derby), a tavern and tap room, sweet shop, and more, so you'll never go hungry during your stay!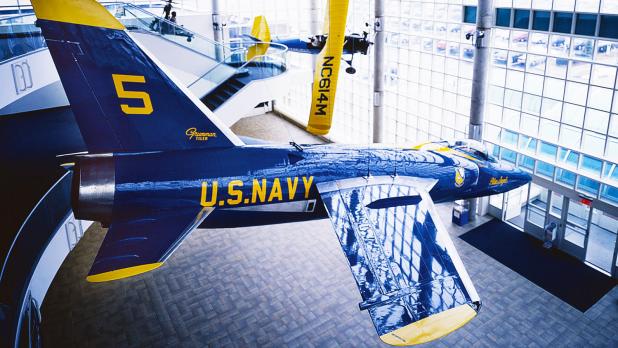 To commemorate the 50th anniversary of the lunar moon landing, the Cradle of Aviation is highlighting Long Island's important role in aerospace with the Countdown to Apollo at 50 exhibit and series. For almost a decade prior to the famed trip to the moon, employees at Long Island-based Grumman worked on building the lunar modules that eventually landed 12 men on the moon between 1969–1972. Aspiring astronauts can visit the museum and center throughout the summer to learn all about the incredible achievements in space exploration.
Meet the baby giraffes and other little creatures at Animal Adventure Park (Central New York)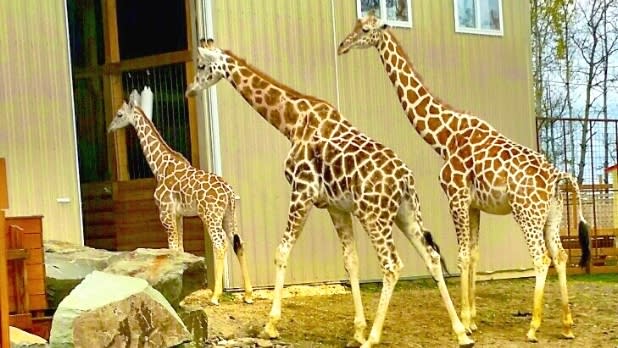 The winner of the 2018 I LOVE NY Bracket, Animal Adventure Park in Binghamton, had a busy spring before opening its doors for the season in May. The big news was that April the Giraffe gave birth to a calf, Azizi, in March. The park also welcomed baby monkeys, camels, joeys (kangaroo babies), and even a baby reindeer, as the residents produced happy, healthy offspring.
Eat at "America's most exciting new diner" at West Taghkanic Diner (Hudson Valley)

Credit: @lawrence_braun
New York State already features some of the best-known diners in the country, from the classics (like the Roscoe Diner) to the revived and updated destinations (Phoenicia Diner). The latest spot earning raves (New York magazine called it "America's most exciting new diner") is the refurbished West Taghkanic Diner just off the Taconic Parkway near Hudson. Chef Kristopher Schram is a Culinary Institute of American grad who recently returned to the US from Copenhagen and found out that his hometown diner in Ancram was for sale. He bought it and now serves soul-warming diner food (breakfast and lunch for now, with dinner coming soon) worthy of Michelin stars. Think Reubens made with house-smoked pastrami and locally fermented kraut, and cornmeal buttermilk pancakes. Definitely put it on the radar for a pit stop during summer road trips, and use it as an opportunity to turn your little ones into foodies!
Get up close and personal with dinosaurs! (Various Regions) 

Credit: Julie Larsen Maher ©WCS
When the Bronx Zoo unveils a new attraction, it's usually big, but this time, it's humongous! The Dinosaur Safari (pictured), which opened in April and runs through November 3, features prehistoric-themed events that aim to teach kids about extinct species through tours, hands-on explorations, and a safari ride with animatronic creatures that will make it feel like you've left the zoo and entered a real-life Jurassic Park! Meanwhile in the Adirondacks, the new Dino Roar Valley at Lake George Expedition Park looks like a dinosaur-obsessed kid's dream come true. Little explorers can follow dinosaur tracks through a forest, dig for fossils, or hang out in a dinosaur's nest.
Share New York State adventures with us on Instagram and Twitter with #ILoveNY and #iSpyNY, and tag us on Facebook!