Nothing tells the story of a people quite like their buildings. New York has been home to many a dreamer over the years, and they've left their mark with some pretty unusual architecture throughout the state!
Romanesque Monuments in NYC
Anyone who has taken the time for a long stroll in New York City knows that some of its architectural stories are tucked away on side streets. However, some of them are hiding in plain sight! Take, for example, the American Museum of Natural History. Of the five million or so people who visit annually, most of us walk happily through the front entrance on Central Park West. That imposing beaux arts edifice was completed in 1936. But swing around the corner to the old 77th Street entrance to take in the beauty of an important example of Romanesque architecture, in the style of Henry Hobson Richardson. The vast, 700-foot expanse of pink stone is flanked by huge 150-foot corner towers. If the series of arches at the entrance makes you think of the striking New York State Capitol building, don't be surprised! That building was designed by Richardson himself. For another great example of the style, check out the castle-like Federal Building, a former Post Office, on Cadman Plaza in Brooklyn.
A Castle Still Under Construction
New York's famous Gilded Age castles still dot the landscape, but not all of them date back to aristocratic ambitions. Not far north of New York City, in the Hudson Valley, Peter and Toni Ann Wing's home is still under construction after almost 45 years. The pair describe their home, which now serves as a bed and breakfast and offers tours in the summer, as a "live-in art project." Wing's Castle is a tasteful collection of fairytale features, like its tower and its dungeon room. But it's also a portfolio of Peter Wing's own art, especially his wood carvings. This national treasure is even eco-conscious: the Wings have built over 80% of their masterpiece using recycled materials.
A Castle In Ruins
75 miles north of Wing's Castle, nestled in the Helderberg hills near Albany, another eccentric 20th century dreamer built his own monument to the past. And he did it by hand while reportedly living in a nearby cave! Unfortunately, Charles Bouck White's limestone castle now sits mostly in ruins, destroyed by fire in the mid 1940's. Passersby can still glimpse what remains of the property, including a private home built into a portion of the ruins. The site is a reminder of White's many passions, a few of which got him thrown in jail at one time or another.
Albany's Famous Egg
If you're taking in the sites of the Helderberg Castle, or the surrounding landscape, pop over to see a famously extraordinary building in New York's capital city, Albany. The Egg building on Empire State Plaza is a performing arts venue finished in 1978. The center consists of a massive inverted dome, resting at an angle on a small pedestal. Okay, actually the structure is supported by a giant pillar reaching six stories into the ground. If you're really into a great artistic performances and curved walls, check out The Egg!
The World's Smallest Church
On the complete opposite end of the spectrum, New York is home to a church that cuts just about the slimmest profile imaginable. To visit the Cross Island Chapel, you'll need a small boat to dock in the middle of a pond in Oneida, near Syracuse. The teeny tiny church measures just 3 feet by 6 feet - yes, that's smaller than a Smart Car - with about enough room for three people who are really comfortable around each other.
A House At One With Nature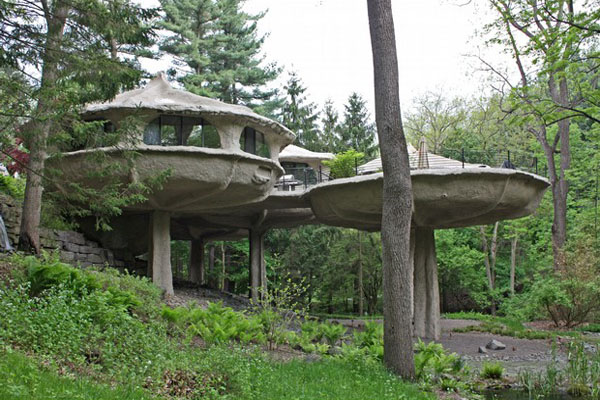 When it came to building their own unique dream home, Robert and Marguerite Antell picked a wooded spot in Perinton, NY, outside of Rochester. The so-called "Mushroom House" fits right in with the natural landscape, and actually is modeled after a small bunch of Queen Anne's Lace. The result is a series of five "pods", each resting on a stem and connected together by passageways. Inside, a portion of the house is covered with more than 9,000 tiles, while another is built directly into a hill. This is a structure that's definitely at home in its surroundings.
New York is teeming with classic, and as you can see, some not-so-classic architecture. Get out there, explore and show us your favorite architectural add!