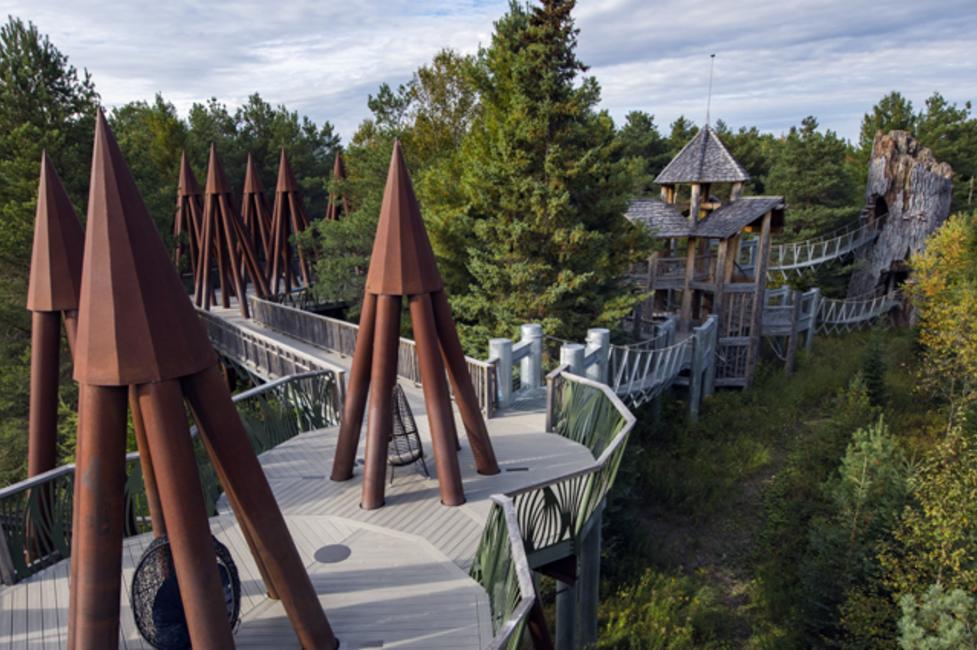 New York State is home to many world-renowned museums, cultural institutions, zoos, and more. Due to coronavirus restrictions, these incredible attractions are temporarily closed, but many can still be explored online from the comfort of your own home. Below is a list of New York State's best online events, virtual tours, webcams, and livestreams. This list will be updated regularly, so check back when you need inspiration, whether it's taking a 360-degree tour of the Baseball Hall of Fame, visiting a cuddly animal on a zoo livecam, browsing a world-class art collection, or practicing deep breathing in a livestream yoga class. (Events are noted with dates in bold.) You can also find exciting virtual reality and 360-degree videos on the I LOVE NY app. 
Updated 5/26/2020
Art:
Hyde Collection: Current exhibits available online. You can also join the Hyde's new Facebook group created to provide support, activities, and share resources. (Adirondacks)
Lake George Arts Project: Courthouse Gallery virtual exhibition and online event, through June 12, 2020. 2-Person Exhibition: Sculpture by Lee Malerich and Paintings by Michael Van Winkle. (Adirondacks)
Albany Center Gallery: Explore the Gallery from home with 360 tours of previous exhibits available on their website. (Capital-Saratoga)
Opus 40: Online arts, culture, and education experiences from the Catskills outdoor sculpture park. (Catskills)
Thomas Cole Historic Site: Video lectures and virtual tours. (Catskills)
Fenimore Art Museum: Throughout the month of April check out several virtual experiences including glimpses of new exhibitions, collections programs and more. (Central New York)
Munson-Williams-Proctor Arts Institute: Online version of the permanent collection. (Central New York)
Griffis Sculpture Park: Drone footage of the outdoor sculpture park. (Chautauqua-Allegheny)
George Eastman Museum: Virtual tours, tutorials, talks, podcasts, and access to over 250,000 images from the museum's collection. (Finger Lakes)
Gourdlandia: Gourdlandia's artist, Graham Ottoson is featured in a new "show and tell" video demonstrating the gourds of all shapes and sizes she transforms into instruments, lamps, clocks, and other décor items. (Finger Lakes)
Johnson Museum of Art: View and search the collection with the eMuseum database. (Finger Lakes)
Memorial Art Gallery—The Sculpture Park @ MAG: Explore the collections online. (Finger Lakes)
Albright-Knox Art Gallery: Explore the collection, which is easily navigable by art movement—including pop art and abstract expressionism—or timeline, with artists including Picasso, Cézanne, Rodin, Matisse, Gaugin, and Kahlo. (Greater Niagara)
Burchfield Penney Art Center: Digital collection. (Greater Niagara)
Art Omi Sculpture and Architecture Park: Art Omi's Curatorial Conversations. Every Friday at 2 pm, a curator will explore and discuss current and past works from the sculpture park and arts organization on Zoom; registration is required. Also, browse all of Art Omi's current and past exhibitions online at its website. Visitors will find thousands of photos of outdoor installations in the Sculpture & Architecture Park in all four seasons, as well as documentation of gallery exhibitions. New: Check out a virtual reality tour of the park. And take an audio tour of Art Omi, available through the GeoTourist app. (Hudson Valley)
Dia: Beacon Watch & Listen: Video and audio talks between artists (Hudson Valley)
Maggazino Italian Art: Move through the exhibits by clicking on either of the pictures, then scrolling through the images of the collections using the left- and right-oriented arrows. Note that this is not a 360-degree tour. (Hudson Valley)
Richard B. Fisher Center for the Performing Arts at Bard College: The Fisher Center's Virtual Stage, Archival Discoveries, and New Commissions for the Digital Sphere. Each Wednesday UPSTREAMING will release new content, including digital commissions and beloved performances from our archives. These programs reflect the Fisher Center's mission to engage artists and audiences in the development and examination of artistic ideas, offering perspectives from the past and present, as well as visions of the future. (Hudson Valley)
Storm King Art Center: While Storm King's site is closed you can still explore the permanent collection online, discover hidden treasures in the archives, and view the Oral History Program, all from home. (Hudson Valley)
Heckscher Museum of Art: Bringing the Museum to You- Heckscher at Home offers an online Collection Database and Exhibitions as well as Kids Art Activities and more. (Long Island)
Parrish Art Museum: Online artist stories, podcasts, videos, and more. (Long Island)
Metropolitan Museum of Art: Immersive 360-degree videos of The Metropolitan Museum of Art's locations, including The Met Cloisters, The Met Breuer, and the Fifth Avenue museum's Temple of Dendur and arms and armor galleries. (New York City)
The Studio Museum in Harlem: Discover thousands of artworks from the collection of The Studio Museum in Harlem, a home for artists of African descent and work inspired and influenced by black culture. (NYC)
Family-Friendly/Education:
New York Department of Environmental Conservation, Hudson River: Download lesson plans, booklets, workshops and more while taking a virtual journey down the river. (Various Regions)
Hyde Collection: Weekly children's programming including artful afternoons and tours for tots available on the collection's YouTube channel. (Adirondacks)
The Wild Center: 360-degree virtual tour. Plus, special online events, talks, games, and more on the Wild Center's digital site. (Adirondacks)
Albany Institute of History & Art: STEAM lesson plans and more. (Capital-Saratoga)
Children's Museum at Saratoga: Virtual story time and activities. (Capital-Saratoga)
MiSci Museum of Innovation & Science: Catch MiSci on the Move, new educational videos featuring miSci educators and more on YouTube. (Capital-Saratoga)
SPAC: The Saratoga Performing Arts Center has family-friendly activities available, including dance classes for kids 5 and up (and adults), printable coloring pages and puzzles, and more. (Capital-Saratoga)
The Tang Teaching Museum: Art-making activities you can do at home, including downloadable art projects and coloring pages inspired by Tang exhibitions and Tang collections. (Capital-Saratoga)
Emerson Resort & Spa: Take the Emerson Resort & Spa's online Scavenger Hunt for a chance to win an Emerson kaleidoscope! (Catskills)
Hanford Mills Museum: Wednesdays at 11 am, HMM Education Coordinator Luke Murphy presents "What I Learned Wednesdays" with interactive demonstrations on the museum's Facebook page. Topics include water power, simple machines, and other STEAM explorations. (Catskills)
Oneida County Coloring Pages: Get out the crayons and markers and color in pages featuring Central New York attractions like the Utica Zoo, Erie Canal, and more! (Central New York)
Roberson Museum & Science Center: Online versions of planetarium programs, virtual tours, programming, and more. Also, the museum's Facebook page and other social media pages feature virtual tours every Tuesday. (Central New York)
Allegany State Park: Follow on Facebook for nature-based learning, activities, crafts, and videos. (Chautauqua-Allegheny)
Corning Museum of Glass: Glassmaking videos, a virtual tour, coloring activities, education, and special programming including virtual live chats and more. Plus, Thursday, May 21 at 1 p.m. Eastern, the next episode of "Connected by Glass" is all about Netflix's "Blown Away." The episode airs on MS Teams Live, and will feature host Nick Uhas, resident evaluator Katherine Gray, guest judge Eric Meek as moderator, and season one participants including winner Deborah Czeresko. More details including how to tune in here. (Finger Lakes)
Everson Museum of Art: Offering virtual programs and activity guides so you can stay connected and keep young minds busy while they are home from school. Share your home art projects with #artfortheE on Instagram and Twitter. (Finger Lakes)
Genesee Country Village & Museum: Family fun and learning web page. (Finger Lakes)
Milton J. Rubenstein Museum of Science & Technology (MOST): A new STEAM activity every day on the museum's Facebook page. Check the museum's website for more updates and online programs. (Finger Lakes)
Rakow Research Library: Digital collection. (Finger Lakes)
Rochester Museum & Science Center: Explore online collections and libraries. (Finger Lakes)
Strong Museum of Play: Online exhibits and virtual collections. (Finger Lakes)
Buffalo & Erie County Botanical Gardens: Check out a growing list of great activities that anyone can do at home with every-day materials. (Greater Niagara)
Explore & More: The Ralph C. Wilson, Jr. Children's Museum: DIY child programming. (Greater Niagara)
Art Omi Education's Creative Momentum: Sign up via email for a series of make-at-home projects inspired by contemporary artists. The projects are emailed weekly on Thursdays. (Hudson Valley)
Hudson River Museum: Museum From Home allows you to virtually experience all HRM has to offer, engaging videos, hands-on art and science activities, lesson plans, storytime and more. (Hudson Valley)
Mohonk Preserve: "Nature Nuggets" based on material from our award-winning Education team that will help families get into nature in their own backyards. (Hudson Valley)
Long Island Children's Museum: Virtual tour. (Long Island)
American Museum of Natural History. Digital tours of its collection and more. (NYC) 
Intrepid Sea, Air & Space Museum: Virtual tours. (NYC)
Nicandri Nature Center: Daily virtual nature program on the center's Facebook page. (Thousand Islands-Seaway)
Zoos, Aquariums, and Wildlife:
National Museum of Racing and Hall of Fame: Season 3 of Foal Patrol is in full swing, featuring six mares and the champion stallion Gun Runner. This one-of-a-kind interactive web project provides viewers a unique opportunity to learn about the breeding and foaling process and watch live as the mares give birth. Visit the museum's Facebook page for activities and more. (Capital-Saratoga)
Animal Adventure Park: April the Giraffe cam and more! (Central New York)
Beekman 1802: Baby goat cam. (Central New York)
Binghamton Zoo at Ross Park: Online educational resources and activities, with Find updates on Facebook and Instagram. (Central New York)
Utica Zoo: Online activities about animals. (Central New York)
Cumming Nature Center: CNC has adapted its innovative Forest School model to accommodate online learning and is opening up special sessions for students who are not currently enrolled. Registration is required. Forest School recognizes the intrinsic relationship between children and nature and nurtures this relationship through unstructured play, curiosity-driven learning, hands-on projects, and basic outdoor skills development. (Finger Lakes)
Rosamond Gifford Zoo at Burnet Park: Daily video animal updates on the zoo's Facebook page. (Finger Lakes)
Seneca Park Zoo: Online projects for adults and families. (Finger Lakes)
Aquarium of Niagara: Facebook Live daily at 2 pm Eastern. (Greater Niagara)
Buffalo Zoo: Videos on Instagram. (Greater Niagara)
Hidden Valley Animal Adventure: Follow on Facebook and Instagram for photos and videos of baby animals. (Greater Niagara)
Peregrine falcon webcam: Falcons nesting on the Mid-Hudson bridge. (Hudson Valley)
Trevor Zoo live webcams: Featuring red pandas, herons, and more. (Hudson Valley)
Wolf Conservation Center: Check out webcams of "Ambassador" wolves Atka, Alawa, Zephyr and Nikai, and seven elusive packs of critically endangered wolves via unobtrusive cameras in and around anticipated den sites. (Hudson Valley)
The Whaling Museum & Education Center: Museum from home with activities, crafts, coloring pages, resources, and virtual events. (Long Island)
Nature and Adventure:
New York State Parks: Take 360-degree virtual tours of more than 125 state parks. (Multiple regions)
Lupine Fest: This virtual event, starting 10 a.m. May 25 and running until 4 p.m. May 30, will showcase the globally rare, nationally significant, and locally distinct Albany Pine Bush, the blooming wild blue lupine, and the inland pitch pine-scrub oak barrens. Everyone is encouraged to participate through social media. Activities during the week will include recording observations of spring with the iNaturalist app, sharing photos of lupine-inspired art, and showing off brightly colored tie-dye shirts that have become a popular Lupine Fest souvenir. (Capital-Saratoga)
Mohawk Hudson Land Conservancy: Virtual hikes and lessons from the field. (Capital-Saratoga)
Tulip Festival: Virtually celebrate the Tulip Festival with the Self-Guided Tulip & Garden Driving Tour. Follow along on social media with #518TulipTracker and safely explore tulips throughout Albany! (Capital-Saratoga)
Visit Ithaca: Learn about and virtually visit local waterfalls. (Finger Lakes)
Endlessly Outdoor Company: Take the Stay Adventurous Challenge! Find ideas to stay active for at least 30 minutes every day, encouraging you to improve your muscular strength, cardiovascular endurance, positive mindset, and of course your ability to complete simple educational tasks like using a map and a compass. (Greater Niagara)
Letchworth State Park: Enjoy a virtual 360-tour of some of the Park's most beautiful locations right from home! (Greater Niagara)
Niagara Falls/Cave of the Winds/Maid of the Mist: Users can experience the adventurous side of Niagara Falls USA on the Maid of the Mist, Cave of the Winds, helicopter over the Falls, jetboating and more. Even if users don't have VR goggles at home, they can still enjoy the 360-degree views (and soothing sounds of the Falls and nature) by simply navigating the video with their mouse.(Greater Niagara)
Niagara Region Interpretive Programs Office: Daily "Spring Into Nature Challenge," a photo scavenger hunt for NYS Parks. (Greater Niagara)
Olana State Historic Site: Experience Olana's iconic view of the Hudson River and Catskill Mountains in real-time from anywhere in the world. (Hudson Valley)
Brooklyn Botanic Garden: BBG At Home, including a virtual tour of the cherry blossom trees, plants in bloom, videos, kids' activities, and more. (NYC)
Cooking, Gardening, and Farming:
Augie's Family-Style Restaurant: Augie Vitiello learned the secrets of old fashioned home-style Italian cooking from his parents. Watch a variety of cooking videos at home. (Capital-Saratoga)
Farmers' Museum: Virtual April featuring gardening, cooking, and other virtual tips. (Central New York)
New York Kitchen: Cooking videos, tasting videos, recipes, kids cooking ideas. Visit New York Kitchen on Facebook, Instagram, and blog. (Finger Lakes)
Taste of Buffalo: This year's festival will be Taste of Buffalo at Home, a virtual food festival. The 37th edition of the Taste, the nation's largest two-day food festival, will take place on July 11 and July 12 on the event's Facebook and Instagram channels. Taste of Buffalo at Home will embody the spirit of a live festival, bringing a fun, community-centric atmosphere into peoples' homes with food, cooking demonstrations, live music, contests, games, and more—all hosted online. At the heart of Taste of Buffalo at Home will be the "Taste Takeout" initiative. More than half of the restaurants, food trucks, and wineries that were slated to participate in the original event will instead prepare special food and beverage deals available for takeout at their establishments beginning that weekend and continuing the following week while supplies last. (Greater Niagara)
The Club at Silver Lake: Facebook Live cooking lessons every Friday at 1:30 pm. (Greater Niagara)
Culinary Institute of America: Cook like a pro with expert advice and tutorials available online. You can also take a virtual tour of the New York campus of the venerable cooking school that launched the career of many famous chefs. (Hudson Valley)
Museum of Food and Drink: Every Friday, join MOFAD chef and champion of Food Network's Chopped Eric Kwan on Instagram Live at 3pm ET. Send an email with subject line PANTRY CHALLENGE to info@mofad.org with your pantry ingredients (no more than 5 please) and tune in on Friday to watch Chef Eric come up with an inspired recipe that you can make at home. (NYC)
Craft Breweries/Wineries:
The New York State Brewers Association: Enjoy a virtual happy hour to take place every day at 6:30 pm on a different New York brewery's Facebook page. See who's "hosting" next. (Various Regions)
21 Brix Winery: Every #StayInSaturday at 7 pm log on to Facebook for a live virtual happy house. Order home delivery ahead of time to participate in the discussion of pairing notes. (Chautauqua-Allegheny)
Southern Tier Brewery: The famed New York craft brewer is teaming up with friends from Bold Rock, Sixpoint, and Victory, to bring a virtual bar to your home. Each week they will host fun online sessions that bring together an amazing community around beer education, bottle shares, bar trivia, and more. The Taproom Live Facebook group is a meeting place where Bold Rock, Victory, Sixpoint, and Southern Tier will create a full slate of Happy Hour programming including guest appearances by brewers and beer experts, classes, and "first tappings" of the brewers' new releases.(Chautauqua-Allegheny)
Zugibe Vineyards: Bringing a new WOW (Wine of the Week) to you virtually every Wednesday evening. Each week, a new wine will be featured and put on sale for 20% off for the following seven days. (Finger Lakes)
Music:
The Strand Theatre Hudson Falls: Livestreams of performances on Facebook and Instagram. (Adirondacks)
Albany Symphony: Explore digital content like weekly videos from Maestro David Alan Miller and producer Ari Oser Miller, Symphony Circle Time for kids every Wednesday at 9 AM, and tune in to WMHT on Fridays at 6 pm on 89.1 FM Albany, 88.7 Poughkeepsie, or online at wmht.org/classical for Albany Symphony radio hour. (Capital-Saratoga)
Caffe Lena: Stay at Home Sessions, live concerts broadcast on the venue's YouTube page. (Capital-Saratoga)
Smith Opera House: The Smith Sessions feature recordings of regional musical artists from their living rooms. Sit back, relax, and enjoy these intimate recordings anytime, anywhere. (Finger Lakes)
Buffalo Philharmonic Orchestra: Streaming performances. (Greater Niagara)
Rites of Spring Music Festival: Saturdays in May at 2 p.m.: "Music & Tell," a virtual performance series in 45-minute sessions on Zoom, is aimed to expand the mission of ROSMF and create a stronger sense of identity while investing in the passion and artistry of classical and contemporary artists. (Long Island)
Film:
Woodstock Film Festival Alternative Projections: Short and full-length films curated by Woodstock Film Festival alumni filmmakers, programmers, industry friends, and staff for you to stream from the comfort of your home. (Catskills)
Crandell Theater: Watch world-class cinema in the comfort and safety of your own home while benefiting the continued operations of the Crandell Theatre in Chatham with the Virtual Screening Room. Virtual tickets required. (Hudson Valley)
Comedy:
National Comedy Center: Comedy videos, with more online programming being added regularly. Check out National Comedy Center Anywhere, featuring exclusive comedy content from the center's collection, including the video special "Laughing Matters: Carlin's Legacy," celebrating George Carlin's life, career, and legacy, featuring conversations with Judd Apatow, Norman Lear, Sebastian Maniscalco, Lewis Black, Jim Norton, and Kelly Carlin, along with tributes from many famed comedians. (Chautauqua-Allegheny)
Dance:
Syracuse City Ballet: Livestream classes, behind the scenes, and more. (Finger Lakes)
Theater:
Adirondack Theater Festival: The long-running Adirondack Theater Festival's summer season is canceled, but in its place is ATF On Demand, featuring clips of past performances as well as several full performances, as well as other exclusive content. ATF On Demand seeks donations to support future productions, and will donate $25 of any $50-plus contribution to help support local businesses in Glens Falls. (Adirondacks)
Pendragon Theatre: Offering a "Germ-Free Season" of streaming play readings, virtual productions, and alternative performance formats. Stream The Snow Queen now or check out the Stay at Home Puppet Camp for Kids. (Adirondacks)
Forestburgh Playhouse: Building Your Artistic Toolbox: An Online Education Series from the FBPH Academy. Featuring videos, live streaming, conversations, and more from seasoned industry professionals teaching dance, choreography, acting, and singing all to help you hone your theatre chops! (Catskills)
Broadway HD: High-definition versions of classic and more recent Broadway plays and musicals. (Note: this is a paid service.) (NYC)
Storytelling:
Proctors: Choose from 200-plus stories for adults from the Story Circle, one of the first resident storytelling companies. (Capital-Saratoga)
Chautauqua Lecture Series: #CHQWatchParty ever Wednesday at 10:45 am Eastern, featuring recordings of past lectures from the Chautauqua summer season. (Chautauqua-Allegheny)
Architecture:
Frank Lloyd Wright's Martin House: Join the Martin House's executive director, Mary Roberts, for short, easily watchable mini-tours of the stunning Martin House Complex. Learn about the Wisteria mosaic fireplace, interesting design features of the home and a history of the Martin family. Watch along on the Martin House's Facebook page as they release new videos every few days. (Greater Niagara)
Health & Wellness:
Samsara Yoga Center: All regular classes available on Facebook Live. (Chautauqua-Allegheny)
Friends of the Walkway's first Virtual Walkway One Mile: Through June 14, a race that can be completed on your own time, at your own pace, from anywhere in the world, including the professionally measured and marked course on the deck of Walkway Over the Hudson State Historic Park. Simply track your time and distance using any device, then visit walkway.org/virtualmile to submit to our leaderboard. Next, snap a selfie and post with the hashtag #KeepUsRunning to encourage friends and family to join in. Participation in the Virtual Walkway One Mile is $10, and all entrants will receive a Walkway One Mile patch to commemorate their finish. Patches will be distributed following the conclusion of the race window. (Hudson Valley)
Hudson Valley Healing Center: Video guides to stretching, yoga, and more. (Hudson Valley)
Sports/Motorsports/Aviation:
The National Baseball Hall of Fame and Museum: Digital collection and more. (Central New York)
Motorcyclepedia Museum: Until you can visit in person, check out the Virtual Museum, browse through pictures, specs and more for 250 of the museum's best motorcycles. (Hudson Valley)
History:
Adirondack Experience: Explore the ADKX Digital Museum's featured collections, online activities, live webcam, and more. (Adirondacks)
Fort Ticonderoga: Online database featuring over 3,000 museum objects. Plus, Fort Ticonderoga announces an exciting virtual campus opening, featuring interactive programming, engaging lectures series, and a preview of the many experiences that will be featured on-site once Fort Ticonderoga's gates open again. (Adirondacks)
48 Hudson: Take a virtual tour of 48 Hudson, the Van Ostrande-Radliff House. (Capital-Saratoga)
Albany Capital Center: Explore every nook and cranny of Albany's convention center. Dive into the Center's impressive mural and learn more about what it depicts. (Capital-Saratoga)
Erie Canalway National Heritage Corridor: Historical photographers, lesson plans, and more. (Capital-Saratoga)
New Netherland Institute: Learn more about America's (and Albany's) Dutch roots with online resources. (Capital-Saratoga)
New York State Museum: Join a Facebook Live Field Trip every Tuesday, Wednesday, and Thursday at 1 pm. Learn about cool facts and finds from New York from the comfort of your own home. (Capital-Saratoga)
Shaker Heritage Society: Explore the site of America's first Shaker settlement virtually. (Capital-Saratoga)
Virtual tour of the Fly Creek Cider Mill (Central New York)
Center for Mark Twain Studies: Take a virtual tour of the quarry farm, including the original location of Mark Twain's study where he wrote major portions of The Adventures of Tom Sawyer, Adventures of Huckleberry Finn, Life on the Mississippi, A Connecticut Yankee in King Arthur's Court, The Prince and the Pauper, A Tramp Abroad, and many short pieces. You can also explore a virtual map of Elmira from 1901 and Woodlawn Cemetery. (Finger Lakes)
Genesee Country Village & Museum: View trail cam videos and virtual tours of the MacArthur House. (Finger Lakes)
Seward House Museum: Livestream lunches. (Finger Lakes)
Buffalo History Museum: Digital collection. (Greater Niagara)
Old Fort Niagara: Livestream from the lighthouse. (Greater Niagara)
Theodore Roosevelt Inaugural National Historic Site: Visiting the Theodore Roosevelt Inaugural Site is a chance to experience a place where America entered a tense crossroads that helped to define its next one hundred years. Take a virtual stroll through an important moment in American history, complete with 360-degree views, interactive features and video. (Greater Niagara)
Virtual tour of Franklin D. Roosevelt National Historic site (Hudson Valley)
Virtual tour of permanent exhibit at the Franklin D. Roosevelt Library (Hudson Valley)
Virtual tour of Eleanor Roosevelt National Historic site (Hudson Valley)
Meiser Homestead: Video presentation. (Hudson Valley)
Staatsburgh State Historic Site: Follow along on Facebook as the Gilded Age merges with the Digital age every day of the week: Social Etiquette Sunday; Manly Monday; Tea on Tuesday; Women on Wednesday; Theater Thursday; Fashion Friday; and Sociable Saturday. Plus new blog essays and other digital content. (Hudson Valley)
Cradle of Aviation: Virtual museum and online educational services. (Long Island)
Gold Coast Mansions: Step inside Long Island's Gold Coast through a virtual experience for a look into the elegant and opulent lifestyles of the elite. (Long Island))
Joseph Lloyd Manor: Explore the 1767 house where Jupiter Hammon, the first published African American poet, lived. Enjoy a free virtual tour of the manor, furnished to the 1793 inventory of Joseph's nephew, John Lloyd II (1745–1792) and occupying a spectacular 2.5-acre setting overlooking Lloyd Harbor. (Long Island)
Long Island Museum: Online exhibitions. (Long Island)
Southampton History Museum: Enjoy a variety on virtual programming and updates to "History Talks" blogs. (Long Island)
Museum of Chinese in America: Experience the best of MOCA content digitally and online through Digital Tours and Audio Guides, the Oral History Archive featuring video interviews from MOCA's Journey Wall collection, Collections Online with 35,000 digitized images from MOCA's archives, digital learning resources such as our new MOCA Heroes magazines, the My MOCA Story social media video series, MOCA Talks webcasts, and Listen With MOCA, the new website that tells the history of the Chinese in America through music, sound, playlists, and virtual cassettes. (NYC)
Antique Boat Museum: The museum is now open for the season virtually, and has partnered with The Wooden Boat Experience for tours of the galleries every Friday in May. (Thousand Islands-Seaway)
Science:
Martz-Kohl Observatory: Explore the Observatory Lecture Series covering topics like Astronomical Contributors to Climate Change and Lunar Astronauts:Preparing America's Next Moon Landing Crew. (Chautauqua-Allegheny)
Paleontological Research Institution: Explore a rich and growing array of freely available online educational resources in Earth and life sciences. (Finger Lakes)
For more in NYC: Visit our partners at NYCgo.com for a list of virtual experiences, from Broadway shows to art museums and children's activities.