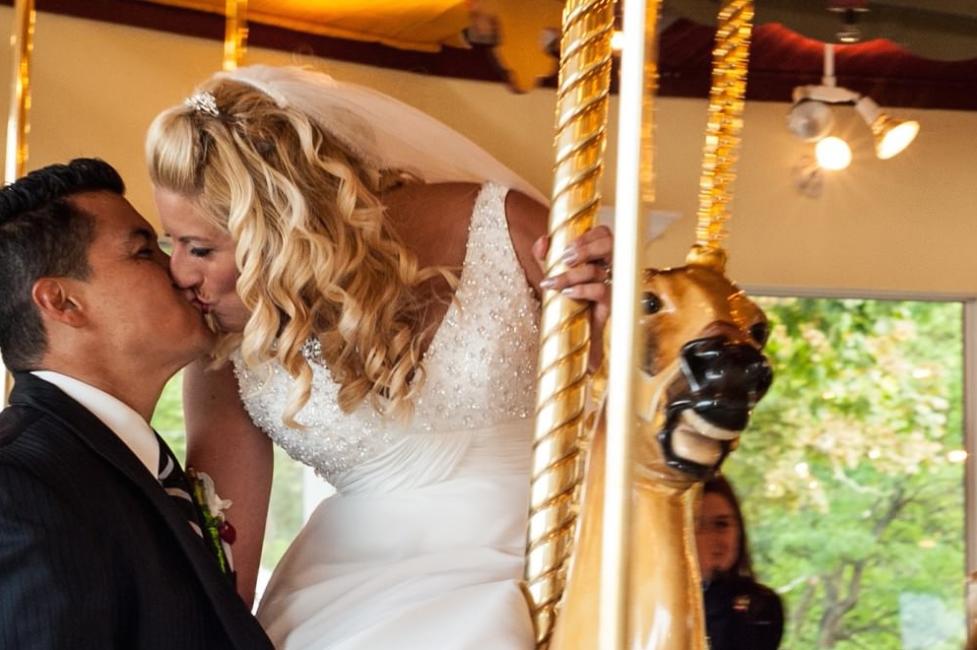 Photo: A young, newly-wed couple shares a moment on the Congress Park Carousel in Saratoga Springs.
Say "I do" in the state you love! It's wedding season, and all over New York, people from every walk of life will soon be heading down the aisle. Naturally, you can put on a wedding in New York that perfectly reflects your style and that lives up to whatever kind of day you can imagine. Especially now that New York's Marriage Equality Act has passed! So let us help you. Here's a small slice of New York's wedding venue repertoire. So let us help you. Here's a small slice of New York's wedding venue repertoire.
Hudson Valley Mansions
The Hudson Valley is home to some of the region's architectural masterpieces from the Industrial and Gilded Ages as well as natural beauty that inspired American art from its earliest days. For your wedding day, step into the stately grandeur of Saratoga Springs's Batcheller Mansion, which is located on historic Congress Park and has hosted presidents and royalty and the like for 135 years.
Every marriage is built on communication, so take your vows on the estate of the man who made modern communication possible–Samuel Morse, of telegraphs and Morse code renown. His estate, Locust Grove, has 200 acres of gardens, carriage roads, and Hudson River views. This is a gorgeous venue and a jewel for do-it-yourself couples.
Marriage and the City
Outside the New York Public Library are the stately twin lion statues known as Patience and Fortitude. These two virtues, many can attest, are pillars of any successful marriage. And the chic and sophistication of the Stephen A. Schwarzman Building make for a stunning wedding. Say "I do" here amid the collected wisdom of world culture.
If you're looking for a unique space, great food and drink options, and a background for some glamorous photos, have your celebration on the Brooklyn waterfront between the feet of the Brooklyn and Manhattan Bridges. There's a great venue there called reBar. The repurposed Grand Union Tea Company factory has a really cool vintage style and a remarkable menu. It's also one of the more affordable locations to hold a wedding in New York City.
Thousand Islands Island Castles
The two castles in the Thousand Islands region are, quite simply, defining features of the landscape. And they're stunning as settings for a quintessential Thousand Islands wedding. Ferry your guests onto Boldt Castle's Heart Island for a breathtaking ceremony on the grounds of the castle George Boldt built as a monument to his love for his wife, Louise.
Or, shuttle your loved ones across the St. Lawrence to Singer Castle on Dark Island and have your ceremony in a picturesque rose garden or on a castle terrace. While Boldt Castle can't throw a reception, Singer Castle can provide a celebration that's as simple or grand as you like. 
Upstate, Off the Beaten Path
Babeville, otherwise known as Asbury Hall, is a grand old church that has been converted into a state-of-the-art performance and event venue in downtown Buffalo. The building was on the brink of being demolished when none other than Ani DiFranco purchased and refurbished it. It now puts on shows by the likes of St. Vincent, Sufjan Stevens, and Nick Lowe when it isn't hosting rockstar brides and grooms.
Once upon a time, 300 people lived in the Oneida Community Mansion as a single community dedicated to collective obligation and free love. That's right: jealous possession of a romantic partner was strictly prohibited. After some decades, as the community waned, its members began to produce silverware. Today it's known as the Oneida brand, and these days Oneida silverware is quite a popular wedding gift. The mansion stands today with commanding, monumental grandeur, and it's a great place for a wedding of any kind.
Long Island and the Finger Lakes: Take the Plunge on the Water
New York has more shoreline than forty-six out of fifty states, and every mile is a potential wedding venue. There are lots of beaches on Long Island you can tie the knot on, and we'll point you to two in particular. First, the Allegria Hotel in Long Beach can get you hitched in high style on the beach below the boardwalk within striking distance of airports and other transportation, if you have guests from out of town. Further out is the Ram's Head Inn, on Shelter Island. Think dunes and gardens and shimmering ocean all around.
Inland, you have to hand it to the Finger Lakes: they make an extraordinary setting for your nuptials. If you want a wedding that's more about wine than water, look into the area's many vineyards. Otherwise, feast your eyes Esperanza Mansion, an 1838 Greek revival mansion high above Keuka Lake. It looks pretty awesome, we have to admit.
Whether you're attending a wedding or scouting locations, share your photos using #ispyny!