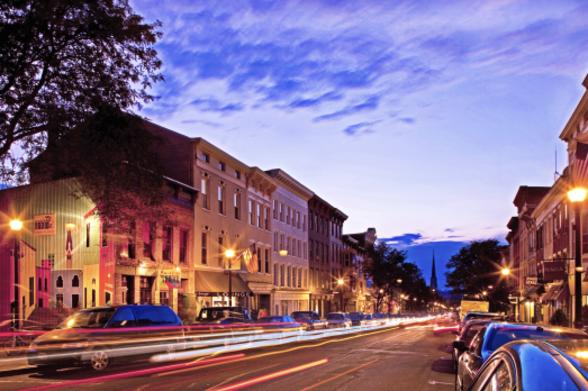 In case you hadn't heard, this year's Pride festivities are going to be a very big deal. New York City hosts WorldPride 2019, drawing visitors from all over the globe, to honor the 50th anniversary of the Stonewall Riots, when the gay community took a stand against police harassment in the West Village. This means that: a) amazing unmissable events will be happening all throughout June and early July; b) it's a great time to get out of the city and explore New York State's many attractions. We've rounded up fantastic places to stay near the city that are actually destinations on their own. Read on for beach-y, woodsy, small town, and simply convenient options.
Hit the Beach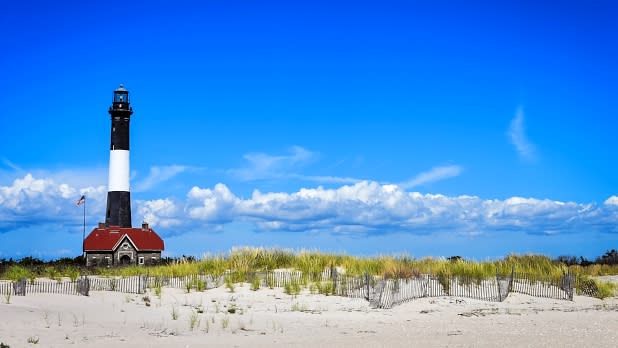 Without a doubt, Fire Island will be a major hub of Pride celebration. The 31-mile-long barrier island has long been a popular LGBTQ summer destination thanks to two communities that were the first places in the country to welcome all, Cherry Grove and the Fire Island Pines. They're also totally car-free! Wander on foot, enjoy the laid-back vibe, and meet new friends. If you want to explore the area, check out the Fire Island National Seashore and its lighthouse (pictured), tour the historic estate of William Floyd (a signer of the Declaration of Independence), and take a guided walk on the elevated trail through the "Sunken Forest." There's also Ocean Beach for when you want to catch rays and waves, and plenty of fresh seafood restaurants nearby.
If you go for Cherry Grove, consider a stay at the Grove Hotel, Fire Island's largest hotel, with bright, sunny rooms and the popular Ice Palace Nightclub (open since the mid-1950s!). Or try Dune Point for luxurious studios, one-bedrooms, and bungalows, most of which provide a view of the ocean. Over in Ocean Beach, The Palms Hotel offers hotel rooms, bungalows, and four-bedroom cottages with a full kitchen, central air conditioning, and complimentary use of bikes, wagons, and beach chairs. The Madison Fire Island Pines is just a minute walk from the ferry you'll take to reach the island, and from the beach. The lodge offers high-end amenities including massages by the swimming pool, a gorgeous roof deck, beautifully designed rooms and more.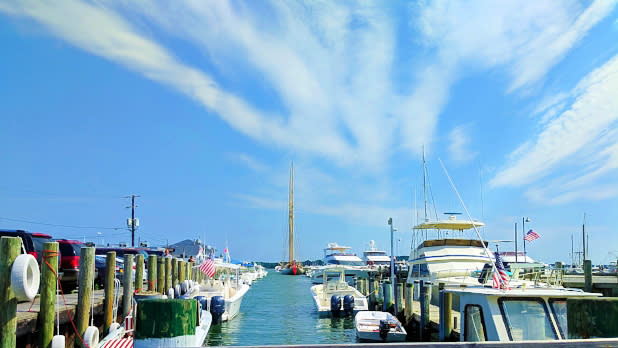 If Fire Island isn't quite your thing, you can still find the perfect waterfront option for you in Greenport (pictured). Consider The Stirling House Bed and Breakfast or the Quintessentials Bed & Breakfast and Spa in East Marion, both on the North Fork of Long Island. The Stirling is a stunning and peaceful waterfront B&B in Greenport's historic district, where breakfast is cooked up by Chef Clayton, trained at The French Culinary Institute in Manhattan and in Paris. Right between Peconic Bay and the Long Island Sound, Quintessentials B&B offers rooms with private decks and jacuzzi baths, and easy access to its full-service spa.
Discover Small Town Charm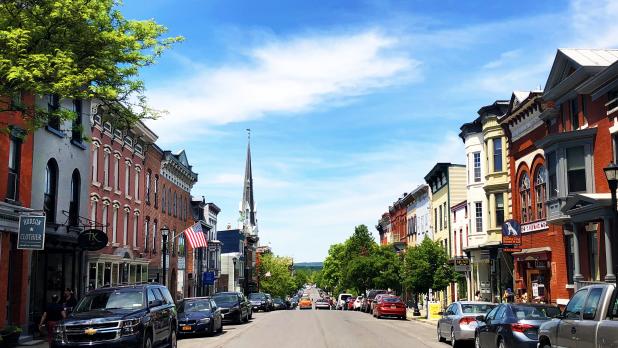 Sometimes you want to go where everybody knows your name—or at least somewhere sweet and cozy where it feels like they could. Enter Hudson, New York (pictured), an impossibly charming little town that's home to a sizable gay community. But let us be clear: This town is far from sleepy!
At Helsinki Hudson, a renovated 1800s industrial building-turned-nightclub, stop in for drag shows, queer cabarets, and amazing dance parties (check the online schedule; the venue also hosts live music performances). Shop boutiques and antique stores, find amazing restaurants like Ca'Mea Ristorante, Fish & Game, and Le Perche, and dip into art galleries all along Warren Street. History and art appreciators should head to nearby Olana State Historic Site to see where Frederic Edwin Church of the Hudson River School of painting found inspiration and created his work (plus it's a spectacular property).
Hudson lodging options, like most of the houses and buildings in town, are often retrofitted in historic buildings, ranging in age from the mid-1930s all the way back to 1785! Stay at Batterby House for chic, comfortable, well-lit rooms. At the Croff House Bed and Breakfast, you can kick back with an afternoon drink on the wrap-around porch and walk to Hudson Hall, an opera and performance venue.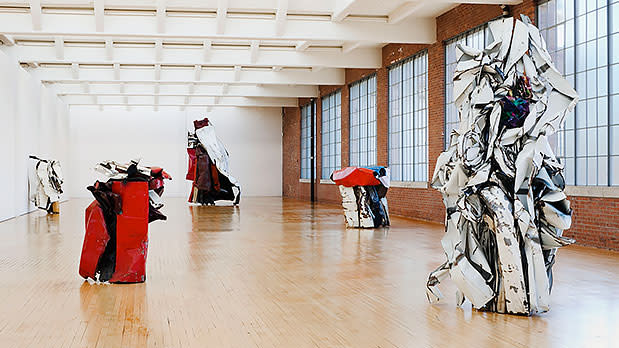 Small towns all over Dutchess and Columbia counties are also filled with amazing LGBT-friendly attractions. The annual Poughkeepsie's Queen City Pride, a summer community picnic held every June, is legendary. Catch theater performances and concerts at venues all over the area, like at the Powerhouse Summer Theater at Vassar and the Bard SummerScape Festival at the Richard B. Fisher Center for the Performing Arts. Try something delicious at the Culinary Institute of America in Hyde Park, admire world-famous works of art at Dia:Beacon in Beacon (pictured), and so much more—culture abounds! Van Schaack House in Kinderhook and Woodstock Country Inn in Bearsville are both close, charming, and openly LGBT-friendly lodging options, according to PurpleRoofs.com.
Return to Nature

Maybe you want to unwind after Pride, partying somewhere quiet where you can connect with nature and recenter yourself. If so, you've got options. Gay-owned Bluestone Basecamp in Saugerties (pictured) is a micro-boutique hotel with elegant, clean rooms overlooking the surrounding woods, and the grounds include their own vineyard and fruit orchard! Kate's Lazy Meadow in Mt. Tremper, co-owned by Kate Pierson of the B-52's, offers rooms with artsy, funky decor and views of the Catskill Mountains and a nearby creek.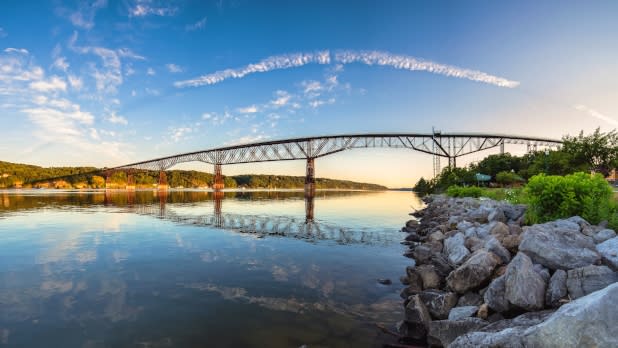 Another option in Hyde Park is Inn The Woods. But while you're situated in a lovely wooded area, you're also still close to attractions like Walkway Over the Hudson (pictured)—the world's longest elevated pedestrian bridge, Franklin D. Roosevelt's Home Museum & Presidential Library, antique shops, and more. Travel a bit farther and you'll reach Graham and Co Hotel in the Catskills at the foot of Hunter Mountain. With the surrounding mountains, outdoor pool, contemporary lodge–inspired decor, free bike usage, bonfires, and more, we think it's worth the trip.
Stay Close to The Action
If you want to dip in and out of Manhattan as much as possible, consider Westchester, just an hour or so away, depending on traffic and your mode of transport. Stay at the Renaissance Westchester Hotel, surrounded by woods and replete with its own restaurant, lounge, indoor pool, and tennis court. Plus, the hotel is offering a special deal in honor of WorldPride. The Pride & Joy Couples Package includes breakfast for two, champagne, and truffles delivered to your room, complimentary turn-down service, and late check-out. Similarly, the Hilton Garden Inn is offering a 10% discount all throughout the month of June, plus complimentary breakfast, when you use the code PRIDE at checkout. While in Westchester, explore craft breweries like the Sing Sing Kill Brewery or River Outpost Brewing Company, the Hudson Valley MOCA for your arts and culture fix, and Harvest on Hudson, a restaurant with a romantic ambiance and waterside view.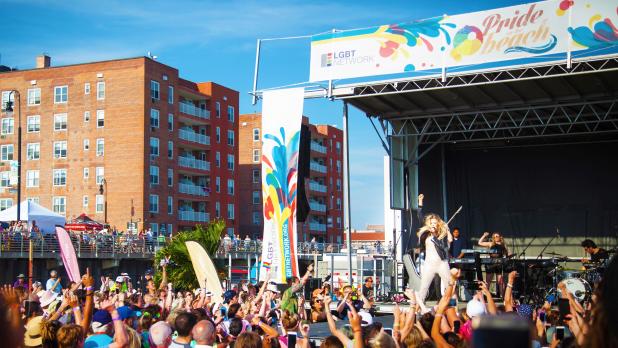 The upscale Time Nyack Hotel is just as close but right across the Hudson River. Float in the pool, hike in Hook Mountain State Park, and grab steak or seafood for dinner at BV's Grill, the restaurant on premises. And don't forget: Long Island also has options that aren't far out on the forks, such as Residence Inn By Marriott Long Island Hauppauge, just over an hour's drive from Midtown Manhattan. The rooms are clean and comfortable and come with a complimentary breakfast. You'll find yourself at the midpoint between all the Pride events in the city, Pride on the Beach at Long Beach (pictured), and attractions such as the Long Island Aquarium, the Vanderbilt Museum and Planetarium, and the Hamptons. The island is your oyster!
Don't forget to share your summer vacation with us! Share New York State pictures on Instagram and Twitter with #FindWhatYouLoveNY and tag us on Facebook!