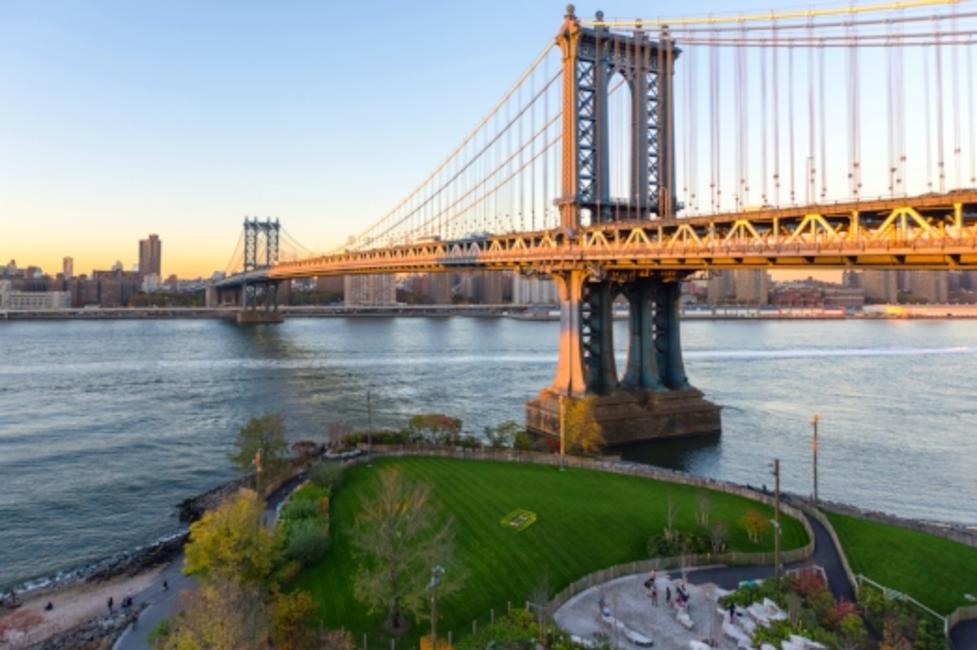 Path Through History Weekend is October 6–8 and if you think you're just not that into history, it's a good time to rethink what you believe history to be. Below, we've selected 11 fun events featuring early transportation, stops on the Underground Railroad, stargazing around a bonfire, and petting dalmatians while learning about fire safety. Check out the Path Through History event site for all of the historical and educational sites hosting something special over the weekend!
If you attend an event during Path Through History Weekend, you will receive a sticker from the site you visit. Take a picture with the sticker, post it on Facebook, Twitter, or Instagram with the hashtag #PTHWeekend, and tag your location to enter to win a prize package from I LOVE NEW YORK!
Dalmatian Day at FASNY Museum of Firefighting (Hudson Valley)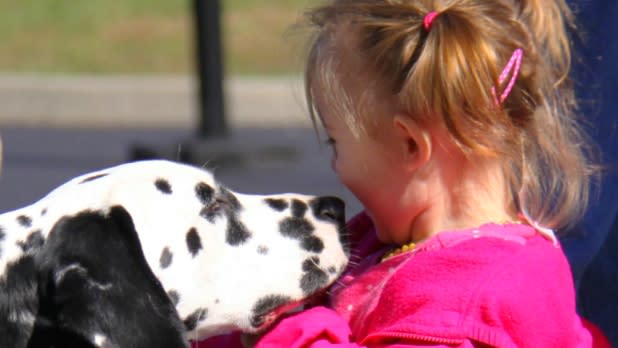 If you've got dog lovers or future firefighters in your family, bring them to Dalmatian Day at the FASNY (Fireman's Association of the State of New York) Museum of Firefighting on October 6. Gain free admission to the museum where you can learn about and see historical firefighting equipment and gear like speaking trumpets, wooden fire rattles, pumpers, a leather-riveted hose, and helmets from the 1700s, all while working on a scavenger hunt. Special activities include meeting different dalmatians, games, dalmatian-themed crafts, a magic show, and a puppet show. October 6, 10 am–3 pm, all activities free, food available for sale
Bus Festival at Brooklyn Bridge Park (NYC)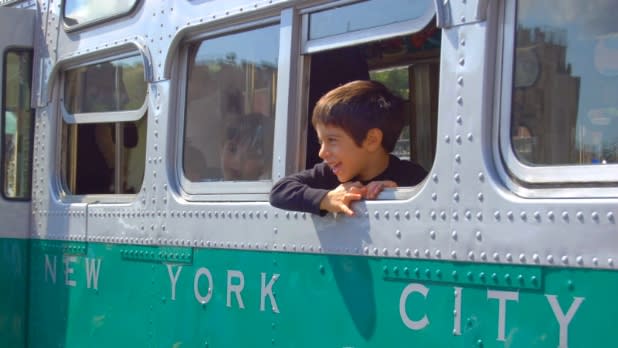 The New York Transit Museum is holding the 25th Annual Bus Festival at Brooklyn Bridge Park on the Sunday of Path Through History Weekend. Kids and adults can hop on vintage buses used throughout NYC's history and meet MTA bus-drivers. Special activities and photo ops will be available, along with an incredible view of the Manhattan skyline from 11 Water Street in Brooklyn. October 7, 10 am–4 pm, free
Lego Car Show (Central NY)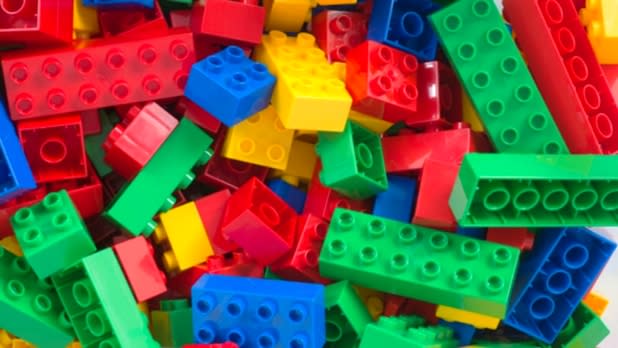 Northeast Classic Car Museum in Norwich is offering free admission to children ages 3–18 entering the Lego Car Show on October 7. Bring a car built out of Legos and either display it or enter it to be judged for a chance at winning within your age group. The museum itself has more than 170 vehicles on display, including the world's largest Franklin collection (made in Syracuse from 1906 to 1934) and a "Trucks at Work" exhibit, displaying vehicles with electric, steam, and combustion engines. October 7, 12:30–3 pm, free admission to the museum for entrants, otherwise $10 adults, $5 students 6–18
Legends in the Sky Stargazing (Catskills)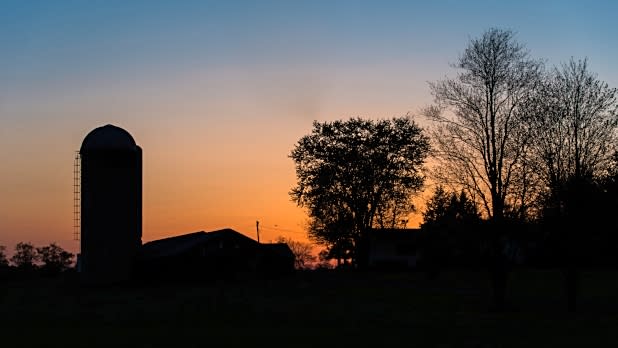 If your family's idea of fun includes sitting outside contemplating the universe while taking in the constellations and sipping hot cocoa, this is the event for you. Bethel Woods Center for the Arts is holding a stargazing event on Sunday evening, complete with a bonfire, blankets, cocoa, and other snacks. Writer/performer Allan Wolf will narrate the evening with stories about the stars. Kids can think up their own constellations and name stars after members of their families. October 7, doors open at 6 pm, event begins at 6:30 pm, $10, buy tickets in advance
Starr Clark Tin Shop Tours (Thousand Islands-Seaway)

Credit: Haunted History Trail, Amityphotos
Take a tour of the Starr Clark Tin Shop and Underground Railroad Museum in the Thousand Islands. Starr Clark and his family ran meetings for abolitionists, provided housing to freedom seekers, and arranged for them to transfer to additional safe stops within the Underground Railroad network. The now-museum was a heavily trafficked site before and during the Civil War, being along three major transportation routes. Learn about the family's efforts and about how tin was made and sold in the shop. October 6, 9 am–5 pm, free admission
Thurman Fall Farm Tour (Adirondacks)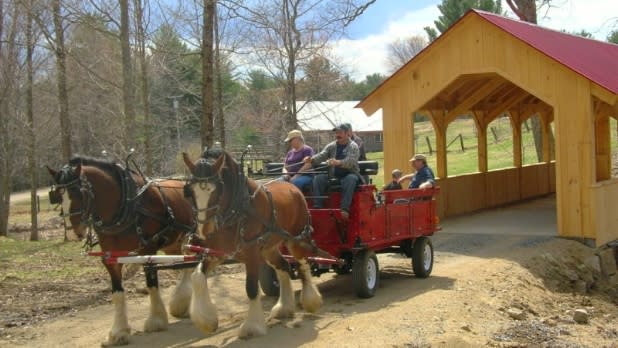 Think of this activity as a "farm crawl." Visit a variety of different farms, maple producers, sanctuaries, and a sustainable lumber mill for a slew of different activities. Start off with a pancake breakfast at Valley Road Maple Farm, then make your way to other area farms for llama kisses (!), samples of jams, turkey sausage, and cheese, a hayride to a pumpkin patch, quilting demonstrations, punkin' chunkin', and much more!  It's a self-guided tour, so spend as much time at each site as you'd like. October 6, 10 am–4 pm
Fall Foliage Vineyard Walk (Chautauqua-Allegheny)
While you may have learned about some of these other topics in your own history classes, we bet you didn't know that New York is one of the top three producers of wine in the country. At Johnson Estate Winery, walk through the vineyard with third-generation owner Fred Johnson as he takes you through the history of winemaking in New York and provides samples of six of the vineyard's finest wines. Take in the beautiful views of this scenic vineyard, which come October should be covered in stunning fall foliage colors. October 6–27, contact vineyard for cost
Tracking Fall Foliage by Trolley (Finger Lakes)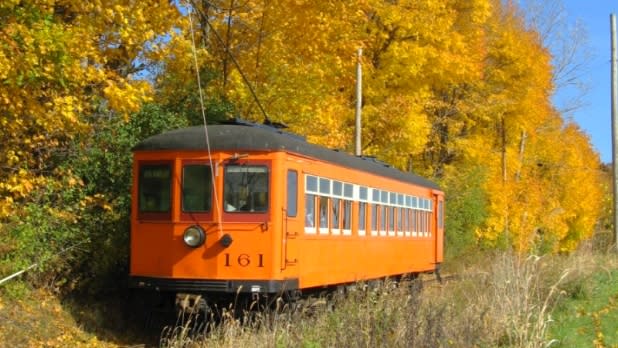 Speaking of fall foliage, here's another opportunity to lay your eyes on one of the best things about autumn in New York. The New York Museum of Transportation is presenting tours on a 90-year-old electric trolley car in West Henrietta. The fall foliage will make you "ooo" and "ahh" from your window seat as you enjoy the only trolley ride in the state! Visit the museum itself for photographs and artifacts of New York's transportation history as well as additional antique trolley cars, a steam locomotive, ambulance, working model railroad, and so much more. Sundays from October 7–28, 11:30 am–4:30 pm, trains depart every 30 minutes, children 3–12 $6, adults 13–64 $8, seniors 65+ $7
Building a Boat in Cold Spring Harbor (Long Island)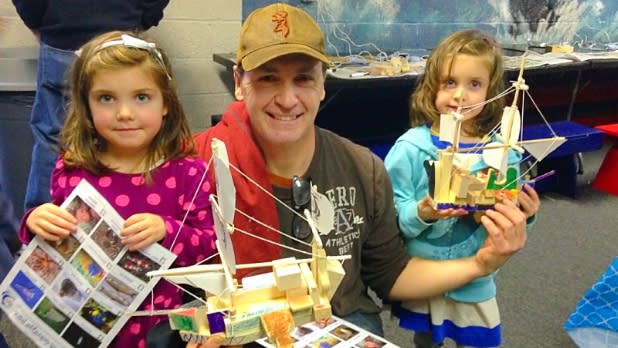 In a nod to Columbus Day Weekend, visitors are invited to build a wooden boat at the Cold Spring Harbor Whaling Museum & Education Center. Materials will be provided, but BYO creativity. Cold Spring Harbor was a whaling port in the 19th century and at the museum you can learn about the history of whaling on Long Island and see many artifacts from a real 19th-century whaleboat to an orca skull. Families should catch the permanent exhibit, "I am a Whaler," where kids can hoist a sail, swab the deck, pack for their whaling journey, chart their voyage, and more. October 7, 12–2 pm, $12 per boat-builder
Marble Orchard Ghost Walk (Greater Niagara)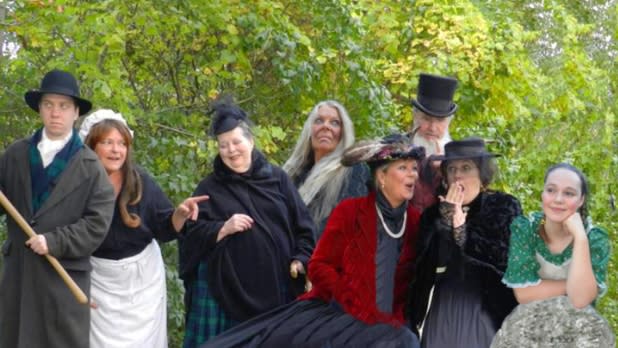 Path Through History Weekend is in October, after all, so there should be something spooky on this list. Costumed guides from Marble Orchard Ghost Walk will take you on a tour through historical Lewiston, telling the tales of those settlers who came before us, and of those who may still remain. You'll hear stories of crime, mayhem, curses, burials, and eerie medical practices. Needless to say, you'll definitely have a story of your own to tell after this! Bring a flashlight. October 6, 7–8:30 pm, $15 adults, $5 children 12 and under
Preparing for Winter in the 18th Century (Capital-Saratoga)
Credit: Kari Procopio
Find out what it was like for early New Yorkers to prepare for the cold season at Johnson Hall State Historic Site in Johnstown. Learn about the hunting and harvesting equipment used back in the day to help people prepare for the harsh winters before we filled the season with skiing, snowmobiling, and ice castles. October 6, 11 am–4 pm, free admission
Share New York State adventures with us on Instagram and Twitter with #ILoveNY and #iSpyNY, and tag us on Facebook!