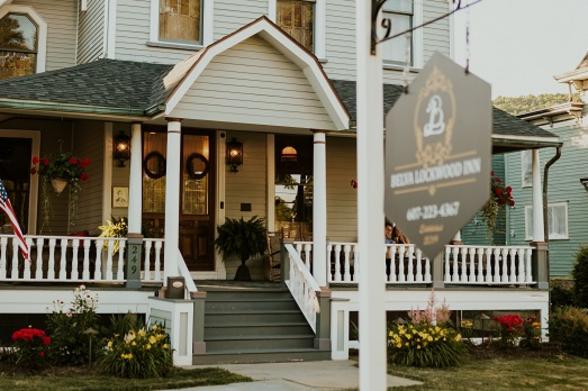 Credit: In Full Bloom Photography
From Harriet Tubman to Susan B. Anthony to Eleanor Roosevelt to Lucille Ball, some of the most iconic women in history have done their work in New York State. Their contributions have made a lasting impact on society today with these achievements being celebrated at sites all across the state. Great women continue to lead New York State forward, preserving the history of heroes' past and forging a new path. In honor of Women's History Month, here are some great places to visit in New York State and the incredible women who run them.

Credit: National Susan B. Anthony Museum & House
Women's suffrage pioneer Susan B. Anthony famously called Rochester home, residing at 17 Madison Street until her death in 1906. When she was not tirelessly campaigning for women's rights, it was here she spent her time writing, organizing, and strategizing with other reformers. Deborah Hughes, president and CEO of the museum since 2007, notes the significance of the home is not only in its historical status, but its continued work for justice and community building. "The best thing that we hope people will come away with is inspiration, especially in times that are difficult," Hughes said. "Here's a woman who faced incredible barriers and difficulties and yet persisted, and in times when people feel like we're not making progress we hope that they would be reminded of Susan B. Anthony's comment in which she said there are no defeats, we are always making progress." The National Historic Site exposes visitors to two sides of Anthony — "Aunt Susan" and "The General."

Credit: National Susan B. Anthony Museum & House
Docent tours lead you through the home, weaving the story of Anthony whose presence is felt in every room from the front parlor where she was arrested for voting in 1872 to the second floor office that housed the National Woman Suffrage Association headquarters to the third floor workroom where many worked for the cause. "The most important issue to Susan B. Anthony was humanity, that every single person was valued," Hughes said. "If people can walk away believing that that's something worth living for and fighting for and working toward we would be so pleased to tell 'Aunt Susan' we're continuing the work."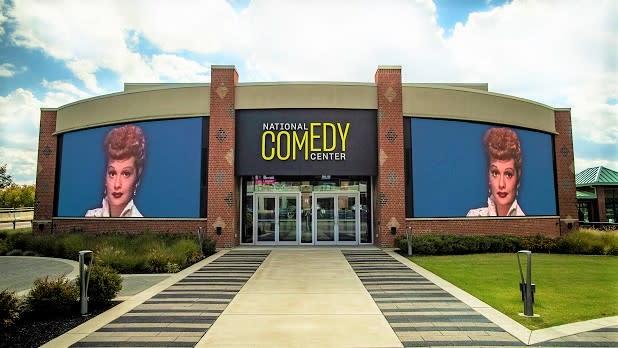 Photo courtesy of the National Comedy Center
Lucille Ball had a vision for her hometown of Jamestown to honor not just her legacy, but become a destination for the celebration, study, and preservation of all comedy. The National Comedy Center, along with the Lucy Desi Museum, have achieved just that, earning praise from TIME, People, and most recently being named one of the Top 25 Family Weekend Getaways by US News and World Report. Making Lucy's vision a reality is executive director, Journey Gunderson, who is herself a Western New York native. The National Comedy Center curates some of comedy's greatest hits across all eras and genres from Charlie Chaplin to Carl Reiner to Saturday Night Live and In Living Color to create an interactive and immersive experience that delights all ages. 

Photo courtesy of the National Comedy Center
Share laughs at the Stand-Up Lounge, grab the mic at the Comedy Karaoke, and even perform as Lucy and Ethel wrapping chocolates in one of the greatest scenes in comedy history all thanks to green screen technology. "Every time I see families, people of different age cohorts, laughing together at the same content, it's magical," Gunderson said. Down the street, the Lucy Desi Museum not only celebrates Ball's successes in front of the camera, but also pays tribute to her accomplishments behind the scenes as the first female head of a major Hollywood studio. As for Gunderson, she said, "To be doing the work of the incomparable visionary Lucille Ball in her hometown is a dream come true."

Photo by Stephen Gabris
Lazara Martinez, owner of Pausa Art House, has noticed with satisfaction how women feel comfortable coming to her jazz club and tapas bar in Buffalo's Allentown district. "I think women are nurturing by nature. I think I offer a nurturing environment. With me, being a woman, more women feel comfortable coming to a space like mine by themselves. They are inspired," said Martinez. "I introduce the bands. I say hello to everybody at the door. It's the way I treat the public. I'm there. I'm always there when the business is open. They feel comfortable engaging, and they want to know the story." 
Martinez, who was born in Cuba and is a classically trained violinist, opened Pausa a decade ago with the mission to create an intimate art space hosting high-quality musicians across all genres from jazz and Americana to rhythm and blues, world music, classical, and Latin music. "They know when they come to Pausa, they're going to have a quality performance in front of them," said Martinez. "Musicians love it too because they feel respected." Pausa is designed for thoughtful listening within a comfortable setting. It has a homey feel with art on the wall and a back room where musicians play to people sitting at tables. There's a front room with a bar where people can watch the band on two television screens. Staff serves wine and beer and small plates – cheeses with chorizo and olives, tinned octopus and mussels, paninis with prosciutto, salami, ham and mozzarella – and a richly satisfying flourless chocolate cake. In warmer months, people sit at tables in a small back patio and garden and sound comes through speakers and the open back door. "Whoever comes to my business feels like they're coming to my home," Martinez said. "It's true. They're in my house." Written by Michelle Kearns

Photo courtesy of the Holocaust Museum & Center for Tolerance and Education
The Rockland Community College campus in Suffern is home to the Holocaust Museum & Center for Tolerance and Education, which educates in excess of 40,000 visitors annually on the history of the Holocaust. The history is told through a "lens of humanity, morality, and civility," according to Andrea Winograd, the museum's executive director. "It's a museum of humanity, what can we all do together to ensure that never again is really never again," Winograd said. The exhibits use graphics, artifacts, reading materials, interactive learning, and most importantly dialogue to educate future generations about the dangers of intolerance and empower visitors to have courage in the face of injustice. "Remember our history, go inside your soul, lean on your mentors, and let's move forward in a positive, unified way," Winograd said. 

Photo courtesy of Layman Design. 2022 © Layman Design
The center also houses a museum within a museum with an exhibit from their sister museum, The Haverstraw African American Connection, created by Civil Rights icon Virgnia Norfleet. The two museums recognize their dark histories and their perseverance. "It takes you through the African diaspora, through slavery, with the focus on the history of slavery up north and local to Haverstraw," Winograd said. The museum's mission is embodied in a quote by one of Winograd's role models, Michelle Obama, who said, "People who are truly strong lift others up. People who are truly powerful bring others together." That's exactly what the museum aims to achieve. "We want to teach people to bring people along, share, care, and we'll all rise up," Winograd said.

Credit: In Full Bloom Photography
Never heard of Belva Lockwood? You're not alone! But inn owner Brie Woods hopes that  your stay at the Belva Lockwood Inn, a charming five-room Victorian once home to one of the most important figures in women's history will  change that. Against all odds, Lockwood became the first woman admitted to the Bar, the first woman to argue a case in front of the Supreme Court, and even ran for president (twice!) "Our mission is to make Belva a household name, and to do so I welcome guests into the parlor and offer a brief history lesson on Belva, her accomplishments and her never ending pursuit of equality," Woods said. Lockwood's legacy and Woods' passion for women's rights are evident in the women's retreats and other events that the inn plays host to. "That's how I strive, with strong women around me who I can learn from, and being able to have a space for other women to do that as well is just really awesome to be a part of," Woods said. 

Credit: In Full Bloom Photography
Just as important as carrying on Lockwood's legacy is ensuring every guest feels 100% at-home during their stay. "We want them to come in as strangers and leave like family," Woods said. Guests can enjoy a glass of wine in the living room, relax by the old piano bar, soak in views of the Susquehanna River from the front porch, or cozy up to the fire in the backyard. A basket filled with breakfast goodies will be waiting at your door every morning and with Owego being the "Gateway to the Finger Lakes" Woods will curate a tour for you to enjoy the area's wineries, brewerie, and more. On being an entrepreneur, Woods said, "My dream was to open my own business. I did not know when or how, I just knew that was my dream and I was going to do it. It doesn't matter what your background is, how old you are, if you have a dream, take a step everyday to try to achieve that and you will get there."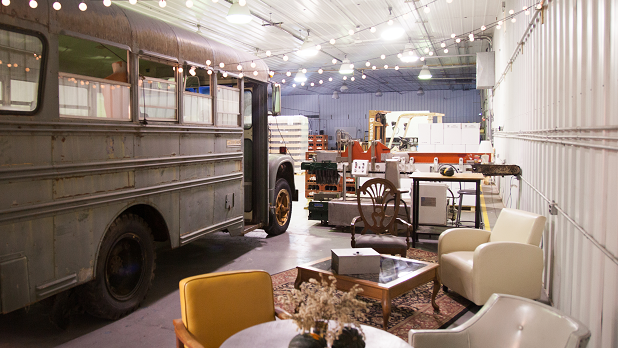 Photo courtesy of Awestruck Cider/Credit: Akemi Hiatt
Spending several years globetrotting after college, Patti Wilcox returned home to Delaware County to set down her roots, starting Awestruck Cider in the place she called home growing up. "There's nowhere else that feels like home but the foothills of the Catskill Mountains," she said. "It's so beautiful and it's so inviting." Awestruck started in 2014 with a grinder that worked one apple at a time and just an ice bucket on a table at their production facility in Sidney, which has since expanded to include a 75-person taproom that functions as an innovation station. "We produce three new flavors on draft every single week because cider is such a great basis for creativity and for exploring new flavors and new experiences," Wilcox said. "Our goal at Awestruck is to show people what hard cider can be... there's all sorts of different expectations that people have when it comes to hard cider and we just want to blow that all away, we want people to try something that they've never experienced before." 

Photo courtesy of Awestruck Cider/Credit: Akemi Hiatt
The taproom is industrial-meets-cozy with mix and match furniture and an old farm bus that's been converted into a hangout spot. Their second location in Walton, at the site of a former grain milling company, is bright and vintage, preserving the old grain mill, floors, and original 1,000-pound grain scale. It's all part of creating an unforgettable sensory experience that's centered and shared around cider. "I love it when groups come and they try a flight of cider and they can compare with one another what they're experiencing, what they're tasting, that's really special," said Wilcox, who just completed a masters in beverage tourism in France. "Our name is Awestruck and that's really our goal all the time. That's our motto, that's what we strive for is to leave people awestruck not just by the flavor, but by the experience," Wilcox.
For Kathryn Murano Santos becoming the senior director of collections and exhibitions of the RMSC Museum & Science Center was a full circle moment. Growing up around the corner, exploring the exhibits was a regular activity that inspired her to study cultural anthropology. Now, Murano Santos inspires change with her work on issues-based exhibitry to tell history in an authentic, inclusive, and equitable way. "I want people to see things in a way that they didn't see them before," Murano Santos said. "Inspiring and empowering them, giving them hope for some future outcome. What are the skills, knowledge, and excitement that they can carry forward from an experience at the RMSC that they can then use in their lives to make positive change." 

Credit: Rochester Museum & Science Center
The Changemakers: Rochester Women Who Changed the World uncovered the hidden histories of more than 200 women through a transformational co-curation process involving the community and three DEI consultants. Launched as an 8,000-square-foot exhibit, it lives on in a smaller footprint on the museum's second floor and in an ever-growing online exhibit. "That project led us to acknowledging the invisibility of women's stories and committing to making visible those stories," Murano Santos said. Visitors can try a flight simulator to learn the story of Dorothy Layne McIntyre, the first African American woman to receive a pilot's license under the US Civil Aeronautics Authority. The new Wonders of Water exhibit was created with the help of contemporary changemakers and the museum will also enhance the story of Anna Murray Douglass and her role as a station master at its Underground Railroad exhibit. "We are a museum and a science center, and hopefully in every experience you have here you'll see both of those sides," Murano Santos said. "We need to be creative and interdisciplinary in the way that we approach problems and find solutions. We're not going to address the complex issues of our times looking at things through a narrow lens. We need to be inclusive in the lenses that we bring."
Allison King, pastry chef and owner, King's Kakery
In the college town of Oneonta, King's Kakery fills Main Street with the sweet smells of fresh baked goods and the kindness of pastry chef and owner Allison King. Her love of baking was born in her home kitchen in Guyana where she would help her mother by creaming butter, sugar, and eggs by hand. After coming to New York City at age 16, King eventually settled in Oneonta, lured in by its small town charm and strong sense of community, which made for the perfect location to open a bakery. With its purple, peach, and teal-striped walls, the adorable bake shop is as sweet as the half-pound cookies, macaroons, and ornate cakes it sells.  "It was always a dream of mine to open my own business," King said. "I have a sense of pride of being a business owner and being a Black business owner." 
King also cooks up Caribbean feasts of oxtail and jerk chicken on Saturdays, and often likes to switch things up with other dishes including curry chicken and mojo pork. "The kids come to me cause they hear I make the best Caribbean food around," King said. "I'm trying to teach them that Caribbean culture has a wide variety of good food." King is inspired by the women in her life, including her aunt and mother, as well as her daughters, and she hopes her story helps inspire the next generation of young entrepreneurs. "That they can see that they can follow their dreams, do whatever they think that they want to do and be successful at it, that it's a possibility," King said. "I love what I do." 
Dr. Sally Roesch Wagner, founder and executive director, Matilda Joslyn Gage Museum
Dr. Sally Roesch Wagner's personal connection to Matilda Joslyn Gage started 50 years ago when she met the 19th century women's suffragist's granddaughter, setting her on a decades long journey that would bring her to the Erie Canal village of Fayetteville. There she would revitalize Gage's home, which was a station on the Underground Railroad and center of suffrage work, to bring the human rights champion back to her rightful place in history. "Never in my wildest dreams did I think I would be the one to do it, but when history calls you, when it needs you, you answer," said Wagner, who is a trailblazer herself having founded one of the first women's studies programs in the country and being one of the first two people to be awarded doctorates in women's studies. 
Every room is dedicated to a different cause and visitors are encouraged to interact with the home — sit on the furniture, take photographs, touch the artifacts — as they embark on a self-guided tour of Gage's fight for human rights.  "What we want people to have is an experience of self empowerment," Wagner said. "We want them to come away engaging with the ideas of the house, thinking through some of the issues we are still facing today that Gage raised, and thinking about how can I get involved?" It is also the only home where L. Frank Baum lived that is open to the public and features rare photographs taken by the author in the Oz Family Parlor. Gage told Baum, her son-in-law, to write his stories, and two years after her death, he published The Wonderful Wizard of Oz. Baum's Oz series is filled with issues Gage championed, including The Land of Oz which tells the story of a women's revolution. Visitors can also see the spot where Susan B. Anthony scratched her name in the upstairs window while working on the three-volume History of Woman Suffrage with Gage and Elizabeth Cady Stanton. The home is nestled in Fayetteville's historic district, meaning you can experience the town as Gage would have. "As you're coming up you're passing the houses that she would go by, then you can walk to the cemetery where she's buried and that's unique," Wagner said.

Photo: Grant Taylor Courtesy of Ulster County Tourism
Albert Grossman, legendary manager of Bob Dylan, Janis Joplin, and The Band, among others, created Bearsville Park in the 1960s as a utopian paradise for musicians to live, work, and perform amid the natural oasis of the Catskills near the banks of Sawkill Creek. Despite its deep roots in Woodstock's music history and heritage, the world-famous Bearsville Theater had fallen into disrepair by 2019. Then came Lizzie Vann. Drawn to the natural beauty of the Catskills, Vann rejected retirement and decided instead to do something she loved. "When you're young you kind of want to change the world on a big scale, but the older you get the more you can only change it on a small scale, so to me working with a very historic and rural community like Woodstock made lots of sense," Vann said. Over the last four years, Vann and her team have restored Bearsville to its original splendor.

Photo: Grant Taylor Courtesy of Ulster County Tourism
Visitors can come for a concert, take a tour for an inside look at the VIP green room, sip a handcrafted cocktail in the 100-person lounge that's been transformed into a mid-century modern paradise with a sunken bar and starry ceiling, relax in the garden where Grossman once held picnics for his musicians, and explore Bearsville Park on a walking trail dotted with 20 metal LPs marking its music history. Grossman's beloved restaurant, The Bear Cafe, is lined with never-before-printed pictures of famous guests creating the perfect setting for a unique fine dining experience of farm-to-table cuisine created by a Culinary Institute of America-trained chef. There's also the Bear Cantina, an artisanal creamery, and the Tinker Street Tavern. Vann is proud to give back to the community that she's chosen to call home and bring music and joy back to Bearsville. "It has a very special place in the hearts of a lot of people, not just from New York State, but from around the country and the world," Vann said. "It's great that we saved this piece of history and now we share it with people and they really enjoy it."
LeAnn Darland, Talea, Brooklyn, NYC

Credit: Sydney Butler; Photo courtesy of TALEA
Williamsburg is home to New York City's first female-owned and -operated brewery, TALEA. Co-owners and co-CEOs, LeAnn Darland and Tara Hankinson met while working at a beer e-commerce startup and immediately bonded over their love of beer. Just three months later, they started working on TALEA with the goal of creating a beer company that was fun, friendly, and approachable. Many now flock to the bright, colorful, and airy taproom, as well as their second location in Cobble Hill, to imbibe beers of varying styles with playful and unique flavor profiles from hazy IPAs to lagers to fruited sous. "One of our goals has always been to convert non-beer drinkers into beer lovers with our fruit forward sours," Darland said. "So apart from feeling relaxed and welcomed, we want people to walk away thinking 'I never knew beer could taste like that!'" 

Credit: Reid Rolls; ​Photo courtesy of TALEA
TALEA is celebrating Women's History Month with a series of events throughout March including a women's wellness workshop, Ta-Ladies Night, and the release of their new Spicy Marg beer, brewed by women in honor of International Women's Day. Another event later in the month will feature a curated menu with goods from local female-owned brands. "Though a love of beer is what brings most people into our spaces, we strive to create a community that goes beyond beer," Darland said.
If you want to meet some friendly animals and try some of the world's greatest cheese, you've come to the right place. In 2005, Sheila Flanagan and her partner packed up their dogs and Nigerian dwarf goats, left California and their legal professions behind, and settled on a farm in the Adirondacks where they started Nettle Meadow, a cheese company and farm sanctuary. They've been racking up accolades for their cheese ever since, with their Kunik being named one of the Top 20 Cheeses in the World in 2022. "We never sit on our laurels, we're always experimenting," said Flanagan, who's excited for their new Drunken Sheep cheese coming out for St. Patrick's Day and blue cheese kunik that's in the works. 
Nettle Meadow operates on a "culture of caring" and there's no better testament to that than their farm sanctuary in Thurman. "It's made it a really magical place," Flanagan said. "The people who come and visit really enjoy it and have a great experience meeting all of these animals that are very interactive." Visitors can embark on a self-guided tour (free 90-minute guided tours are also offered on Saturdays) to meet the goats, sheep, Highland cows, peacocks, miniature donkeys, pardoned turkeys and their miniature pig barnmate Lucy, chickens, ducks, cats, rams, and llama. After the farm, head over to the old Hitching Post in Lake Luzerne, where Nettle Meadow now produces their cheese. Get a behind-the-scenes look into the entire cheese production process and see one of the largest fireplaces in the Adirondacks in the viewing room before heading into the tavern. Order a cheese board or check out the full menu of hearty dishes from mac and cheese to chicken pot pie, all of which use cheese as an ingredient. 
---
Share New York State adventures with us on TikTok, Instagram and Twitter with #ILoveNY and #iSpyNY, and tag us on Facebook!