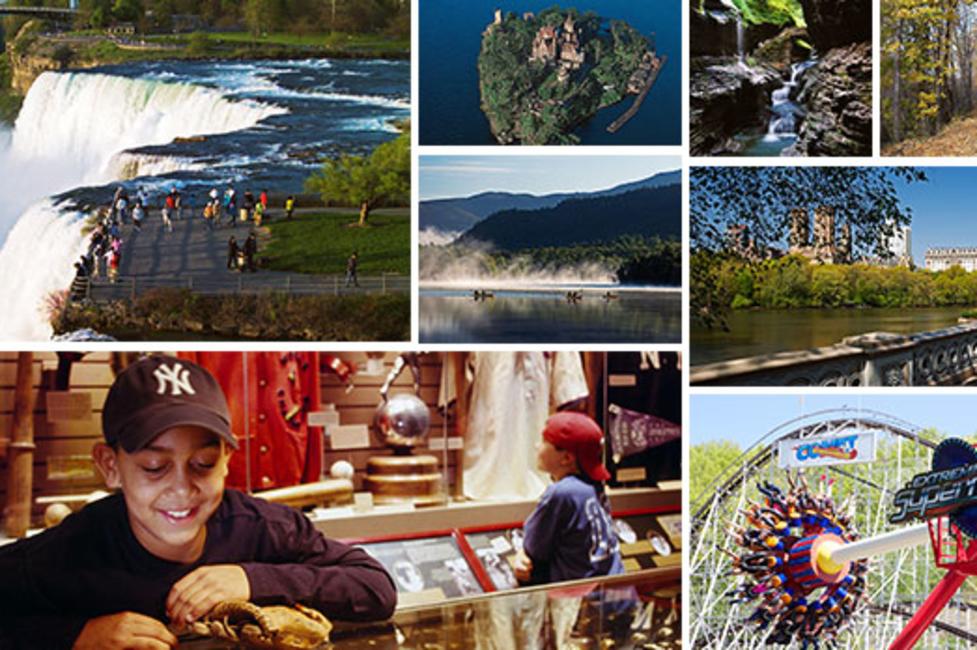 In honor of summer's imminent arrival, we rounded up some of New York State's top attractions and had them face off--March Madness style. Thousands of fans voted on Twitter, and New York City's Central Park emerged as the ultimate winner. But with all due respect to Manhattan's crown jewel, the real winner is anyone who gets out and explores all that New York has to offer in the summer months. Check out our full list of attractions below, and see how many of them you can hit before the leaves start to fall!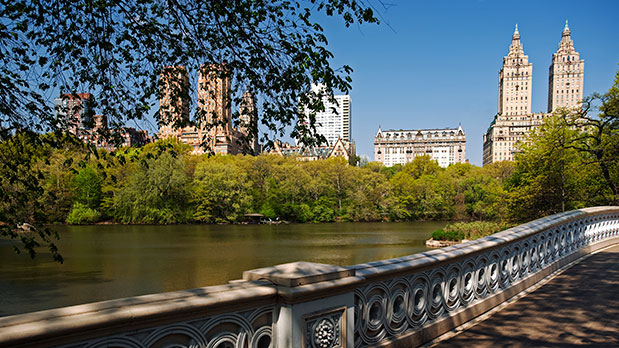 Central Park
Central Park is the most frequently visited urban park in the United States with 42 million visits each year to its 843 acres of sheer beauty. The park is home to ballfields and playgrounds, statues, a Nature Conservancy, monuments, bridges, ponds and woodlands. You'll find endless activities and sights to explore.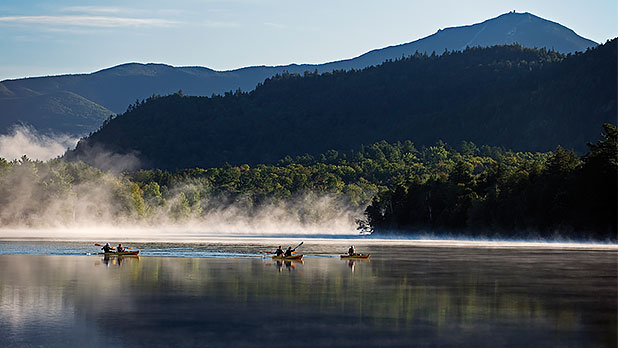 Lake Placid 
Fed by a network of springs and mountain  streams, Lake Placid is one of the cleanest freshwater lakes in the world. In the summer, it's a fantastic destination for boating, water skiing, swimming and more. Set up camp at one of several local campgrounds, and be sure to explore the nearby village of Lake Placid, which hosted the winter Olympics twice. You can take a bobsled ride here year round!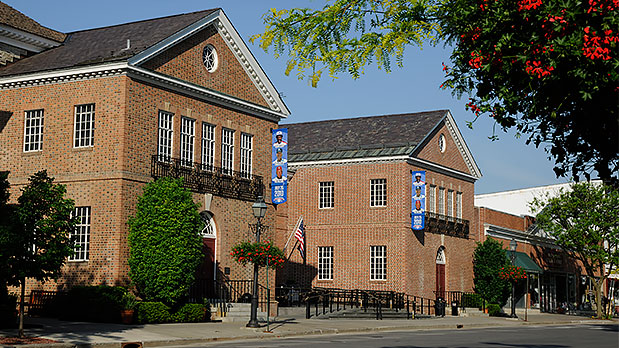 National Baseball Hall of Fame
All hail America's sport! The newly renovated Baseball Hall of Fame Museum is a not-for-profit educational institution dedicated to preserving the history of the game, honoring its outstanding contributors and connecting generations of fans.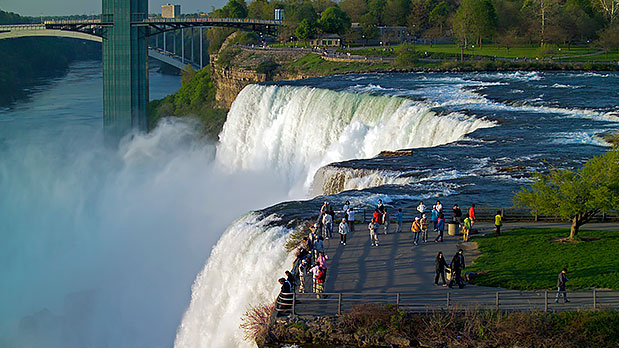 Niagara Falls State Park
Discover the majesty and beauty of the Niagara Falls this summer. Get misted by the magnificent spray of the falls then wander the surrounding State Park. The wonderland that surrounds the Falls includes gardens, over 15 miles of challenging hiking trails and (not surprisingly) stunning views.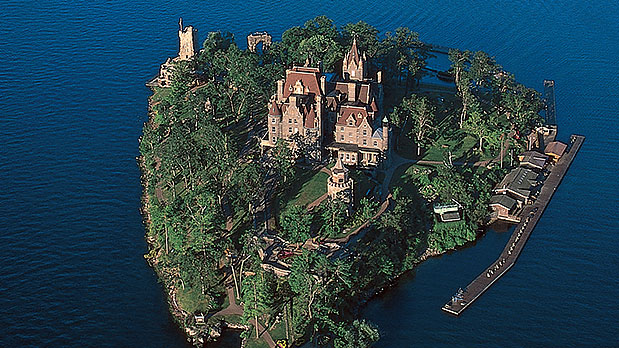 Boldt Castle
Pay a visit to stunning Boldt Castle, a 120-room Rhineland-style castle and yacht house built at the turn of the 20th century in Alexandria Bay. Learn the history of the castle with a self-guided tour by audio – you can pre-purchase a souvenir audio guide before you embark on your journey.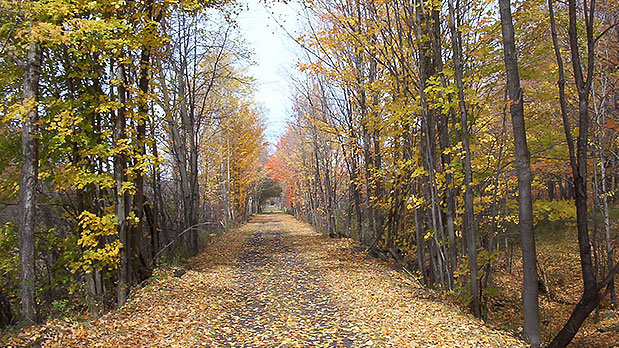 Catskills Scenic Trail
Explore the Catskills Scenic Trail in Delaware County, where you can hike, bike, stroll or ride horseback. Soak in the stunning rolling mountain vistas and Delaware River headwaters while you breath in that fresh mountain air. Don't forget to pack a picnic!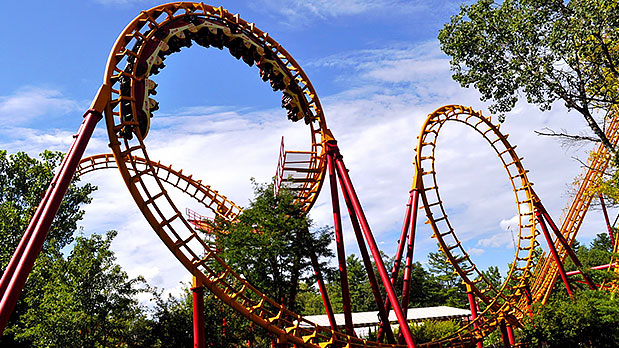 Great Escape and Splashwater Kingdom
From pulse-pounding roller coasters and speedy water slides to gentler rides for tots, there's something for everyone at this popular Adirondacks amusement park (which opens for the season on May 21). This year, the park unveils the brand new looping coaster Greezed Lightnin', making it an even more essential destination for thrill seekers of all ages.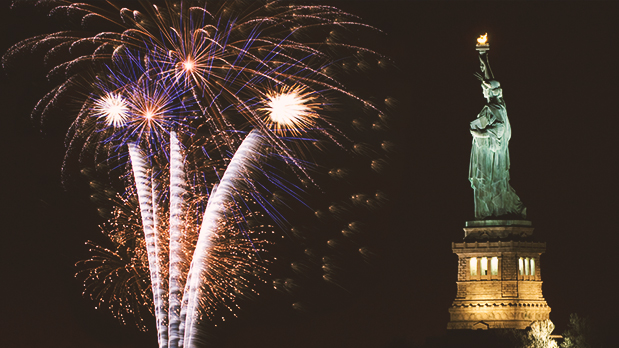 Statue of Liberty
One of the most iconic attractions in the world, Lady Liberty has presided over New York Harbor since 1886. A gift from France meant to symbolize the friendship between the two nations in the wake of the Revolutionary War, the monument has since greeted thousands of immigrants on their way to America via nearby Ellis Island, and now welcomes millions of visitors every year.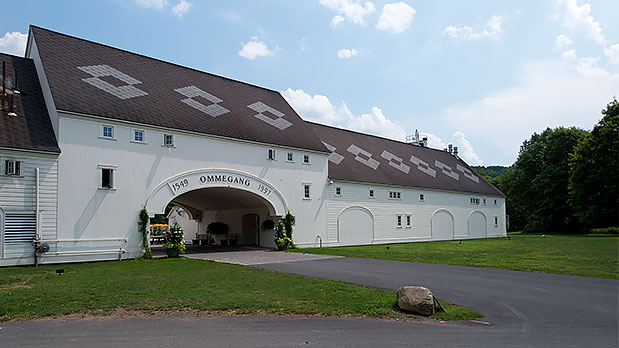 Brewery Ommegang
This Cooperstown brewery is best known for its variety of top-notch Belgian-style ales. Sample the many different brews and take a tour of the brewery, then make sure to pay a visit the café to enjoy a bite on the scenic patio before you leave.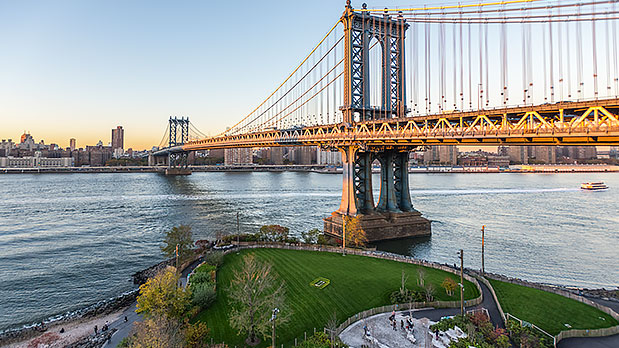 Brooklyn Bridge Park
This 85-acre development under the majestic Brooklyn Bridge is one of New York City's most scenic and relaxed spots. Spend an afternoon exploring the piers, lawns and even a beach in this urban oasis with the Manhattan skyline twinkling in the distance.
Chautauqua Institution
Chautauqua Institution - a community on the shores of Chautauqua Lake in southwestern New York - comes alive each summer with a unique mix of fine and performing arts, lectures, recreational activities and more. Learn, enjoy and expand your intellect here, all while soaking in the beautiful, historic lakeside village.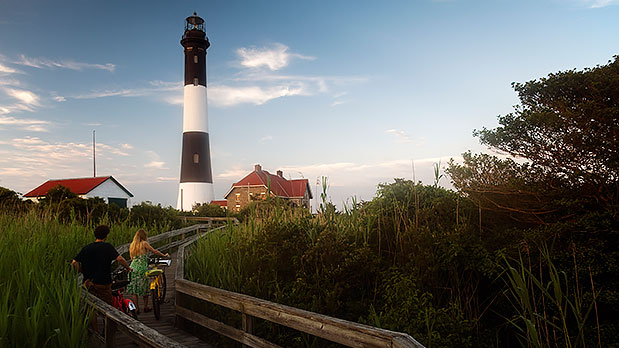 Fire Island National Seashore
Explore a maritime forest, soak in some rays and stroll along some of the most pristine beaches on the east coast. The Fire Island Lighthouse was built in 1858 and is located on the western end of the (mostly car-free) barrier Island. Climb the stairs and you'll be rewarded with stunning views of the Atlantic Ocean.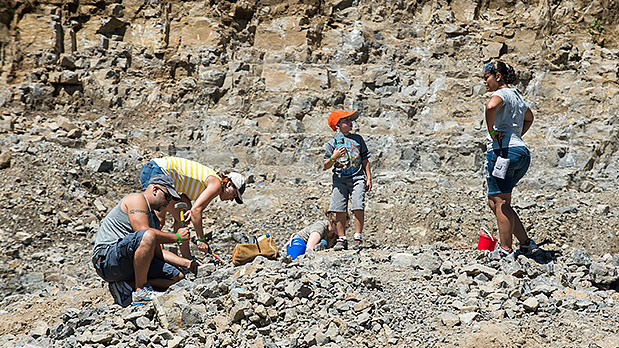 Herkimer Diamond Mines
Capitalize on a unique opportunity to mine for "diamonds" (quartz crystals unique to the area)  this summer along the West Canada Creek in Herkimer Buy package that includes use of a rock hammer, all day museum entrance and mining information. Then, after you find your diamonds, visit the nearby Diamond Activity Center for jewelry classes, appraisals, geode cracking and more!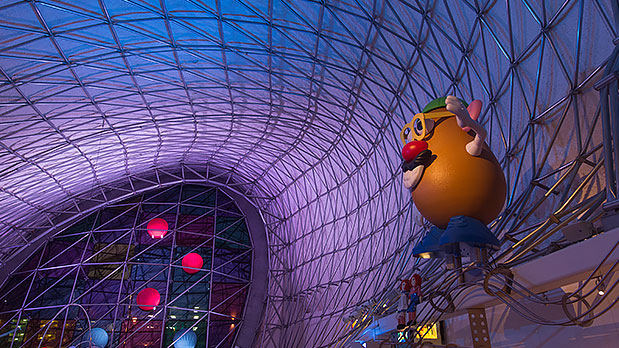 Strong National Museum of Play
This Rochester museum is the only major museum in the world devoted entirely to the study and interpretation of play, and is sure to bring out the inner kid in anyone. Complete with a comprehensive collection of dolls, toys, and play-related objects, the Strong is the second largest children's museum in the country, and largest year-round family attraction in Western New York.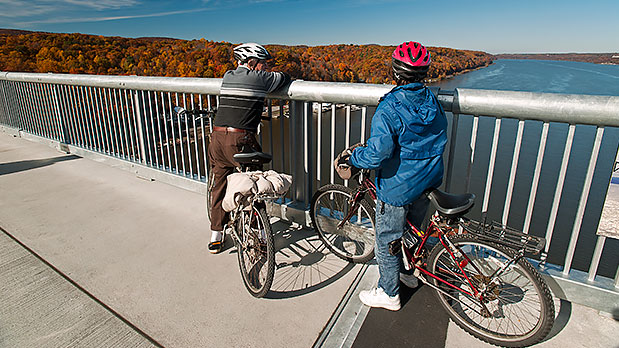 Walkway over the Hudson
The Walkway over the Hudson is the longest pedestrian bridge in the world! The elevated trail follows a renovated railroad bridge, spanning the stunning Hudson River, offering awesome views of the water and the surrounding area. Sunsets here are especially unforgettable.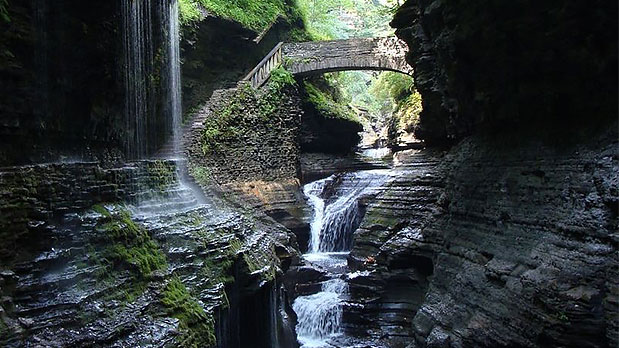 Watkins Glen State Park
Perhaps the most famous of the Finger Lakes State Parks, Watkins Glen State Park is a natural wonder with 19 waterfalls. Hike the gorge path and experience 400- to 200-foot drops. Take a guided tour or explore on your own! Whatever you do, bring your fishing pole. Excellent fishing exists nearby at Seneca Lake and Catherine Creek, which is filled with rainbow trout.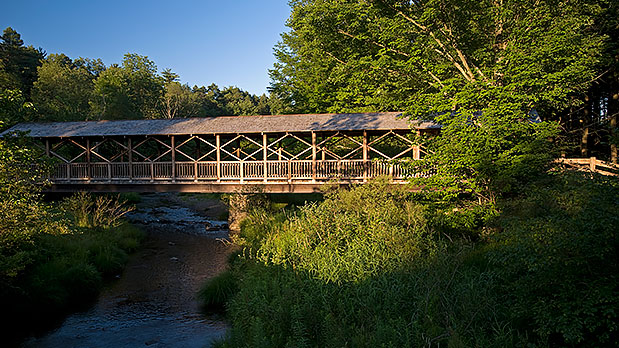 Allegany State Park
This state park is located in beautiful Western New York is divided into two sections, the Red House Area and the Quaker Area, each boasting a variety of natural wonders and manmade wonders, including bikeways, ball fields, tennis courts, beaches, picnic areas and playgrounds. It's the perfect place to spend a summer day.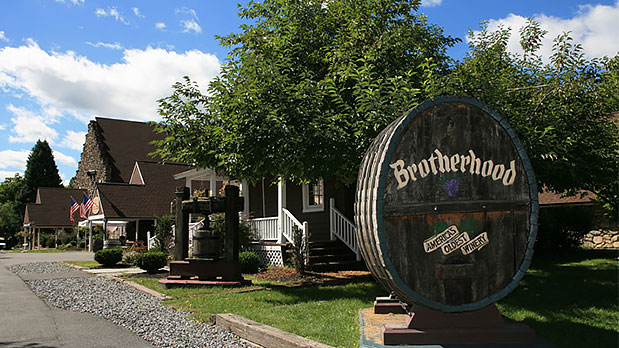 Brotherhood, America's Oldest Winery
Wine lovers and history buffs take note: America's oldest winery is located right in New York's Hudson Valley. Here you can tour the massive wine cellars, sip vino in the tasting room and take home a few bottles. Weekends often feature family-friendly events.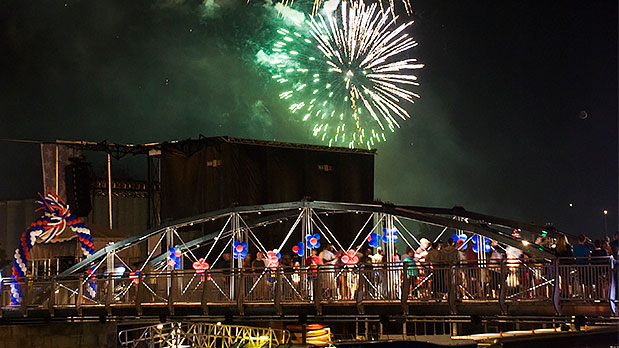 Canalside
Canalside is your destination for all things fun and cultural in downtown Buffalo. Located on Lake Erie, Canalside offers over a thousand activities, including cultural events, festivals, concerts and more. There's a little fun for everyone! 
Corning Museum of Glass
Ever wonder how glass is made? Travel to the Corning Museum of Glass to learn about hot glassworking, flameworking, fusing, sandblasting and more. Make your own glass piece (under the watchful eye of experienced glass workers) and explore stunning objects made by local artists.  
Dia:Beacon
Travel to Beacon for an arts infusion. Experience the Dia Arts Foundation's renowned collection of art spanning from the 1960s to present. Artists include top names like Joseph Beuys, Donald Judd, On Kawara, Agnes Martin and more.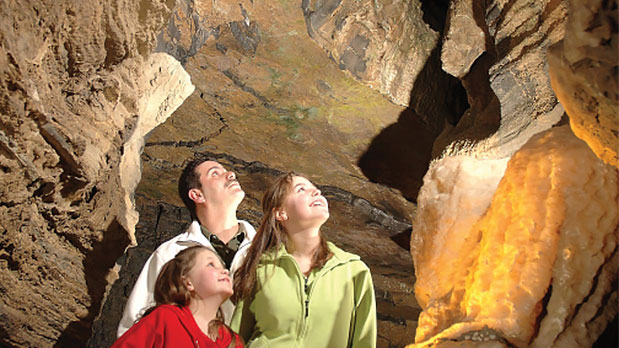 Howe Caverns
Howe Caverns is the second largest most visited natural New York attraction, just after Niagara Falls. It is the largest cave open to the public in the Northeast, and offers everything from guided tours and underground boat rides to zip lines and gemstone mining.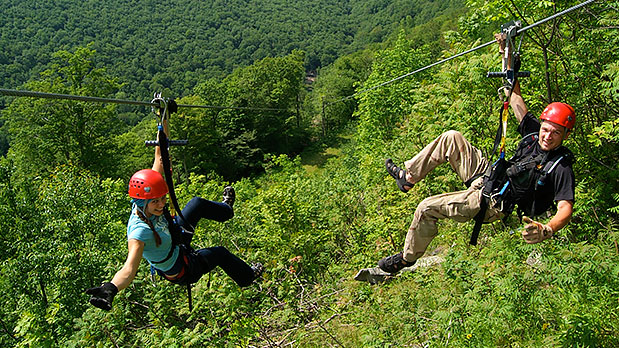 New York Zipline Adventures 
This zipline located at Hunter Mountain in the Catskillis the longest and highest zipline canopy tour in North America. Get a thrill from one of the three adventure experiences – the Adventure Tower, Mid Mountain Tour or the Skyrider Tour – or enjoy all three!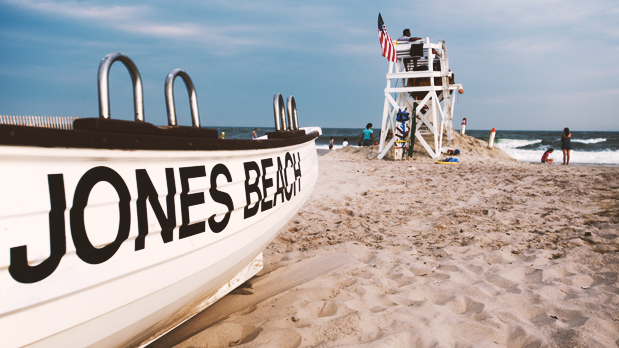 J
ones Beach
Jones Beach on Long Island offers surf and sun on over six miles of ocean beach. Bring your friends and family to swim, surf, fish, boat and watch migratory birds. Even if you're not looking to get sand in your shoes, there's plenty to do: Play a round of golf, or stroll along travel the two-mile boardwalk.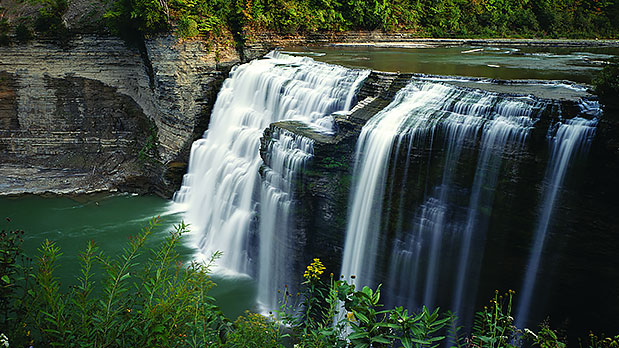 Letchworth State Park
This park is known as the "Grand Canyon of the East" and sprawls over 14,350 acres of woodland with gorges of more than 600 feet carved by the Genesee River. Wander the beautiful park, then stop at The William Pryor Letchworth Museum, which tells the story of Letchworth State Park from the prehistoric era to today.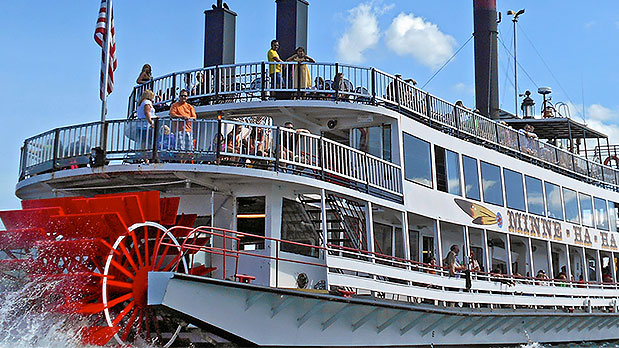 Lake George
Located at the base of the Adirondacks, Lake George is as fun as it is beautiful. Head to the Village of Lake George where nautical activities from cruises to parasailing await you. Or just work on your tan on one of the lake's sandy beaches, before exploring the delightful beach town at night.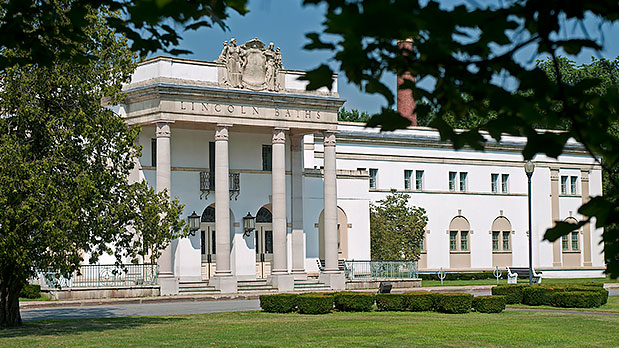 Saratoga Spa State Park
Saratoga State Park spans more than 2,000 acres, with natural wonders like mineral water springs and baths (perfect for that summer dip!), a golf course and a boat launch. Distinguished by its classical architecture, this National Historic Landmark is known for its beauty, culture and recreational resources.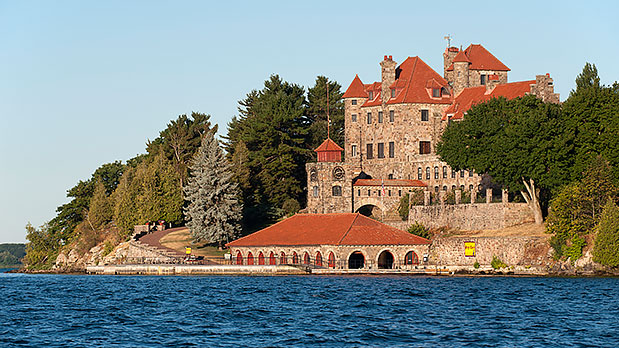 Singer Castle 
Singer Castle on Dark Island is a 28-room Scottish-inspired palace built in the early 1900s. It was first occupied by the Frederic Bourne, a CEO of Singer Sewing Machine Company, and his family. Now you can visit the historic landmark to explore the five-story clock tower, four-story boat house and hidden passageways between almost every room and outbuilding.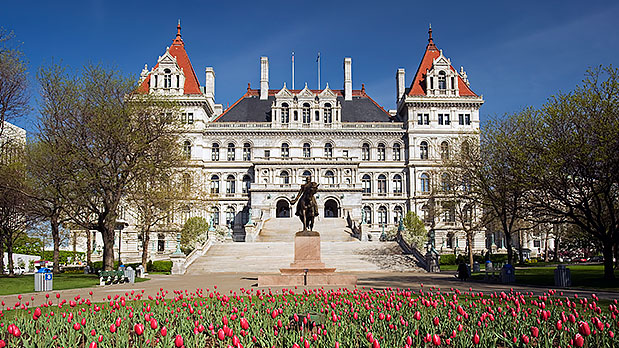 New York State Capitol
This National Historic Landmark has served as the seat of New York State government since the 1880s. Sitting atop Albany's State Street hill, the capitol is a marvel of 19th century architecture with intricate and elaborate carvings. New York-focused exhibits rotate throughout the year, and the historic Hall of Governors is open to the public.
Storm King Art Center
Storm King is widely celebrated as one of the world's leading sculpture parks, welcoming visitors from across the globe for 50 years. Located in the lower Hudson Valley, you can feast your eyes on the sculpture park as well as the area's pristine 500-acre landscape of fields, hills and woodlands.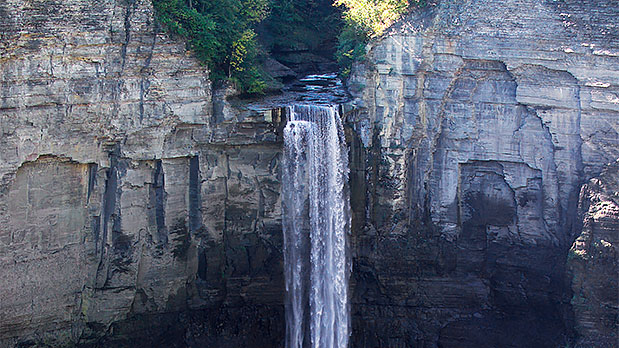 Taughannock Falls State Park
Travel to Taughannock Falls State Park, where you can feast your eyes on a 215-foot waterfall and wander along Taughannock Creek via four different paths. Go swimming, boating, hiking and enjoy concerts from July through August. Stay the night by grabbing a spot on the campground or a cabin nearby.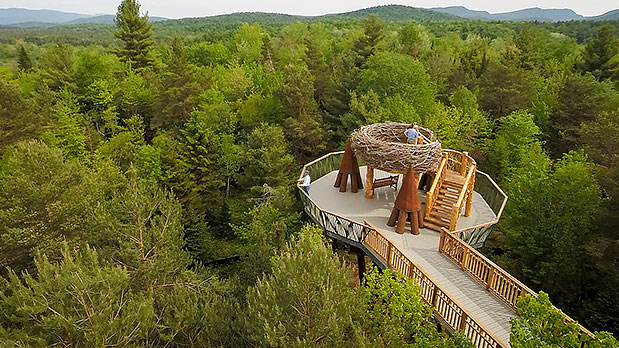 Wild Center & Wild Walk
Explore the Wild Center, which includes 81 acres of beautiful nature, then check out the 54,000-square-foot museum with movies and live animals, guided canoe paddles and hands-on activities. And be sure to check out the Wild Walk, which offers a stunning view of the Adirondack forest from atop the trees.