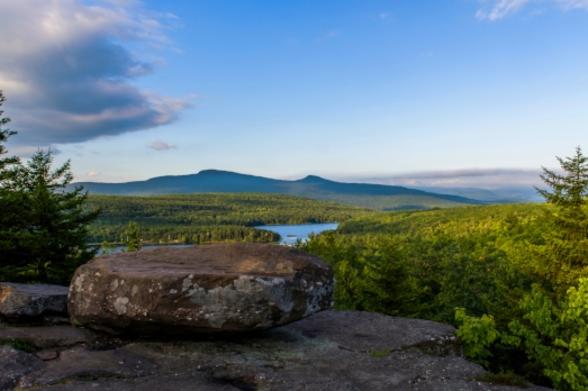 Traveling to Manhattan this summer? Extend your trip! There are plenty of easy stopovers to experience New York State in all its glory a mere hour or two away. 
Sag Harbor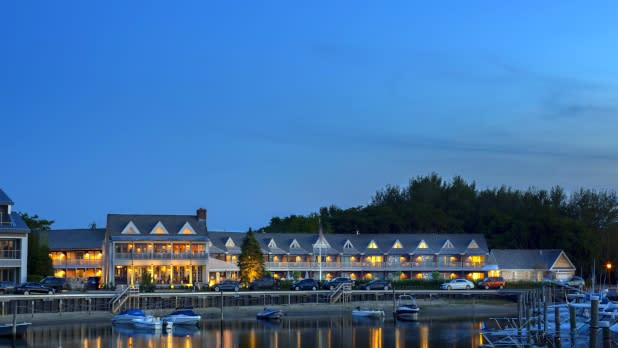 Stop by Baron's Cove for a family-friendly, pet-friendly stay in one of Long Island's most coveted beach towns. Jay McInerney, novelist and wine connoisseur, is the wine director at this resort's fine-dining restaurant and offers varietals from his own personal collection. Head there during the summer for various unique culinary events, including seafood happy hour, barbeques, and pork roasts, as well as live events like nightly music.
Stroll along Mashomack Preserve on Shelter Island, considered one of the richest habitats in the Northeast and often referred to as the "Jewel of the Peconic." Ride along the shore of Block Island Sound horseback with your family, friends, or loved ones at sunset for an evening you'll never forget with horses from Deep Hollow Ranch in nearby Montauk. Enjoy hitting balls at the Sag Harbor Golf Course to soak in some sun.
The Hamptons Jitney stop in Sag Harbor is within walking distance from the hotel—so no car is needed for this relaxing beach vacation. 
Woodstock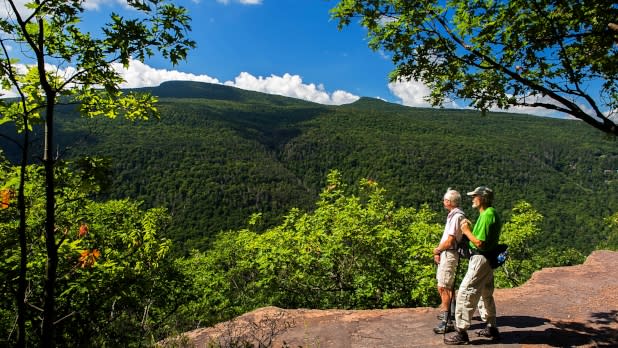 Check into the Woodstock Inn on the Millstream for a charming and relaxing stay by the stream in the middle of Woodstock Village. The 1969 Woodstock music festival did not actually take place here, but the town remains a New York State hub of art and music easily accessible from Manhattan—the perfect stopover destination for culture seekers looking to get away from it all.
There's no better way to gain your bearings in this town than by exploring it on wheels. Rent a bike at Overlook Mountain Bikes and hit the trails. You won't want to bring your bike back until sunset. Spend the day hiking one of Woodstock's many stunning trails. Warm up with the hike with the biggest payoff—a one-mile trail to Kaaterskill Falls, a two-drop waterfall that is a frequent muse for Hudson River School painters. Graduate onto the Overlook Mountain path, which is a little more than two and a half miles—all uphill—and offers stunning views of both the Hudson Valley and the Catskills. Enjoy some live entertainment the Woodstock way at one of two venues owned by the Byrdcliffe Arts Colony (among the country's first utopian arts communities), and the Byrdcliffe Theatre. This place always has something good going on, from exhibitions to live music to workshops. Make sure to check the performance schedule. The Woodstock Playhouse and Bearsville Theater also have weekly performances worth checking out. 
To get there, take the Adirondack Trailways bus to Woodstock—the bus stop is in the center of the town. 
North Fork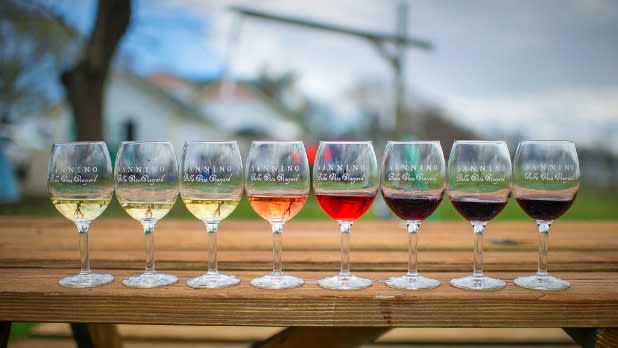 Enjoy a relaxing getaway at the North Fork Table and Inn for a progressive and delicious Euro/American country stay. Long Island's vineyard-studded North Fork is the perfect weekend stopover for food and drink enthusiasts. You will spend your weekend sampling New York State varietals and locally made dishes, then hit the beach for sun-soaked kayaking on the bay.
Ocean-washed air fills the evening and the clink of stemless glasses carries from a nearby bistro—you've arrived at the North Fork. View the Long Island Wine Council schedule for your Friday Night winery event at lush vineyards from Bedell Cellars to Sannino Bella Vita and more. For live music, charming boutiques and restaurants with outdoor seating, stroll the streets of Greenport, a vibrant beach village where an adorable historic district and marina create an enchanting evening. Spend the early afternoon on Gardiner's Bay at the Orient Beach State Park, a rare maritime forest with red cedar, black-jack oak trees, and prickly-pear cacti. Explore by foot, or rent a kayak or canoe from Eagle's Neck Paddling Company.
This beautiful wine village is just a two-and-a-half-hour trip on the LIRR from Penn Station to Mattituck.
Hudson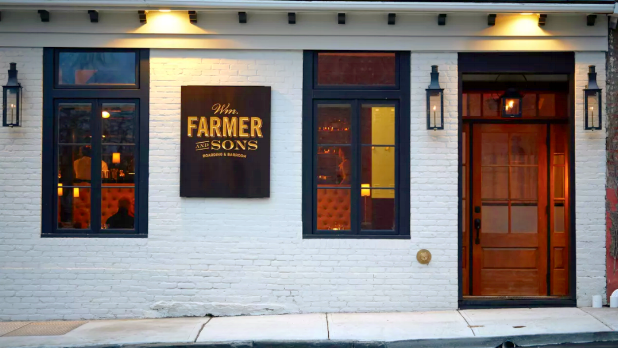 Stay at WM Farmers and Sons for a lovely jaunt in the heart of the beautiful Hudson, a pedestrian-friendly village with beautiful architecture and delightful fresh food that has visitors coming back year after year. Enjoy craft cocktails and a gratifying farm-to-fork fare at WM Farmers and Sons' delicious in-house restaurant. You'll experience a trendy ambiance with a unique and extensive menu that includes creative small plates like garlic-roasted mushrooms to traditional entrees like pasta and burgers with hand-cut fries. 
Head to Helsinki, one of the nation's leading arts and music venues, to hear great tunes in superb company. Hosting a range of performers from Brooklyn-based rock bands to eclectic jazz artists, check their music lineup to see what's up next, then come by for a killer show with an intimate atmosphere. Hike more than three miles of trail systems at the 714-foot Greenport Conservation Area overlooking the Hudson River and the Catskill Mountains where you can picnic amidst the beautiful flowers and take a workshop on farming. Visit an iconic landmark, the Hudson-Athens Lighthouse, that sits between the towns of Athens and Hudson and served as their manned lighthouse until the 1950s. Today, the lighthouse still serves as an aid to navigation, guiding ships safely around the Middle Ground Flats.
To get there, hop on Amtrak at Penn Station for two hours to Hudson Station, then walk 10 minutes into town.
New Paltz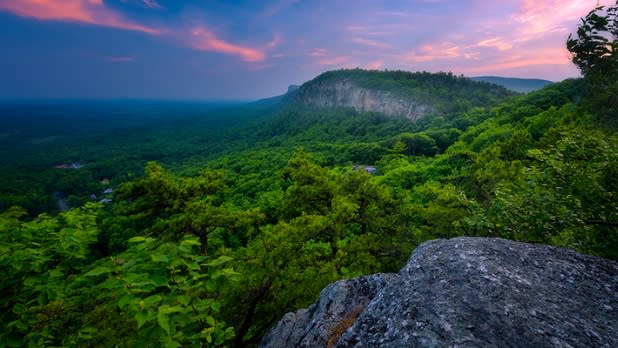 Hop on Metro-North for two hours from Penn Station to Poughkeepsie, where you'll find the village of New Paltz and historic Mohonk Mountain House perched on a cliff. The 136-year-old National Historic Landmark and Historic Hotel of America is a stunningly renovated castle with all-inclusive activities for the whole family, including boating, golf, tennis, a spa, hiking trails, and yoga. Mohonk was named a "Best Hotel Kids' Programs in the U.S." by Travel + Leisure, and it offers structured activities for young children, teens, and aspiring naturalists in a fairytale-like environment.
In New Paltz, you'll find farm-to-table and vegetarian options, fine and casual dining, wine bars, and even seasonal beer and food pairings at the local brewpub. Stroll Main Street for eateries galore. Hike Mohonk Preserve or Minnewaska State Park for a stunning step into nature. Practice your golf swing at the New Paltz Golf Course where you can get a lesson or hit the driving range. 
Share New York State pictures on Instagram and Twitter with #ILoveNY and #iSpyNY and tag us on Facebook!