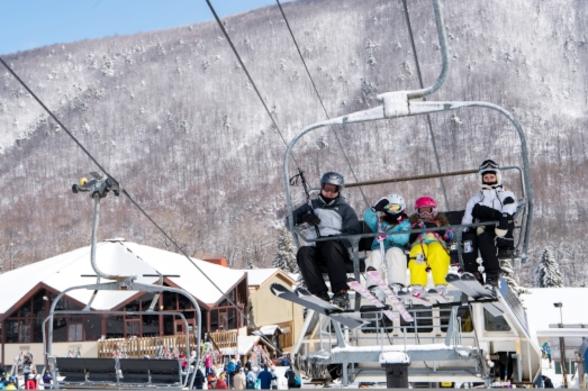 'Tis the season to hit the slopes for some winter fun. New York has some of the best skiing on the east coast, and whether you're a pro or still on the bunny hill, New York has it all. Here's why your next cold-weather getaway should be right here in New York.
Read more: New York State Ski Report
Family Skiing on a Budget

Plattekill Mountain 
If you're looking to take the family skiing on a budget, New York can help. ISKINY has a program where kids learn to ski for free! Sign up here and get your kids on the slopes at no cost to you.
A Variety of Skill Levels

Belleayre Mountain
"Variety is the spice of life" certainly applies to skiing in New York. With more than 50 resorts throughout the state, there are plenty to choose from. With a wide range of casual getaways to thrilling double-black-diamonds, there is a destination for all skiing levels. 
Learn-to-Ski Programs

Holiday Mountain
Have you always wanted to learn to ski or snowboard but never got around to it? Now is the time, and New York wants to help! All throughout the state, most resorts have programs where you can receive lessons in how to ski safely and go from a beginner to a pro in no time.
Package Deals

Bristol Mountain
You can cut down the hassle of deciding where to stay for your ski trip. There are package deals throughout the state to help you get the best ski for your buck. These packages include lodging, lift tickets, and more.
Bring-a-Friend Programs

Greek Peak Mountain
Skiing can be more fun if you share it with a buddy, and ISKINY agrees! With the Bring a Friend program, your pal can learn to ski and you can save big on lift tickets. By acting as a ski ambassador, you can save up to 50% on your ski adventure!
High Vertical Drops

Whiteface Mountain
You don't need to go out west to play on a mega mountain. Whiteface Mountain boasts the highest vertical drop in the East at 3,430 feet, plus 22 miles of trails to explore.
A Variety of Scenery

Hunter Mountain
Skiing is all about different slopes for different folks, and New York has quite a variety of mountains to choose from. Rush down the Adirondacks or get some distance across the Catskills—it's all here for you to experience and enjoy.
Transportation from NYC
Are you a city dweller without a car drive to a weekend getaway in the snow? Don't let a lack of wheels keep you from a winter vacation. Check out these bus companies that can pick you up at stops throughout Manhattan, Brooklyn, and Queens!
Don't forget to post photos of your New York winter adventures on Instagram and Twitter with #iSpyNY and tag us on Facebook!