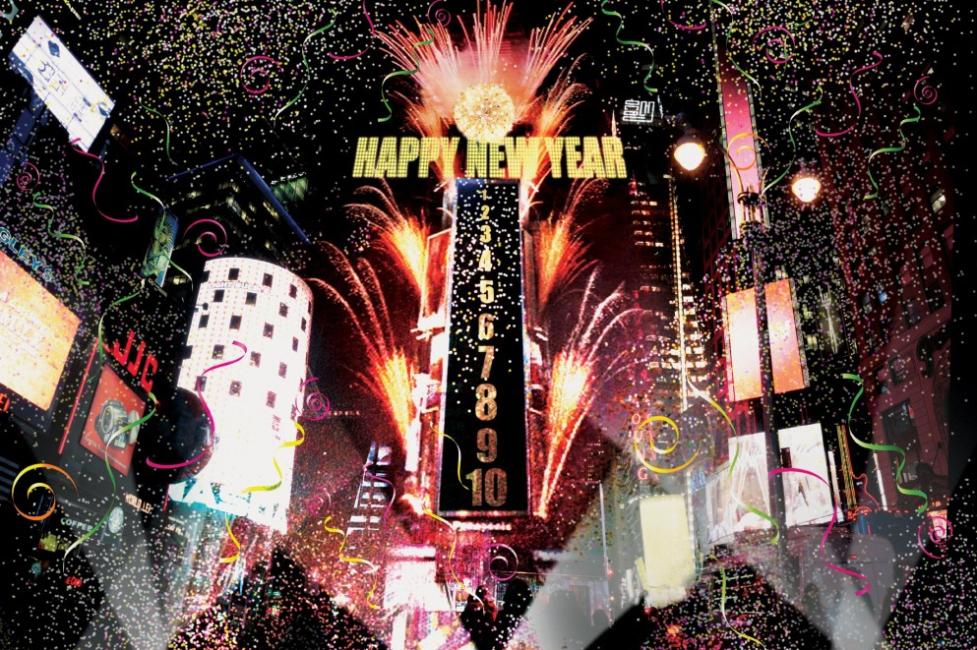 So you're heading to the Big Apple to celebrate the start of the New Year. Sure, the 11,875 pound ball dropped at Times Square may seem like the main attraction-but make no mistake, New York City is host to bashes, bands, and brunches sure to make this New Year's Eve one you'll never forget.
Before the ball drops, take the opportunity to explore some of the city's lesser-known attractions, like the High Line, an elevated public park built on a historic freight rail line. Head to Manhattan's West Side for beautiful city views from 30 feet above the street. It wouldn't be winter in the city without hitting the rink at Winter Village-this 170' x 100' outdoor ice rink in the center of Bryant Parkfeatures free admission and plenty of skate rentals if you didn't happen to pack your own.
Looking to do some shopping? Everyone's happy to wander the famed Fifth Avenue, but if you're looking to shop like a local, head to Orchard Street on the Lower East Side. This historic bargain district offers too-good-to-be-true prices on leather goods, shoes, luggage, and linens-or stop into one of the hip boutiques peppering Orchard Street to find the perfect outfit for your last night of 2013.
Instead of wrestling for reservations at one of the famed eateries at Times Square's Restaurant Row, grab a slice of true New York-style pizza at Joe's. If pizza isn't your thing, enjoy a meal on wheels at one of the city's famed mobile food trucks. Hunt down the Calexico cart for a carne asada burrito, made with grilled hangar steak and avocado sauce. Not quite ready for a full meal? Skip straight to dessert at The Cinnamon Snail, which serves up famed vegan-friendly donuts and other delectable treats.
When it's time for The Ball Drop, don't get lost in a sea of 1 million people and 2,000 pounds of confetti (no, really). This free public event is open to all on a first-come, first-serve basis, so to get the best possible seats you'll need to show up early in the afternoon. For a guaranteed good view, purchase tickets to one of dozens of private parties hosted by restaurants and hotels in Times Square.
If you plan to take your chance at the public celebration in Times Square proper, the Alliance recommends watching on Broadway between West 43rd and West 50th Streets and on Seventh Avenue up to West 59th Street (but the best seats are taken by 3 PM). Remember, there's no alcohol-and public restrooms at the Times Square Museum & Visitor Center will close at 8 PM, so plan accordingly. You also won't be let past barricades with a bag. But our best tip of all:  have fun! The ball rises to the top of the flagpole at 6 PM. Before the big event, enjoy live music, hourly countdowns and even midnight-smooch practice.
After the ball drops-Happy 2014!-there are plenty of places to wet your whistle. But for a truly unique experience, why not explore the city's "speakeasy" scene? Step into an unassuming East Village phone booth and you'll be transported to an underground cocktail lounge the likes of which you've never seen. Enjoy high-end specialty drinks at the one-of-a-kind Please Don't Tell-but call in advance if you plan to stop by, as space fills up quickly.
Before you know it, it's the very first morning of the New Year-and there's only one way to end your celebrations like a real New Yorker:  brunch. For an unforgettable meal, head to B.B. King's Blues Club, where the world-famousHarlem Gospel Choir will serenade you over eggs Florentine and Creole jambalaya. If you've set your sights on a glamorous champagne brunch, Beauty & Essex is fit for the stars. Try their famed Bloody Mary with bacon-infused vodka.
On your way out of town, stop at the Top of the Rock to bid the city goodbye. Gaze upon the majesty of Manhattan from 70 stories up! The Top of the Rock is open from 10 AM until midnight on New Year's Day (catch the last elevator to the top at 11:10 PM). Happy New Year!