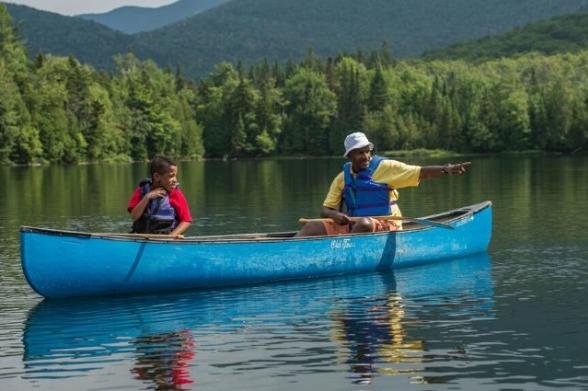 In New York State, you're never far from nature. In fact, without having to travel much at all, you can find beaches, lakes, mountains, and trails, which means it's easy to get outdoors and safely enjoy all sorts of soul-satisfying activities. In the mood for a reflective hike in the woods? A challenging mountain bike ride or a more relaxed pedal through rolling hills? A family camping trip? New York offers all this and more. Remember to social distance and wear a mask as required by state guidelines. Call ahead and check websites and social media to make sure attractions are open and available. 
Updated 6/17/21
Camping and Glamping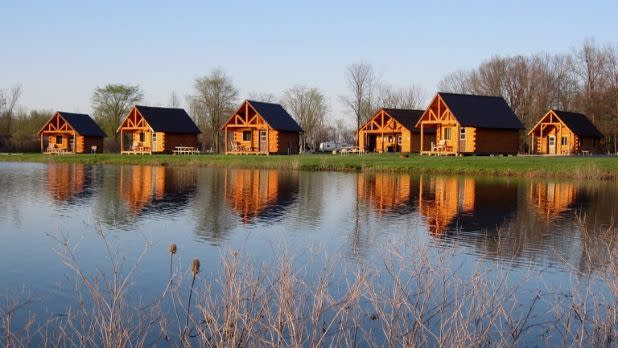 New York has hundreds of campgrounds throughout the state, from the western reaches of Chautauqua-Allegheny and Greater Niagara to the tip of Long Island, from the Thousand Islands up north to Governor's Island in New York City. Campsites offer an affordable way to get into the great outdoors, with nearby amenities like fishing, canoeing, and hiking to add to the trip. Many campgrounds offer tent and RV sites, and some offer cottages and cabins—such as Branches of Niagara Campground, pictured. Want a more upscale experience while still getting that "under the stars" feeling? Try glamping in New York State—with well-appointed tents, yurts, and even traditional tipis. 
Sculpture Parks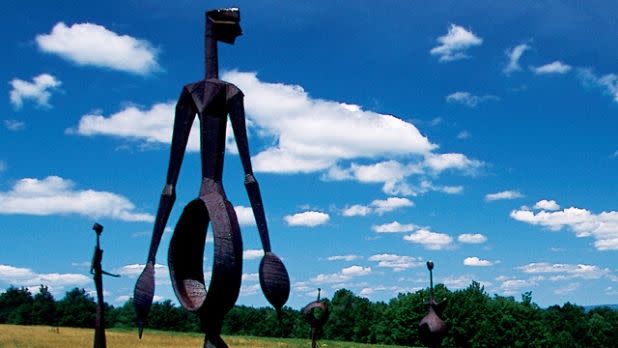 New York State features several of the most prominent and well-curated sculpture parks anywhere, with world-class art in stunning outdoors settings. Storm King Art Center in the Hudson Valley, known for brilliant outdoor sculptures in a scenic setting on 500 acres, is open with limited capacity and social distancing measures, with indoor facilities remaining temporarily closed. Timed-entry ticketing will be based on the number of visitors per vehicle ($20-$84) with a maximum of six people over age 5 (ages 5 and under will not be counted in the total). Art Omi, also in the Hudson Valley, is limiting visitors as its parking lot fills, but early birds to the 120-acre site get to walk among a mix of site-specific installations and rotating exhibits. Griffis Sculpture Park (pictured) in Chautauqua-Allegheny features more than 250 large-scale sculptures along its hiking trails. Both Art Omi and Griffis are open dawn to dusk depending on capacity, and are free (though donations are recommended). Opus 40 in the Catskills is the work of artist Harvey Fite, who took inspiration from Aztec and Mayan stonework as well as local quarries to create this sprawling sculpture park. A popular area attraction, it's currently open only to 30 ticketed visitors for two-hour intervals ($11 adults, $9 students and seniors, free for children under 4). As a New York City public park, Socrates Sculpture Park remains open from 9 am-sundown with social distancing protocols in place. The Queens park features a variety of contemporary sculptures in its collection and debuted a new show, "Monuments Now." 
Fishing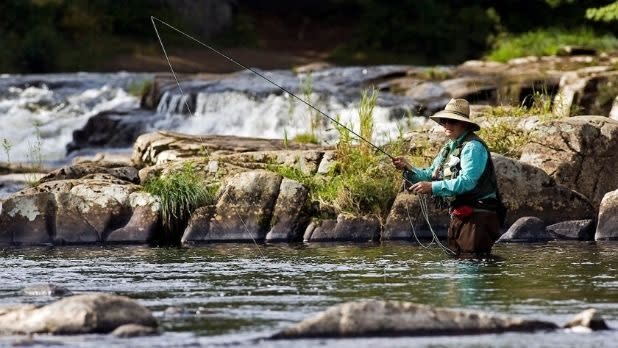 From streams to lakes to rivers to oceans—New York offers every type of fishing imaginable, in every nook and cranny of the state. Purchase your affordable fishing license, get your rod and reel and bait and tackle, and head to the nearest body of water for a day of recreation and angling. Near the Catskills? The region is known as the birthplace of fly fishing, and its streams, rivers, and creeks offer many opportunities for a relaxing day of casting. The Adirondacks is another fly fishing paradise, as well as home to lakes teeming with salmon, bass, and trout. Lake Ontario and the Finger Lakes are easily accessible for many who love freshwater fishing, while the waters around New York City and Long Island allow a variety of saltwater fishing options. Search for the fishing options nearest you on I LOVE NY's Fishing page. 
Boating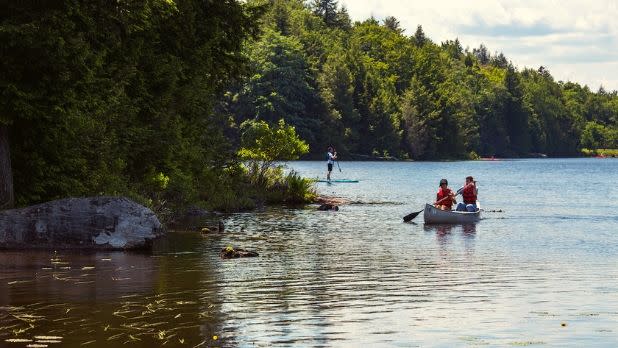 One of the best ways to socially distance in nature is to head into the water in a canoe or kayak, or on a paddleboard. New York's incredible waterways offer a variety of options to peacefully paddle either solo or with family, from peaceful Chautauqua Lake to the St. Lawrence River in the Thousand-Islands Seaway to the Upper Delaware River in the Catskills to gorgeous Lake George in the Adirondacks. Motorboat enthusiasts and those who love sailing have access to glistening blue waters throughout the state, including two Great Lakes (Erie and Ontario), many great rivers (including the Hudson and St. Lawrence), the Long Island Sound, and the Atlantic Ocean. However you choose to get out on the water, please consult New York's Department of Conservation website about boating safety, permits, and other information about responsible boating. 
Bicycling and Mountain Biking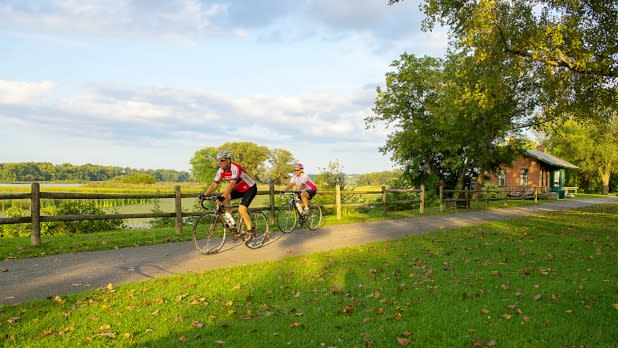 Whether you're the type of bicyclist who prefers hurtling down a mountain, pedaling through city streets, or experiencing rolling hills and scenic views along your ride, you won't need to travel far with your bike in New York State. In June 2020, a new 3.6-mile shared-use path for bicyclists and pedestrians opened on the Governor Mario M. Cuomo Bridge, linking Tarrytown and South Nyack in the Hudson Valley. Also in 2020, the Empire State Trail was completed with a 750-mile multi-use trail welcoming bicyclists and hikers to explore New York State's extraordinary experiences, people and places. The 750-mile trail system connects New York City to the Adirondacks and Buffalo to Albany, including existing trails that have long been popular with bicyclists, such as the 365-mile Erie Canalway Trail—where you can also track your miles and take part in the Erie Canalway Challenge. The state also features more than 1,000 miles of rail-trails, former railroad tracks converted to paved or semi-paved trails perfect for bicycling. No matter where you are in New York, or whatever level of bicyclist you consider yourself, there's a great trail or route for you.
Hiking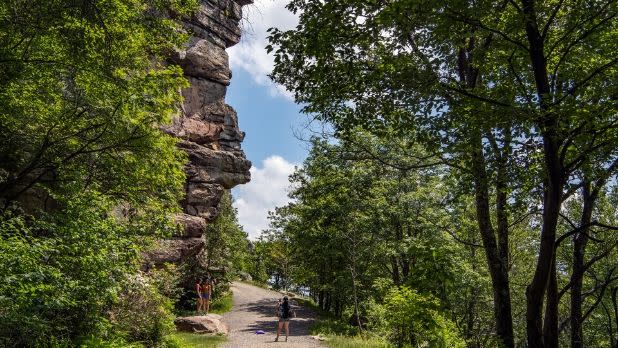 The thousands of miles of trails throughout the state means that New York is a hiker's dream come true. There are trail options for every level of hiker throughout the state. Many are so popular that during peak times, such as weekends, it's not advisable to visit right now, but there are many hidden-gem hikes that will allow for easier social distancing. Before heading out to a nearby trail—whether it's in the Adirondacks' 46 High Peaks, the many trails in the Catskills, or wherever—please visit the Department of Environmental Conservation's helpful hiking tips and remember to bring a mask or facial covering for when social distancing isn't possible. 
Golf, Ziplining and Other Outdoor Sports and Adventures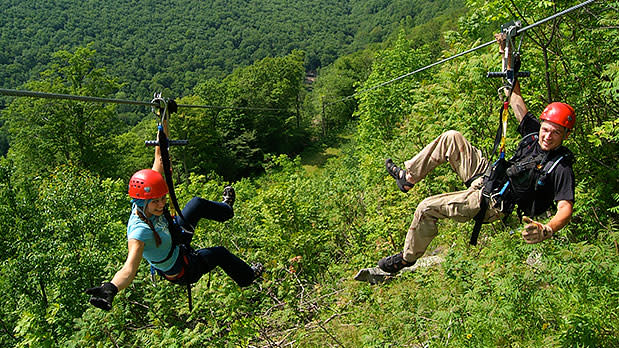 For those with a competitive or adventurous spirit, many outdoor recreation facilities are now open with social distancing protocols. New York State offers world-class golf courses throughout the state, so it's easy to hit the links in any region. Tennis and other racket sports offer the opportunity to get outside and compete, and local courts are welcoming back players. For a serious rush and some spectacular views, find ziplining and ropes courses close to you and enjoy New York State from high above the ground!