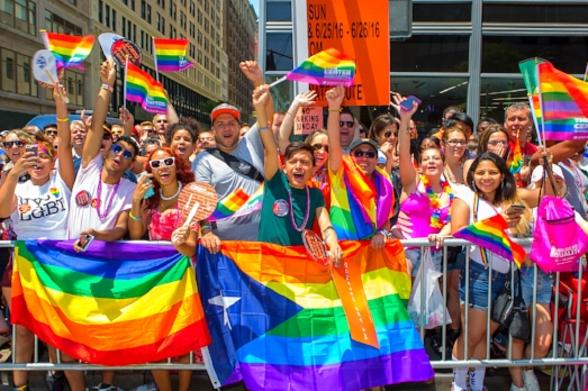 While every Pride is meaningful and special, this year's is a particularly big deal: 2019 marks the 50-year anniversary of the historic Stonewall Riots, when the LGBTQ community rose up in protest against police raids at the Stonewall Inn in New York City's West Village. The epicenter of the anniversary festivities will be right here in New York State, and it's the first WorldPride in the United States. Events will take place all throughout the month of June and continue into July, both in the city and around New York State. See what's coming up and make plans to stick around because there's too much joy to contain in just a day or a week. Of course, everything is open to locals, travelers, friends, partners, families—all are welcome. 
Sing Out, New York! (Capital-Saratoga)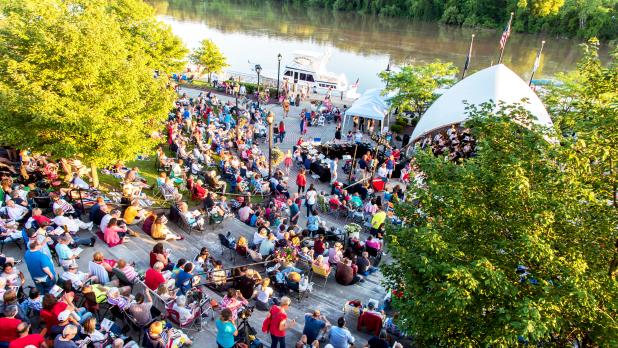 Ring in Pride with the heavenly sounds of the symphony at Sing Out, New York, taking place over two weekends. Renowned advocate/composers David Del Tredici and John Corigliano will be performing pieces inspired by American revolutionaries and the Stonewall uprising at the American Music Festival in Troy. There will also be other great works of American music, including performances by Molly Joyce, the Argus String Quartet, Angélica Negrón, the musicians of the Albany Symphony, and more. Besides the main festival, Sing Out, New York! will also feature a four-city free concert tour in Schuylerville, Schenectady, Albany, and Hudson. May 30–June 1 and June 6–9; Festival passes start at $75
Pride on the Beach (Long Island)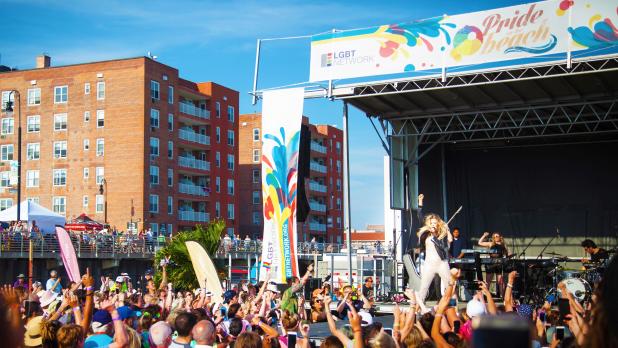 Long Island goes all out for Pride. It is the birthplace of the brave and beloved Harvey Milk, after all. Don't miss an epic weekend of activities June 21–23, known as Pride on the Beach. Plenty (but not all) of the 30 or so events happen right on the sand, such as a Twilight Beach Party, outdoor concert, and a market fair. Off the sand, you can dance your way into the 29th annual Pride Parade, ogle the stars of the Pet Pride Parade, and even attend a Shabat service or Mass with leaders from the LGBTQ community. We recommend sticking around until June 25 for Pride In the Vines, the first event of its kind showcasing the wine country in the North Fork. Details are still forthcoming, but there will be a launch party, hop-on-hop-off tasting tours, and more. Text VINEPRIDE to 484848 for more information. June 21–25; Long Beach
Family Movie Night (NYC)
Pride's annual Family Movie Night is back for all families to come and enjoy. This year, nonprofits and small businesses will set up booths to add to the fun, and the hysterical drag legend, Miss Richfield 1981, will MC the evening. The event is totally free unless you opt for a special VIP family package—all proceeds will go to Heritage of Pride, NYC Pride, and other organizations. Check the website for details. June 21; NYC; VIP Family Packages start at $50
Pride Luminaries Brunch (NYC)
This year continues the tradition of brunching in the name of LGBTQ business leaders. For its 7th year running, this exclusive 21+ gathering honors local business leaders whose work has advanced LGBTQ equality in the workplace and uplifted the community. It's going to be a whos-who of various industries, plus politicians, media reps, and more. Tickets start at $75 and include a four-hour open bar, VIP gift bag, delicious brunch fare, and the opportunity to shake hands and rub elbows with all inspiring, successful people. Additionally, all proceeds go to NYC Pride, helping to support the free events such as Youth Pride, Family Movie Night, and The March. Dress sharp! June 23; NYC; Tickets start at $75
Human Rights Conference (NYC)
If you're passionate about tackling human rights issues facing the LGBTQ community, join this two-day conference that brings together activists, journalists, policymakers, students, and more. Hosted at New York Law School, you'll have the unique opportunity to encounter and engage with diverse opinions and experts lead an open dialogue. June 24–25; NYC; Tickets start at $30
Game Changers (NYC)
The entertainment industry has not always openly welcomed members of the LGBTQ community, and there is still work to be done, but let's take a moment to acknowledge the Game Changers, folks who have pushed the industry to make space for everyone. The event includes a panel discussion (the official announcement of topic and moderator still TBD—stay tuned!) followed by a Q&A and a networking reception, hosted by GLAAD and SVA Theatre. Come learn about who's been shaking things up in entertainment. June 25; NYC; Tickets start at $15
An Evening with Fred Hersch: 50 Years After the Stonewall Riots (Capital-Saratoga)
Fourteen-time Grammy®-nominated jazz pianist and composer Fred Hersch celebrates the 50th anniversary of The Stonewall Riots with performances presented by Saratoga Performing Arts Center and Caffè Lena. Hersch will offer two performances, at 6 p.m. and at 8:30 p.m., performing original pieces in addition to iconic jazz works, while also sharing how the Stonewall Riots shaped him, his career, and his growth as a musician, drawing from his memoir Good Things Happen Slowly. June 28, Saratoga Springs
WorldPride Opening Ceremony (NYC)
Wednesday, June 26 officially kicks off WorldPride with an opening ceremony at Barclays Center in Brooklyn, introducing this year's theme, "Millions of Moments of Pride." The theme was chosen to reflect that everyone's experience of Pride is unique and significant. There are so many ways to celebrate, and all are valid. Whoopi Goldberg hosts, with musical performances by Cyndi Lauper, Chaka Kahn, and Ciara. Proceeds will benefit three LGBTQ organizations based in NYC: Ali Forney Center, Immigration Equality, and SAGE. June 26; NYC; Tickets start at $45
Stonewall 50 Commemoration Rally (NYC)
What better way to remember the Stonewall Uprising than to walk in the footsteps of those brave heroes 50 years ago. Activists, organizers, politicians, and community members will march together, recreating the first ever rally in 1969, which took place one month after the riots. Join them in commemorating those lost and in standing up against the discrimination that still exists today. June 28; NYC; Free
Savor Pride (NYC)
Pride celebrations are famously a feast for the senses—and that includes taste! Savor Pride is a culinary fundraiser which spotlights LGBTQ and ally chefs. Outdoors on the terraces of God's Love We Deliver, a local food delivery charity, you'll dine on a delectable and diverse menu. There will also be cooking demos, discussions, tastings, and fantastic socializing. And to sweeten the deal, proceeds from tickets will go to NYC Pride and the efforts of God's Love We Deliver, so you can feel good about eating well. Check in at the website for announcements on participating chefs. June 28; NYC; Tickets start at $60
Youth Pride (NYC)
LGBTQ and ally teens have a part of Pride carved out just for them. The event is free and open to anyone under 21 (for those older than 21 there is a $10 registration fee). A special entertainment lineup is in the works, but there will also be interactive experiences and games, so no need to be shy! June 29; NYC; Free
Pride Island (NYC)
Dance On The Pier, a massive dance party at NYC's Pier 97, was an annual mainstay of Pride for over 30 years until 2017. Don't worry, it wasn't discontinued—it evolved. Now a multi-day music and dance festival called Pride Island, the party is bigger and better than ever. well-known performers have been known to take part in the past, including Cher, Ariana Grande, Jennifer Lopez, and Janet Jackson. Ticket proceeds will benefit select NYC nonprofits and help NYC Pride continue to host free events for the public. Unfortunately, Sunday tickets are already sold out, so hop to it on those Saturday tickets. Acclaimed Jamaican-American supermodel-singer-songwriter Grace Jones, recording artist/dancer Teyana Taylor, and Brazilian drag queen and singer Pabllo Vittar are already confirmed. June 29–30; NYC; Tickets start at $125
NYC Pride March (NYC)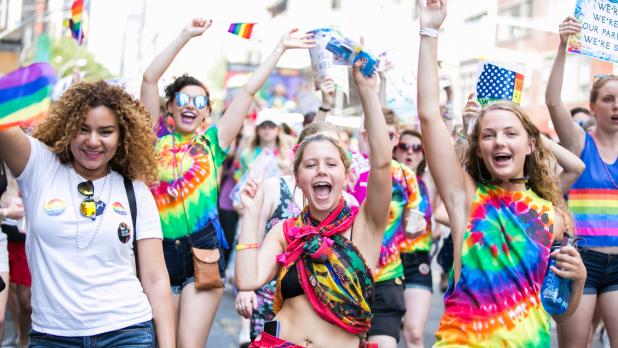 The centerpiece of Pride, the March, has done so much for LGBTQ visibility, and it's also really, really fun. Last year more than 550 marching contingents led the parade in NYC, representing non-profits, community organizations, small businesses, politicians, and activists. This year is set to be even bigger. Grab your rainbow clothes and come out to march (and dance) with the community. June 30; NYC; Free
WorldPride Closing Ceremony (NYC)
WorldPride ends with a massive celebration in Times Square on the last day of June. An incredible lineup of speakers and music artists will take to the stage, including Grammy-Award-winning singer-songwriter, Melissa Etheridge, with many more to be announced. There will be dancing, there will be tears. It's going to be an epic closing to a memorable month. But even better news! Pride doesn't end here, as you'll notice, we're highlighting a few events in July to follow. June 30; NYC; Free
Chautauqua Institution's Conversation with Bishop Gene Robinson (Chautauqua-Allegany)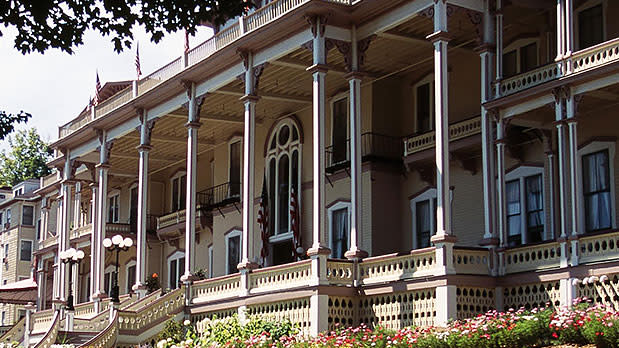 Come hear the words of Judy Shepard, mother of 21-year-old Matthew Shepard, fatally a victim of an anti-gay hate crime, and Bishop Gene Robinson, the Episcopal Church's first openly gay bishop. In its tradition of fostering education and learning, the Chautauqua Institution will feature Bishop Robinson as he moderates a discussion on the major events that have shaped America's LGBTQ community, from Stonewall, to the AIDS crisis, to marriage equality. The Chautauqua Institution's LGBTQ community will host a reception following the talk. July 2; Chautauqua; Gate pass prices vary
Pride at the Falls (Greater Niagara)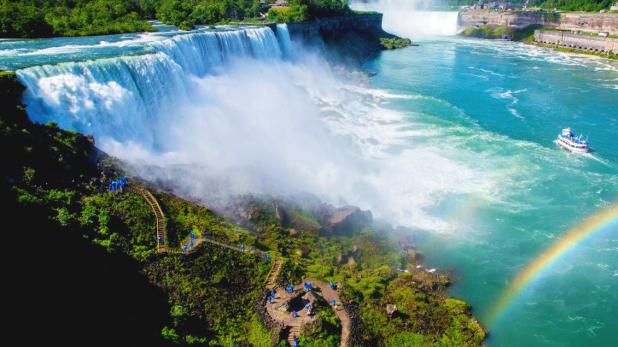 In a majestic tribute to Pride, the great Niagara Falls will be illuminated in rainbow colors. To make the atmosphere even more magical, the award-winning Buffalo Philharmonic Orchestra will perform a free outdoor concert for the public, and when night falls, a Niagara Falls USA fireworks display will extend the colors up into the sky itself. It's going to be beautiful to experience in person and one heck of a photo opportunity. July 5; Niagara Falls; Free
Matteo Lane at the National Comedy Center (Chautauqua-Allegany)

Credit: Jay Rosenblatt
Wrap up the festivities laughing until your sides ache at a special Pride event at the National Comedy Center with Matteo Lane. If the name sounds familiar, perhaps it's because you've seen him on The Comedy Lineup on Netflix, or The Late Show With Stephen Colbert, or Late Night With Seth Meyers, or Comedy Central's Adam Devine's House Party, or The Comedy Jam, or Crashing on HBO. This multi-lingual opera-singer-turned-comedy-superstar will perform in the Tropicana Room at the Center, so come laugh so hard you forget that Pride 2019 is coming to an end. July 6; Jamestown; Ticket prices range from $20–37
Don't forget to share your summer vacation with us! Share New York State pictures on Instagram and Twitter with #FindWhatYouLoveNY and tag us on Facebook!