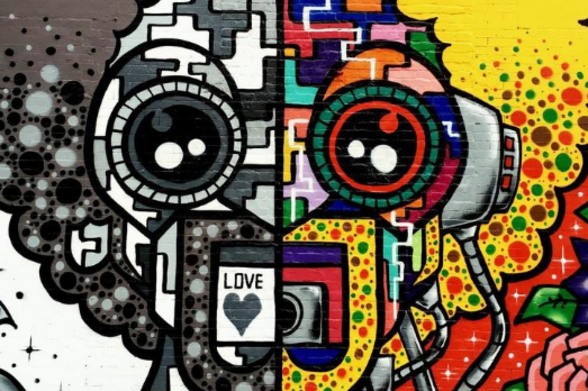 No matter where you go in New York State, you are sure to find beautiful art decorating the sides of buildings, electrical boxes, train cars, fences, and streets. From colorful mosaics to picture-perfect city names and stunning nature paintings, street art in New York State is limitless. Here are street murals you can discover and things to do near each location! 
Updated 8/25/22
The Bronx (New York City)

Credit: @fredrocka on Instagram
While New York City is known as the birthplace of street art in the 1970s, the Bronx is specifically where this art thrived. This borough is overflowing with mesmerizing urban street art like this tattooing Yankees artist at Tuff City Tattoos. The mural, made by the shop's own artists MED, ChrisChan Shim, CESISM, and TheNumberMan, is close to so many Bronx attractions! Walk to the nearby New York Botanical Garden, which features over a million plants on 250 acres, or travel on the wild side at the neighboring Bronx Zoo. Also while you're in New York City, see if you can locate any of the Banksy street art from the mysterious British artist's New York visits!
Potsdam (Thousand Islands-Seaway)

Credit: Liza L. L. Paige 
The Community Coloring Book by the North Country Children's Museum is exactly what it sounds like. Families from the community stop by to help paint this mural on the back of Potsdam Tire and Auto. Artist Liza LaBarge Paige laid out the mural in a paint-by-number pattern making it easy for families to follow. Stop by this out of this world mural (and scope out the new microscopic world-themed mural added in 2022) and then visit the North Country Children's Museum, or continue the fun and try your swing at Swingtime MiniGolf!
Jamestown (Chautauqua-Allegheny)
Find all your comedic relief right in Jamestown, the hometown of famous comedian and actress Lucille Ball. Known for her roles in the pioneering sitcom "I Love Lucy" and other TV shows, Ball is an icon and a favorite daughter of Jamestown. Check out the world's largest "I Love Lucy" mural on downtown Main Street, painted by father-son duo Gary Peters and Gary Peters Jr. After this pit stop, discover more about her life at the Lucille Ball Desi-Arnaz Museum, then continue on to the must-visit The National Comedy Center for interactive exhibits and programming celebrating the art of comedy.
North Creek (Adirondacks)
This street art required the artist to reach out for a hand: It took more than 700 volunteers to help complete The North Creek Mosaic Project on Main Street by Kate Hartley. The full mosaic spans 180 feet and depicts popular Adirondacks activities like whitewater rafting, fishing, skiing, and biking. If you're in the area around North Creek, why not dive into some of these outdoor adventures! Ride down the Hudson or Moose Rivers with the North Creek Rafting Company, or take in views of the Hudson River while railbiking at the Revolutionary Rail Co.
Ithaca (Finger Lakes)
There's no way you can miss this mural as you discover this quaint college town. Decorating the Seneca Street Parking Garage, Black-Eyed Susans by Kellie Cox is the perfect floral statement piece to add to your Instagram feed as you roam The Commons in downtown Ithaca. Grab a bite at restaurant row on Aurora Street—which has temporarily been converted into a full outdoor dining plaza—thrift and shop your way through The Commons, grab a waffle at Waffle Frolic, a very popular spot among college students and visitors, or dine at the internationally famous Moosewood Restaurant in Dewitt Mall known for its vegetarian cuisine and best-selling cookbooks. No matter where you go in Ithaca, you are sure to find street art!  
Kingston (Hudson Valley)
Hop on a sail-by tour of the historic 1913 Rondout Lighthouse, or board the heritage Catskill Mountain Railroad, which runs from Kingston up to Hurley Mountain and back, and choose from special event-themed rides during any time of the year. Then, make your way to Midtown Kingston to see this Black Lives Matter mural memorializing Amhaud Arbery, Breonna Taylor, and George Floyd, painted by artists Jalani Lion, Mat Schulze, and Dina Kravtsov. After, take a hike on the Wallkill Valley Rail Trail, a 23.7-mile trail that stretches from Kingston to New Paltz.
Troy (Capital-Saratoga)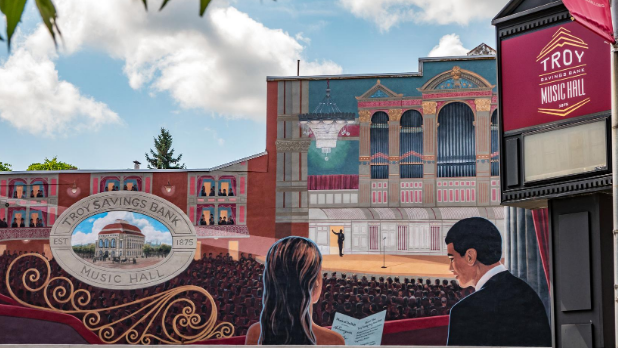 Just 20 minutes up and across the Hudson River from the state capital, Troy is a lively city where you can find street art like Kevin Clark's mural across from the Troy Savings Bank Music Hall, best viewed from the parking lot next to the hall. Check out this city's exciting food and drink scene, from farm-to-table dining to trendy breweries like Brown's Brewing Company where you can enjoy a first-rate selection of house-made and local beers while soaking in views of the Hudson River.
Buffalo (Greater Niagara)
This instagrammable Greetings from Buffalo postcard mural by Casey William Milbrand has become one of the city's most recognizable street art attractions—not to mention a go-to social media post. Head to the south wall of The Washington Market and snap a photo with this vibrant mural. Right across the street, create another great photo backdrop with the historical Shea's Buffalo Theater, open since 1926, and a favorite stop for artists like Frank Sinatra, Bing Crosby, and many others. By, now, you'll have worked up a thirst. Walk a few blocks and enjoy the selection of craft beers at Big Ditch Brewing Company, or head to Canalside Buffalo, where you can enjoy activities like kayaking, water biking, sailing, or simply enjoying ice cream.
Narrowsburg (Catskills)
The Good of the Hive by Matt Wiley is painted on the side of the Narrowsburg Post Office and highlights the importance of the bee and her hive. Snap a picture with these pollinating insects and this beautiful Monarch butterfly while you explore Narrowsburg! Buy local produce and baked goods from the Narrowsburg Famer's Market, open rain or shine every Saturday from 10 am-1pm, rent a kayak or canoe and paddle on the Delaware River, or hop in the car and take in the views on the Upper Delaware Scenic Drive. 
Utica (Central New York)
Choose which mural you want to be your background while enjoying your coffee at Utica Coffee Roasting Co. There's no way you can miss this street art display during your visit to Utica, created (from right to left) by Angela Johnson, Jen Major, Maria Vallese, Marc-Anthony Pilozzi, Naeem Giles, and Tito Santiago. Sip your morning coffee and soak in all that caffeine for a jam-packed day! Keep the adventure going with a trip to the Utica Zoo and see over 200 animals and then stop by Saranac Matt Brewing Co. and pick up a classic summer case of Blueberry Blonde Ale. 
Huntington (Long Island)

Credit: Lessing's Hospitality Group/Brenner Photo Productions
This mural on the side of Finnegan's in Huntington which features 140 people, was painted in 1978 by local artist Phil Jordan, who restored it in 2012. The alley to Finnegan's South was officially named "Finnegan's Way" by the town in 1979. Step inside this 1912 restaurant and taproom and enjoy traditional pub fare, craft beer, and classic cocktails. After, stroll through the boutiques on Main Street and finish your day at The Heckscher Museum of Art and view more than 2,500 works from the 16th to the 20th century, including European and American painting, sculpture, works on paper, and photography (Reservations recommended. Free admission).
Share your New York State adventures with us on Instagram and Twitter with #iSpyNY and tag us on Facebook!