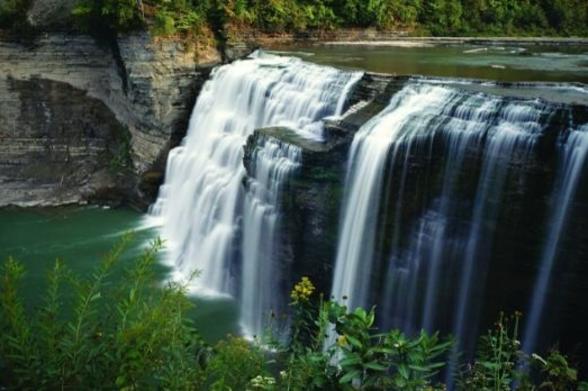 Find the most beautiful destinations right here in New York State. From breathtaking mountaintops and majestic waterfalls to unique architecture and stunning landscapes, get ready to take an Instagram-worthy photo. Start planning your visit to New York State's most Instagrammable locations. We've chosen one for each region featuring Instagram posts from travelers, listing a few other notable spots in each region as well. Discover your favorite and follow @iloveny for even more inspiration! 
Masks are encouraged, but optional in most settings per New York State guidelines. Individual businesses or attractions may require mask wearing. Call ahead and check websites and social media to make sure attractions and amenities are open and available. 
Updated 07/21/2023
Find a 215-foot waterfall and 400-foot deep gorge at Taughannock Falls State Park in Trumansburg. The 750-acre state park offers hiking trails that lead to photo-worthy views from above and below the falls. Some trails are seasonal, so check which ones are open before you head out and be aware of on-site trail closures. During the summer months, go for a refreshing swim in nearby Cayuga Lake, relax while camping on-site, and listen to music as part of the Summer Concert Series in the park. Also Instagrammable: Watkins Glen State Park, Seneca Lake State Park, Chimney Bluffs State Park and Frederick Farms.
Experience the impressive architecture of the uniquely designed buildings at the Governor Nelson A. Rockefeller Empire State Plaza in downtown Albany. With buildings like the State Capitol, the New York State Museum, Corning Tower, and The Egg—Center for the Performing Arts, you'll capture one-of-a-kind photos in front of each. Discover views of the surrounding area, including the foothills of the Adirondack Mountains and the Catskills from the Corning Tower, the tallest building in New York State outside of NYC. Beautiful during any season, the 96-acre Empire State Plaza offers distinct photo opportunities with ice skating in front of the Capitol building throughout the winter and mirror-like reflecting pools during the warmer months. Also Instagrammable: Saratoga Spa State Park, Washington Park, and Indian Ladder Farms.
Walk by remarkable natural formations at Letchworth State Park in Castile. Known as the "Grand Canyon of the East," the park includes 66 miles of hiking trails, a giant gorge, and three large waterfalls—all of which provide gorgeous photo opportunities. Always stay on marked, open trails, and keep safety in mind when you're taking photos, especially of waterfalls. The 14,350-acre park offers year-round activities from snowmobiling and cross-country skiing in the winter and biking and kayaking in the summer, there's beauty to see in every season. For an aerial view, not to mention spectacular photos, take a hot air balloon over the park. Also Instagrammable: Canalside, the murals at Hertel Avenue and Elmwood Village, Niagara Falls, and Silo City.
Explore the incredible architecture of this Scottish-inspired castle on Dark Island. Navigate through the hidden passageways into almost every room and outbuilding, or enjoy the five-story clock tower, heated squash court, and pergola and rose garden. Singer Castle makes for the perfect Instagram backdrop as you discover the history of the castle. Also Instagrammable: Boldt Castle, Clayton, and Antique Boat Museum.

Credit: @cjrodg on Instagram 
With 109 miles of shoreline and more than 300 islands, Lake George—also known as the "Queen of the American Lakes"—is home to unlimited scenic views. Between the brilliant blue lake, the surrounding Adirondack Mountains, and the village of Lake George, there are photo opportunities for all types of Instagrammers. Looking for a mountaintop shot? Hike or drive to the top of Prospect Mountain. For a beach view, lay your towel down in the sand at Million Dollar Beach or hop aboard a boat with the Lake George Steamboat Company for a photo from the water. If you're looking for an unforgettable place to propose, Lake George certainly fits the bill! Also Instagrammable: Schroon Lake Town Square, Rattlesnake Mountain, and Mirror Lake.
Experience the elegance of a historic French-style chateau castle in Huntington, along Long Island's North Shore. Oheka Castle, located on 443 acres filled with beautiful gardens, is the perfect backdrop for a photo that will make all of your followers envious. Go on the mansion tour to experience the stately castle from the inside and learn about the elaborate parties former owner Otto Hermann Kahn hosted during the 1920s. Listed on the National Register of Historic Places, this 109,000 square foot castle is sure to impress. For a night to remember, enjoy a stay in the hotel section of the castle. Also Instagrammable: Lavender by the Bay, Montauk Lighthouse, and Fire Island.
With hiking, biking, and cross-country skiing, Bear Mountain State Park is a must-see for outdoor explorers. Make your way to the Perkins Memorial Tower, on top of Bear Mountain, for incredible views of the park and the surrounding area. Open from April to late November, there's plenty of time to capture a breathtaking photo from the tower. If you're looking for a unique experience, check out the park's Merry-Go-Round, which includes hand-painted natural park scenes and more than 40 hand-carved seats featuring indigenous animals. Also Instagrammable: Walkway Over the Hudson State Historic Park, Storm King Art Center, and Mohonk Preserve.
Due to recent storm damage, Bear Mountain State Park is currently closed until further notice. Please call or check the website for updates.
Snap a photo with your friends or your entire family at year-round outdoor destination Windham Mountain in Windham. The 3,050-foot summit offers scenic mountain top views, in any season—perfect to showcase on Instagram. Take a photo from on top of the mountain before you ski or snowboard down, along the Skyride during peak fall foliage season, or mountain biking down thrilling trails in the summer. From late December to early March, capture the snow falling as you walk along tree-lined paths on the mountain's guided snowshoeing tour. Also Instagrammable: Ashokan Reservoir, Hunter Mountain, and Bethel Woods Center for the Arts. 

Credit: @lagers7 on Instagram
Walk along Cooperstown's quintessential small town Main Street to find local shops, unique restaurants, and the National Baseball Hall of Fame and Museum. Take a seat on one of the many park benches that line the sidewalks of Main Street after browsing baseball-themed shops and sampling treats from Schneider's Bakery or getting a bite to eat at Doubleday Cafe. Nearby Main Street, the Landmark Inn and the Inn at Cooperstown offer beautiful accommodations, as well as the Otesaga Resort Hotel, located along Otsego Lake. The opportunities to take a scroll-stopping photo are endless. Also Instagrammable: Howe Caverns, Chittenango Falls State Park, and Vroman's Nose.
Sip a freshly poured glass of wine overlooking the vineyards at Noble Winery in Westfield, with Lake Erie in the background. Offering 150 feet of outdoor porch seating, along with seating indoors, visitors of all ages can enjoy food they brought with them or purchased on-site. The family-owned and operated winery is the perfect setting for a delightful afternoon any time of the year. Capture a brilliant photo of the sunset over Lake Erie from the porch in the summer or watch storm clouds move over the lake from in front of the fireplace in the winter. Also Instagrammable: Panama Rocks Scenic Park, Chautauqua Institution, and Allegany State Park.

Credit: @mitzgami on Instagram
Surrounded by bustling streets, upscale shops, and diverse restaurants, Central Park is an oasis in the middle of Manhattan. From tree-lined paths and lakeside trails to picturesque bridges and perfectly placed park benches, there are unlimited photo ops. The more than 840-acre park features winding walking, running, and biking paths, along with distinct statues and monuments. Head to Bethesda Fountain and the Bethesda Terrace, as well as Bow Bridge for a photo setting straight out of the movies. Also Instagrammable: Brooklyn Bridge, Grand Central Station, and Vessel, along with the High Line at Hudson Yards.
---
Don't forget to post photos of your New York winter adventures on Instagram and Twitter with #iSpyNY and tag us on Facebook!