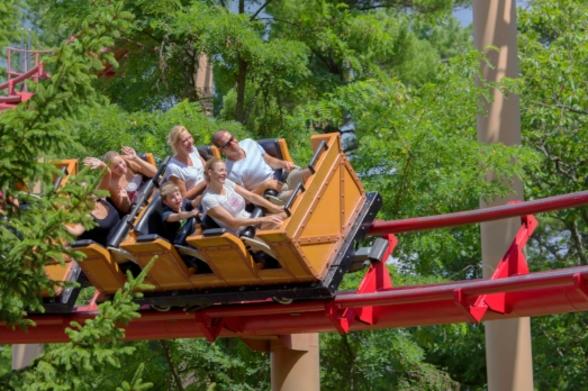 Get ready for liftoff because your summer plans are about to get a serious boost! Strap in for some of the steepest, twisty-turniest, most gut-wrenching roller coaster rides and water slides around—but don't worry, there are also plenty of family rides that won't make you lose your lunch. New York is home to some of the country's longest-running amusement parks, so you can savor a little dose of nostalgia along with your hot dogs and cotton candy. Read on to see where to get your thrills this summer, from the laziest rivers to the most vertical nose-dives and everything in between. 
Masks are encouraged, but optional in most settings per New York State guidelines. Individual businesses or attractions may require mask wearing. Call ahead and check websites and social media to make sure attractions and amenities are open and available. 
Read more: Best roller coasters in New York
Originally published: 05/14/2019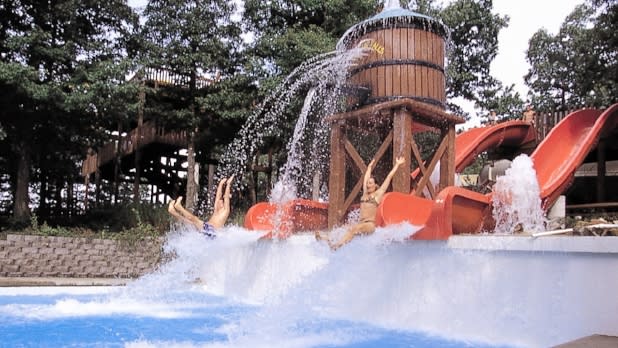 96-acre Splish Splash on Long Island has been voted one of the best water parks in America by the Travel Channel, and its rides and slides have converted many a family into repeat visitors. While little ones will have plenty to do, from exploring the "Octopus Pool" to riding the "Mammoth River" slide on inflated family-size rafts, Splish Splash is also filled with slides that will definitely satisfy a need for speed. Their "Shotgun Falls" slide sends you down a five-foot free-fall drop into a 10-foot deep pool, plus, you'll slide down a drop of 40 feet and take a few 360-degree spins in the dark on "Dr. Von Dark's Tunnel of Terror." Our pulse just quickened at the thought. Calverton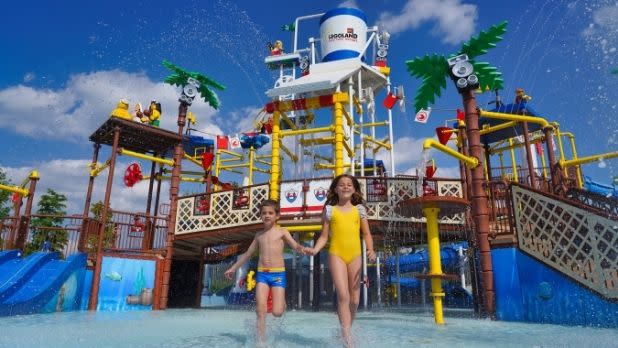 New York's newest theme park has been generating plenty of buzz since opening in July 2021, and the 150-acre LEGOLAND New York Resort gets even cooler when its water playground in LEGO® City opens Memorial day weekend. Visitors will get the chance to cool off on some water slides, and also build and race their own LEGO boat. Looking for more water adventures? Engage in some splash battles or sail the high seas at LEGO® Pirates. If you're looking to catch some wind, take to the air on The Dragon coaster through LEGO® Castle or get to building at Bricktopia. Spend the day exploring all seven different lands to build your perfect family-fun filled day and memories to last a lifetime. Don't forget, you can stay for the weekend — or even longer if you like — by booking a stay at one of the resort's 250-themed rooms. Goshen
Find something for everyone at the Enchanted Forest Water Safari in the Adirondacks (opening for the season on June 14). Amusement rides include your classic tilt-a-whirl, Ferris wheel, and round-up (the one where centrifugal force keeps you plastered to the walls). For the thrill seekers among you, there's Killermanjaro's Revenge, a 207-foot speed slide that drops guests through the floor and onto the slide, and zooms to the finish with one long drop. Then there's the lovely Sky Ride, which mimics a ride in a hot air balloon, giving you a fantastic vista over the park. Any members of your party who aren't crazy about rides and water slides can explore the park's petting zoo, grab a bite to eat at the Wild West-themed "Dawson City" (which includes a jail, barber shop, and saloon), or head to "Storybook Lane," where little fiction-lovers can step into the houses of their favorite bedtime stories and fairy tales. To top it all off, don't miss the Family Circus Show, performed daily (check website to confirm), featuring trapeze artists, jugglers, and other exciting acts. Old Forge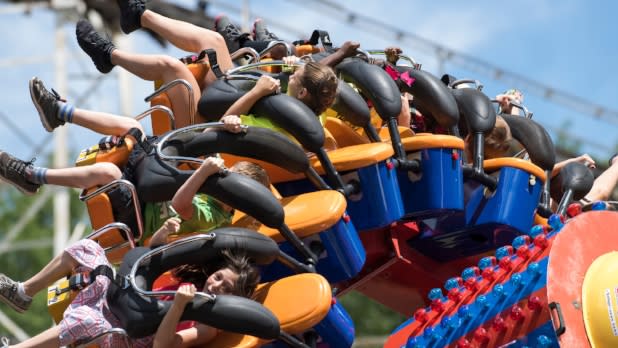 Make your own escape out to Six Flags Great Escape Lodge & Indoor Waterpark just outside of Lake George this summer. It is big, with a whopping 135 rides and attractions, which means tons of options for the entire family. If you've got an iron stomach, the "Steamin' Demon" will blast you through the 1,565-foot track so fast you won't know what hit you, and "The Sasquatch" will lift you up 192 feet into the air, inch by inch, before letting you plummet back down to earth. If just reading that made you tense up, not to worry! You and your little ones can enjoy the more relaxed family rides, float down the lazy river, and even choose from Mexican, Italian, American, and healthy dining options. Queensbury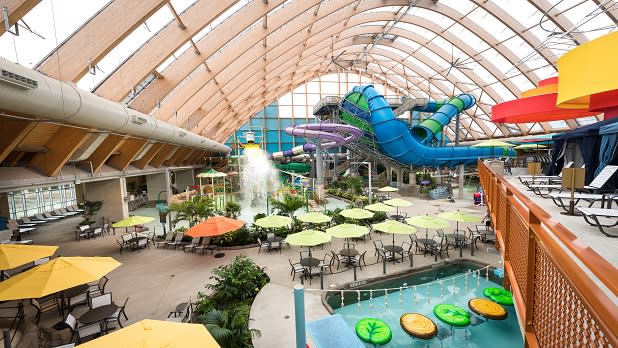 Rainy day? No problem. Enter the Kartrite, New York State's largest indoor waterpark. With all the joys of an outdoor waterpark (slides, lazy rivers, tube rides, boarding) plus the advantage of perfect 84-degree weather every day of the week, Kartrite will be the right choice. Stay at the resort with its 324 suites and seven dining options to make your visit easy as cake.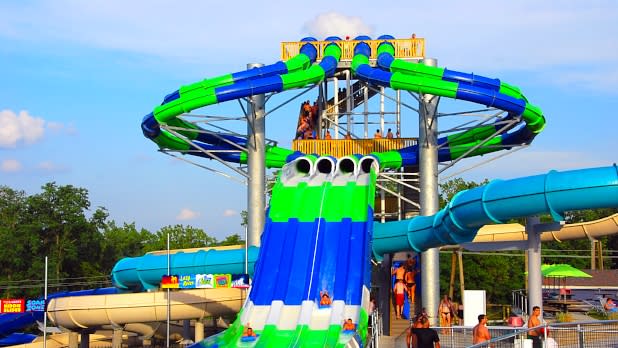 Seabreeze is another amusement park rich with old-fashioned charm, home to the oldest continuously operating roller coaster in America, the wooden "Jack Rabbit." The park has been serving up summer fun since 1879(!) and has been lovingly preserved and updated over time. Check out the retro-futuristic "Time Machine," opened in 2017, which swings 20 passengers three stories high on a pendulum gondola. Seabreeze's water park features plunging slides, a lazy river, and a splash pool area for little ones. Families can find ample room to stop for lunch in the shaded picnic area and choose from one of several concession stands serving up grilled meats, pizza, nachos, and the like, and even the park's signature famous waffles. Rochester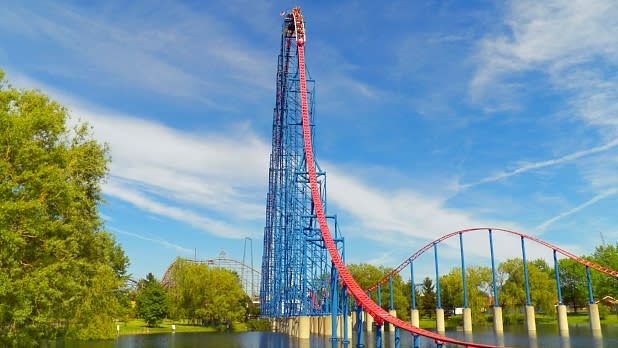 The waterfalls aren't the only way to have some water fun in the Niagara region this summer. Head to the enormous Darien Lake, ranked as one of the best water parks in the country by U.S. News & World Report, to whip through water slides, ride an enormous raft over churning rapids, or defy gravity by sliding around the gigantic cone-shaped Tornado. If you'd prefer to stay dry, hop on the "high-thrill"-level roller coasters, including the Tantrum, which slings you down a 97-degree drop from almost 100 feet up in the air. On the opposite end of the thrill spectrum, options for small children are bountiful, from kiddie rides to a classic carousel, to "Hook's Lagoon," where they can romp through splash pools, ride mini slides, and explore a sizable treehouse. Darien Center

Photograph: Adventureland
At Adventureland, the focus is on family options. It does have a number of roller coasters, but most of the rides are great for all ages and levels of sensitivity, and smaller children can ride with or without a chaperone. Cool off on hot days by riding a log down "Adventure Falls," or if you're bold, take a peek inside the haunted "Mystery Mansion." Strolling around, you'll notice a festive carnival feel, thanks to the numerous prize games, arcade, vendors, and face painting. The lines are famously quick, and you can choose to pay per ride, so spectators don't have to pay an admission fee. Woo! Farmingdale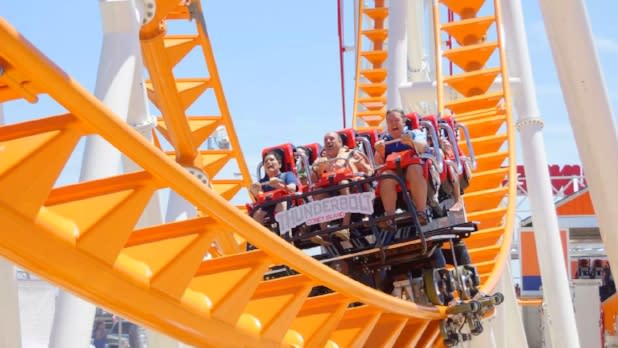 Something about the boardwalk and Luna Park spark a feeling of nostalgia even if you didn't grow up spending your summers there. If you're fond of coasters, an iconic New York City experience is a ride on the Coney Island "Cyclone," nicknamed the "Big Momma" of Coney Island. On "Brooklyn Flyer" the whole family can sit comfortably in open-air chairs and enjoy incredible views over the park. Try the VR-enhanced, interactive "WindstarZ" ride, which simulates hang gliding and lets you guide the direction of flight. Extreme thrill seekers should take a ride on the Thunderbolt (pictured), New York City's first ever major steel roller coaster featuring an audacious 90 degree drop and 2,233 feet of pure exhilaration. Complete the experience with a few carnival-style games, and of course, a hot dog and funnel cake. Brooklyn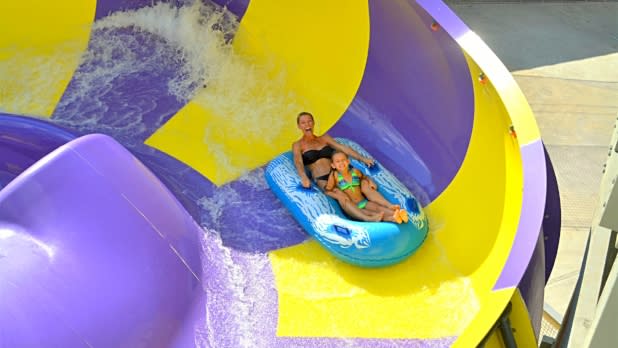 Zoom Flume is a perfect example of how a water park doesn't need to be huge to ensure everyone has a great time. Adrenaline junkies can get their heart rates racing on the "Black Vortex" or "Typhoon Twister" water slides, or get themselves racing on "Grand Prix Splashway." Meanwhile, little ones can wade in the wave pool, slide down "Thrill Hill," and navigate the interactive fountains in the "Lagoon Activity Pool." East Durham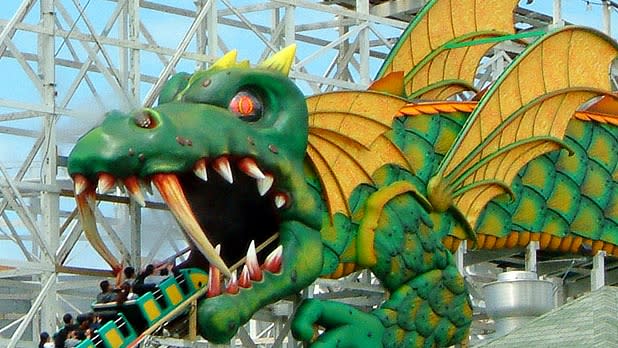 Hudson Valley's Playland has been in operation since 1928 and adds a vintage charm to the amusement park experience. In addition to its gorgeous atmosphere-setting art deco buildings, the park has maintained and refreshed numerous antique attractions over the years. Playland's "Dragon Coaster" is one of only about 100 remaining wooden coasters in the country, and its Derby Racer is one of only two of its kind! If you're unfamiliar, a Derby Racer is the carousel's more thrilling cousin, operating at about 3x the speed and without a pole to hold onto. Playland's rides fall under three categories: Kiddyland, with more than 20 rides specifically designed for younger children; Family Rides, rides that are faster and a bit more exhilarating—but won't make you grip your seat for dear life; and finally, Thrill Rides. The last group includes your roller coasters, giant pendulums, rotating platform rides, and more. Rye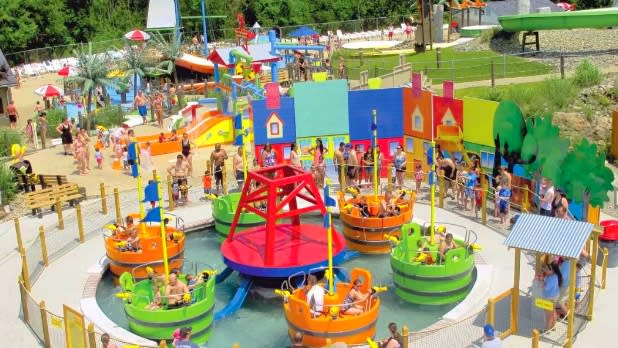 Hudson Valley's Splashdown Beach is a small park that won't overwhelm you, but will keep your family entertained for an entire day—it will probably have your kids begging to come back the next day, too. All the rides and attractions are kept in excellent condition, and rated mild, moderate, or high on their Thrill-O-Meter scale, so kids (and adults) of all ages can find the perfect level for them. Try "Megalodon," a water slide that promises "a near-vertical, zero gravity experience," or Arctic Mammoth, which, at nearly six stories tall and more than 600 feet long, is one of the largest raft rides in the Northeast. Be sure to check out the brand new Pelican Bay water playground with 4 new waterslides and a 500-gallon dumping bucket, andhead to the beach area where you'll find clean white sand and a lounge chair to kick back and relax in between rides. Fishkill
Roseland Waterpark is the largest waterpark in the Finger Lakes region with nine attractions and 56 acres of wet and wild fun for the whole family. From a giant 27,000 square foot wave pool with a beach entrance to the Splash Factory, an aquatic playground filled with water slides, water cannons and more, the park has plenty to offer for people of all ages and swim levels. Thrill seekers will get their hearts pumping at The Cliff, a 65-foot slide that sends you nearly straight down while approaching speeds of 30 miles per hour, and those looking for a water adventure will get a kick out of riding the rapids at the park's Mammoth Raft Ride, a white-water rafting experience that spans the length of two football fields. The park also offers a Water War Zone for some friendly water balloon fights, beach volleyball, café and gift shop. Canandaigua